We all love to save money, but do you every just get tired of the work and energy that it takes?
I know I do! It can be exhausting always trying to save and get the best deal.
Like I could do this to save more money, but this option is so much easier. It's a struggle to stay committed to your budget and saving money.
My biggest battle with this is grocery shopping. I know I could save more money if I would take the time to coupon, but that takes time. You have to look through, cut the coupons out, organize them, and then remember to actually take them with you. And I know I could save more by going to Aldi exclusively, but Publix is so much more convenient since it's on my way home from work.
I've come up with some lazy ways to save money that don't take a lot of time or energy. Because let's face it, we all have a million other things to think about!
Saving money doesn't have to be so exhausting!
10 Lazy Ways to Save Money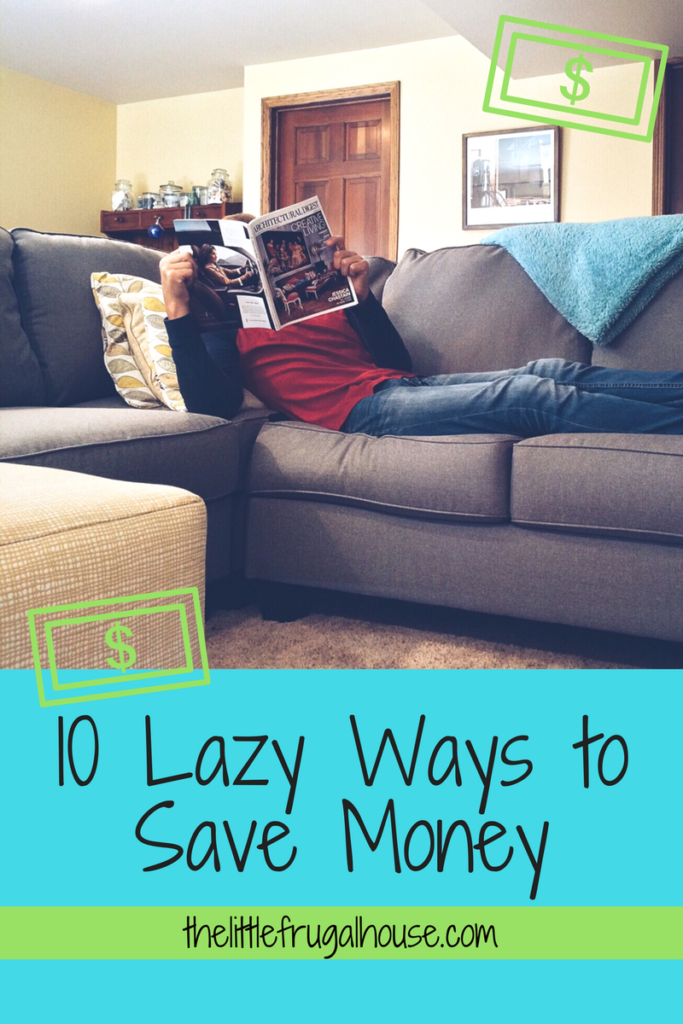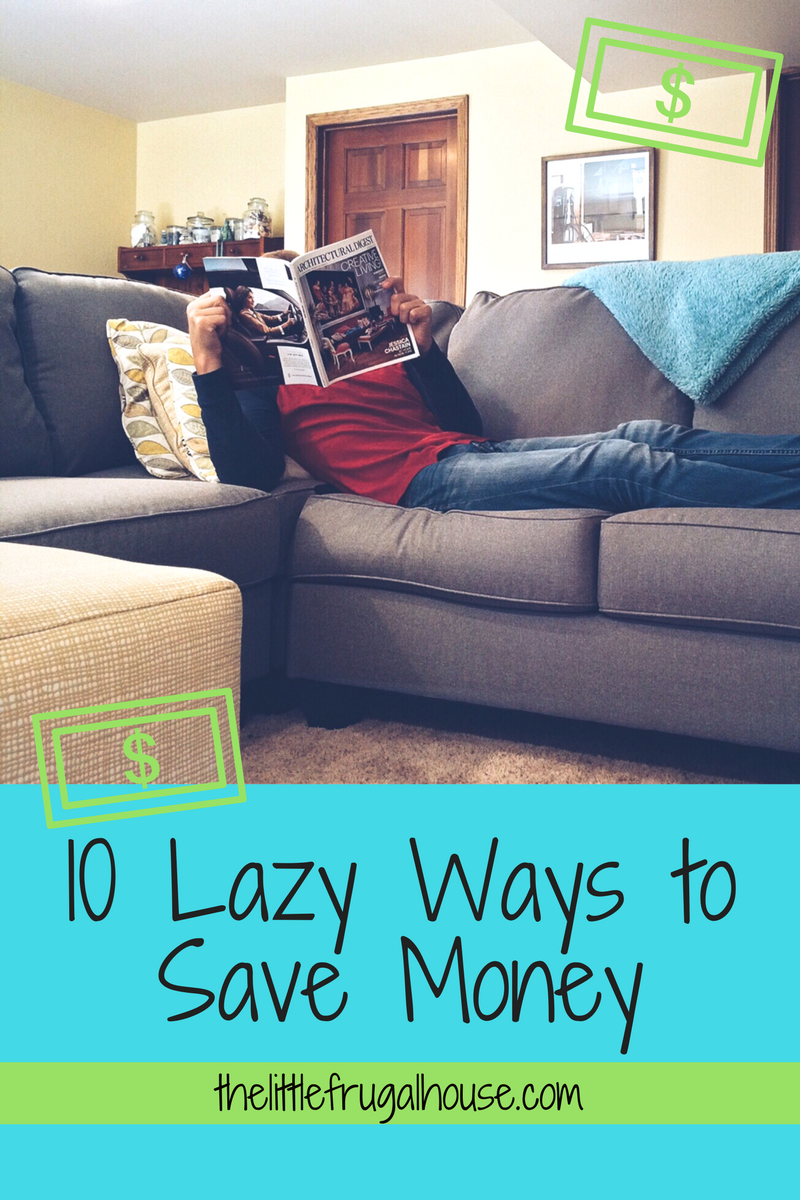 Set your bills up on auto pay

Having your bills directly drafted from your bank account will prevent you accruing late fees, disconnect charges, and save you from buying checks and stamps. Just make sure you have the money in your account! The way we make this work is to have a separate bill pay checking account. We calculate all of our bills for the month, and transfer money from each check into the bill pay checking account. The money is always there and we never get charged a late fee!

Cook super simple meals

Don't get too fancy with your meal plan, and cook super simple meals most nights. Less ingredients usually means less money spent on groceries. And it's much easier, too! We love these easy $2 per person meals!

Shop online instead of in stores

You'll have to be the judge if this works for you or not. For me, I love to shop online! I don't have to leave the house, or even get dressed! It's much easier to compare prices, and look for the best deal online, rather than going from store to store. You can also avoid those tempting impulse purchases!

Just stay home

My favorite thing to do! Watch movies, hang out outside, read a book, work on a project, and just enjoy being home. You can save a lot of money if you don't leave your house! No money spent on gas or random purchases. And you can stay in your comfy clothes all day!

Set up automatic transfers to savings

Log in to your bank account and set up recurring transfers from your checking account to a savings account. Save part of your pay check each week or a certain amount each month. Your savings account will build up without you doing a thing!

Say no

Say no to things you don't want to do that cost money. I'm bad about this. I always feel like I need to say yes and do everything people ask of me. But our time and money are both valuable, and we need to act like it. If you don't want to go to an event, or participate in something, just say no (in a nice way). Your time and money are precious, and you want to make sure you only do the things that are important and matter the most to you. It's ok to say no!

Have a minimalist attitude

Adapt a minimalist attitude and enjoy having less. And the less stuff you have, the less stuff you have to clean and maintain!

Consider having your groceries delivered

Yes, this costs money, but… You could potentially pay a small fee to have someone shop for you and deliver your groceries, or pick them up, and still save money. If you get distracted in the grocery store, tend to not stick to your list, and often buy impulse things, this could be perfect for you. I would test it out to see how much you save, but it could definitely be worth the small fee and avoid you having to grocery shop yourself.

This takes a little bit of upfront work, but not too much if you stick with beginner freezer cooking and only make a couple of different meals. Make extra meals for the freezer all at once, and avoid cooking a full meal every night. You can save a lot of money and time by doing a little upfront work.

Do without

If you "need" something, just wait a little while, and see if you can do without it. Chances are you are just used to running out and getting something the moment you realize you "need" it. Make a list of things you need and get everything in one shopping trip. You may realize you didn't "need" it after all, and if you do, you aren't wasting gas money and making potential impulse purchases by making so many different shopping trips.
There are a lot of other ways to save money like packing your lunch everyday, buying meat in bulk and freezing it, cutting cable, couponing, and countless other ideas. But those take time and energy. If you have more time and energy, then go for it!
But most of the time we don't have an abundance of either one of those, so these lazy ways to save money are essential if you want to save money and stay in budget.
Share your favorite lazy ways to save money in the comments!

P.S. Never want to miss a post but don't have time to check the site everyday? Sign up for our weekly newsletter to receive blog posts straight to your inbox, along with the best frugal living tips!