Do you eat out for lunch everyday or are you already on the brown bagging it train?
If you find yourself eating out for lunch most days, consider taking your lunch a few days a week to save some money.
And if you are already a lunch packer, these might be some new ideas for you to try and break up your lunchtime go to.
We usually have the same old sandwich, chips, fruit, and cookie for lunch so I made this list for some new ideas for us. Hopefully you find a few you want to try, too!
Let's break out of the lunchtime rut and save money by packing our own delicious lunches!
13 Easy Lunch Ideas
Save money by packing your own lunch! Here are some new ideas to try!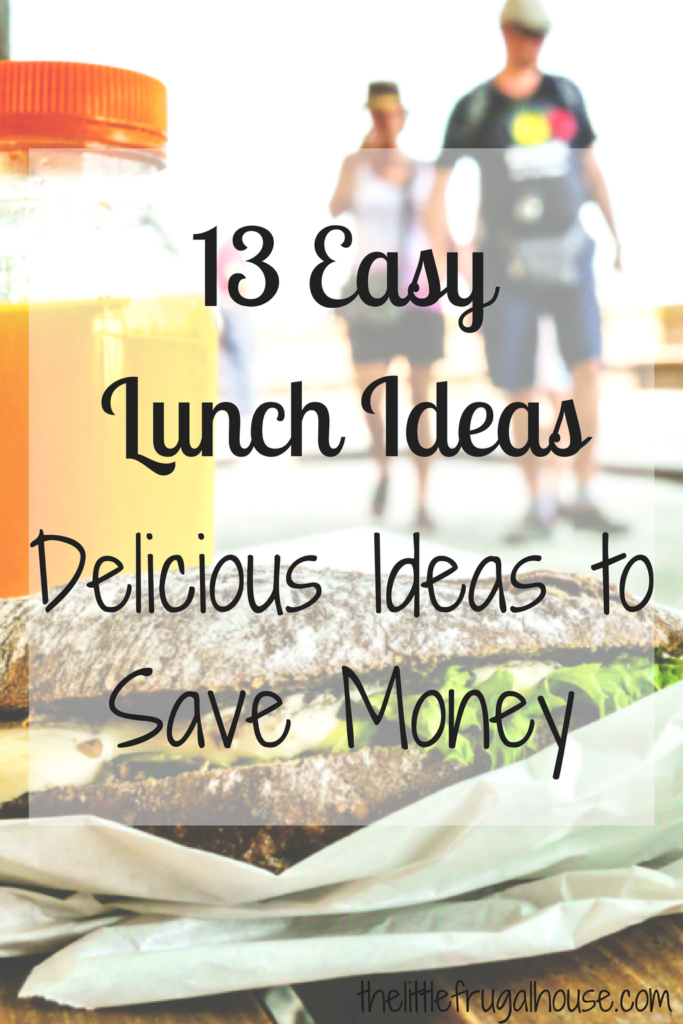 Taco Tuesday!

Make tacos for dinner, and heat up the leftover meat for lunch the next day. Add to a tortilla or chips, and your favorite toppings.

Soup and Salad

Make a big pot of your favorite soup on Sunday and divide it into lunch size portions to have for lunches. Serve with a side salad.

Chicken or Tuna Salad

Make a large batch of chicken or tuna salad at the beginning of the week. Serve on a sandwich with lettuce one day, with crackers another, and on top of a salad another day.

Perfect for chilly days! Make a large pot of chili (I love the Pioneer Woman's Chili) and divide into lunch portions. You can even freeze this so you don't have to eat it all week long. Serve with shredded cheese and Fritos.

Grilled Chicken Sandwich

Having chicken for dinner? Go ahead and make some extra and serve on a hamburger bun with your favorite burger toppings.

BLT

Making bacon for breakfast? Cook some extra slices, and make a BLT sandwich for lunch. Serve with chips.

One of my favorite dinners lately! Make one extra flatbread pizza, divide it in half (2 lunches), and heat up for lunch the next day. For a lunch portion, half of a flatbread pizza fills me up!

Homemade Chicken Nuggets

This is a good one if you are trying to avoid the drive thru. Cut a chicken breast into bite sized pieces, and coat with breadcrumbs. Bake in the oven and reheat for lunch. Serve with your favorite dipping sauce and vegetable.

Chicken or Cheese Quesadilla

Make these the night before and reheat for lunch. Serve with tortilla chips and salsa.

Leftover Roast

Is it just me, or does roast taste better the next day anyway? Make a large roast in the crockpot with potatoes and carrots and divide the leftovers into lunch sized portions. I'm having this for lunch as I write this!

Fancy Sandwiches

Sometimes just buying a nicer bread and deli meat makes a sack lunch so much better. We love Hawaiian rolls or any bakery bread (Aldi has some great options!)

Mac and Cheese

If you make some mac and cheese for dinner, reheat the leftovers for lunch as a meal or a side.
A Few Extra Tips:
Add some storage bins to your fridge to fill with lunch sides, so you can just grab something and throw in your lunch bag. This could be fruit or veggies portioned in bags, string cheese, applesauce, oranges, etc.
Have a bin in your pantry labeled lunch treats. Add bags of cookies, chip bags, or anything else that can easily be thrown in to complete your lunch.
Invest in a cute lunch bag that will make you more excited to carry your own lunch and keep you from buying lunch sacks all the time. My husband loves a grocery sack so he can just throw everything away.
Try meal planning for your lunches and make everything at the beginning of the week.
To cut costs even more, drink only water. If you love having a soft drink, try having one on Fridays only.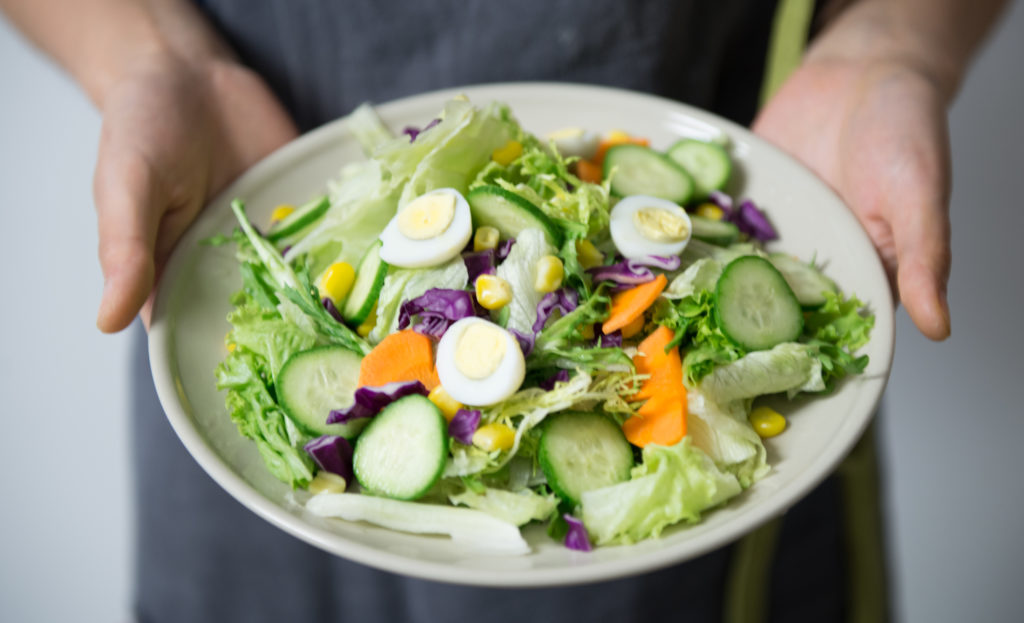 Packing lunches make take a little time and effort, but can save you so much money if you stick with it and skip the drive thru.
These options are really fairly quick and will make for a yummy lunch!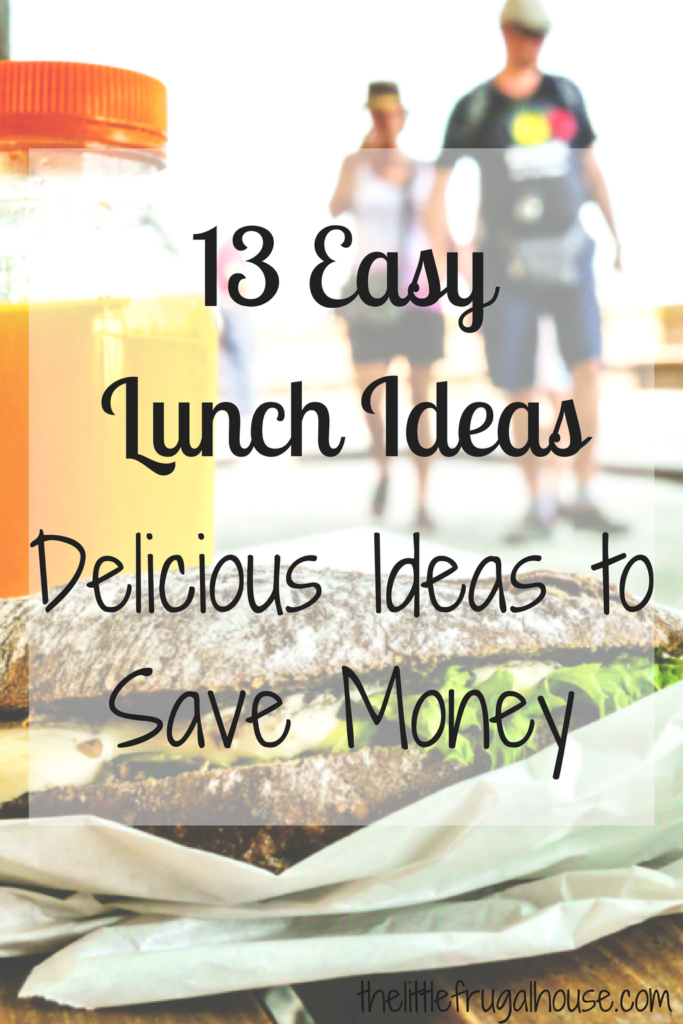 What are your other favorite easy lunch ideas?
P.S. Never want to miss a post but don't have time to check the site everyday? Sign up for our weekly newsletter to receive blog posts straight to your inbox, along with the best frugal living tips!