This post may contain affiliate links. If you click and make a purchase, I may receive a small commission, at no extra cost to you. I only recommend products and services I use and love. Thanks for supporting The Little Frugal House!
Looking for ways to save money on home cooked meals, but want to make sure you're still feeding your family high quality, hearty meals?
I've got 12 meal ideas that cost less than $2 per person. Most all of these have meat as a main ingredient (have to be husband approved!), take less than 30 minutes to prepare, have few ingredients, and are mostly made from scratch!
Can't beat that!
We eat most of these meals on a regular basis and enjoy them every time!
Add of few of these to your weekly menu and see how much you can save!
12 $2 Per Person Meal Ideas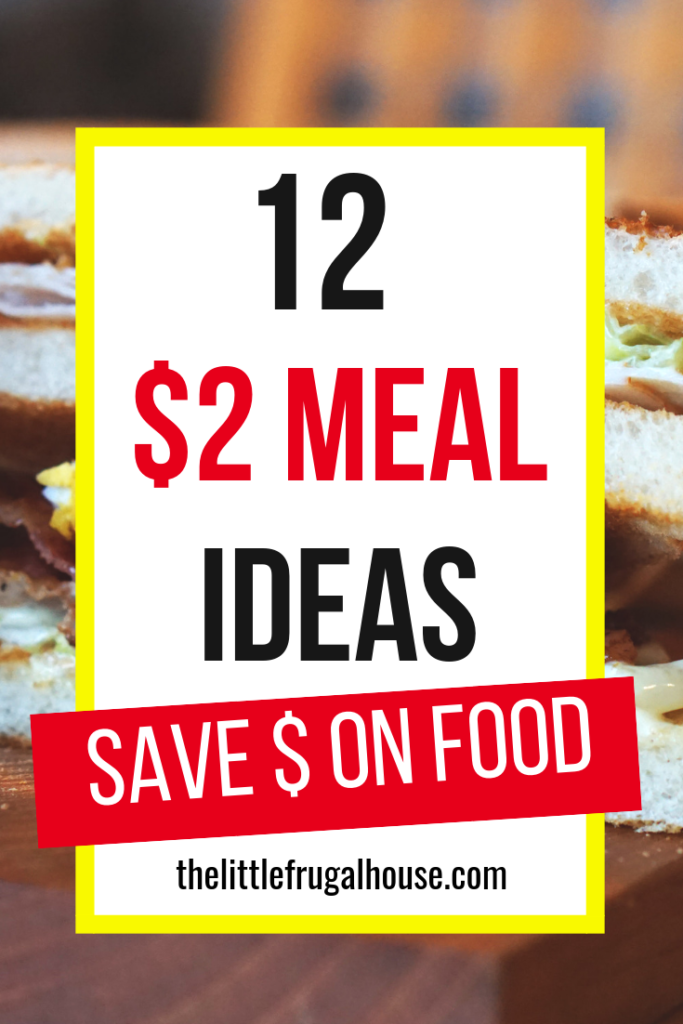 These prices are mostly from shopping at Aldi, buying meat in bulk from Zaycon Fresh, and some are estimated. The meals are simple, nothing ground breaking here. But… all these meals are under $2 a serving, and several under $1 per serving! And they will get your family fed and satisfied. One day we'll go organic right? 😉
(Update: Zaycon has suspended business operations since publishing this post. I will keep my posts updated with any changes.)
Note: Make sure to sign up with Ibotta, a free cash back app, to get cash back when you go grocery shopping! And you get a $10 welcome bonus! Sign up here!
1. Spaghetti
Make homemade spaghetti sauce using this recipe from my beef freezer cooking plan , grab some noodles from Aldi.
Spaghetti sauce: 2 large cans tomato sauce $1 each, 1 can diced tomatoes $1, 1 lb. beef $2.69, assorted spices $.25. = $.74 per serving
Noodles: $1.49
Makes 8 servings
$.92 per serving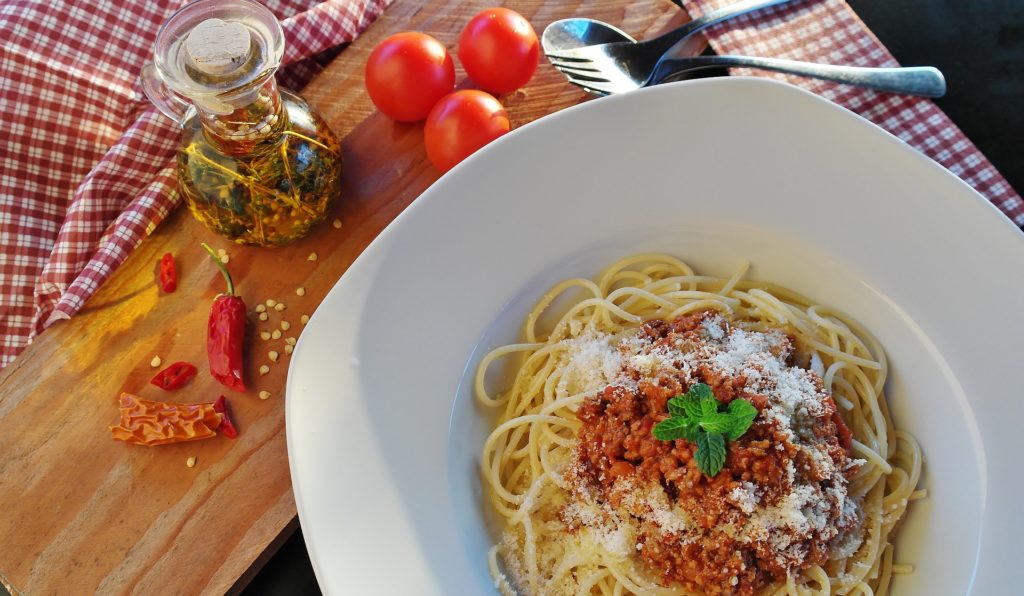 2. Grilled Chicken, Corn, Roll
Grilled Chicken: $1.69 lb – Cut into bite sized pieces and sprinkle with seasoning.
Can of whole kernel corn: $.49
Roll: $.25 each x 2
2 servings
$1.34 per serving
3. Italian Chicken, Roasted Potatoes, Green Beans
Chicken: $1.69/lb – Cut into small tenders, marinate in Zesty Italian dressing, and grill in a skillet.
Roasted Potatoes: $.25 each x 2 – Cut into bite sized pieces, and roast in skillet with olive oil and seasoning.
Can of Green Beans: $.49
2 servings
$1.39 per serving
*Easy alternatives: Change up your marinade for different meals. You could try BBQ sauce, Honey Mustard dressing, or a teriyaki sauce for different flavors.
4. Beef Tacos
Ground Beef: $2.69/lb – Brown beef and add taco seasoning packet ($.50) or homemade taco seasoning.
Shredded Cheese: $.25 per serving
Tortillas: $.15 each
2 servings
$1.89 per serving (2 tacos per serving)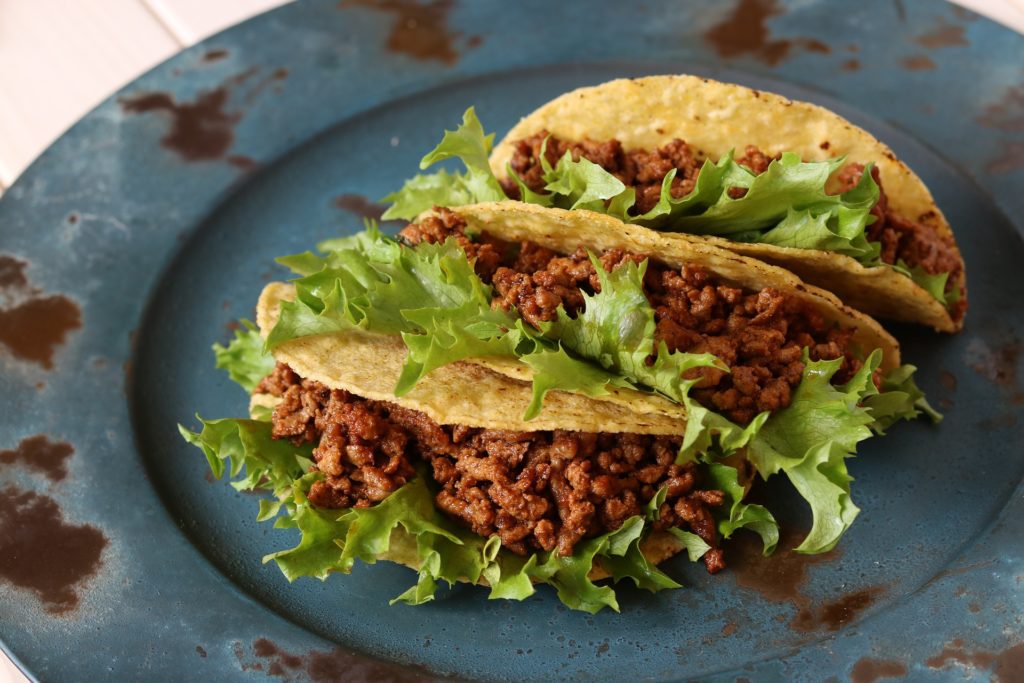 5. Burger
Ground Beef: $2.69/lb – Make 1/3 lb burgers and season with Lawry's seasoning salt. = $.89 each
Hamburger Buns $1.50/8 = $.18 each
$1.07 per burger
6. Homemade Chicken Nuggets, Green Beans
Chicken: $1.69/lb – cut into bite sized pieces, dip in whisked egg, coat with breadcrumbs, and cook in skillet with vegetable oil. (Can bake in oven on cookie sheet also.)
Can of Green Beans: $.49
2 servings
$1.34 serving
7. Salad with Grilled Chicken
Salad mix: $.99
Grilled Chicken: $1.69/lb – cut into bite sized pieces and grill in skillet with seasoning salt.
Add whatever toppings you have on hand – shredded cheese, diced tomato, hard boiled egg, carrots, dressing, croutons.
2 servings
$1.50 per serving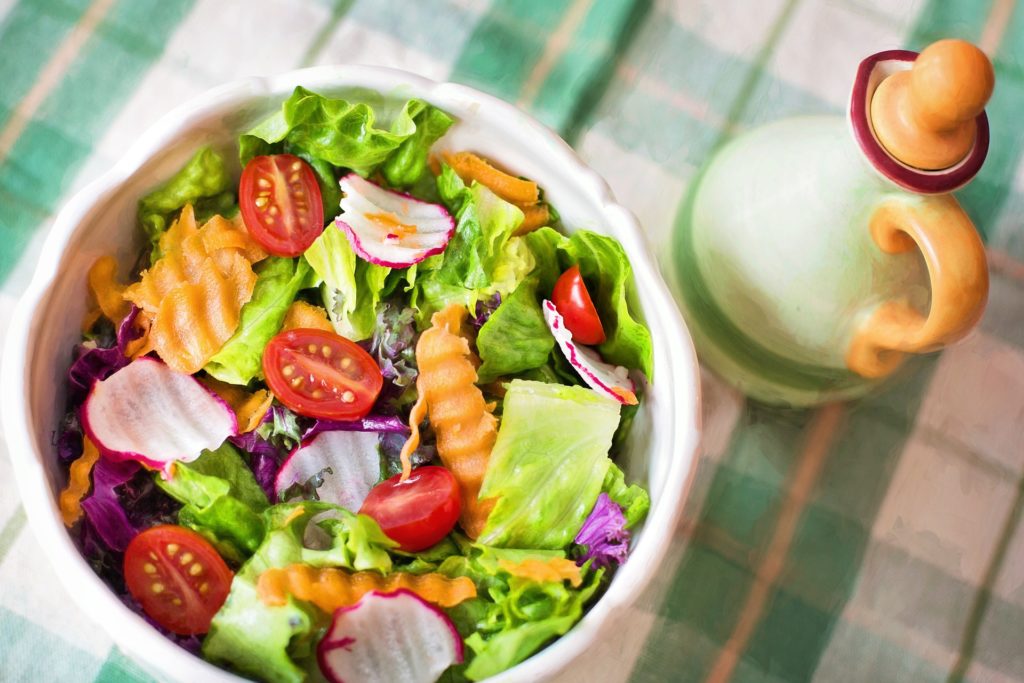 8. Cubed Steak with Mashed Potatoes
Ground Beef: $2.69/lb – Start with making a 1/3 lb burger patty, flour a cutting board, dip a meat tenderizer in flour, and smack until you have a thin steak. Coat both sides generously with flour, salt, and pepper. Cook in a heated cast iron skillet with a small amount of oil.
Mashed potatoes: $.25 each – Cut potatoes and boil under softened, mash with milk and butter until preferred consistency.
$1.60 per serving
9. Breakfast for Dinner
Can of biscuits: $.49 for 10
Eggs: $.49 a dozen
Bacon – $4 per pack or Sausage – $3
Make gravy from bacon/sausage grease, flour, and milk.
Makes about 4 servings
$1.24 per serving
10. Rice, Steamed Veggies, Grilled Chicken
Rice: $1
Steamed Veggies: $1
Grilled Chicken: $1.69/lb – cut into bite sized pieces and grill in skillet.
Mix together with soy or teriyaki sauce.
Makes 3 servings
$1.23 per serving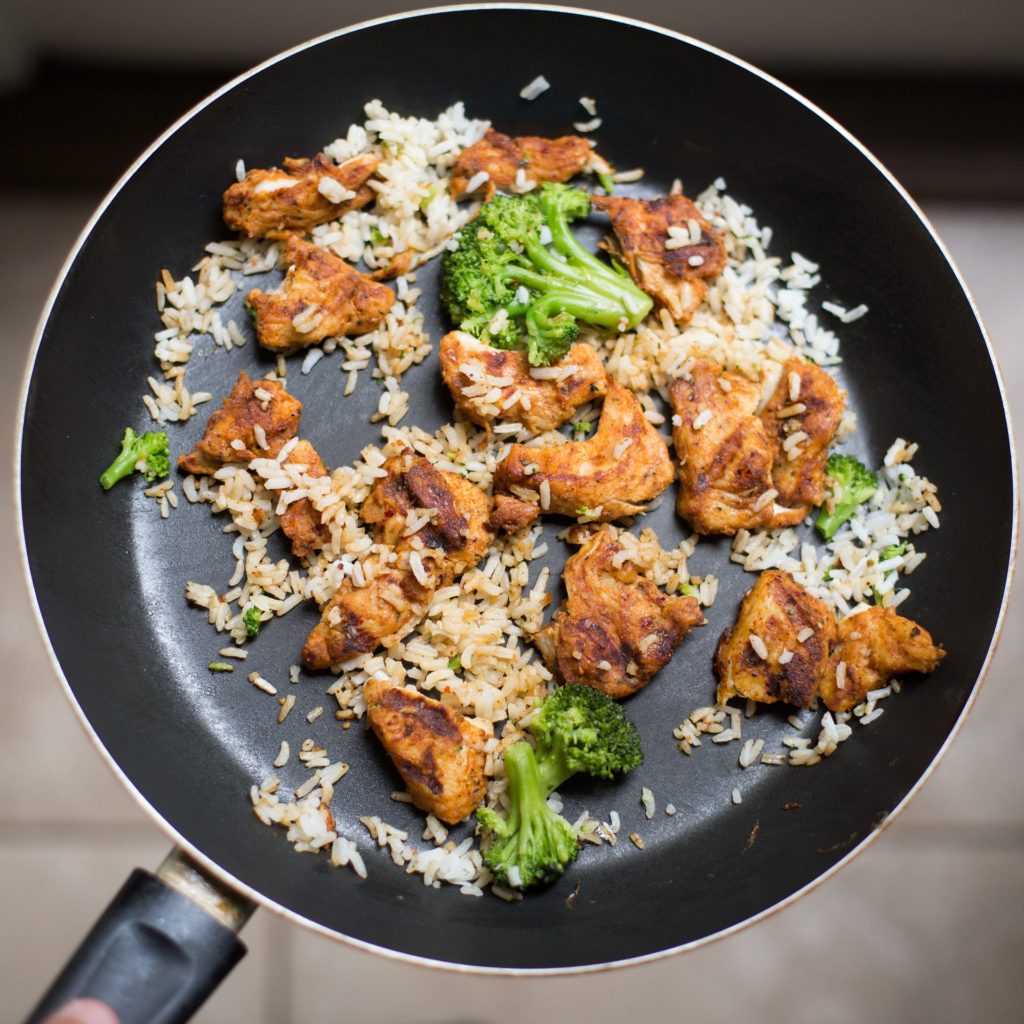 11. Mac and Cheese
Noodles: $1 box – Need about 1/4 box
Milk: 1 cup – $.50
Velvetta cheese: 1 cup – $1
Makes 2 servings
$.87 per serving
12. Grilled Cheese & Soup
Bread: $.10
Cheese Slice: $.10
Can of Soup: $1
$1.20 per serving
Add a few of these $2 meals into your meal planning calendar and see the savings add up!
I'm kind of a dork and brag to my husband about how little our meal costs… But, hey, he thinks it's great and he always enjoys our frugal, simple meals.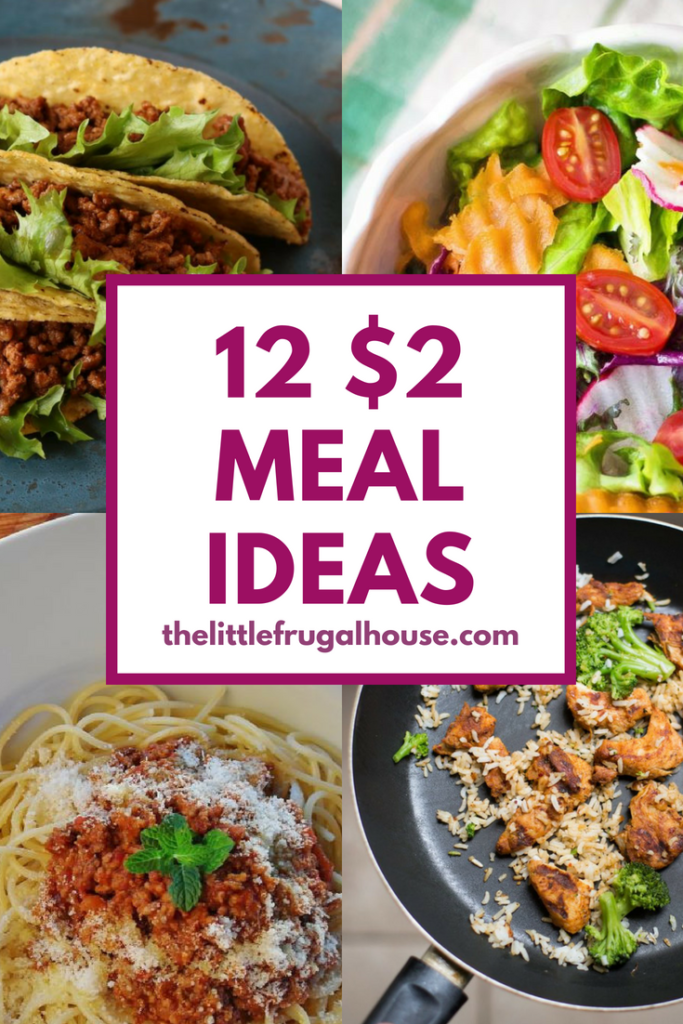 What are your favorite frugal meals?
You might also enjoy…