I've read so many articles about saving money by grocery shopping at Aldi. I honestly never really thought much of it. We have one in town, but it's a little out of the way for me.
I'm a regular Publix shopper. I know it's not the cheapest, but it's such a nice store with a great product selection and really great BOGO deals. Gotta shop those BOGO'S!
I was looking through the sales ads the other day and saw how cheap the produce at Aldi was. Bananas for .29 a pound and cucumbers .25 each! We love to have fresh fruit and vegetables, but produce can definitely be a budget buster.
So, I decided it was about time to check Aldi out and see if it was worth the drive!
I didn't know much about Aldi other than they seemed to have great prices, you had to use a quarter to get a cart out, and you needed to take your own grocery bags.
I got my quarter and reusable grocery bags ready and I made my grocery list after I used this easy 5 step menu planning guide.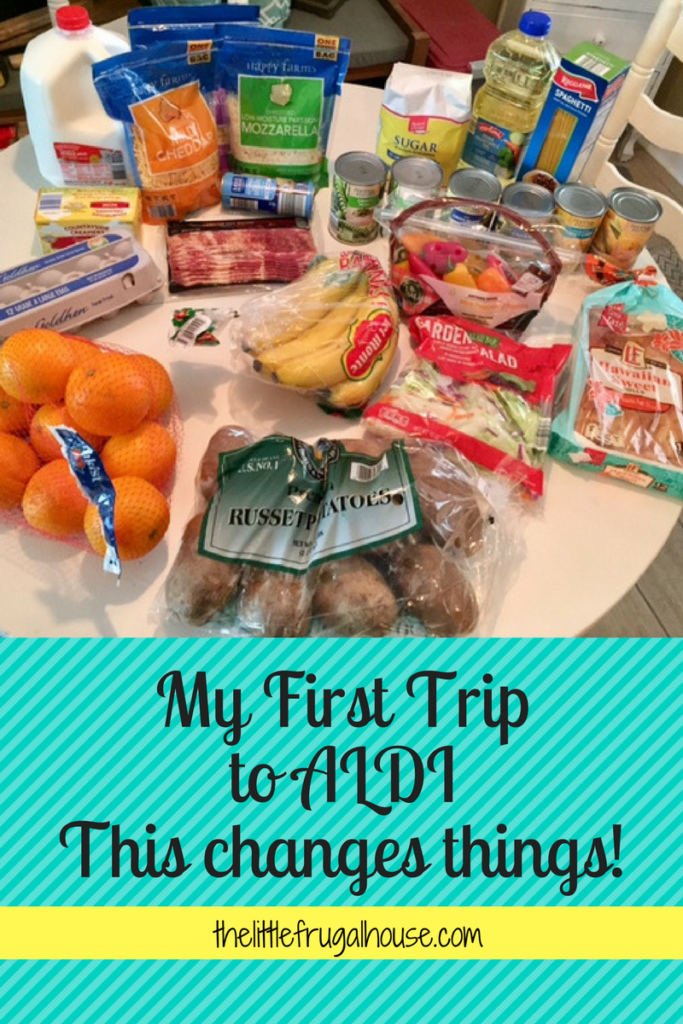 Is it weird that I was nervous to go shopping at Aldi? It's like starting school and not knowing anyone your first day, except it's only a grocery store Amanda… But I didn't know what to do or where anything was located at! 😉
I got over that pretty quick when I finally figured out how to get the shopping cart unlocked, got inside, and OMG the prices! They really, really, really do have low prices! It's real! All these posts and articles were right!
Ok, all you people that have already discovered Aldi can stop laughing at me now!!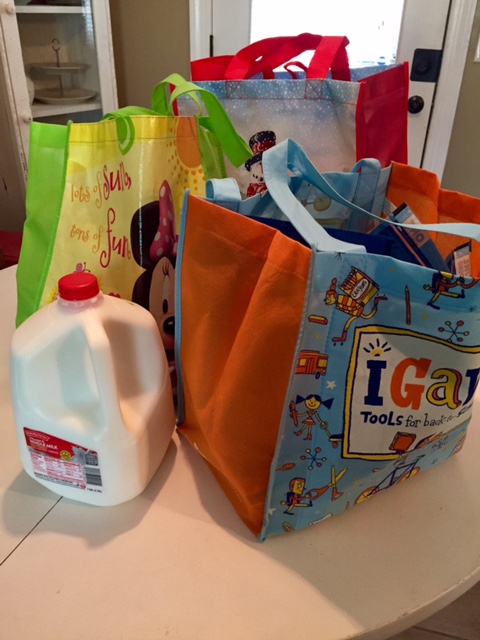 I reviewed my trip to Aldi on a few different categories
1. Prices
The prices seriously were amazing. I spent $38.85 for 3 huge bags full of food! I think I would have spent closer to $60 at Publix on the same items (guessing).
The dairy products (milk, eggs, shredded cheese, butter) seemed MUCH cheaper than Publix.
I was super impressed with the produce prices and how much you get in a package for so little!
I also got some basic grocery staples like spaghetti noodles, sugar, vegetable oil, and canned vegetables (prices broken down at end of post).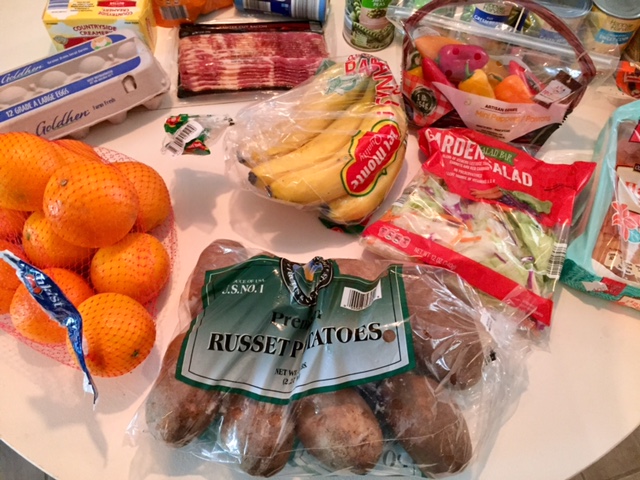 2. Selection
The selection seemed great! I don't think I would be able to shop Aldi exclusively though. I, for some reason, thought the store was much bigger than it was?
You could shop Aldi only and get by, but there are some products I shop for that I didn't see there. And I honestly don't think I could ever do without Publix deli meats!
I really do like how simple Aldi is. There aren't 10 of every product and I really like that! I don't have to stand there and compare prices. They make it easy and simple and cheaper that way!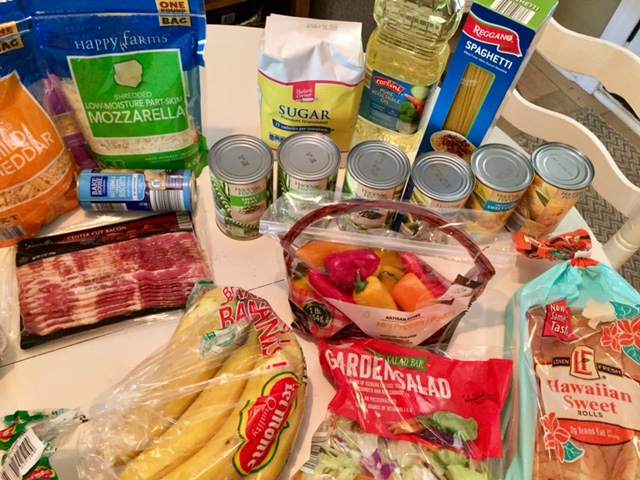 3. Quality
So far, so good on quality of products! The produce, dairy products, and vegetables have all been really good!
I wasn't sure about the snack products, and we had plenty at home, so I would be interested to see how those compare.
I decided to shop for basics on my first trip to see how I liked it!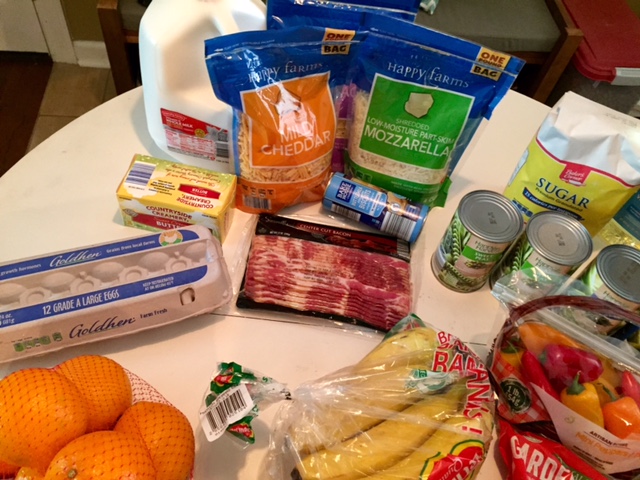 4. Easy to shop?
My store was fairly easy to shop, but I kind of felt like it was a one way course.
I tried to go with the flow of traffic and not have to back track around the store, but I didn't want to miss anything!
Once I figured out where things were, it was really easy to shop around, especially since they only carry a small selection of each product.
Checkout was very simple too – but very different from Publix! You load your items on the belt, the cashier rings them up and puts them back in your cart for you to bag.
What I got for $38.85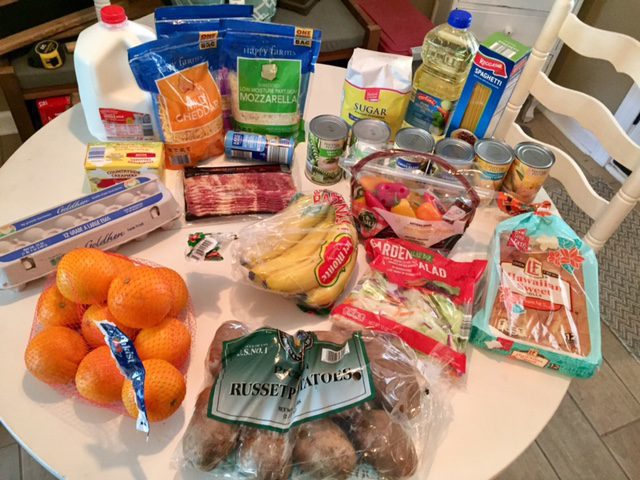 Cheddar Cheese (the big bag!) $2.99
Colby Jack Cheese (big bag) $2.69
Mozzarella Cheese (big bag) $2.99
Buttermilk Biscuit Dough $.48
Whole Milk – 1 gallon $2.38
1 Dozen Eggs – $.49 (cheap!!!)
Bananas – 2.70 lb @ .29/lb – $.78
Navel Oranges – 1.99
Garden Salad Mix – $.89
5 lb Baking Potatoes – $2.89
Mini Sweet Peppers – $1.69
Bacon – $3.89
Sugar – $1.49
Vegetable Oil – $1.85
Spaghetti (big box!) $1.45
Cut Green Beans x2 – $.49 each
Sweet Peas x2 – $.49 each
Whole Kernel Corn $.49
Hawaiian Sweet Rolls – $1.79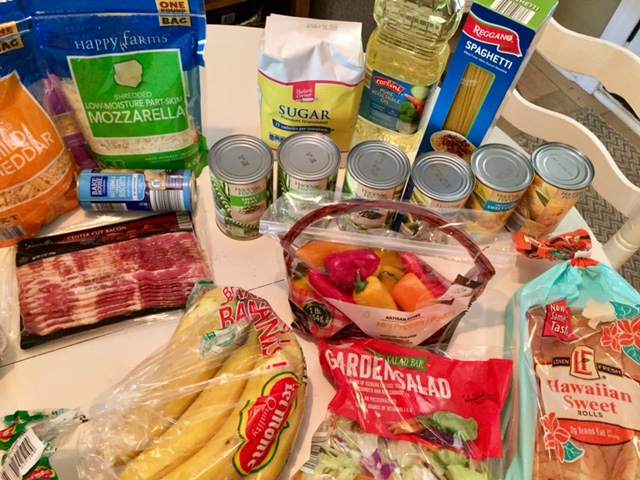 If you have an Aldi nearby, I would absolutely recommend checking it out!
I won't be leaving Publix anytime soon, but I will definitely be going back to Aldi to stock up regularly on produce, dairy products, canned vegetables, and baking products.
Check out Aldi and see how much you can save!
What other discount stores do you love?
P.S. Never want to miss a post but don't have time to check the site everyday? Sign up for our weekly newsletter to receive blog posts straight to your inbox, along with the best frugal living tips!