This post may contain affiliate links. If you click and make a purchase, I may receive a small commission, at no extra cost to you. I only recommend products and services I use and love. Thanks for supporting The Little Frugal House!
If you're looking for more ways to save on your grocery bill, especially meat, you're in the right place!
We have been ordering meat in bulk for a couple years now, and we have saved tons and always have plenty on hand for freezer cooking and meal planning.
I love this system, and I will show you our easy process so you can save bundles on meat and buy (and store) in bulk, too!
It's really a fairly simple process. I would suggest using a deep freezer or a chest freezer. We bought our chest freezer from a neighbor for $20!
Where do I order meat in bulk from?
I love and use Zaycon Fresh for our meat purchases. (Update: Zaycon has suspended business operations since publishing this post. I will keep my posts updated with any changes.)
We only buy boneless, skinless chicken breasts and ground beef from them since that's what we eat the most of.
You could also try ordering from a local farmer or split the meat/costs with a family member or friend.
How much does it cost to order in bulk?
If you look at Zaycon's website, you will see the current prices per pound. If you sign up for their emails, you will occasionally receive coupon codes and deal alerts!
(Update: Zaycon has suspended business operations since publishing this post. I will keep my posts updated with any changes.)
And if you share your referral link, you could receive credits towards your order!
The last time I ordered ground beef, I got it for $2.18/lb using a coupon code and a small credit.
I buy chicken breasts at $1.69 or less per pound.
Ground beef and chicken breasts come in 40 lb cases.
You order in advance, usually a couple of months, drive up to the specified location, and they load your order in your car. Easy peesy!
Here's our system for dividing and storing our bulk ground beef:
Supplies:
Meat
Cutting board(s)
Knife
Freezer Bags
Reusable grocery bags (We use these to organize our deep freezer.)
Instructions:
Open as many freezer bags as you think you will need. This works much better than trying to open them as you go, since your hands will be dirty.
Open your package, and place the ground beef tube on your cutting board. Decide what size servings you want to freeze. For the two of us, I make 1 lb. portions. It's just enough, and sometimes enough for leftovers. And when I do my freezer cooking, it's super easy to pull out the right amount of meat since everything is about 1 lb. Slice through the plastic, making 1 lb. (or whatever size your prefer) portions. The ground beef comes in 10 lb. tubes, so you should have 10 portions cut.
Slide the ground beef portions out of the plastic and into a freezer bag.
Repeat until you have everything sliced and in freezer bags.
Place all the freezer bags into reusable grocery bags and into the deep freezer.
We love using reusable grocery bags in our chest freezer, so we can easily pull them out when we need something and we keep everything separate and organized.
This process takes me about 40 minutes to get everything put away. If you have an extra hand to bag everything while you cut, it would take much less time!
If you've been wanting to try buying meat in bulk, this is a great company to buy from and an easy process to divide and store! I think you will find you save a lot on meat, as long as you eat it all up and don't waste any! I think we waste a lot less this way though, since everything is already portioned correctly for our family size.
Try buying meat in bulk from Zaycon and use this process to divide your meat and store it.
You may also want to try our Beef Freezer Cooking Plan and make 36 meals in 1 hour!
What are your favorite bulk meat savings tips?

P.S. Be sure to check out the MyFreezEasy program if you are interested in learning more about freezer cooking. You'll find customizable meal plans to get 10 meals into your freezer in about an hour! There are 5 different meals plans each month, with something for everyone. Meal plans come in a printable download with recipes, shopping lists, assembly instructions, videos, and printable labels. These plans are designed for beginner freezer cookers and more experienced cooks – really anyone who wants to skip the overwhelm of feeding their family delicious and healthful meals every night. Check it out!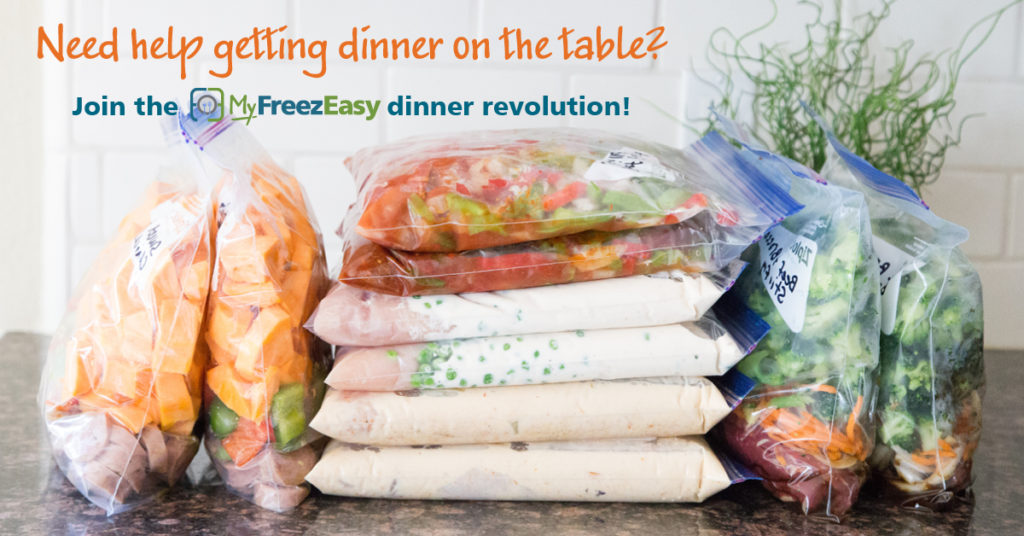 You might also enjoy…