Warning: If you are vegetarian, watching your calories, get offended by grease, or can't stand the thought of working with raw meat – STEP AWAY and run fast!! Actually, why would you have clicked on this in the first place?
For the rest of you… my beef loving, real meat eating people out there…
If you are looking to save time cooking dinner every night and wanting to get dinner on the table in record timing with little effort, then freezer cooking is perfect for you!
I've got a freezer cooking plan to make 36 meals in about an hour! It's easy, too! I'll show you how!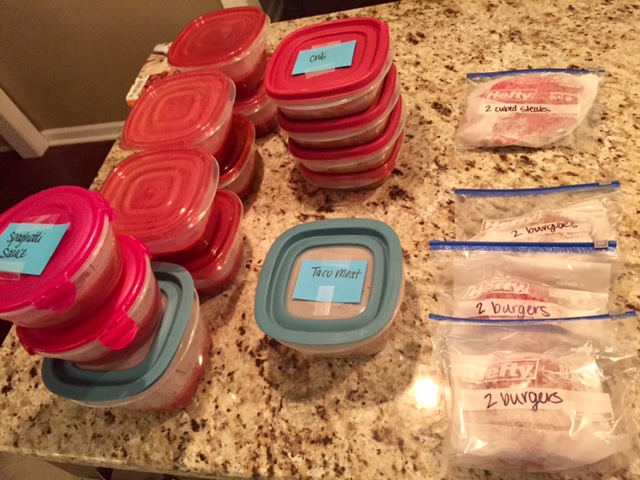 The idea is that you already have the ingredients out to make one meal, so why not go ahead and make several more and save yourself hours of time in the kitchen on busy weeknights?
Sounds good to me!
Work this into your meal planning routine – just thaw the night before, heat and serve! Ta da! A delicious warm dinner ready in a few minutes!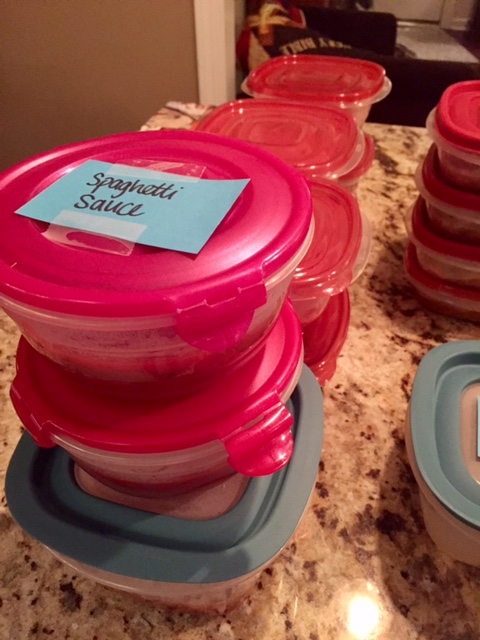 This freezer cooking session was intended for the two of us. You can add on additional meals, make different sized servings, take away meals.. whatever works for you and your family! And this can definitely work for just 1 person too! Just change up how many servings per container and you'll be set to eat yummy and quick meals!
Print this out and take it with you grocery shopping and keep it handy in the kitchen to refer to while you're cooking.
1st rule: Listen to your favorite music while you cook! It's so much more fun to be dancing away in the kitchen while you cook! The time just flies by!
Here's what we're going to be making:
18 Servings of Spaghetti Sauce – I divided mine into 2 serving portions, so I had 9 containers
8 Servings of Chili – I used this recipe from the Pioneer Woman – made 4 containers with 2 serving portions.
2 Servings of Taco Meat – 1 container with 2 servings
6 Burgers – 3 packs – I wrapped 2 burgers in freezer paper and placed in a freezer bag.
2 Cubed Steaks – 1 package with 2 steaks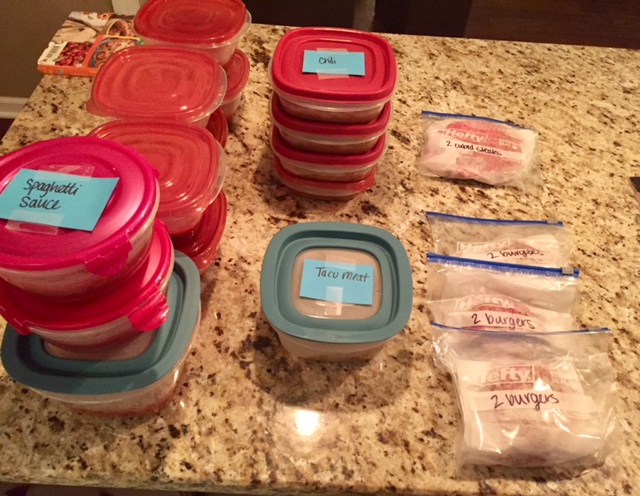 That's 36 meals for your busy family! 36 servings that require little work to get on the table to hungry mouths!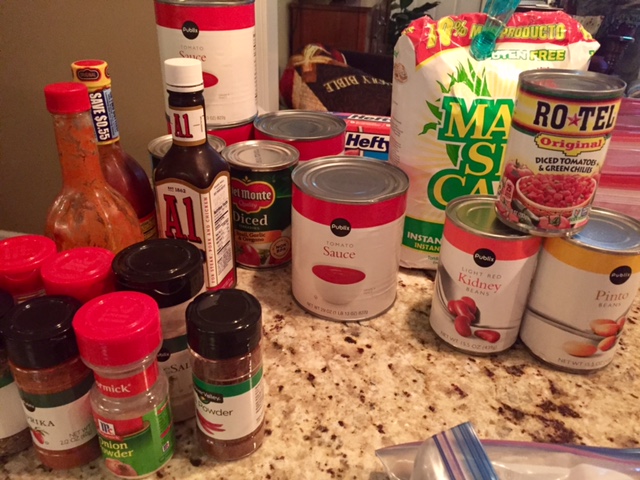 Here's your shopping list:
8 lbs of ground beef (I add in venison when we have it)
4 – 29 oz cans tomato sauce
2 – 14.5 oz cans diced tomatoes with basil and oregano
1 – 15 oz can pinto beans
1 – 15 oz can kidney beans
1/4 cup Masa flour
1 – 10 oz can Rotel diced tomatoes and green chiles
2 Tbsp hot sauce
2 Tbsp worchestire sauce
1 Taco Seasoning Packet (can make your own seasoning)
Assorted spices – Chili Powder, Garlic Powder, Onion Powder, Basil Leaves, Dried Oregano, Cayenne Pepper, Paprika, Ground Cumin, Garlic Salt, Seasoning Salt, Burger Seasoning
Freezer Bags
Freezer Paper
Lots of containers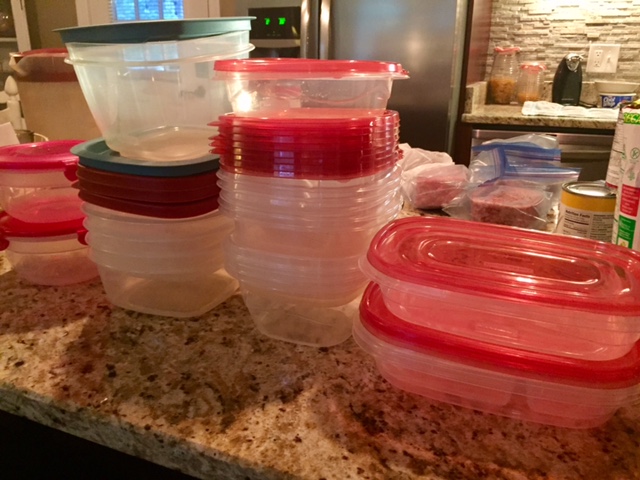 And here's our cooking plan: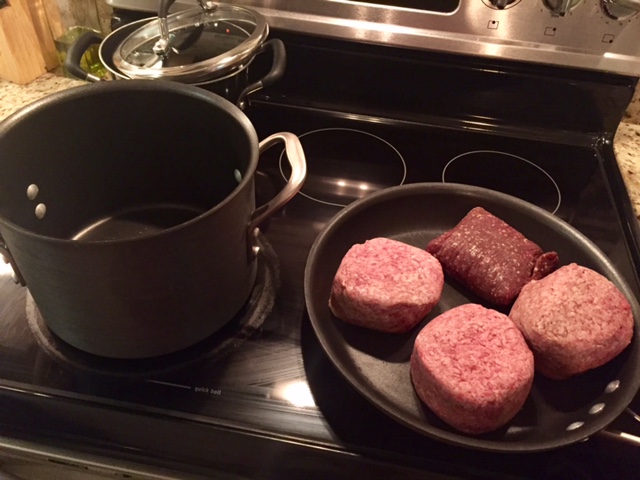 Brown 5 lbs of ground beef into small crumbles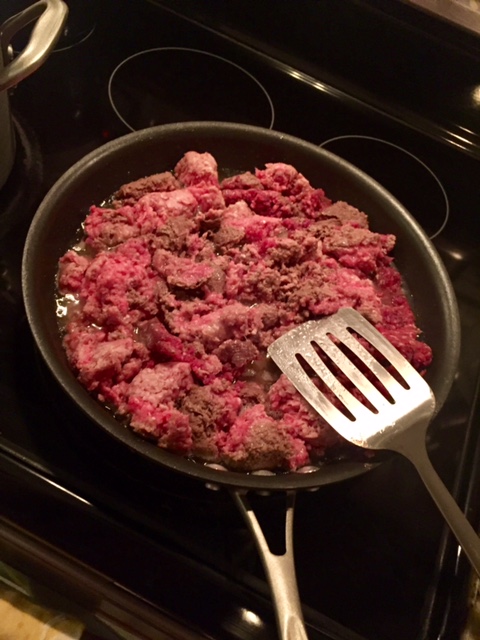 Start making your spaghetti sauce in the largest pot you can find – simmer on medium/low heat.

Add 3 1/2 cans tomato sauce, 2 cans diced tomatoes, 2 tbsp. hot sauce, 2 tbsp. worchestire sauce, 2 tbsp. chili powder, dash of each: garlic powder, onion powder, basil, oregano, cayenne

In all honesty, I don't measure any of this – I just do what looks good to me! It's more fun to me that way, and takes less time! lazy? kinda! Does it taste good though? sure does!

While beef is browning, you can pat out your burgers

I used 2 lbs of ground beef to make 6 – 1/3 lb burgers
Sprinkle and mix in Lawry's Seasoning Salt and McCormick Grill Mates Montreal Steak Seasoning
I just placed my burgers on freezer paper, and put 2 in each bag.
Label the bag.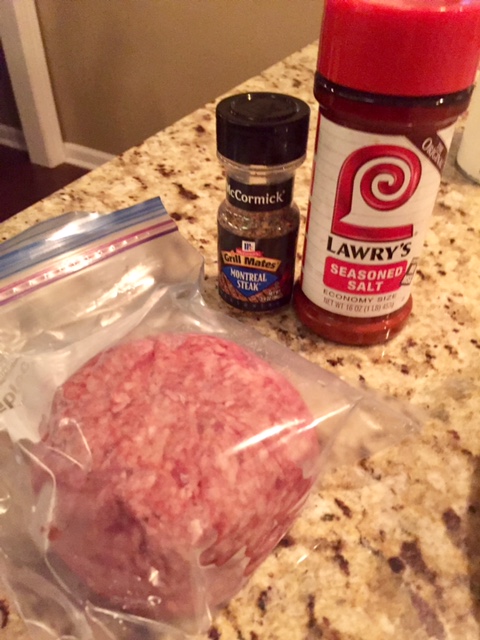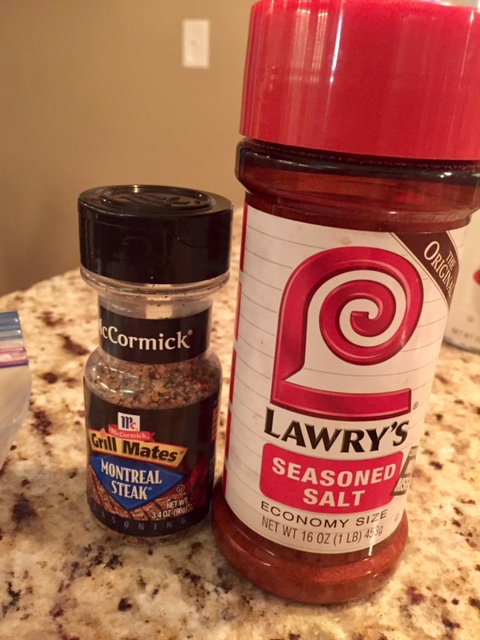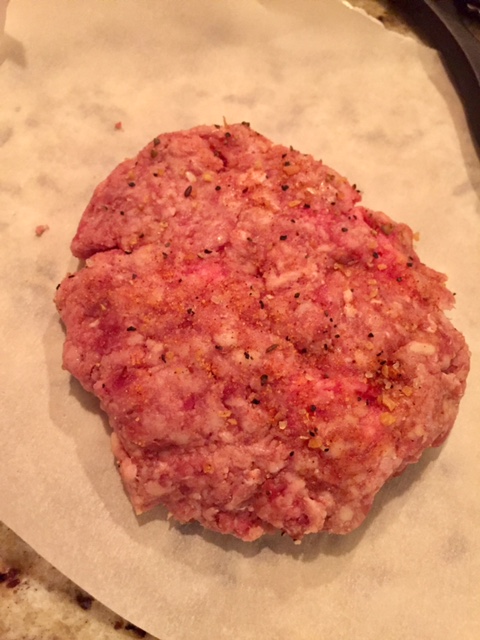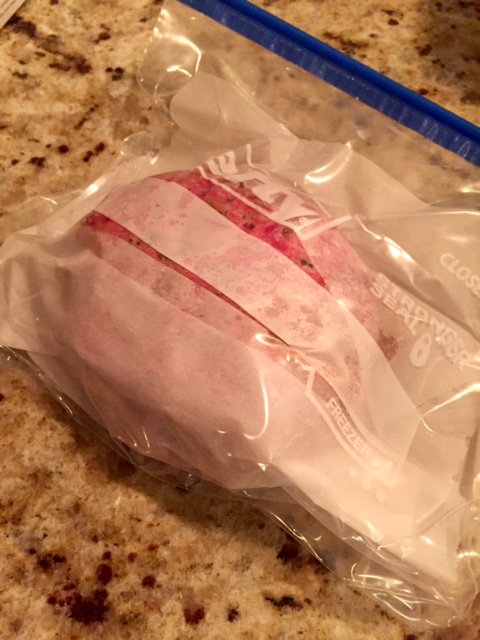 Add 2 lbs of ground beef to your spaghetti sauce and let simmer. You may want to taste test soon and add more spices if you need to.
Add 2 lbs of ground beef to another pot and start making your chili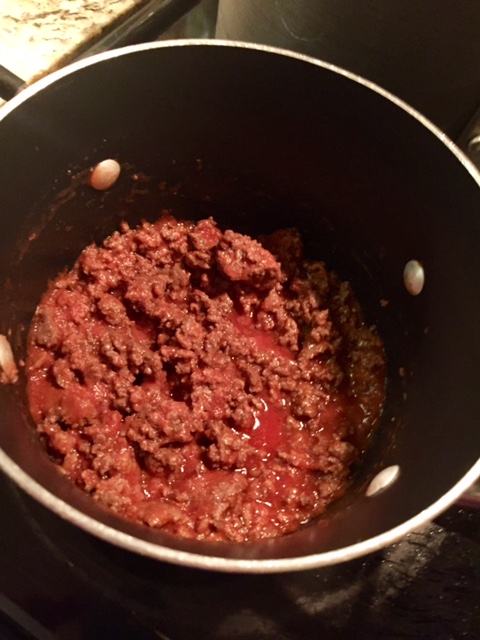 Mix the taco seasoning packet with water and add to the left over 1 lb of ground beef in your original skillet (Make sure you drain the grease!)

Let that come to a boil and simmer.
While everything is simmering, make the cubed steaks.

I used 1 lb of ground beef to make 2 cubed steaks – You could stretch it and make 3 steaks out of 1 lb.
I pat these out like burgers at first, flour a cutting board, get my meat tenderizer out, dip the tenderizer in flour, and go to town smacking these down into thin cubed steaks.
Place on freezer paper and in a freezer bag.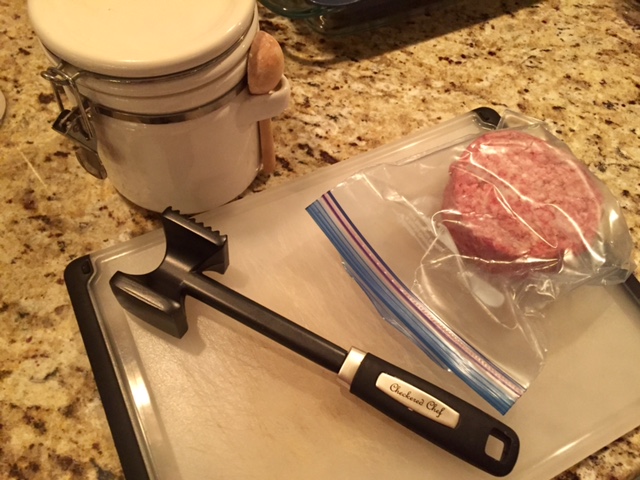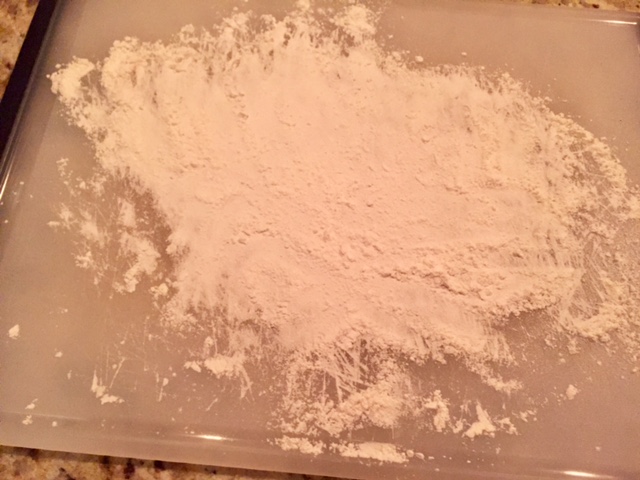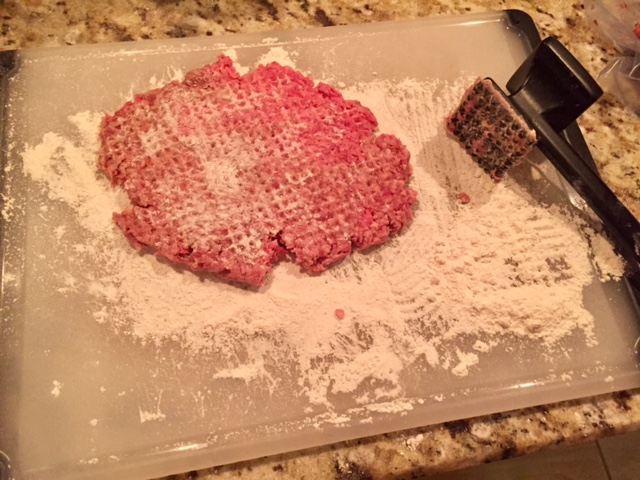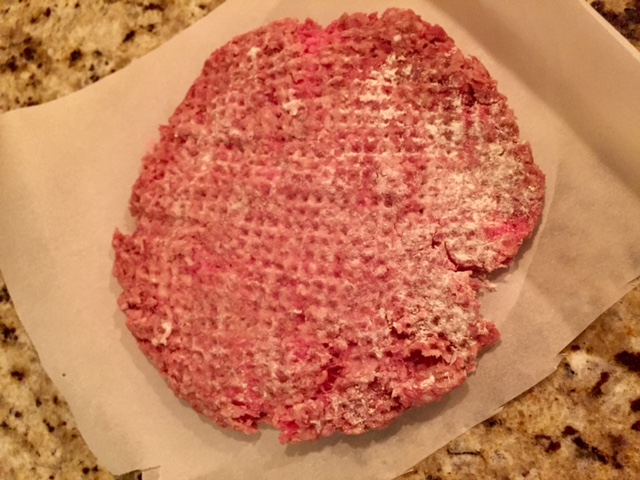 Put everything in freezer bags or freezer containers.

I make everything 2 serving containers. Add however many you need for your family, and you'll be ready to make quick meals on busy nights!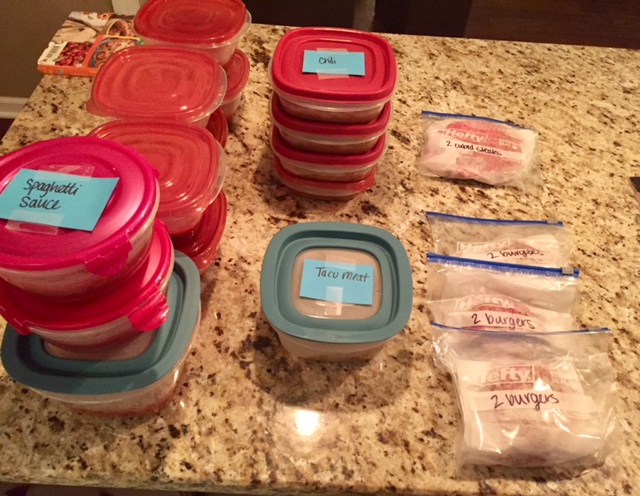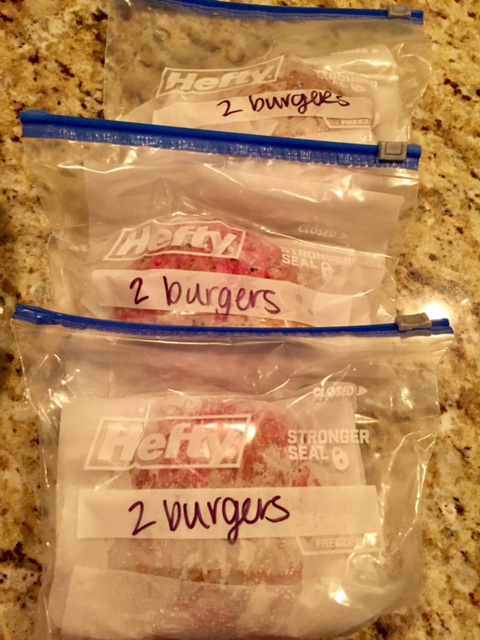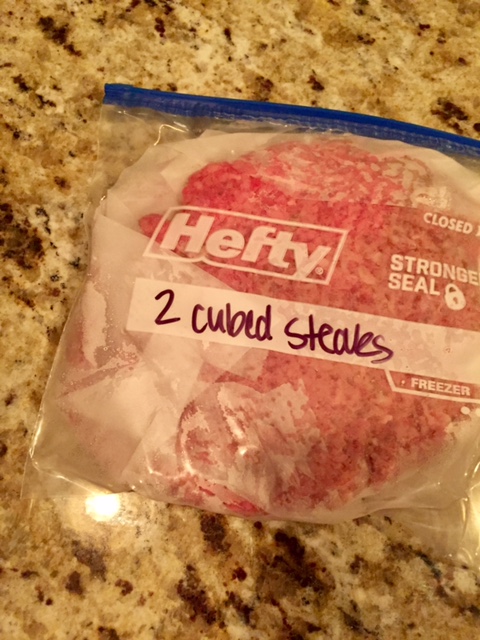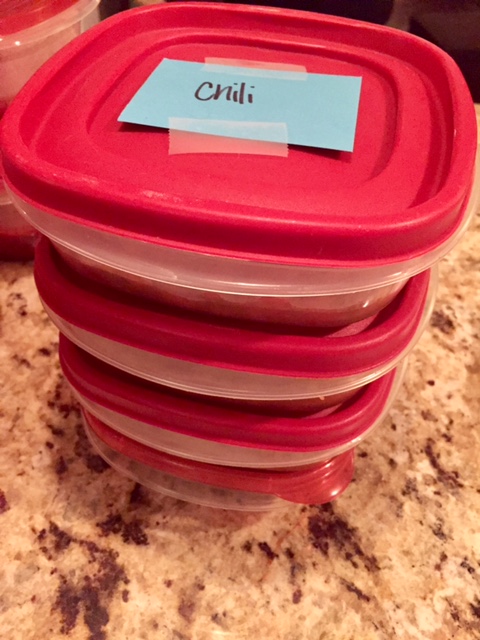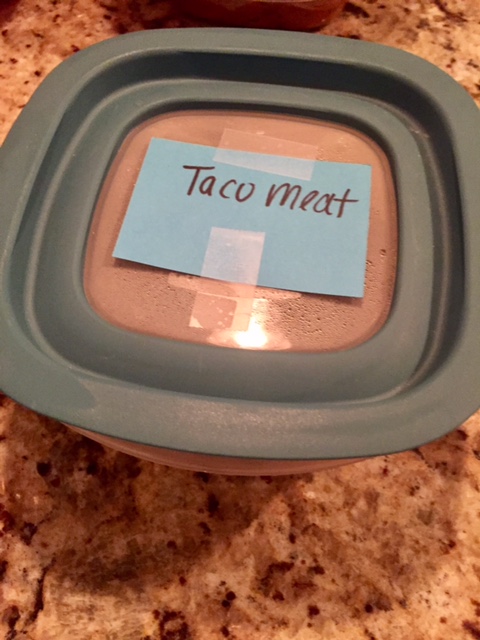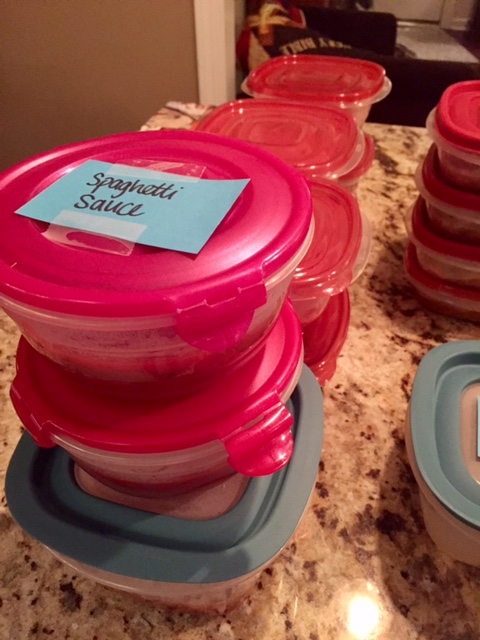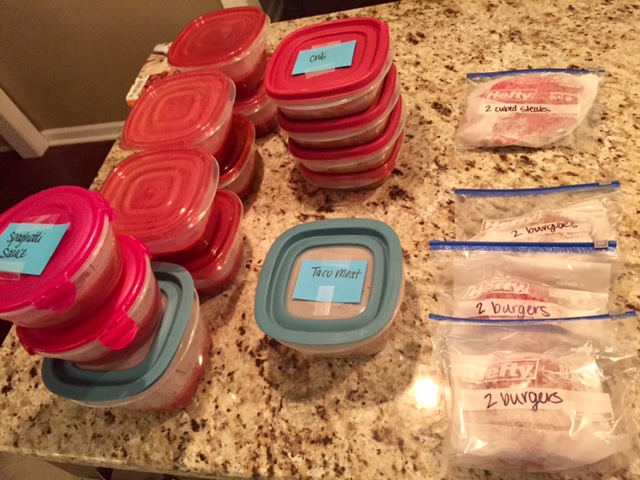 When you're ready to serve these meals:
Spaghetti Sauce
Thaw the sauce in the fridge overnight, cook your spaghetti noodles, and heat the sauce. Add some French bread for extra deliciousness!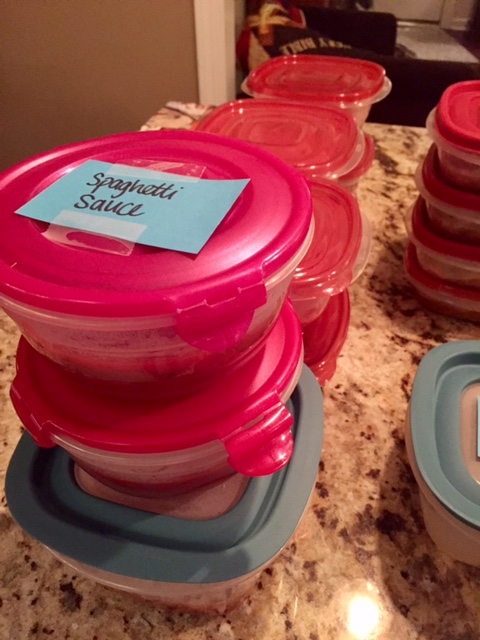 Chili
Thaw in the fridge overnight, heat and serve! Easy peesy! I like to eat mine with Fritos and shredded cheddar cheese. You could add sour cream, make chili dogs, or just eat it plain.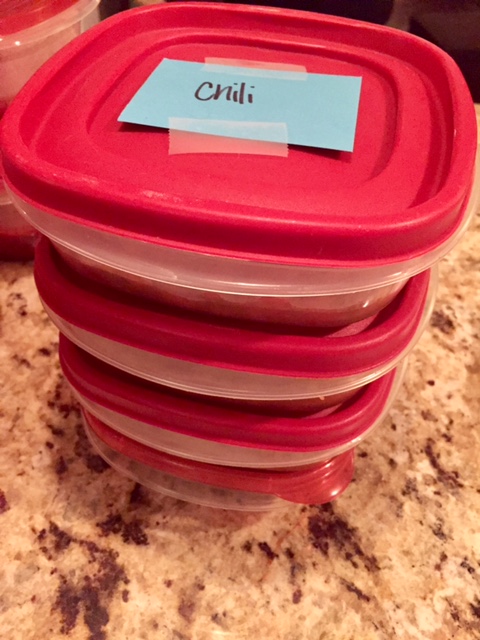 Taco Meat
Thaw in the fridge overnight, heat in the microwave or in a skillet, and serve with warm tortillas and your favorite fixings! This one might be the easiest!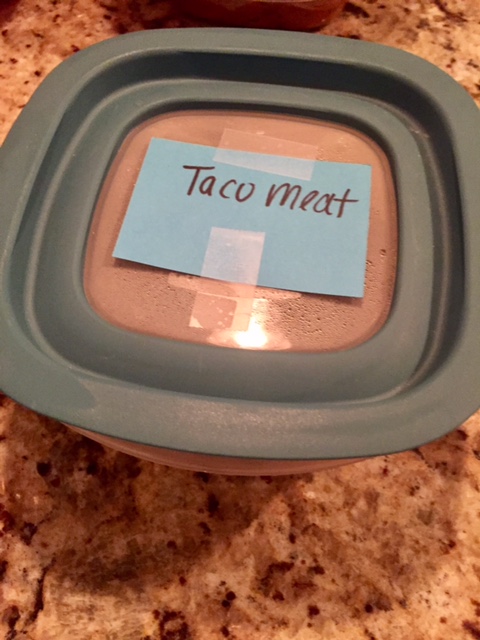 Burgers
Thaw in the fridge overnight, grill and serve! We just use a little George Foreman for the 2 of us.
Might I suggest potato hamburger buns? They are so yummy! Since it's just the 2 of us, I freeze the whole pack as soon as I buy them and then, when we are ready to get cooking, I thaw 2 on a paper towel, add some fries to the oven, and throw the buns on the same cookie sheet for the last 3 minutes. Place the buns inside down and they get a delicious toasted flavor.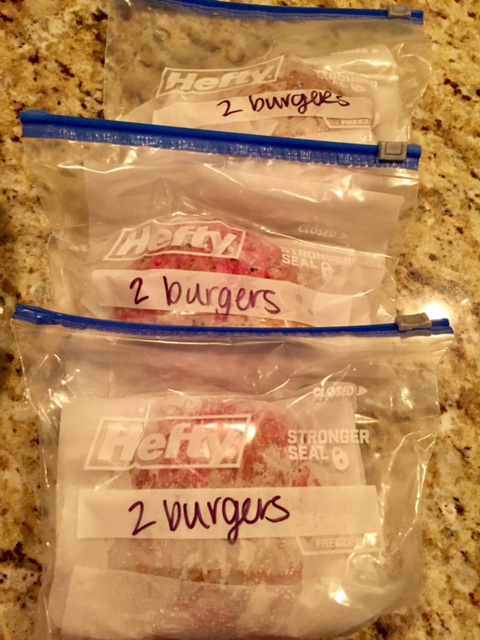 Cubed Steak
Thaw in the fridge overnight. Add flour, salt and pepper to a plate. Coat both sides generously. Cook in a hot cast iron skillet with a small amount of oil. Make sure to get the crunchy pieces out!
I love these with mashed potatoes and sweet peas! Yummy!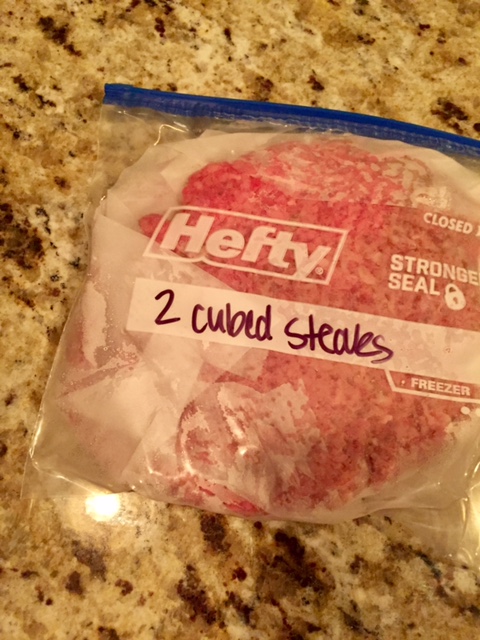 Beef. It's what's for dinner.
Try out this freezer cooking plan and see how much time you save in the kitchen every night.
Tweak it to your preference – make more, make less, add meals.
The idea is to work ahead and do all the hard work one time. You'll have more time to spend on other things and LESS DISHES!
Dinner is ready – quick, easy, and delicious & only 1 big set of dishes!
This whole freezer cooking session took me about an hour and my sweet husband helped with dishes! I think he was laughing at me a little though because I was so excited and proud that I stocked our freezer in an hour!!
And you should be proud and excited! You just made life easier on yourself, you've got meals ready for your busy family, and you get to spend more time doing things you enjoy instead of spending the whole night in the kitchen! Go you! You're a freezer cooking boss!

P.S. Never want to miss a post but don't have time to check the site everyday? Sign up for our weekly newsletter to receive blog posts straight to your inbox, along with the best frugal living tips!