This post may contain affiliate links. If you click and make a purchase, I may receive a small commission, at no extra cost to you. I only recommend products and services I use and love. Thanks for supporting The Little Frugal House!
I had a bad week last week. And it had everything to do with breakfast.
I didn't have anything on hand to grab for breakfast so one of three things happened every morning:
Skipped breakfast and was hangry until lunchtime.
Ate my packed lunch at 9:00 am and was starving by about 1 pm.
Grabbed donuts or fast food breakfast on my way to work.
So, yeah, not a great start to the day. I hate being hungry and I hate spending money unnecessarily.
This weekend while I was cooking breakfast, I went ahead and made breakfast freezer meals for the next two weeks. No more hangry and no more wasting money!
Breakfast Freezer Cooking – 11 Breakfast Freezer Meals in 20 Minutes for $5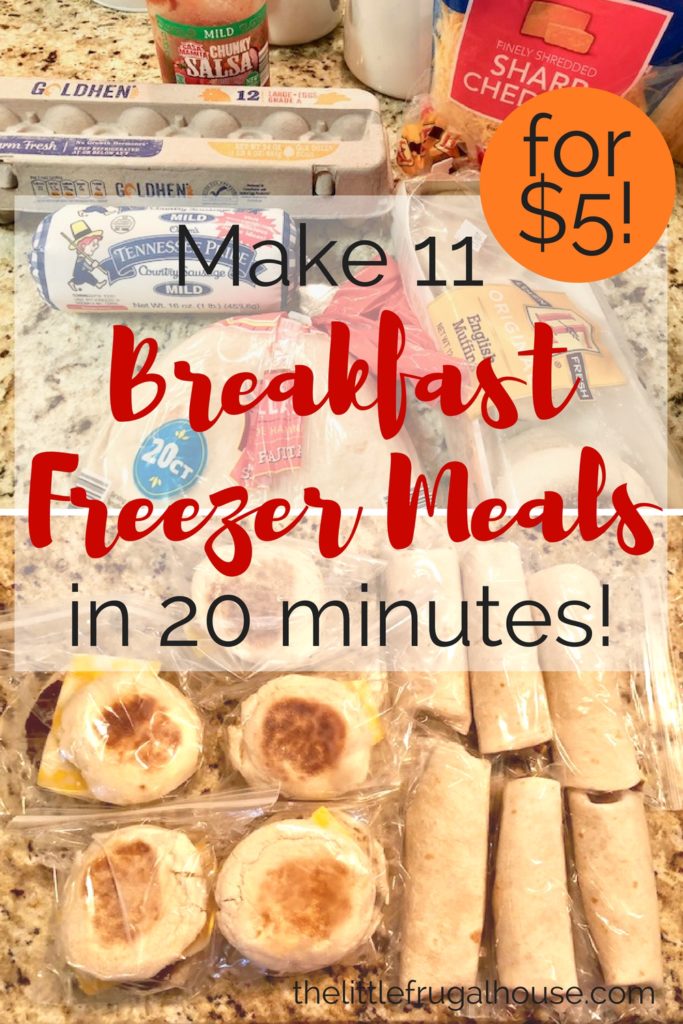 Ingredients:
1 lb of sausage
6 small flour tortillas
5 english muffins (I had already eaten 1, but you should be able to make 6 if you have a full pack.)
4 eggs
Shredded cheddar cheese (or whatever you have on hand)
Cheese slices (I tore mine in half so I only needed 3)
Salsa (optional)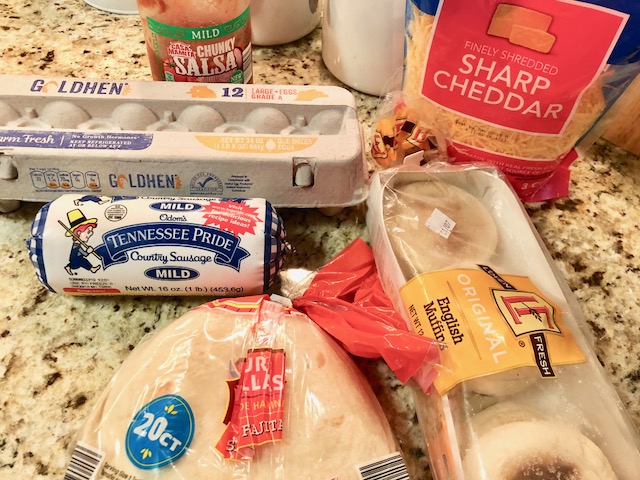 Related Post: No Cook Freezer Meals – Make 28 Meals in 20 Minutes
Directions:
Make 5 (or 6 – if you have a full pack of muffins) sausage patties and brown. Drain grease.
Brown remaining sausage into crumbles.
Scramble 4 eggs.
Make your sausage and cheese muffins by slicing the english muffin in half, adding a sausage patty, and then half a slice of cheese. Place in freezer bag.
Assemble breakfast burritos by laying out 6 small tortillas, dividing your sausage crumbles onto the tortillas, dividing your scrambled eggs on top, sprinkling shredded cheese, and adding dollops of salsa, if you wish. Place in freezer bag.
Place your breakfast freezer meals in a designated bin in your freezer so you can grab one and go.
To heat your meal:
Thaw in the fridge overnight, and heat in microwave for 1 minute – 1.5 minutes.
From frozen, heat in microwave for 2 – 3 minutes.
So easy, right? My favorite part of this freezer cooking session was being able to make everything as I was making our normal weekend breakfast. I didn't have to carve out any extra time or do any extra dishes. Love that!
Related Post: The Ultimate Aldi Freezer Cooking Plan – Make 80 Meals in 2 Hours
The savings add up!
Making these breakfast freezer meals is a great frugal alternative to a warm fast food breakfast. I made ALL 11 of these meals for about $5 (shopping at Aldi), which is $1 LESS than my ONE fast food breakfast meal. Crazy! These meals are homemade, better for you, and cheaper! And you don't have to wait in any drive thru line.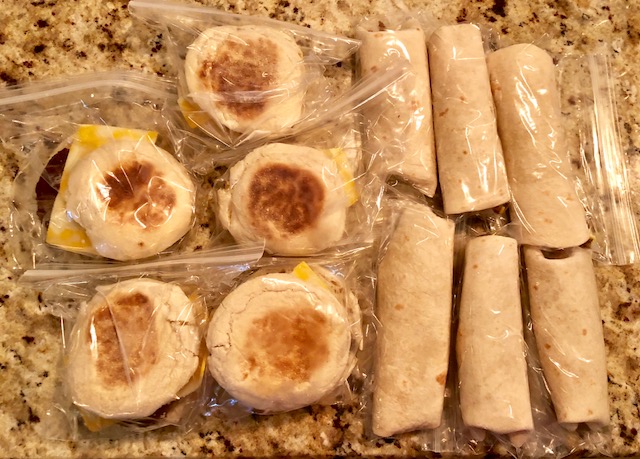 You could also change this freezer plan up to better suit your family's preferences:
Use biscuits instead of muffins.
Add chopped bell peppers to your burritos.
Make scrambled egg "crepes" and add to your breakfast sandwiches.
Use chopped bacon or ground turkey.
Whatever breakfast meals you make, you will love having meals in the freezer ready to grab and go. It makes my mornings so much better!
Related Post: Monthly Freezer Cooking – 111 Meals in 3 Hours
Enjoy! And don't get hangry!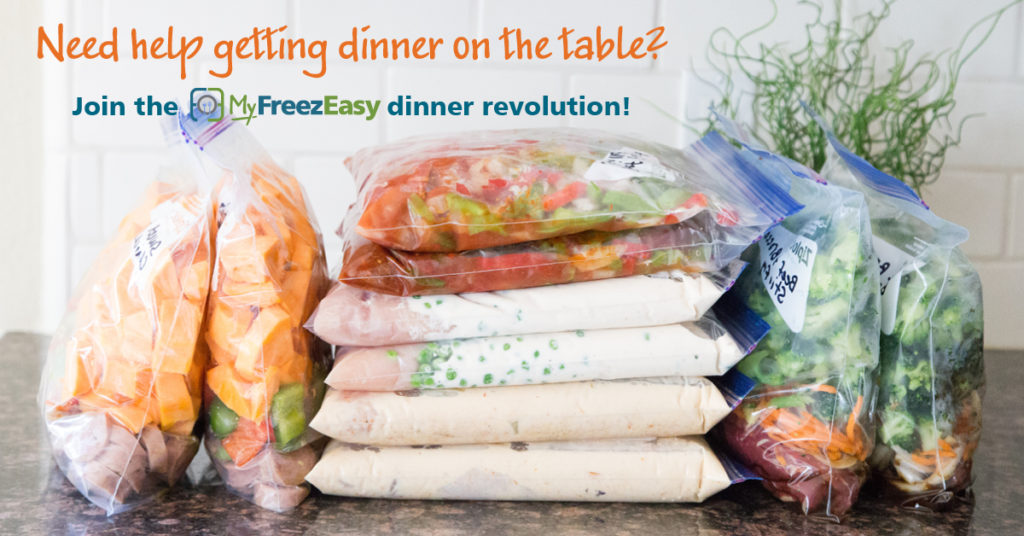 You might also enjoy…