This post may contain affiliate links. If you click and make a purchase, I may receive a small commission, at no extra cost to you. I only recommend products and services I use and love. Thanks for supporting The Little Frugal House!
Is your freezer a mess? Like so bad you don't even know what's in there?
You can't find anything, forget what you've bought, and end up buying more. If your freezer is unorganized you may be wasting food, throwing away money, and buying things you already have.
I took about 20 minutes to get my freezer organized. It was a mess before. Things were everywhere, I didn't know what I had, and some food had ruined because I forgot about it.
So, I grabbed some Dollar Tree bins and got to work cleaning out and organizing.
Dollar Tree Freezer Organization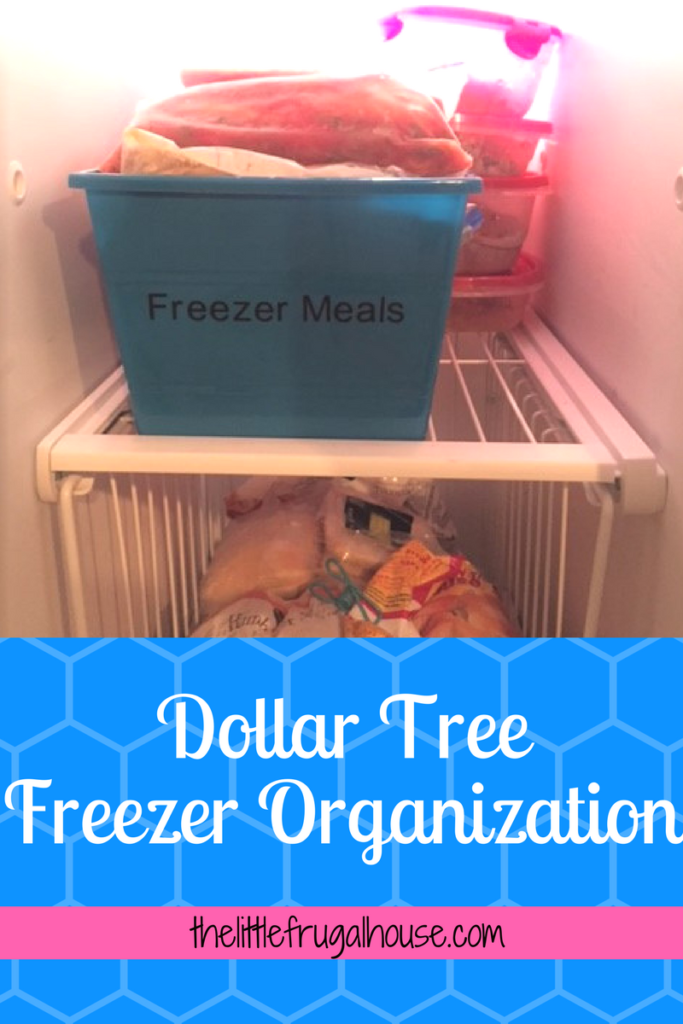 Supplies Needed
Plastic bins (check out Dollar Tree)
Labels/marker
Reusable grocery bags
Let's get to work!
Take everything out of the freezer.

The first thing I did was take everything out of the freezer and clean the shelves.

Get rid of anything that's ruined, out of date, or you won't eat.

Throw away anything that has gone bad, out of date, or anything you know won't get eaten. No use in keeping that around and cluttering your freezer!

Label and organize your bins.

I made a breakfast bin and a bin for freezer meals that are in bags. No more digging around!
Deep Freezer
We also have a chest deep freezer that needed a little tidying up.
Reusable Grocery Bags
I love using reusable grocery bags to organize the chest freezer. If not, everything would fall to the bottom and it would be a terrible mess.
When I buy my meat in bulk, I freeze it in portions perfect for our family size. These bags go in a big reusable grocery bag and into the chest freezer.
So I have a couple of bags full of chicken breasts, a couple of ground beef, and one for assorted meats.
This way, I can grab a bag and pull it completely out of the freezer to see what's underneath. It keeps everything organized and easy to find what you are looking for.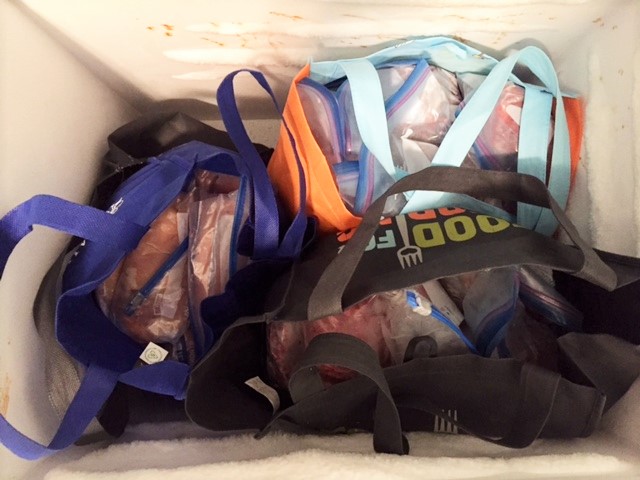 Organizing your freezer is not the most fun and exciting task, but I know it will make you feel better once you complete it. And I bet you will save time finding ingredients for dinner and making your grocery list because everything will be easy to find!
And you might even save yourself some money too! Knowing what you already have on hand will keep you from buying duplicates and keep you from wasting food.
How do you keep your freezer organized?

P.S. Be sure to check out the MyFreezEasy program if you are interested in learning more about freezer cooking. You'll find customizable meal plans to get 10 meals into your freezer in about an hour! There are 5 different meals plans each month, with something for everyone. Meal plans come in a printable download with recipes, shopping lists, assembly instructions, videos, and printable labels. These plans are designed for beginner freezer cookers and more experienced cooks – really anyone who wants to skip the overwhelm of feeding their family delicious and healthful meals every night. Check it out!