I just finished a mini freezer meal prep session, and now have 28 meals made for the freezer. The freezer was getting a little too empty for my liking.
Having meals ready to go in the freezer is a huge time and money saver for us!
We have very busy schedules right now. I'm in the busiest season of my craft business, we are building a garage, and life just gets a little hectic sometimes!
Suffice it to say, freezer meals save us from starvation and fast food often! After a busy day, I can just grab a meal, heat it up, add some sides, and dinner is ready! Some of these meals can be crock pot meals, which are pretty much the best thing ever! In the morning, I can just dump the meal in the crock pot, set it on low, head to work, and come home to a delicious smelling dinner that is ready to dig into!
I have made a lot more meals in freezer cooking sessions before, like 80 meals in 2 hours. But I just didn't have the time for that right now.
I needed quick, throw together meals. And meals that can be put together without any pre cooking required like these no cook freezer meals.
This was the perfect plan! 28 meals ready to finish cooking and serve on those busy nights!
No Cook Freezer Meals – 28 Meals in 20 Minutes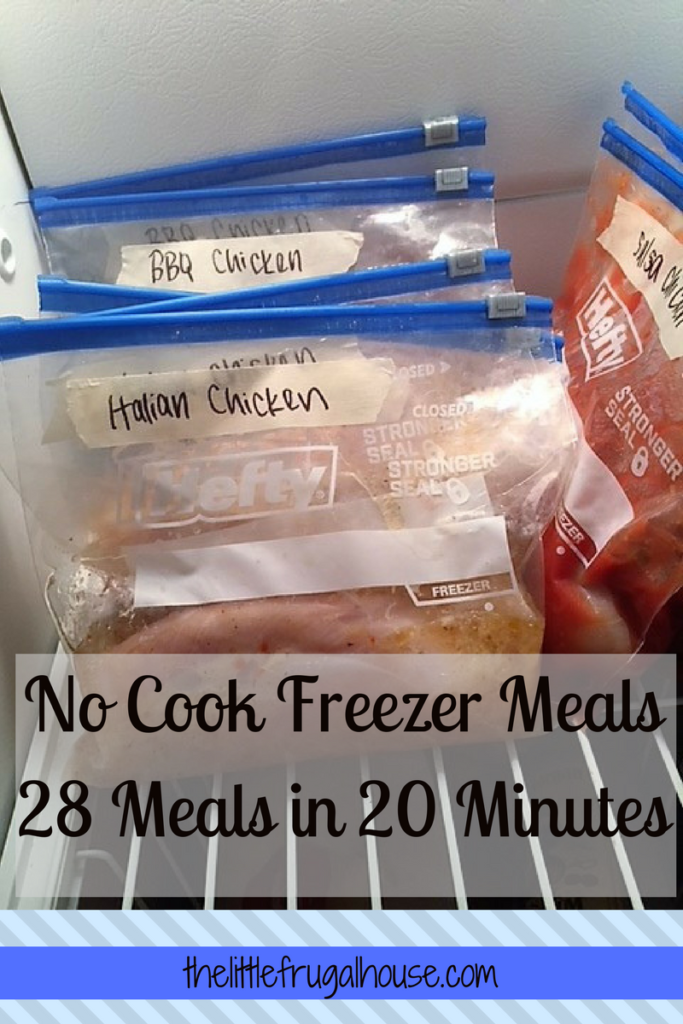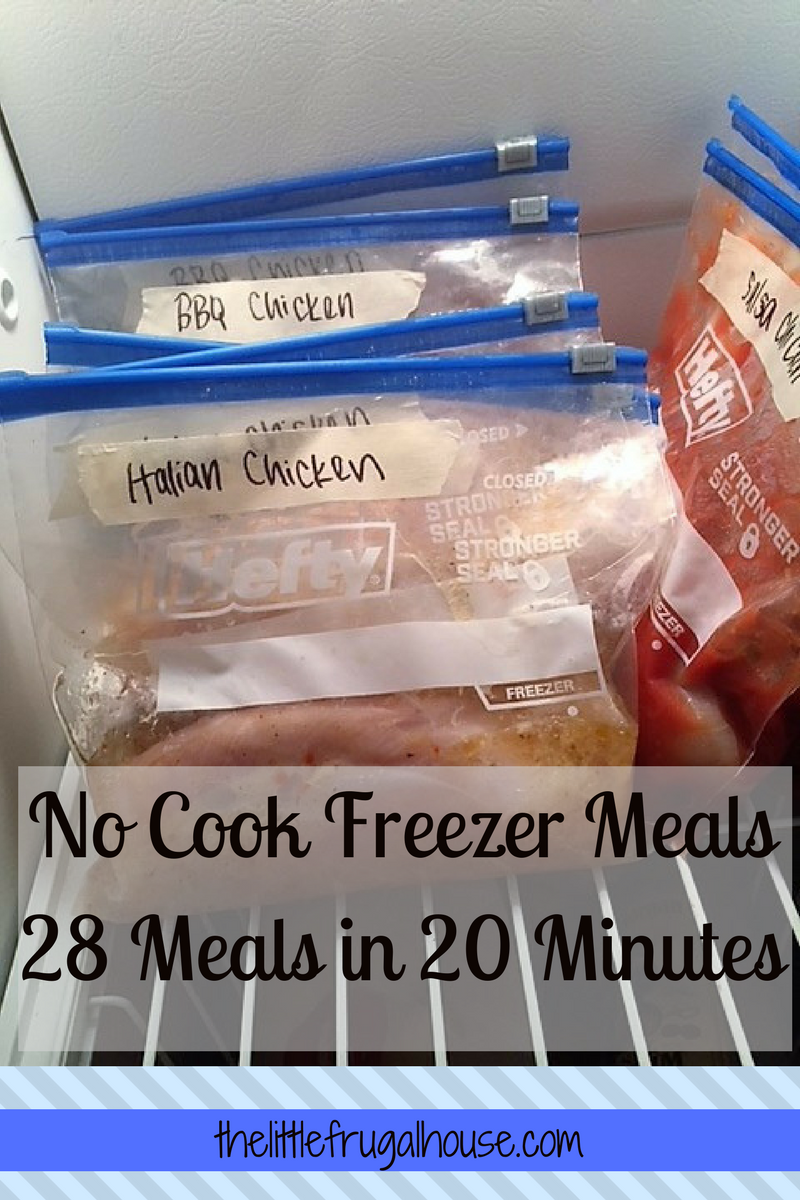 These meals are prepared for the 2 of us, so each bag has 2 servings. You'll want to adjust portions based on your family size.
Here's what I made:
Italian Chicken – 3 bags of 2 servings each = 6 meals
BBQ Chicken – 2 bags of 2 servings each = 4 meals
Salsa Chicken – 3 bags of 2 servings each = 6 meals
Burgers – 12 patties = 12 meals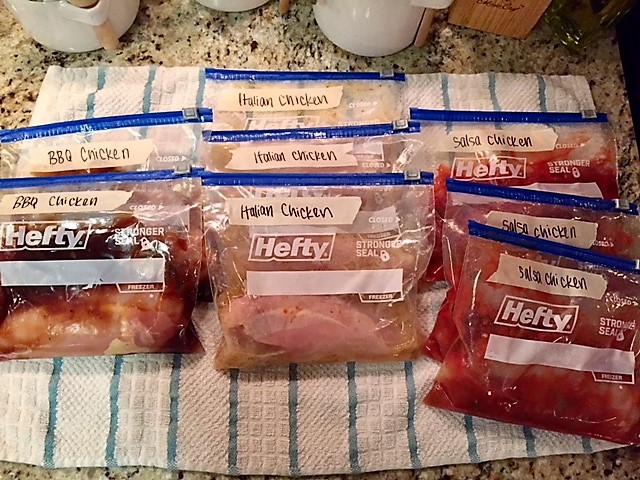 Shopping List:
Chicken Breasts – 8 large breasts (We split chicken breasts. We order in bulk from Zaycon and they are huge!)
Ground Beef – 4 lbs (I made 1/3 lb burgers)
Italian Dressing – 1 bottle
BBQ Sauce – 1 bottle
Salsa – 1 jar
Burger seasoning – I love McCormick's Grill Mates Pub Burger Seasoning and/or Lawry's seasoning salt)
Freezer Bags
Instructions:
Place one large chicken breast in each bag. You'll have 8 bags.
Split the salsa between 3 bags. Just pour on top of the chicken.
Split the Italian dressing between 3 bags. Again, just pour on top of the chicken.
Split the BBQ sauce between 2 bags, and save a little for topping the meal.
Pat out 12 1/3 lb burgers, add seasoning, and freeze 2 or 1 to a bag. I like to have some bags with 2 and some bags with just 1 burger in case just one of us eat at home that night.
Label and place everything in the freezer.
 
To finish the meals:
Thaw in the fridge overnight.
Italian Chicken
2 options!
Slice into tenders, and grill in skillet. Serve with roasted potatoes and a side salad.
Add to the crock pot (may need to add some water), with green beans, and potatoes. Sprinkle Italian seasoning over the potatoes and green beans.
BBQ Chicken
2 options!
Cut into tenders, and bake in the oven. Serve with veggies and a roll.
Place in the crockpot, shred when done, and serve over baked potatoes with all your favorite toppings!
Salsa Chicken
2 options!
Place in the crockpot, shred, and serve as chicken tacos with all your favorite toppings!
Bake in the oven. Serve with mashed potatoes, and vegetables.
Burgers
Just thaw, grill, add your favorite toppings, and enjoy!
For the 2 of us, we just use a small George Foreman grill (back to the college days) inside. Less mess and clean up!
We use 2 crockpots regularly. I love our larger 6 qt one for full meals. I would use it for the Italian chicken, green beans, and potatoes dinner. For the BBQ chicken and salsa chicken, I love our smaller 2 qt crockpot. Since it has to cook on low all day while we're at work, I don't want to worry about the meals drying out or overcooking. The small crockpot is perfect when we are just cooking an entrée for the 2 of us.
While we're talking about crockpots, have you ever planned a week of only crock pot meals? It might change your life. Really, you will save so much time!
I am so glad to get these 28 meals in the freezer. I know they will come in handy during these busy weeks ahead!
What are your favorite no cook freezer meals to make? Let me know in the comments. I need new ideas!

P.S. Never want to miss a post but don't have time to check the site everyday? Sign up for our weekly newsletter to receive blog posts straight to your inbox, along with the best frugal living tips!