It's no secret that the holidays can be crazy expensive. We feel the need to buy everything for everyone, decorate our homes perfectly, give to every charity, and somehow afford it all?
I love the Christmas season as much as the next person, but that doesn't mean we have blow the budget to have a great Christmas.
It doesn't take a lot of money to have a great Christmas. It may just take a little extra thought and planning.
12 Ways to Save Money on Christmas Gifts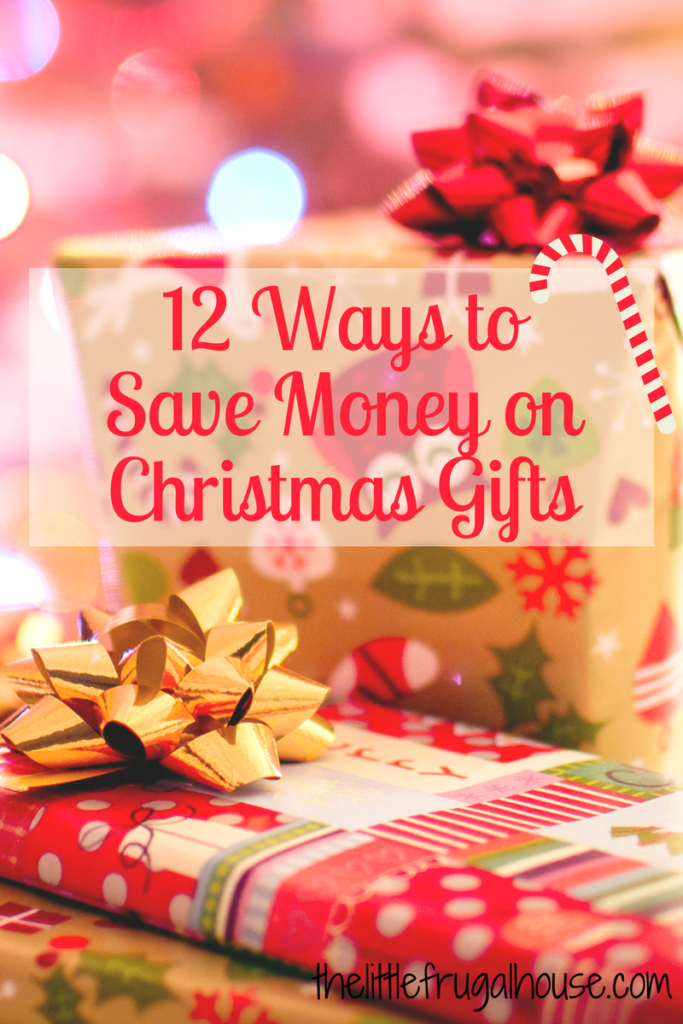 Make a budget.

First things first, you need to make a budget for Christmas spending. What can you actually afford to spend? Set that money aside in a separate bank account, or an envelope, so you won't touch it for anything else.

Make your list.

Make a list of everyone you need to buy a gift for. Then, look back at your budget. Decide how much you can spend on each person, and write it all down. Now, you have a list of who to buy for and how much to spend on them. This is a great starting point!

Look for deals.

Start shopping early, and only buy things when they go on sale and are under budget. I love online shopping, and watch my emails for great deals on gifts. Look for free shipping or free ship to store, too!

Update your list as you shop.

When you find the perfect gift for someone, write it down on your list, and the amount spent. Once you have reached your budget for that person, cross or check them off. You don't need to be looking for them a gift anymore!

DIY gifts

Make a few gifts for people that love unique and handmade items. If you have a smaller budget to spend on someone, this would be a great gift idea. Not that you want to give them a cheap craft gift, but you may be able to stretch your dollars a little more.

Gift baskets

Gift baskets can be a very nice gift, and often look a lot more expensive than they cost to put together.

State theme basket
Food basket – homemade bread, salsa, spices
Pamper basket – nail polish, slippers, loofa
Snack basket – candy, chips, nuts

Food gifts

If you really don't have much to spend on someone, grab some cute tins from Dollar Tree and fill with goodies. You could make holiday cookies, fudge, brownies, or send someone a homemade pie or loaf of bread.

Play Secret Santa or Dirty Santa.

Instead of giving a small gift to everyone, see if your family or group of friends want to play Secret Santa or Dirty Santa instead. This way you can just buy one gift, instead of several. I really love to play Dirty Santa, as it gives everyone something to do and talk about, instead of just unwrapping gift after gift.

Set a price limit.

Get together with your family or group of friends well ahead of time, and determine what the plan and budget for Christmas is. That way, everyone knows the limit, and won't be worried about spending more because they think the other person will spend that much. You could try a $10 gift limit. There are a lot of fun gift items under $10!

Have an ornament exchange.

Instead of giving full gifts, consider trading ornaments. You could either give everyone an ornament, or everyone buy one ornament and play a game to see who gets which one.

Plan a cookie exchange party.

For a friends gift alternative, have everyone make a large batch of cookies and bring to a party. Everyone will place their cookies on a platter, and take some of everyone's home. This is a fun idea to get new recipes, eat your weight in holiday cookies, and have a fun (and very frugal) time with friends.

Cut the gifts out all together and make a memory instead. This could be pilling into a car and driving around looking at Christmas lights and listening to Christmas music, and then having a nice dinner out. You could plan a potluck dinner and everyone dress up and take nice photos for their Christmas cards. A local holiday play or concert may be a great outing for your group, instead of giving gifts. Make gingerbread houses, or just have an old-fashioned pajama and movie night together!
Bonus Tip!
Shop ahead and shop all year.
It may be a little late for this year, but if you shop all year and pick up great deals when you see rock bottom prices, you can save a fortune! If you see some great candles on clearance, grab a few and start a "gift closet". Grab some great gift items after Christmas when everything is on mega clearance, and save it for next year. You'll appreciate having thought ahead when you don't have to buy everyone's gift all at once!
You don't have to spend a fortune to give a meaningful gift and have a great Christmas. Try one of these ways to save money on Christmas gifts and you might just start a new Christmas tradition!
Share your best tips to save money on Christmas gifts in the comments!

P.S. Never want to miss a post but don't have time to check the site everyday? Sign up for our weekly newsletter to receive blog posts straight to your inbox, along with the best frugal living tips!