This post may contain affiliate links. If you click and make a purchase, I may receive a small commission, at no extra cost to you. I only recommend products and services I use and love. Thanks for supporting The Little Frugal House!
Ready to start your frugal living journey? Or find new ways to live more frugally?
Ever since we got married 4 years ago, we have been on a journey to live a frugal life. We want to save for big things by not spending much on the little things.
Frugal living looks different to everyone. These are our top frugal living secrets. I hope you find new ways to live on less and save more!
25 Top Frugal Living Secrets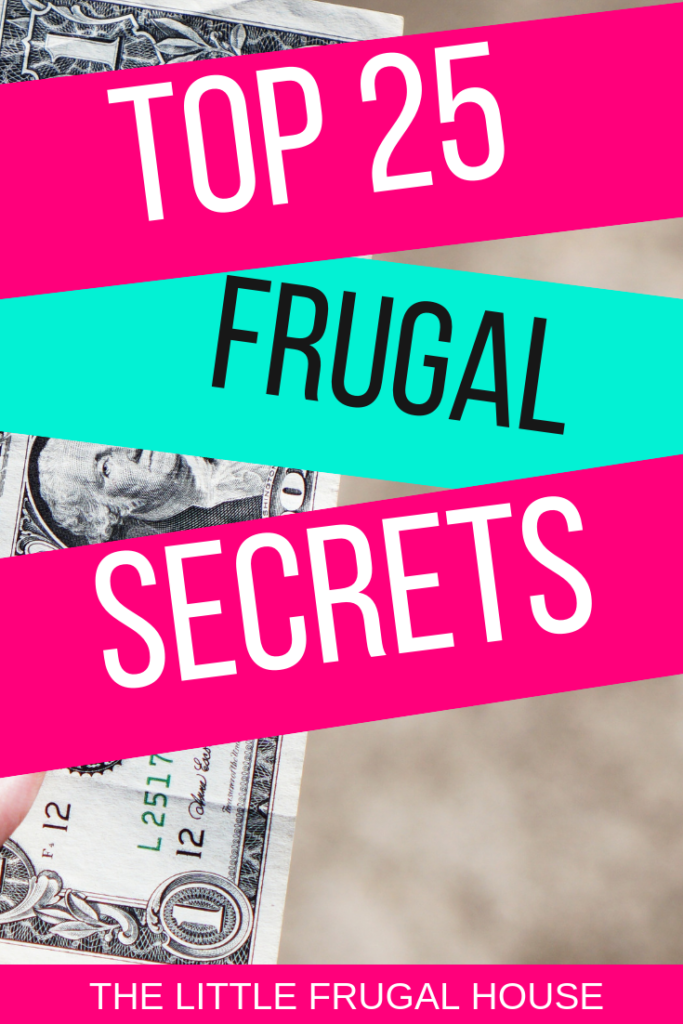 Develop the right attitude.

A lot of people think debt is inevitable and just a part of life. Be part of the minority that challenges that idea and adapt the attitude that debt doesn't have to be a part of life.

Dream big dreams.

Someone has said that if you dreams don't scare you, they aren't big enough. I'm a big dreamer! My biggest dreams were to pay our house off, to build a business where I could quit my full time job and stay home, and to afford big things we want. And we have realized those dreams because we dared to dream them!

Related Post: Quitting My Job to Work From Home

Set SMART goals.

Dreams are the starting point. After you dream big dreams, you need a plan to reach them. That's where goals come in. Set goals that get you to that dream. These goals need to be SMART – specific, measurable, attainable, realistic, and have a time line.

Related Post: Goal Planning for the New Year + FREE Goal Planner Workbook

Talk about your finances.

Don't hide from your money and don't shy from talking about money with your spouse/family. Decide what your money goals are together and how you can achieve them.

Related Post: How to Make a Budget for the New Year + FREE Budget Planner

Always be ready and willing to learn.

Being financially successful is something you will have to constantly work at. Be ready and willing to continue learning and growing. Listen to finance podcasts on your way to work, read money saving blogs (hey – you are doing this one now!), read books, research articles, etc.

Related Post: 11 Books to Help You Save Money (And Make Money)

Be willing to make changes.

If your finances aren't where you want them to be, then something has to change. Be open to small and large changes to improve your financial state.

Balance "live for the moment" with "prepare for the future"

This is a tough one for many people and something we struggle with at times. So, we all know life is short and you want to enjoy every day. But, you also want to be prepared for the future. Find a balance of living and spending to enjoy your days and saving for the future. For us, this looks like saving money on the side for "enjoy now" things like an off road vehicle or a vacation, while saving most of our money to pay off debt and save for our dream property.

Know your spending tendencies.

Take a look at your spending tendencies to evaluate where you can do better. Are you bored and shopping? Find a frugal hobby or side job to fill your time. Are you spending for convenience? Think of ways to think ahead like meal planning, freezer cooking, and packing your lunch.

Look for ways to make more money.

Sometimes it doesn't matter how well you manage your money, you just don't seem to make enough to reach your dreams. We are always doing side jobs, and finding new ways to make money. Just make sure any money you make on the side goes towards your goals and not blown on useless things.

Related Post: 20 Ways to Make Money From Home + Earn Extra Cash!

Learn to say no.

There will be millions of opportunities that come your way that could push you off track of reaching your financial goals. Decide what your priorities are and be ready to say no to opportunities that don't help you realize those goals. One way to make this easier is to have a set amount of cash each month that you can use however you want. Use this money for fun opportunities that come up, and once the money is gone – it's gone.

Don't think you are broke.

Stop saying "I'm broke" or "I can't afford that". These statements might be true, but you do have options. You could go into debt or mess up your budget to afford something. Instead, think or say that your priorities are this, and you are going to pass on that to reach your goals faster.

Stop thinking you can't do without.

Do you think you can't live without cable TV or without shopping every weekend? Trust me, you will live and you might enjoy it more. Cut out things like cable TV, shopping for fun, always getting the best of the best, and enjoy the simple things in life. We haven't had cable since we got married and I think it's one of the best things. We save money and enjoy working around our house, reading, or just hanging out instead.

Related Post: 27 Things To Stop Spending Money On Right Now

Make a plan to get out of debt.

We paid our house off earlier this year and I've never felt so proud or free. By making a plan, working hard, and sticking with our goal we made this huge dream come true. Take a look at the debt you owe, and make a strategic plan to pay it off as quick as you can. You'll end up paying less interest, and be financially free to chase other dreams of yours.

Related Post: 20 Tips to Pay Your Mortgage Off Early

Conquer your everyday routine.

You can make your big dreams come true faster by conquering your everyday routine. Find ways to save money in small ways every day. It will add up quick and help you stay in a frugal mindset all the time. Make breakfast at home, pack your lunch, plan your meals for dinner, stop eating out, and stay home to save money every day.

Related Post: Eating on a Budget: $25 Week Meal Plan

Always look for ways to save.

Anytime you have to buy something, try to save as much as you can. Look for a used option, a coupon/coupon code, or cash back opportunities.

I love Ibotta and Ebates for cash back on groceries, online shopping, and more!Sign up for Ibotta here and get a free $10 welcome bonus.

Sign up for Ebates here and get a free $10 welcome bonus.

Related Post: How to Earn Cash Back Online Shopping with Ebates

Try to pay cash.

Want a new car or to go on vacation? Try to pay cash! It will be hard, but so worth it to enjoy your new purchase or memory debt free!

Related Post: How to Save for a Vacation in 4 Easy Steps

Use debt as a motivator, not a disability.

I hate having debt. Like hate it, hate it. But when we do, I try to use it to motivate me instead of thinking of it as a hindrance. Use your debt as motivation to pay it off and get it gone instead of disabling you to do things.

Stay home as much as you can.

I'm a home body so this one is easy for me. Staying home will help you save money and enjoy your home more. Work on projects around the house, find a hobby, play with your dogs/kids, and just relax.

Related Post: 77 Things to Declutter and Sell to Make Money

Learn how to budget

Budgeting can be as simple or extensive as you want. I love a simple method of just using a piece of paper to divide our income into categories like bills, savings, gas, groceries, misc and keeping up with what we spend.

Set up at least 4 bank accounts.

This has been hugely beneficial to us. We have 5 different accounts at our bank: bill pay checking, regular checking, don't touch savings, savings to buy something, and a vacation savings account. Splitting our money up like this helps me to know we have enough to pay our bills and what the rest of the money is for. Learn more about setting these up here.

Related Post: Why You Need At Least 4 Bank Accounts

Set your bills up on auto pay.

Use your bill pay checking account to pay your bills on auto pay. You'll never stress about paying a bill late, because the money is already set aside for that bill.

Change where you shop.

I love shopping in nice stores, but is it really worth it to spend extra money just to be in a nice store? Try shopping at discount grocery stores, bargain stores, and dollar stores.

Related Post: 37 Things You Should Always Buy at Dollar Tree

Always pay extra on debt payments.

Use any side money made to pay extra towards debt. Try to pay extra every month to pay less interest and get that debt paid off.

Save as much as you can on food.

Food expenses are the easiest to change. Change where you shop for groceries, start cooking at home, quit eating out, and pack your lunch everyday. Commit to not eating out all week and see how much you can save.

Related Post: 12 $2 Per Person Meal Ideas

Learn to DIY.

Next time you are considering a purchase, look and see if you can make or do it yourself. There are videos online to show you how to do almost anything. You'll save a lot of money and learn a new skill.
These are my favorite frugal living secrets that have helped us become financially successful. 
Remember it takes a lot of hard work and determination to live a frugal life. Start small and work your way towards harder goals and dreams.
Don't be afraid to dream big and set scary goals. Use these frugal living secrets to build the life you dream of and become financially successful!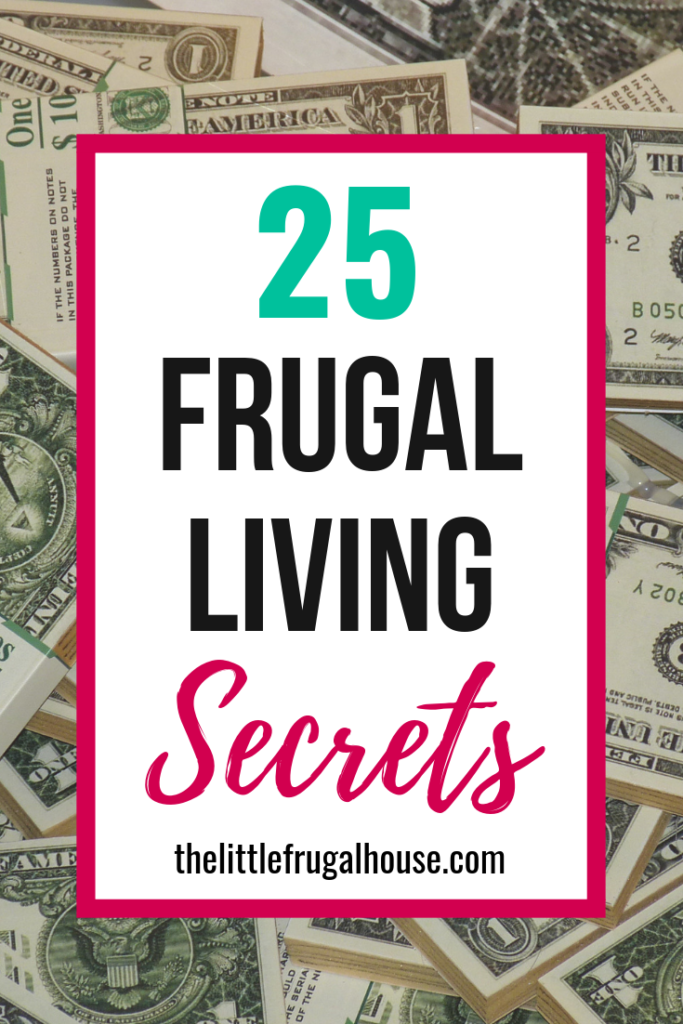 You might also enjoy…