This post may contain affiliate links. If you click and make a purchase, I may receive a small commission, at no extra cost to you. I only recommend products and services I use and love. Thanks for supporting The Little Frugal House!
We received a letter in the mail a few days ago letting us know that the newspaper subscription rate was going from $15/month to $22/month. I only subscribe to the newspaper for coupons, and I don't think I use my coupons enough to save $22 a month. So, we decided to cancel our newspaper subscription.
This got me thinking about what other bills can we cut, or at least, cut back on. Bills take such a large amount of your budget, so any way we can save on bills allows more room in the budget for other things.
I've come up with a list of 15 ways to save on bills. I hope you can find a few ideas to save on bills and provide more room in your budget for more fun things!
15 Ways To Save On Bills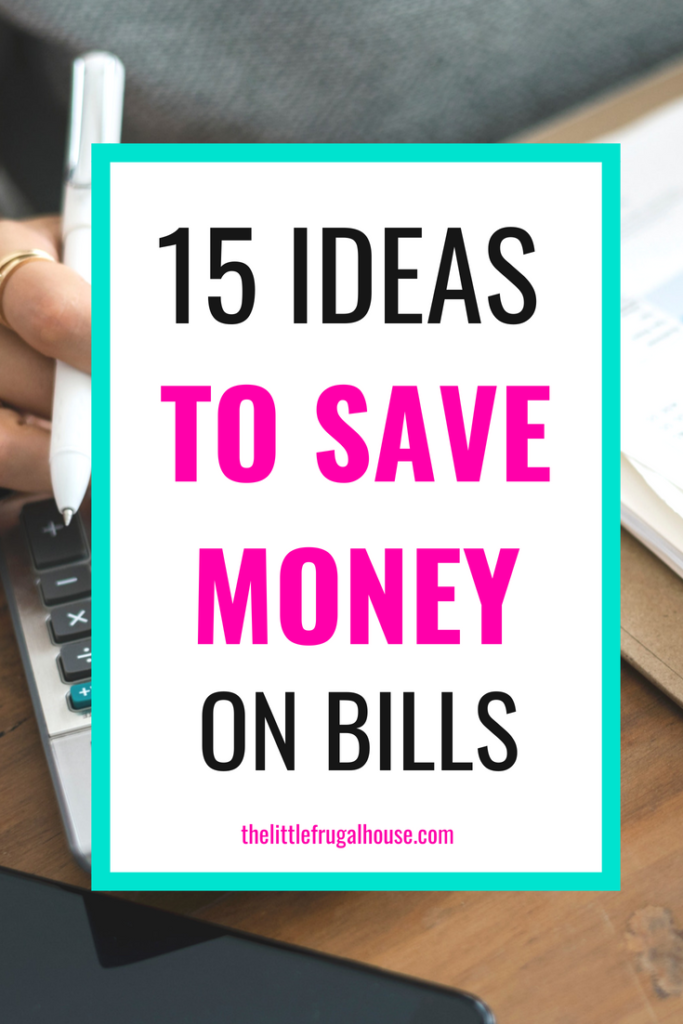 Cut cable

Cable TV is a huge bill in many homes, and can easily but cut completely to give you a little more (or a lot more) wiggle room in your budget. We haven't had cable TV since we got married, and I think it's one of our best decisions. We spend more quality time together, we get more done around the house, we are more active, and we have more money for other things. You can get a Netflix or Hulu subscription for much, much less. Read more about cutting cable here.

Set your thermostat and leave it

During the winter months, set your thermostat to 68-70 degrees and leave it alone. During the summer months, set your thermostat to 72-75 degrees at leave it alone. If you keep changing the temperature on the thermostat, the air conditioner unit has to do more work, which uses more electricity, which causes your bill to go up.

Open the windows

Fresh air is such a blessing to have, so open the windows when the weather is nice, and enjoy some fresh air and savings! This is best when you plan to leave the thermostat off for a few days or so. It's also a perfect time to clean your windows, since you won't be worried about letting the "bought air" out. 😉

Sign up for auto pay

Auto pay is one of the best ideas ever. Sign up for auto pay, or bank draft as it sometimes called, for every single bill that you possibly can. I talk more about having a separate account just for bills in this post. But here's the idea: Open a checking account that is just for paying bills, calculate all your bills and transfer that amount to the checking account, and have all of your bills draft from that account. You won't have to worry about late fees, disconnection, or any other service charges. And you don't have to spend time going to pay the bills, or buying stamps to send payments in. We have all of our bills set up this way, and it saves me so much time and money.

Bundle your insurance

Ask your auto or homeowner's insurance company if they offer discounts for bundling insurance policies together. If so, have everyone in your home get on the same auto insurance plan and bundle your homeowner's policy together.

Check into insurance discounts

Our insurance company offers a discount for having a security system in our home, and for having our auto insurance policies linked. They also have a membership discount site that offers a discount on select hotels, car rentals, restaurants, and more.

Cancel your newspaper subscription

Like I said, when we got the notice that the monthly rate was going up to $22, I called and cancelled. I really do like supporting the newspaper, but not at the cost of negatively affecting our budget. You can read the news and print coupons online. I really don't think I was even using coupons enough to save $22 a month, anyway.

Try a different cell phone carrier

After cutting out the newspaper, this is the next tip I plan to look into. Cell phone bills are incredibly high and kind of ridiculous, in my opinion. I'm looking into Republic Wireless and I'm pretty impressed with what they have to offer. Republic Wireless partners with two large 4G networks plus support WiFi, so it seems they would have great coverage. The phones they offer are really nice and very affordable. I love that they offer a full refund if you cancel within 14 days.

Get rid of your personal phone

This is an idea my husband had. Since he has a work cell phone that he has to carry all the time, he could cancel his personal cell phone. If you have a work cell phone, and you work approves of you using it for personal use as well, maybe you could consider cutting your personal phone and just carrying one phone.

Save on gas with gift cards

Publix grocery store often has a coupon for $10 off a $50 gas gift card if you spend $50 in groceries. These gift cards are great to pick up when you can to save money on gas! Plus, you don't have to worry about having your credit or debit card hacked at the pump.

Run full loads of laundry

Save on your water and electric bill by running full loads of laundry. You will run less loads, using less water and electricity.

Use cash back apps for groceries

I have a whole list of ideas to save on groceries here, but one of my favorites is getting cash back with the Ibotta app. You just select the items you are going to purchase, take a picture of your receipt, and your account will be credited. You can cash out for gift cards or through PayPal. You can get a $10 welcome bonus with this link.

Always pay extra on loans

If you have a monthly loan payment for rent, a car, or your home, always always always pay extra. You pay so much more than the original loan amount because of interest, so pay as little towards interest as you can. You can always ask your bank or credit union for tips to save.

Cancel subscriptions

Do you have a monthly subscription that you are not getting your money out of? Cancel it now! Think about magazines, gym memberships, subscription boxes, and any other monthly charges you have. Be honest and consider if you are getting enough out of these subscriptions to justify the cost. If not, time to cancel.

Check utility bills for savings tips

Our electric company is great about sending magazines and information about how to save and reduce your consumption. Check with the utility companies you use for ideas on how to save even more on your bills.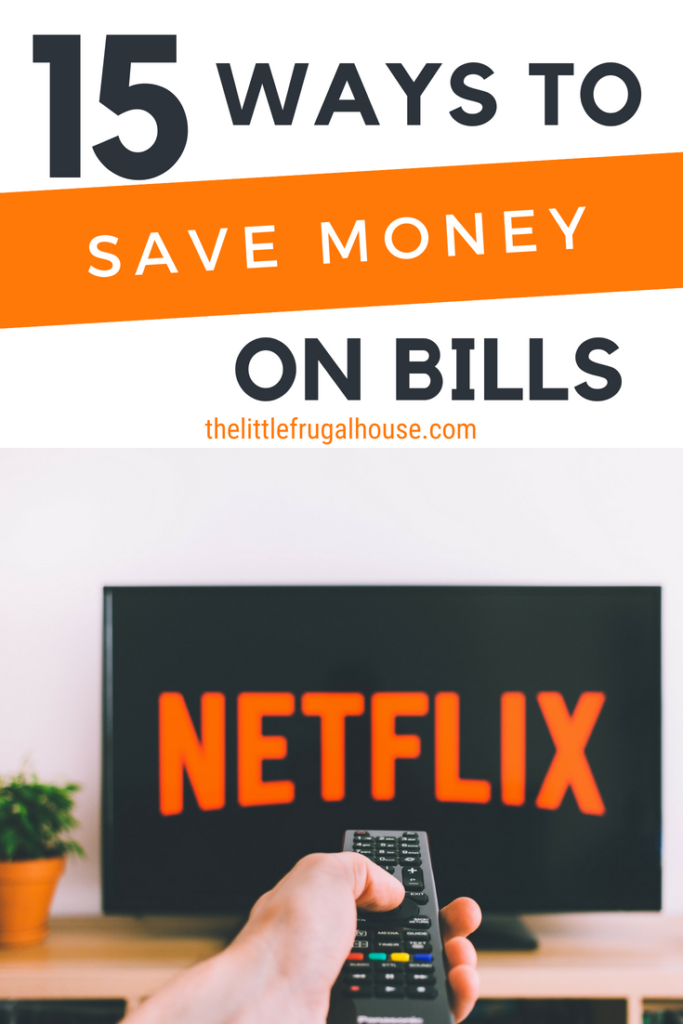 Bills are a part of life, but they don't have to be a super expensive part of life. There are many ways to save on your bills, or even cut them completely from your budget. Learning to live with less, or living without, is a huge part of becoming financially successful. Small tips like these can trigger other ideas, and help you become more frugal minded.
By living a simple and frugal life, I have learned to appreciate little things and reach many financial goals. My husband and I always acknowledge our financial successes as being able to manage our money well, not making a lot of money. I truly believe you could make all the money in the world, but if you don't manage it well, you won't ever feel financial successful.
In my opinion, it doesn't matter how much money you make, just how you manage your money.
So, go through this list and see what ideas you can implement to save on bills.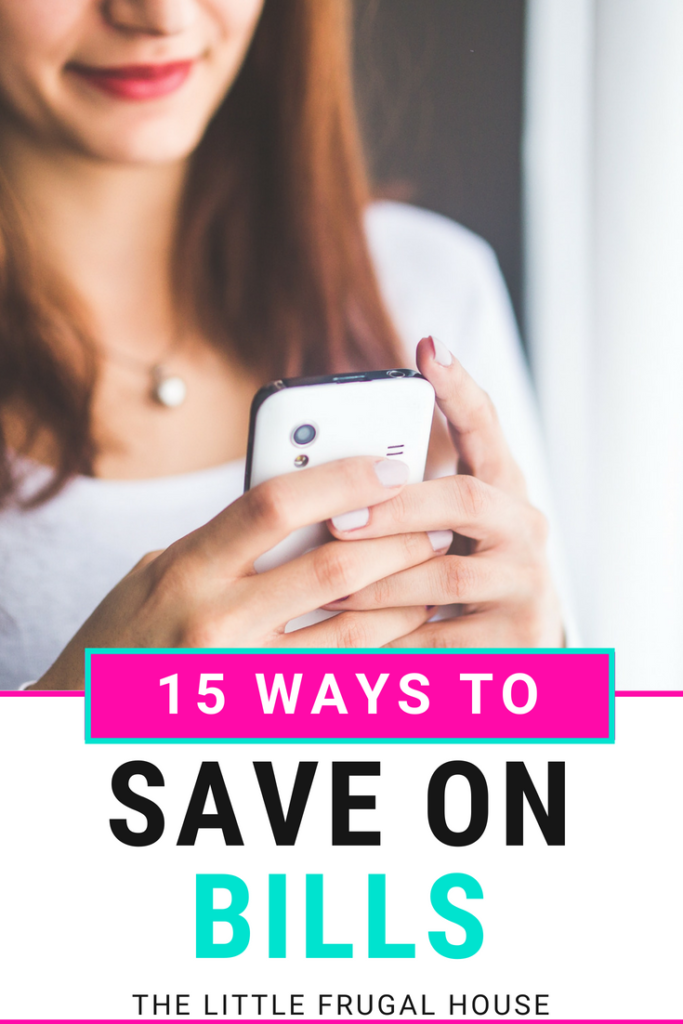 You might also enjoy…