This post may contain affiliate links. If you click and make a purchase, I may receive a small commission, at no extra cost to you. I only recommend products and services I use and love. Thanks for supporting The Little Frugal House!
I love shopping at Dollar Tree! (Can you tell since my last 3 posts have been about Dollar Tree?!) 🙂
It's seriously so simple. Everything is the same price, $1!
Dollar Tree really has a huge assortment of products and it seems I discover something new every time I go.
Anytime I need to shop for craft supplies, party supplies, holiday décor, or gifts, Dollar Tree is my first place to check out.
These are my favorite things to buy at Dollar Tree!
37 Things You Should Always Buy at Dollar Tree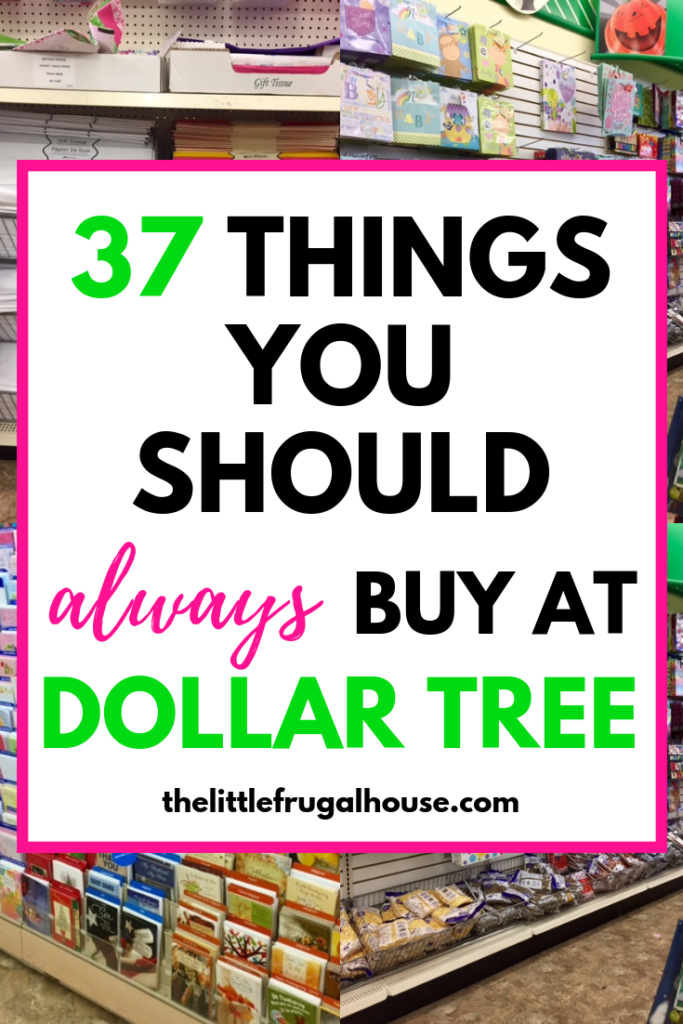 Greeting cards

They have a section of cards 2 for $1 and some for $1. Much cheaper than the $5 cards at the grocery store that will get thrown away!

Tissue paper

They have bags of plain white, or assorted colors. Perfect for making tissue tassel banners!

Gift bags

They have a huge selection of cute gift bags for any occasion, and multi packs of brown kraft paper bags!

Tablecloths

Why spend more than $1 on a plastic tablecloth that you are going to throw away? They have a lot of colors to choose from.

Paper plates and napkins

Dollar Tree organizes these by color, so it's easy to find what matches your party theme. They also have a small selection of baby shower and birthday plates.

The front of the stores are updated frequently with holiday decorations. I love browsing through this area!

Related Post: The 43 Best Dollar Tree Halloween Decorations, Party Supplies & Costumes

Candles

Great for gifts or craft projects.

Thank you notes

Packs of cute thank you notes for only $1!

You might like: The 30 Day Money Saving Challenge

Organization bins

I wish our store had a bigger aisle of organization bins, but I can usually find what I need.

Related Post: 13 Dollar Tree Organization Ideas

Picture frames

These picture frames are usually cheap quality, but great in a pinch! I use these for craft show displays or spray paint the frame for parties or showers!

Ribbon

Dollar Tree usually has a great assortment of holiday ribbon, and check on the candle aisle for plain colorful ribbon. Great for crafts!

Shipping paper (brown kraft paper)

I love keeping this on hand for wrapping presents or if I need to ship something.

Shipping envelopes

These are the cheapest shipping envelopes I have found. They have multi packs of 2 or 3 envelopes in different sizes.

Poster board

Get white poster board 2 for $1 for crafts, school, or yard sale signs.

You might like: Savings Tracker Printable

Paint brushes

I love using these cheap paint brushes when I refinish furniture in a rustic way. That way I'm not worried about messing up a nice brush, and I can just throw them away if they get too bad.

Fake flowers

These may not be the most realistic looking flowers, but they work for most things I need. Grab a few each season to update your home décor!

Balloons

Inflated balloons are just $1 (way less than a party store!) and bags of balloons you can inflate are just $1!

Baker's twine

On the candle aisle, they have packs of 3 rolls of colorful baker's twine for just $1. I love these for craft projects and gift wrapping.

This is the place to go for stocking stuffers! You can fill a stocking full for cheap.

Related Post: 50+ Best Dollar Tree Christmas Decor, Gifts & Crafts

Craft supplies

They have a small craft supplies section, usually on the candle aisle, but look a little further and be creative with what you can use!

Related Post: DIY Dollar Tree Spring & Easter Wreaths

Kitchen utensils

If it's something simple like a spoon, strainer, measuring cups, or cutting board, why pay more than $1?

Bag clips

At the checkout, they have the best bag clips in a pack of 6 for $1! These hold better than any I have found.

Items for charity drives

We have a lot of charity drives at work, which could be a budget buster, but Dollar Tree is a life saver! I can still contribute generously, and stay on budget. Grab items for Christmas shoeboxes, school supply drives, canned food drives, winter accessory needs, and women's hygiene items.

School supplies

They have a great selection of school supplies!

First aid kit supplies

Get your basics for a first aid kit to keep at home, in your car, and in your purse.

Classroom decorations

I have a few teacher friends that I have bought classroom decorations and supplies for. Dollar Tree has a great selection of stickers, reward items, and decorations.

Coloring books

Perfect for stocking stuffers, charity drives, and little surprises for the kids.

Lightbulbs

They have a lot of basic household items.

Calendars

Dollar Tree usually has a great selection of cute calendars. Why spend more than a $1 on these?

Tumblers

In the kitchen area, they have the plastic tumblers with straws. Grab some candy or gum, stick inside with a gift card, and you have a great little gift!

Plates, Mugs, Glasses

If you have kids or just seem to break a lot of plates and glasses, just get the ones from Dollar Tree.

Streamers

Party supplies can get expensive quick! I think Hobby Lobby streamers are about $4, so I definitely get these for $1 when I need them.

Yard sale stickers

Having a yard sale? Grab your price stickers here!

Popcorn buckets

On the same aisle with the plates in my store, they have individual popcorn buckets. Perfect for a game or movie night at home!
Check out Dollar Tree next time you need some basic household items, party supplies, gift items, holiday décor, or items for a charity drive!
Make sure you make a list though! Somehow I always get side tracked and distracted in there… 😉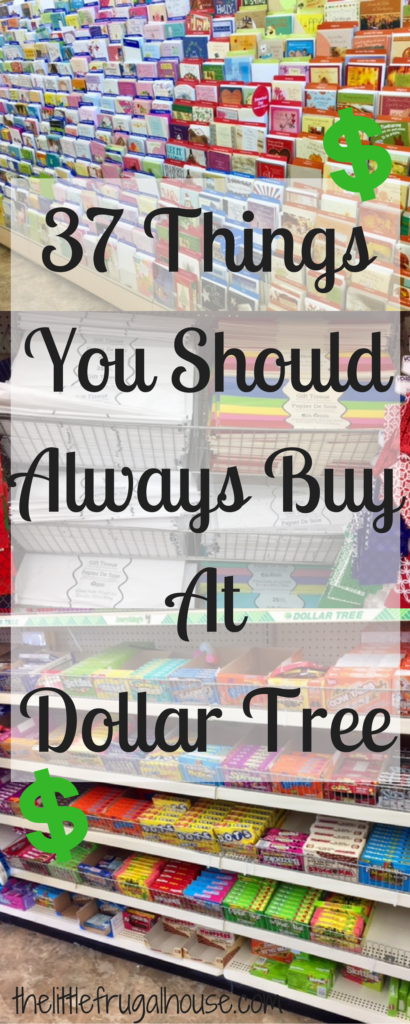 You might also enjoy…