This post may contain affiliate links. If you click and make a purchase, I may receive a small commission, at no extra cost to you. I only recommend products and services I use and love. Thanks for supporting The Little Frugal House!
If you are like me, you probably have too much stuff in your home. Things that you aren't using and are never going to use are taking up needed space.
What if you could declutter and sell some things around your home to make money? What could you even sell?
The list below will give you lots of great ideas of things to declutter and sell to make money. You'll clean your home, get rid of clutter, create more space, and make some money!
Use the money earned to pay off debt, go on vacation, or save for emergencies.
77 Things to Declutter and Sell to Make Money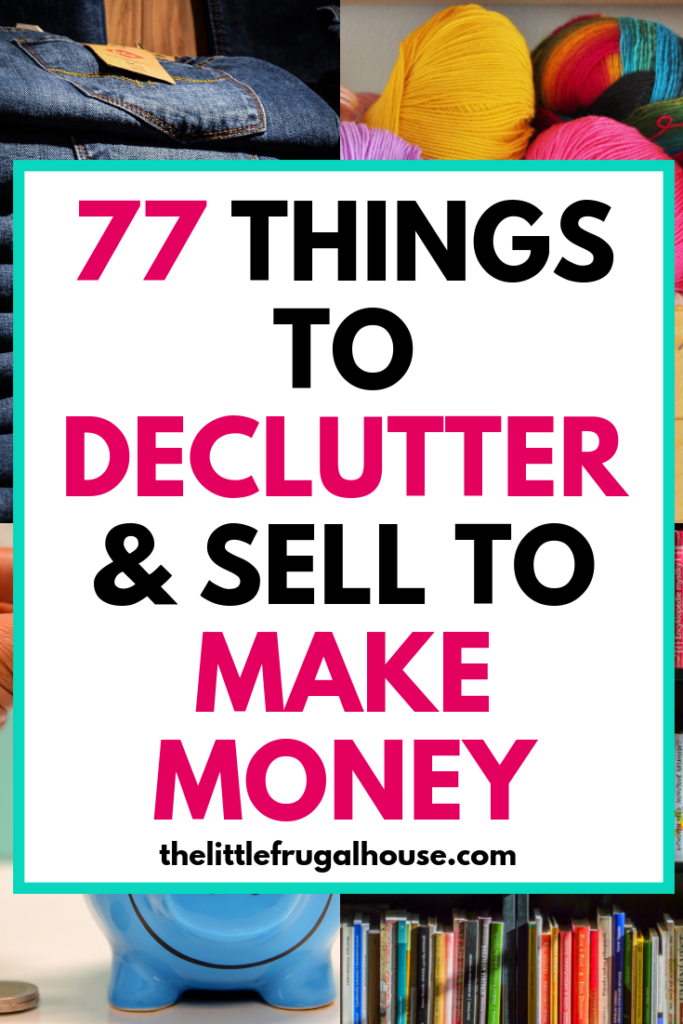 Go through this list and see what you can find around your home to sell!
Jackets

Not all clothes will sell for much money, but gently used jackets usually do well.

Jeans

Bundle a few pairs of the same size together for a better sale.

Dresses

Gently used and boutique style dresses usually sell pretty well.

Formal wear

Post these for sale in the spring before prom season, and towards the end of the year as people get ready for holiday parties.

Clothes

Bundle similar clothes in the same size together for a better sale.

Winter gear

Sell winter gear that no longer fits or that you no longer use. Think ski pants, sleds, gloves, ski overalls, etc. Post these when it starts getting cold.

Books

Bundle books by the same author or in the same genre together.

Antiques

Antiques can be hard to let go, but if you don't need or love it – let it go to someone who really loves it and has a place for it.

Hunting gear

Patio furniture

Outdoor and patio furniture usually sells great. Post these for sale in the spring.

Hobby supplies

Do you have a bunch of supplies for a hobby you gave up or don't have time for? Bundle them together and sell them!

Related Post: 11 Books to Help You Save Money (And Make Money)

Coolers

Post coolers in good condition for sale before summer starts.

Vacuum

Lamps

Recreation equipment

Related Post: How to Earn Cash Back Online Shopping with Ebates

Bikes

Sell out grown or never used bikes and clear up some space in your garage.

Sports equipment

Exercise machines

Post these for sale at the beginning of the year when everyone makes those new years resolutions to get fit.

Collections

Holiday decor

Group holiday decor together and sell in bundles or larger items on their own.

Home decor

Do you have random home decor in a closet that you don't plan on using? Time to sell it!

Electronics

Sell unused electronics and get some cash!

Vases

Tablecloths

If you have gently used tablecloths you no longer want, group them together and sell them in a bundle. These are great for people looking to decorate for a wedding or a party!

Fishing gear

Ice cream maker

Get rid of appliances that are just collecting dust.

Bread machine

Lawn mower

Yard tools

These usually do really well!

Craft supplies

Group supplies for the same craft together and sell in a bundle.

Computers

Computer equipment

Furniture

Furniture usually sells really well!

Related Post: Side Income Idea : Make Extra Money Refinishing Furniture

Nursery decor

Kids room decorations

Trunks

Serving ware

Movies

Purses

Gently used designer brands will do well!

Wedding decorations

Farm equipment

Yard games

Board games

Boots

Picture frames

Cookware

Dishes

Kitchen appliances

Get rid of those unused kitchen appliances you never use.

Cookbooks

Dog kennels or crates

These usually sell really well.

Hand tools

Power tools

Toys

Luggage

Sewing machine

Sewing supplies

Ribbon

Group a bunch of ribbon together in a bundle and sell.

Jars

Baskets

Leftover project supplies

Completed a project around the house and have leftover supplies? Time to get rid of them!

Baby gear

Pet supplies

Backpacks

Curtains

Organization bins

Rugs

Work out clothes

Work out clothes tend to get more interest than regular clothes?

Outdoor gear

Dumbbells

Garden decor

Ping pong/foosball tables
Use this list to go around you home to find things to declutter and sell to make money.
You can sell these items on Facebook in buy/sell/trade groups, Facebook Marketplace, EBay, Craigslist, or host a yard sale.
I love getting clutter out of our house and making more room for things we need. Making money from these items you no longer need is a great way to earn some cash.
You can use the money earned for a goal you are working towards – like paying cash for a car, getting out of debt, saving for a vacation, or just to add to savings.
What have you sold to make money? Let us know in the comments!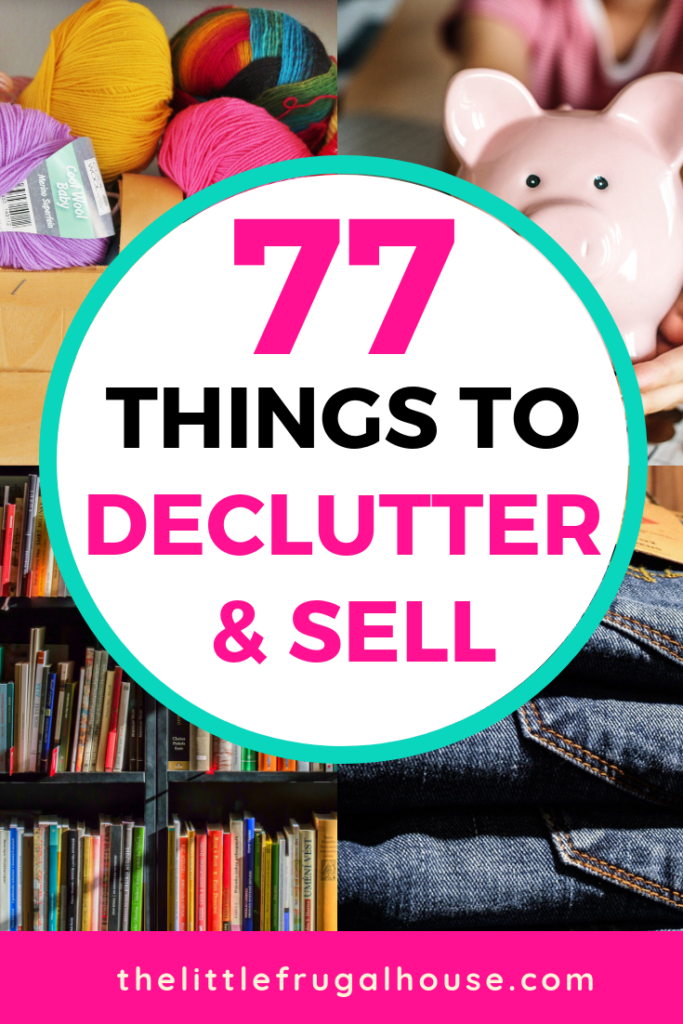 You might also enjoy…