This post may contain affiliate links. If you click and make a purchase, I may receive a small commission, at no extra cost to you. I only recommend products and services I use and love. Thanks for supporting The Little Frugal House!
Y'all know I love a good yard sale flip!
I love finding tables like this one and this one at yard sales for about $5 to $10 and giving them a fresh coat of paint. Sometimes I keep them and decorate our house, but most of the time I try to sell them for a profit.
Refinishing furniture is a lot of fun to me, and a great little side job if you need some extra cash.
This table went from grungy to clean and fresh with just a little time and a couple coats of paint. I used chalk acrylic paint and crème wax from Hobby Lobby to give this side table a gorgeous makeover.
Flip for Profit: Yard Sale Side Table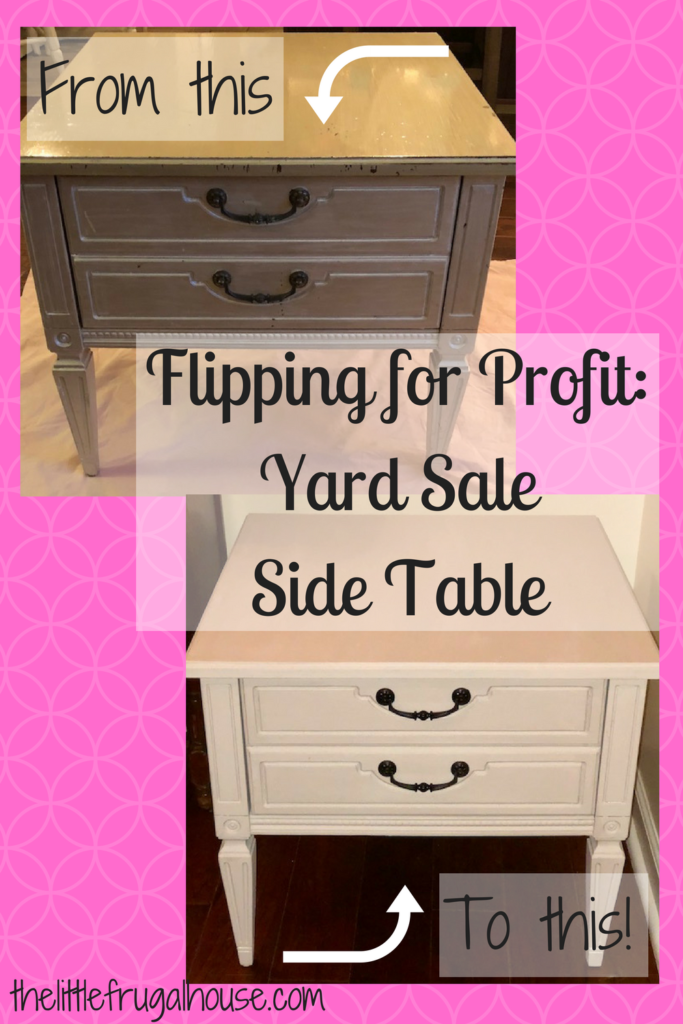 Supplies
Drop cloth
Paint brush
Chalk Style Acrylic Paint (way cheaper than regular chalk paint and works perfectly fine!)  – I used the primitive color.
Bronze spray paint (to paint the handles)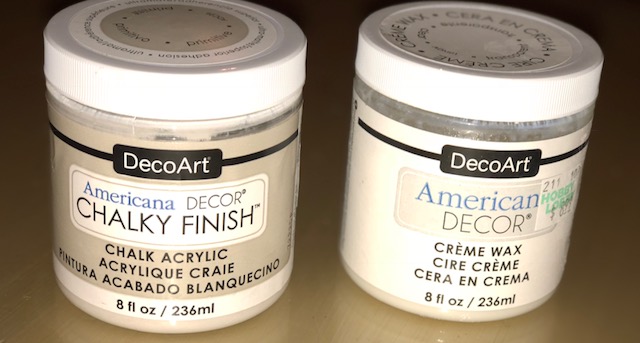 Yard Sale Side Table Makeover
Before
It wasn't in bad shape really. There were several scratches on the top, but it was a nicely built table.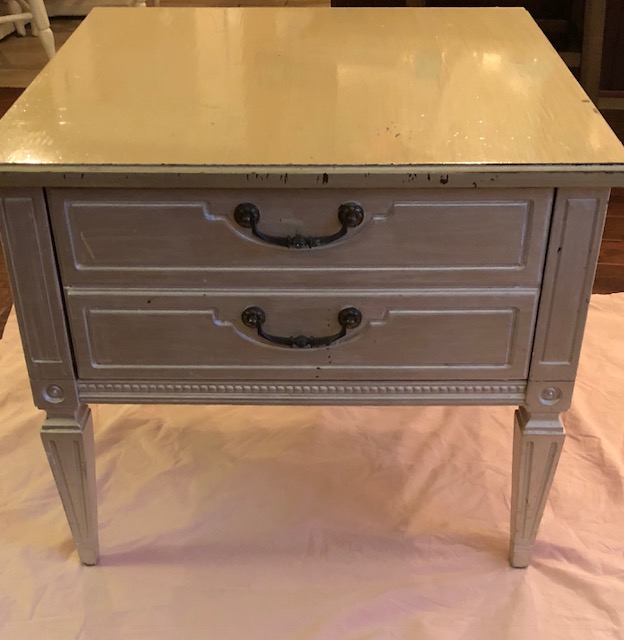 It was an odd golden yellow color that just looks very outdated.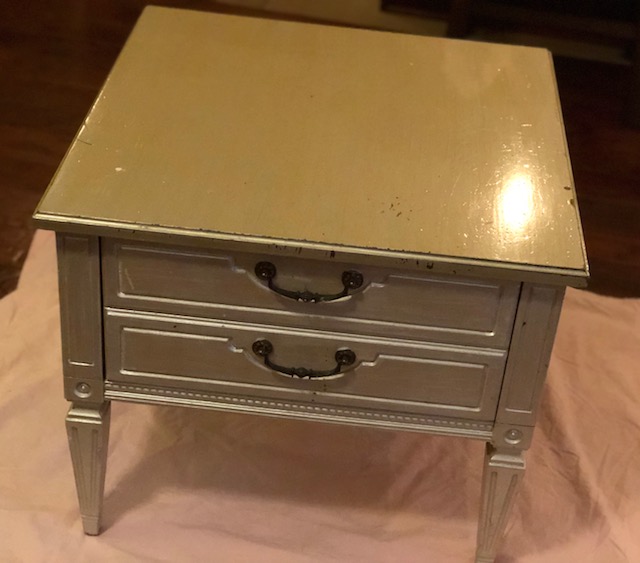 I used the color primitive, which is a nice neutral grey color. The crème wax works great with the chalk acrylic paint and gives the table a nice protective finish.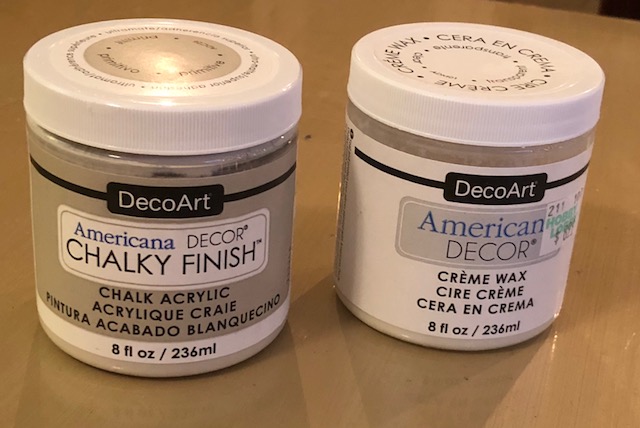 Brush on two coats of the chalk acrylic paint. No sanding needed with this paint! Love that!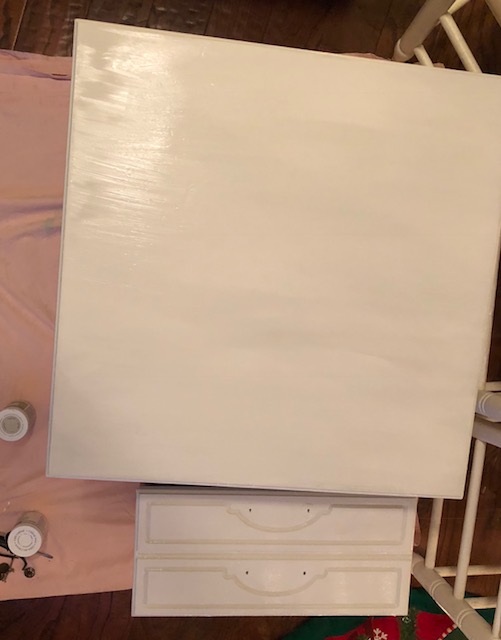 After the two coats of paint were dry, I applied a thin coat of the crème wax with a lint free rag. You don't need much of the wax. One container has lasted me about 5 pieces of furniture. I did use almost the whole container of paint, though.
For the wax, just rub it on lightly with a lint free rag. Then, go over with a dry rag to remove any excess and let dry.
The wax really changes the feel of the table. With regular chalk paint, you sometimes get, well, a chalky finish. It looks great, but can rub off on your hands or get scratched easily. The wax will keep the same look of the chalk paint, but add some durability and cleaner feel.
A fresh coat of spray paint for the drawer handles and back on they go!
Doesn't this look so much better? Almost like a brand new table!
This one is posted for sale on Facebook for $50. When it sells, I will profit about $35. Not too bad for a job I enjoy and only took about an hour total!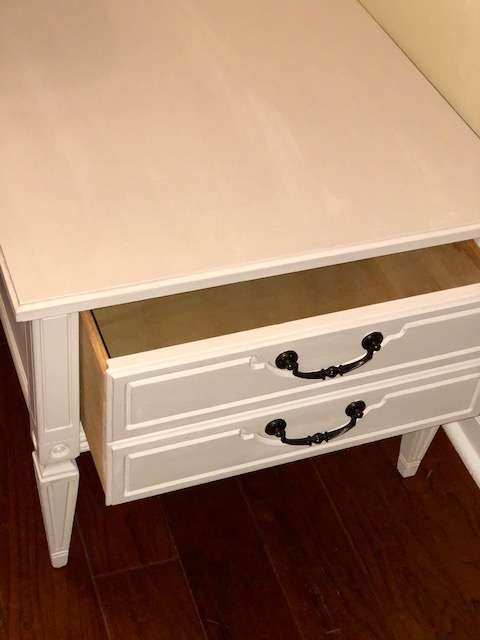 If you want to refinish furniture to sell, here's a few tips:
Shop yard sales and don't be afraid to grab from dumpsters.
For side tables like this, I would aim to spend less than $10. Bigger pieces may cost a little more, but you can also charge more.
If you aren't great with paint, go for the distressed look. Much easier to hide imperfections and it's in trend!
Don't buy expensive paint. One brand of paint may be all the rage, but if you are looking to make a profit, stick with the more affordable options.
When listing your item, make sure to include the dimensions and several photos.
Post to a few places. I usually post items on my personal Facebook page, a buy/sell/trade group (or 2), and sometimes Craigslist.
Meet in a public place like a grocery store parking lot, Target parking lot, or a busy gas station.
I really enjoy finding pieces at yard sales to refinish and sell for a profit! And I love how this one turned out!
What do you flip to sell for a profit?

You might also enjoy…