I've got my mom on the lookout for junky, old, and outdated furniture that we can repurpose and freshen up to either sell or add to our homes for a frugal update.
She found a few side tables at yard sales and a local thrift store that were perfect for updating.
I left this one on the patio and a rain storm came and messed up the top (sorry, Mom!!), so I decided a rustic finish with a pallet wood top would fix this one up perfectly!
I love the way it turned out! It looks rustic, has farmhouse style, and is definitely unique!
A Rustic Side Table Makeover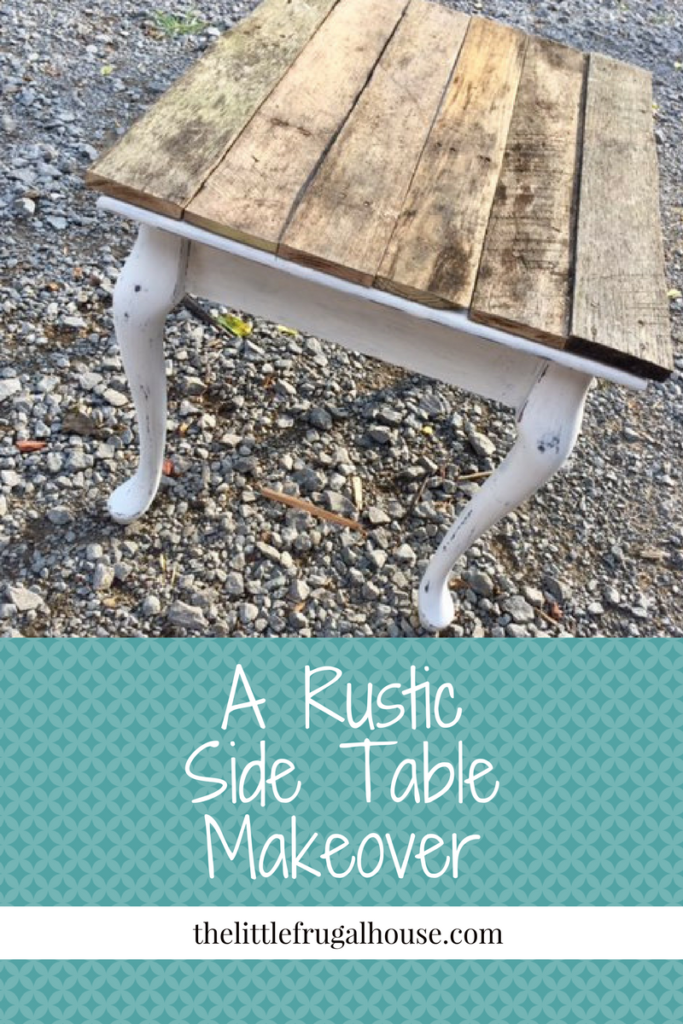 Before:
After:
 

Supplies needed to refinish for this look:
White paint
Pallet wood
New handle or spray paint
Tools needed:
Sander
Saw – Use what you have, but I love our miter saw!
Nail gun and nails
Instructions:
Paint with white paint to your preference. When I am going for a rustic look, I am pretty carefree with my painting. It's ok if parts aren't completed covered. 
Let dry and use sander to distress to your preference. I love to distress the edges and random places along the legs.
Use a nail gun and nails to attach the pallet wood pieces to the top.
Sand wood and use the air hose to get dirt out of the crevices. 
Add your new handle or spray paint the old one and attach.
I love the way this table turned out. It looks so much better now and has a beautiful rustic, farmhouse look!
If you have some old furniture that needs refinishing or is damaged, try giving it a rustic finish or add pallet wood to change the look up completely.
What are your favorite side table makeover ideas?
P.S. Never want to miss a post but don't have time to check the site everyday? Sign up for our weekly newsletter to receive blog posts straight to your inbox, along with the best frugal living tips!