I'm so excited about my newest craft fair booth display piece!
Last week, I shared with you all my folding checkout stand.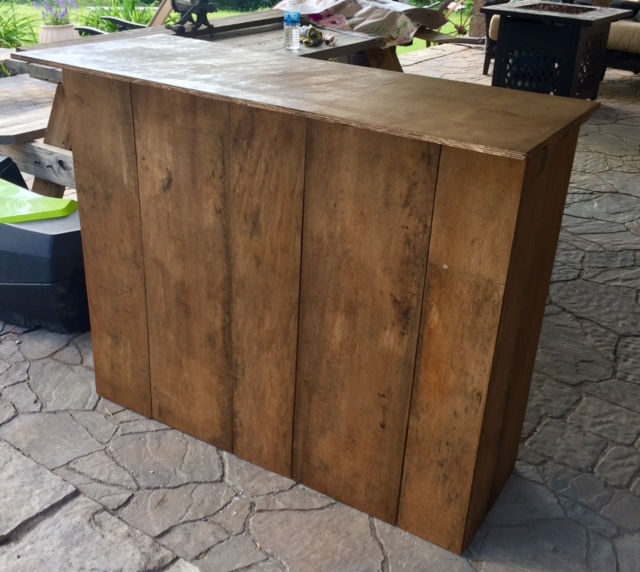 I love the idea of having a designated area to ring up purchases and package gifts. Craft fairs can get really busy and your booth can fill up with people fast! So, a checkout area can act as a way to, well,.. get out of the way! 😉
This "thanks for visiting!" box will hold all of our essentials – pens and a newsletter sign up sheet, business cards, and some peppermints.
While we are packing a gift, customers can sign up for our newsletter, grab a peppermint, and a business card!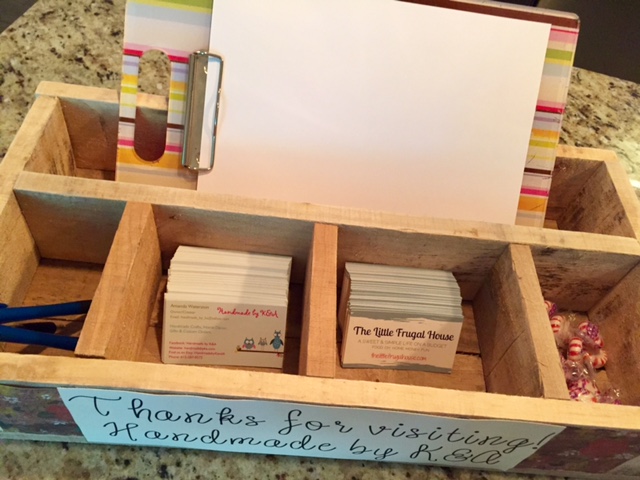 This box cost me $0 to make. I just used free pallet wood and some leftover scrapbook paper with my handy Cricut writing tool.
If you have a craft business or another side job , you may want to make a box yourself to treat your customers and keep all your promotional essentials organized!
Craft Fair Booth Display: Thanks for Visiting Box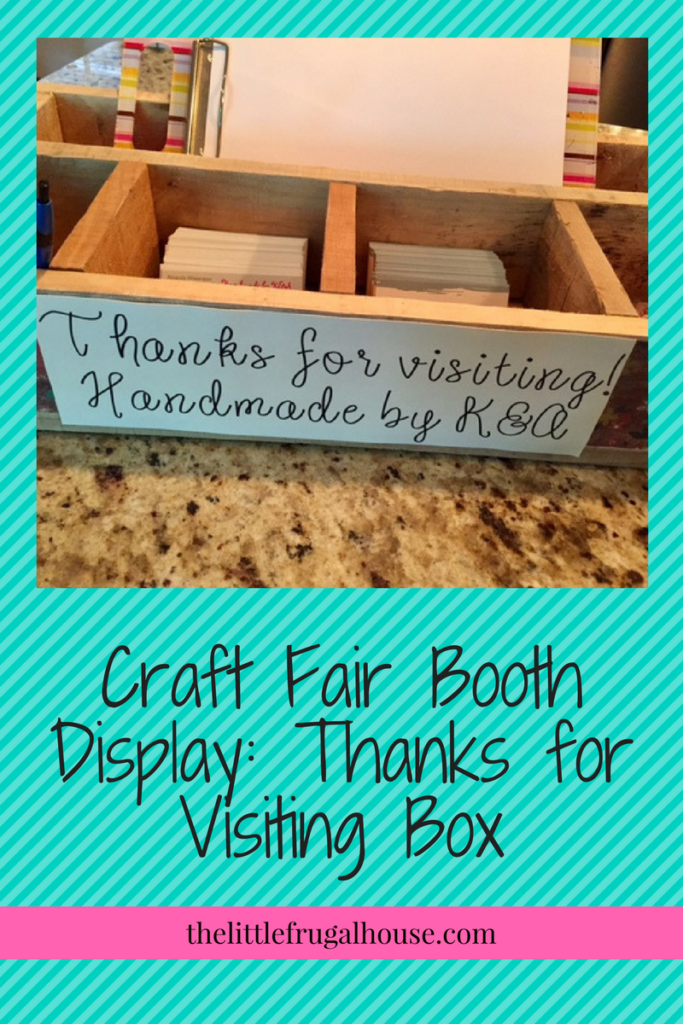 Materials:
Pallet Wood
Scrapbook Paper
Cricut machine with marker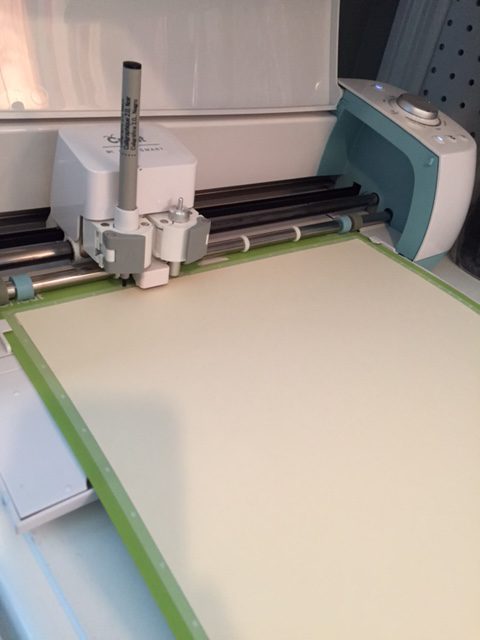 Tools:
Miter Saw
Tape Measure
Nail gun and nails
Directions:
Cut 6 pieces of pallet wood 20″ long.
Since pallet wood can be different widths, you will want to place 4 of your 20″ pieces together to form the bottom of the box. Then, nail your 2 20″ side pieces on top of the end pieces (nail from the bottom up). Measure the length between the 2 side pieces and cut 2 pallet pieces to that length to form the other sides.
Nail the bottom and sides together.
Measure the length from the inside of one short side piece to the other, and cut a piece of pallet wood to that length. Should be about 18″. Place that piece inside your box and adjust to fit as needed.
Measure from the side of that piece to the inside of the long side piece. Cut 4 pieces of pallet wood to that length. These are the divider pieces. Mine are about 4″.
Place your divider pieces inside your box, adjust to fit as needed, and nail everything in place.
Sand the rough edges. Stain if preferred, but I just left mine natural.
Use your Cricut writing tool to write Thanks for visiting! or whatever phrase you prefer and hot glue your scrapbook paper to the box.
Fill with promotional products, business cards, flyers, peppermints, etc.
What I really love about this box is it's variety of uses. If I have a special flyer or coupon, I can easily stick that in the box, and add things as needed.
You could even use this box as a craft display if you sell smaller items!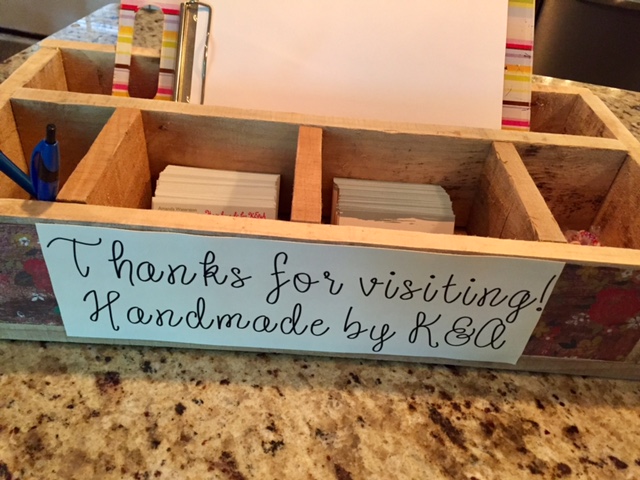 I can't wait for our craft shows so we can set up our new folding checkout stand and this "Thanks for visiting!" box!
Update:
Our checkout box has been so great for holding business cards (especially when it gets windy at the outdoor shows), peppermints for a little treat, pens for quick notes or orders, and our newsletter sign up sheet!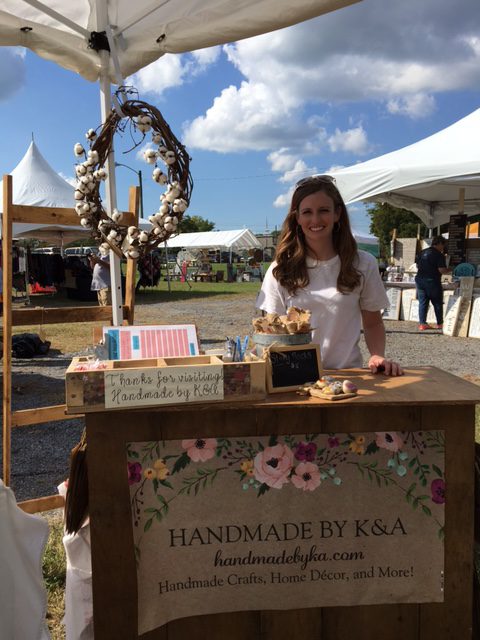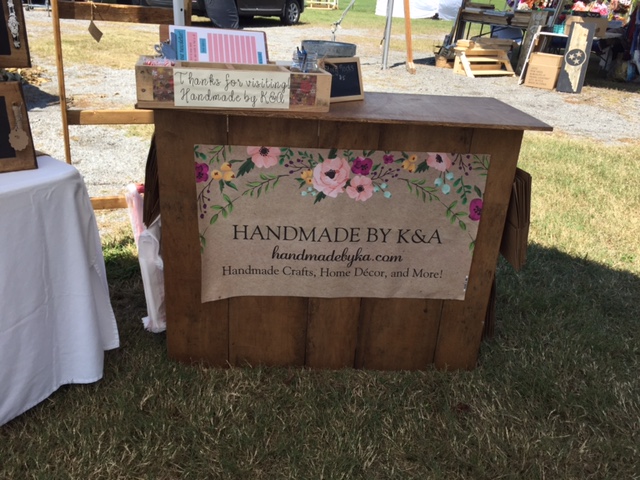 I think our customer will love it! What do you think?

P.S. Never want to miss a post but don't have time to check the site everyday? Sign up for our weekly newsletter to receive blog posts straight to your inbox, along with the best frugal living tips!