Do you like to cook and eat at home, but find it takes a lot of time to make a homemade meal every night? Quick and easy meals are what you need with your busy family. You've got no time to waste between all of the activities, chores, and projects you have going on.
I love cooking for my husband and I, and I really love making super simple meals! We are usually busy at night working on projects, doing chores, or trying to relax. So, these quick, easy, and simple meals are perfect for us!
I might cook a nicer meal on the weekends, or around the holidays, but weeknight dinners call for quick and easy meals.
These quick and easy meals are perfect busy families like yours that want to eat at home and save money, but not be in the kitchen all night. Try some of these simple meals and enjoy more time with your family!
21 Quick, Easy & Simple Meals for Busy Families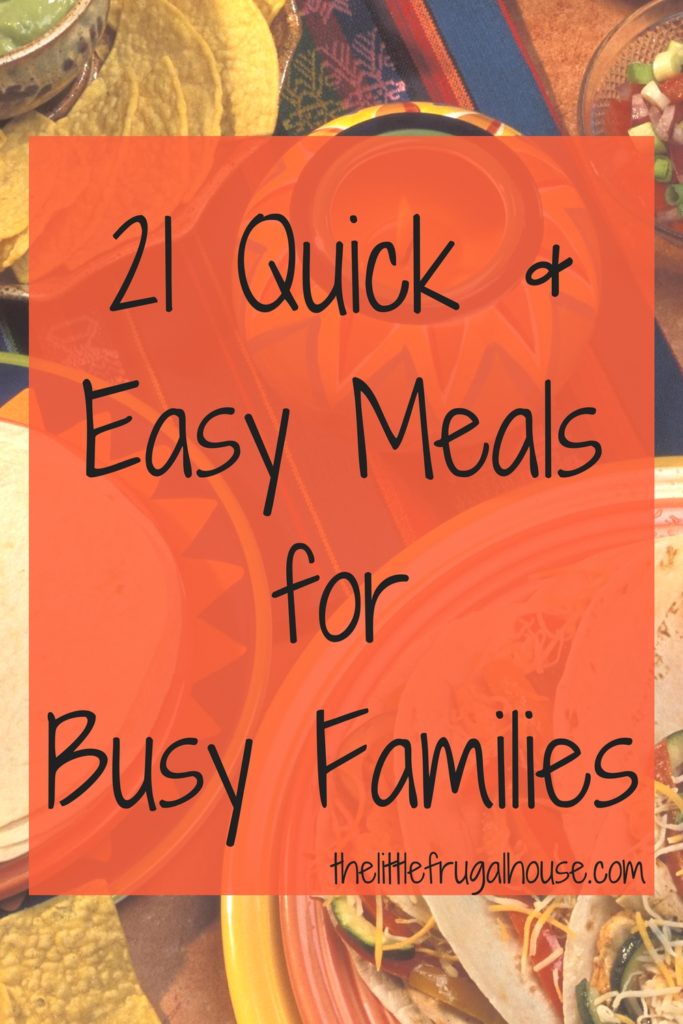 When you plan your menu this week, make sure to include some of these quick and easy meals!
Quesadillas
Grab some tortillas, shredded cheese, and diced grilled chicken. You can add in different toppings your family loves like black beans, salsa, or peppers. These are super easy to whip up in the skillet and serve with chips and salsa.
Inidividual pizzas are fun if you want to get your whole family involved in making dinner. Grab some flatbread, pizza sauce, Italian shredded cheese, and your favorite toppings. Let everyone create their own pizza. Bake at 400 degrees for 6-8 minutes, or until cheese is melted.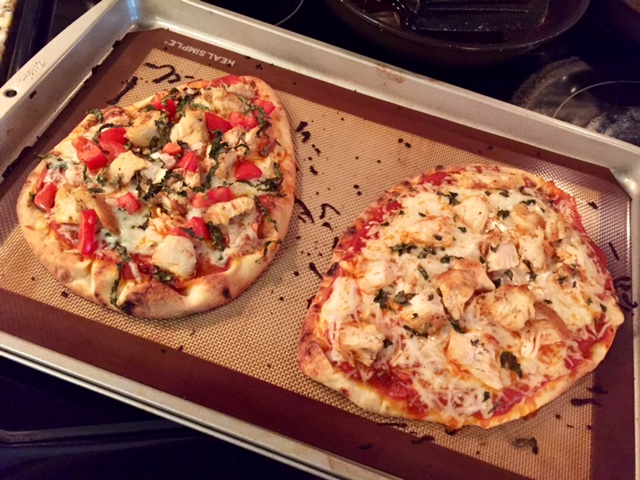 Tacos
Tacos are a favorite at our house! Just brown 1 lb of ground beef, drain the grease, and add a packet of taco seasoning (35 cents at Aldi!) mixed with 2/3 cup water.
You can serve the taco meat several ways:
Set up a taco bar with tortillas, tortilla chips, and all your favorite toppings. Let everyone make their own creations.
Taco salad on chips- Tortilla chips, taco meat, shredded lettuce, diced tomato, shredded cheese, sour cream.
Taco salad – lettuce, taco meat, diced tomato, shredded cheese, sour cream, or tortilla strips.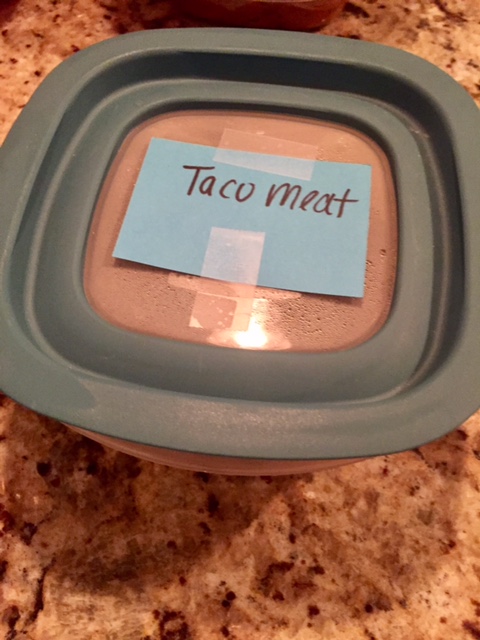 Salads
Not the most exciting thing ever, but salads don't have to be super boring either! Salads are a great way to eat a little healthier, and use what you have on hand.
Use whatever leftover meat and toppings you have. Here's some ideas:
Southwest salad – leftover taco meat, corn, black beans, lettuce, tortilla strips
Grilled chicken salad – leftover diced grilled chicken, tomatoes, onion, ranch dressing
Cobb salad – eggs, ham, tomatoes, bacon
Steak salad – Couldn't eat your whole steak at dinner? Save your leftovers, warm, cut and place on salad with your favorite toppings
BBQ salad – leftover BBQ meat, your favorite toppings, drizzle of BBQ sauce and ranch
Chicken Alfredo
Diced grilled chicken, bowtie pasta, and a jar of alfredo sauce makes for a hearty and delicious, simple weeknight meal.
Pulled Pork/Chicken Sandwiches
Place chicken breasts or a boston butt in the crockpot to make pulled pork or chicken sandwiches.
To make pulled pork, I season the boston butt and place it in the crockpot with a can of Dr. Pepper or Root Beer. Once that cooks on low for about 8-10 hours, I remove the juice, shred the meat, and pour in enough BBQ sauce to mix the meat with.
For pulled chicken sandwiches, place chicken breasts in the crockpot with enough BBQ sauce to cover them, and a little bit of water. Cook on low for 6-8 hours and shred.
Serve on hamburger buns.
Chili
Chili is a great weeknight meal, and you can often make a large enough batch for a few meals. This can be made in the crockpot or on the stove.
Brown ground beef, mix with chili powder, cumin, garlic salt, and your other favorite spices. Mix the meat with kidney beans, pinto beans, Rotel, diced tomatoes, and tomato paste.
You can make chili dogs, Frito chili pies, or just simple chili in a bowl.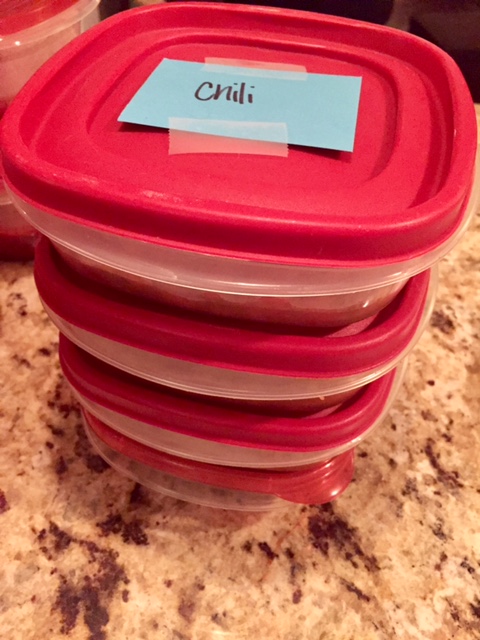 BBQ Potatoes
With leftover BBQ meat, you can make a very filling dinner of a BBQ potato. Bake potatoes, heat the BBQ meat, top with shredded cheese, a drizzle of BBQ sauce and ranch dressing.
Grilled Chicken
Dice some chicken breasts, season, and grill in a skillet. Serve with fresh or canned vegetables. Super easy!
Salsa chicken is such an easy meal to make! Just place chicken breasts in a crockpot and enough salsa to cover them. Cook on low for 6-8 hours, shred, and serve as chicken tacos.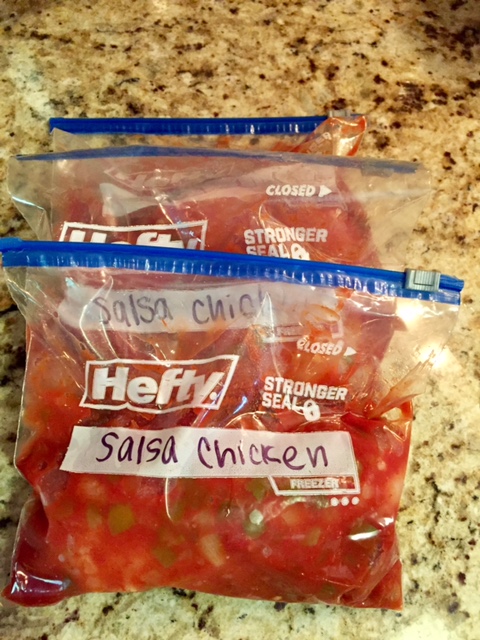 Chicken and Potato Hash
Dice and grill chicken. Dice, season, and cook potatoes in a skillet. Combine chicken and potatoes with whatever you have on hand to make a hash: crumbled bacon, shredded cheese, peppers, asparagus.
Chicken & Cheese Croissants
Grill small chicken tenders and place in unbaked croissants with shredded cheese or cheese slices. Roll the croissants around the chicken and cheese, and bake according to the croissant directions.
We eat spaghetti almost once a week, so I love to make a huge batch of spaghetti sauce and divide it up into freezer meals. Just thaw the sauce overnight, boil some noodles, heat the sauce, and dinner is ready!
To make my spaghetti sauce: Pour 14 cans of tomato sauce and 2 cans diced tomatoes into large pot to start the spaghetti sauce. Add a dash of hot sauce and worchestire sauce (I don't measure much, but I would say 2 tbsp. or so of each.) Add desired spaghetti spices. I use about 2 tbsp. of chili powder. I use about 1 tbsp. of garlic powder, onion powder, basil leaves, dried oregano, and about 1 tsp. of cayenne pepper.  Brown 2-3 lbs ground beef, drain grease, and add to sauce. Mix and let simmer.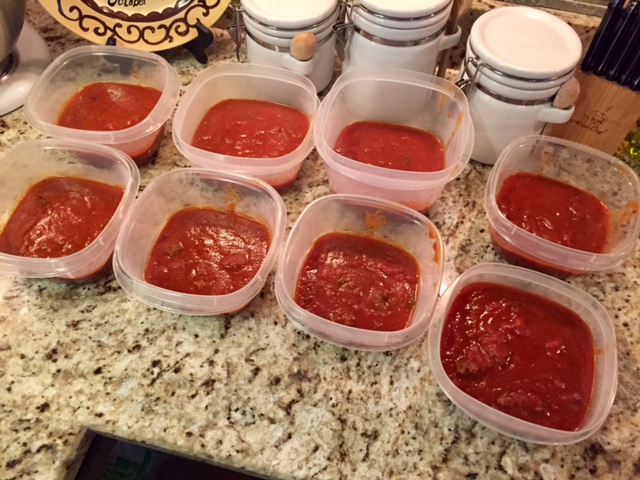 Steak
Ok, steak at first doesn't seem like a simple and easy meal, but it totally can be! We got a countertop grill/griddle combo for Christmas that is perfect for 2 steaks. I marinate my steaks all day in an equal mix of Worchestire sauce and soy sauce. Grill, and serve with a salad or vegetables. Any leftovers are perfect for a steak salad.
Burgers
Pre patted burgers can be a life saver on busy weeknights! Quickly grill and serve with your favorite toppings.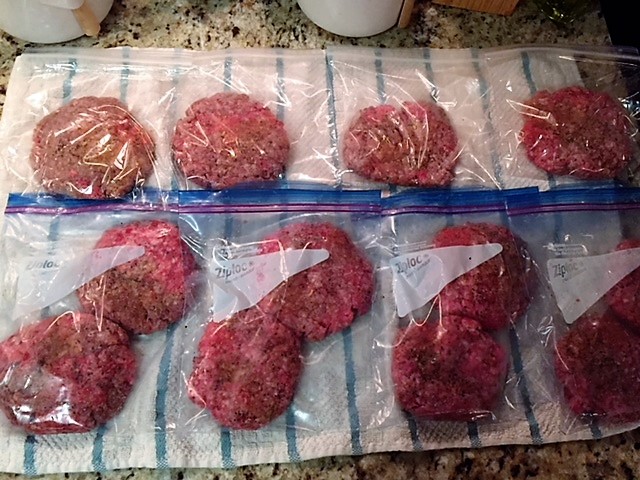 Italian Chicken
Marinate chicken breasts in Italian dressing, grill until brown, and serve with a side salad or vegetables.
Chicken Tacos
Place chicken breasts, a taco seasoning packet, and enough water to cover the chicken in a crockpot. Cook on low for 6-8 hours, shred, and serve with your favorite toppings.
Breakfast for Dinner
Whip up some bacon or sausage, scrambled eggs, and biscuits for a fun and super easy breakfast for dinner meal.
Beef Stew
One of my favorite crock pot meals and my all time favorite meal to come home to, all cooked and ready to devour. Place beef stew meat, or a roast, in the crockpot with diced potatoes and baby carrots. Use a seasoning packet or your favorite seasonings and plenty of water. Cook on low for 8-10 hours.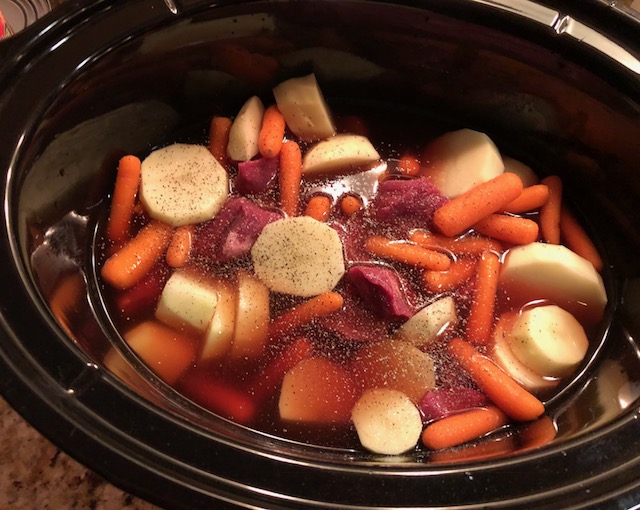 Rice, Steamed Veggies, Grilled Chicken
Cook a bag of ready rice in the microwave, add steamed veggies, and grilled chicken. Toss with soy sauce or teriyaki sauce.
Grilled Cheese and Soup
When all else fails, a warm grilled cheese and bowl of soup are always filling.
These quick, easy, and simple meals are perfect for busy families! Keep this list handy and enjoy eating at home with your family, even on super busy weeknights!
What are your favorite quick, easy, and simple meals?

You might also enjoy…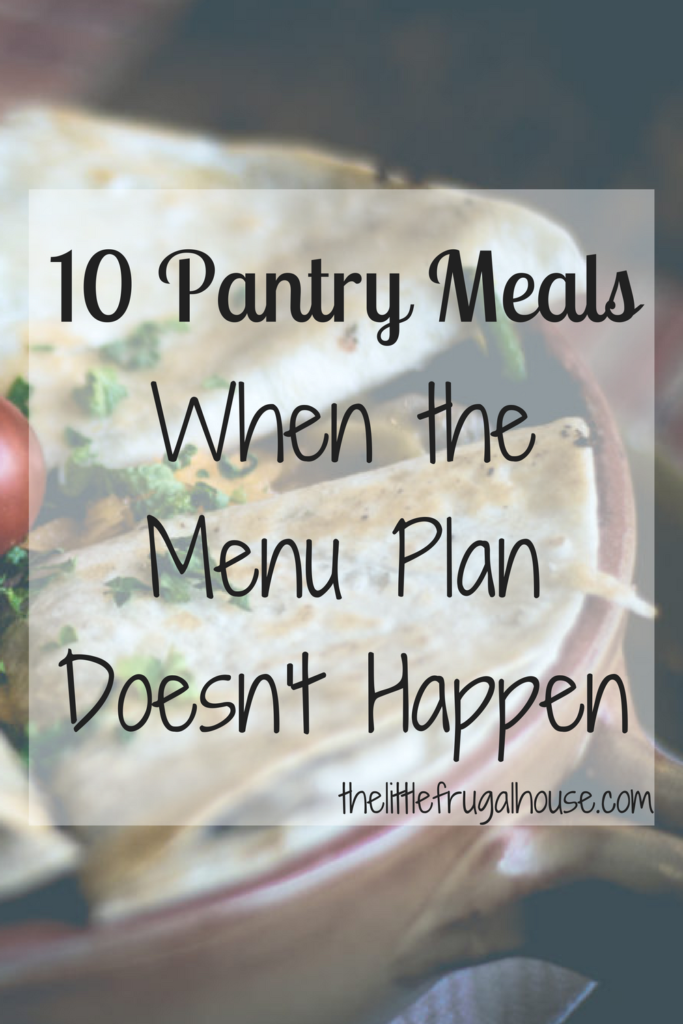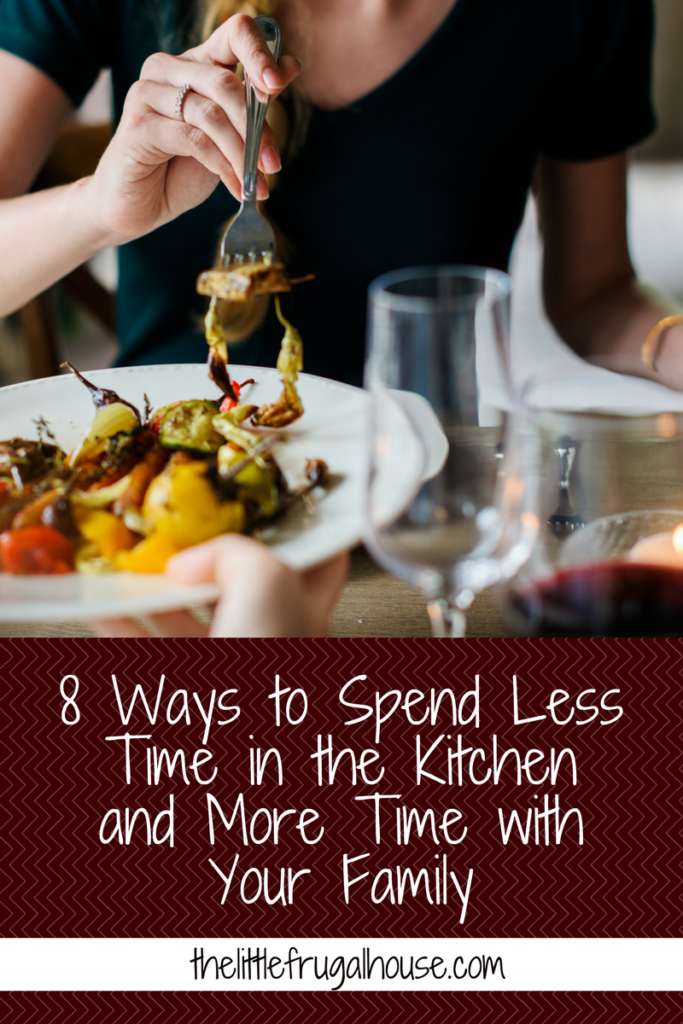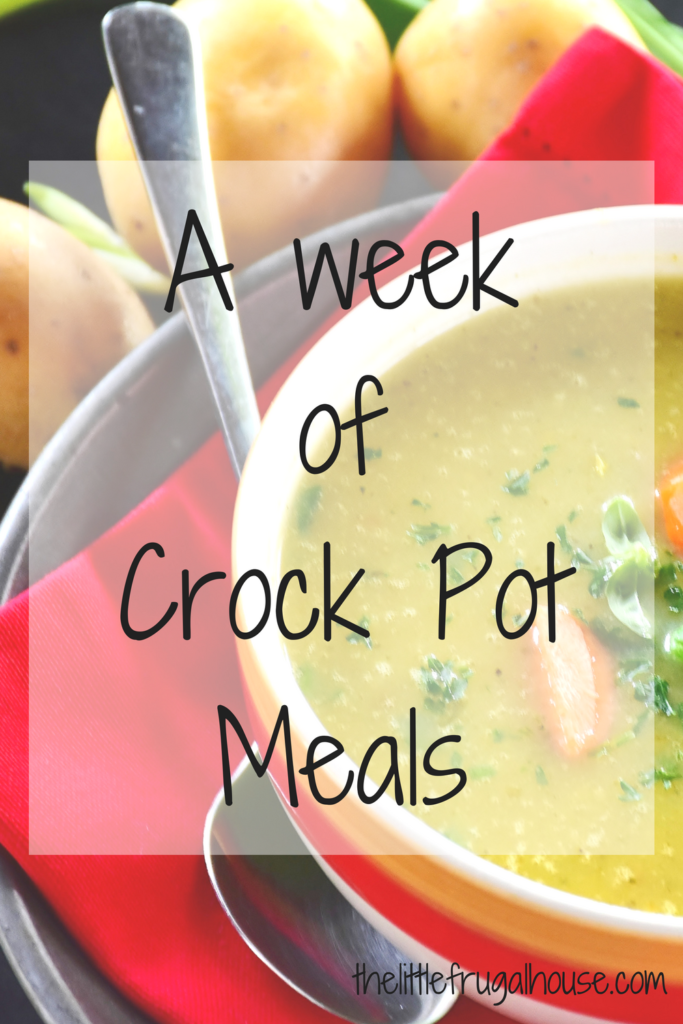 P.S. Never want to miss a post but don't have time to check the site everyday? Sign up for our weekly newsletter to receive blog posts straight to your inbox, along with the best frugal living tips!