Crock pot meals might be perfect for you if:
You need to get dinner on the table fast.
Feeding your family a good, homemade meal is important.
You don't have the time, energy, or patience to do a lot of prep work for dinner.
Having dinner ready whenever you can get your family to sit down would be ideal.
Your family might not all be able to eat at the same time.
You have more time in the mornings than the evenings.
You're just plain busy!
I love crock pot meals because I can throw everything in the crock pot in the morning, let it cook everything slowly, and when I walk in the door after work, I smell a homemade dinner ready to serve.
I thought it would be a nice break from cooking to plan a week of only crock pot meals.
A Week of Crock Pot Meals – Easy Cooking Week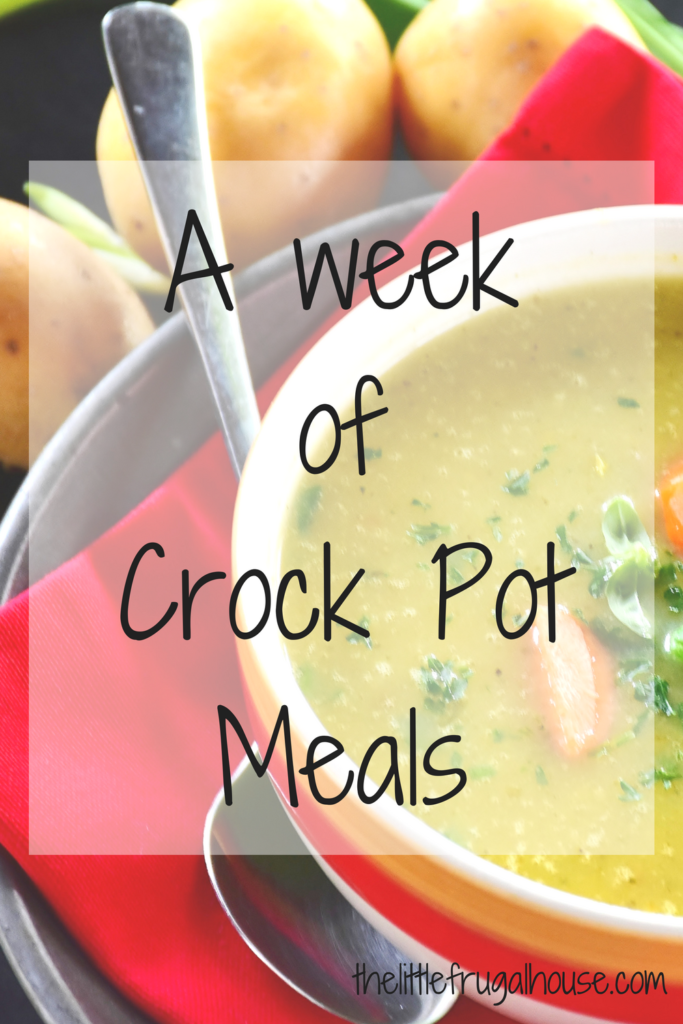 Here's what's cooking this week at The Little Frugal House:
 
Sunday:
Roast with carrots and potatoes.
Nothing says Sunday dinner quite like a warm and hearty roast dinner!
Add your choice or roast (we usually use chuck roast or beef stew pieces), baby carrots, potato chunks, and a package of roast seasoning with enough water to keep everything moist and juicy.
Savings Tip: Use beef stew pieces instead of an actual roast to save on your meat for this recipe. Serve leftovers for lunch the next day.
Monday:
Chicken noodle soup.
Just imagine walking in the door after a long Monday, to the delicious scent of chicken noodle soup ready to serve. Serve with a roll or salad.
I am using this recipe from Love Grows Wild. Or search for a delicious slow cooker soup recipe on Pinterest!
Tuesday:
Chicken Tacos.
Taco Tuesday of course!
Place chicken breasts in crock pot, mix taco seasoning with 1-2 cups of water (depending on your crock pot size – just enough to keep everything juicy.)
Have some chips and salsa ready to go, and set out the taco toppings for everyone to make their own.
Time saving tip: Make a chicken taco crock pot meal with your freezer cooking meals to save time!
Wednesday:
Chili.
A warm bowl of chili sounds great to celebrate making it halfway through the week!
Make your favorite recipe in the crockpot instead of on the stove, and it will be ready to devour when everyone gets home! Serve with Fritos, shredded cheese, and sour cream.
I love the Pioneer Woman's Simple Perfect Chili!
Tip: You can also make this a freezer meal, and place in your crockpot to warm later in the day!
Thursday:
Italian Chicken with Potatoes.
A nice, warm, homemade dinner for the family to enjoy together.
Pull a bag of Italian chicken from the freezer from your freezer cooking session, or just drop a few chicken breasts in the crockpot and add enough Italian dressing to keep everything juicy. Add potato chunks and Italian seasoning.
Serve with green beans (you can even add the green beans to the crockpot if you wish!) and a roll.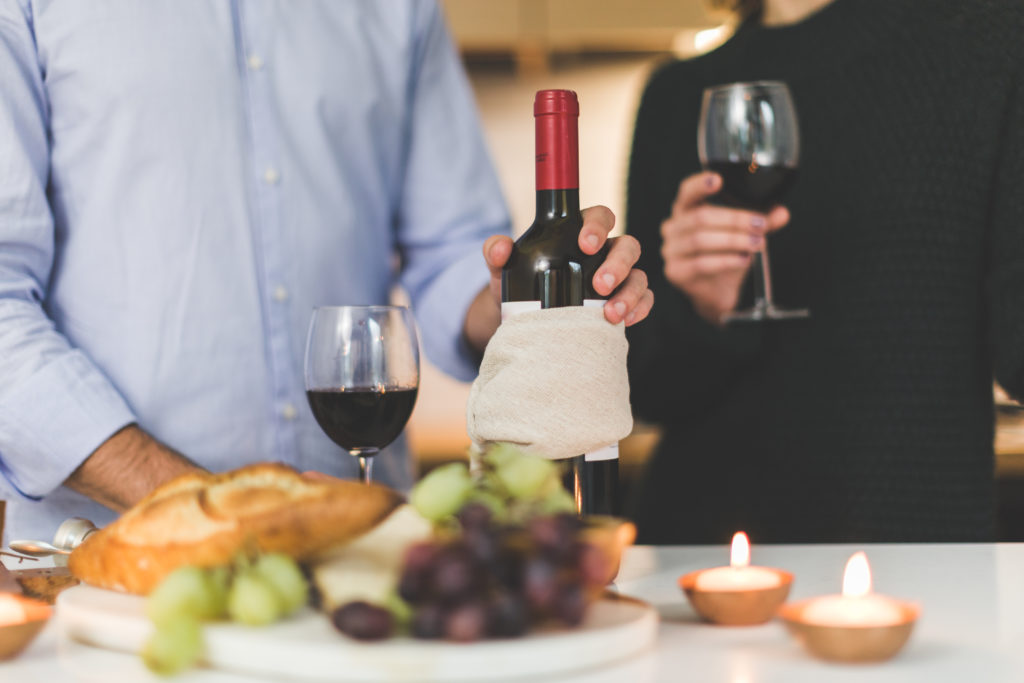 Friday:
BBQ.
Woo hoo, it's Friday! Time to relax with a comforting BBQ sandwich (or potato!) and enjoy the weekend.
Place a boston butt (or your favorite choice of meat for BBQ) in the crockpot with a bottle of BBQ sauce and whatever seasonings you prefer. Shred when you get home. Serve on sandwiches with pickles and chips, or top a baked potato with BBQ, cheese, bacon, and sour cream.
This is a great recipe from Sweet Baby Ray's that uses a can of Root Beer! It's delicious!!
Freeze any leftovers or serve for lunch the next day!
Saturday:
This recipe comes from Damn Delicious and will make a nice Saturday night dinner.
Maybe you can have a little date night – make this easy dinner and enjoy a movie at home!
Looks easy enough and definitely delicious!!
Try this week of crock pot meals and see how much easier life gets! Having dinner together is so important to me and I, of course, love serving delicious meals!
I have a 6 quart crock pot that I use for bigger meals like the roast and dinner with potatoes, and also a 2 quart that I use when it's just the 2 of us and I'm making a smaller meal like chicken tacos.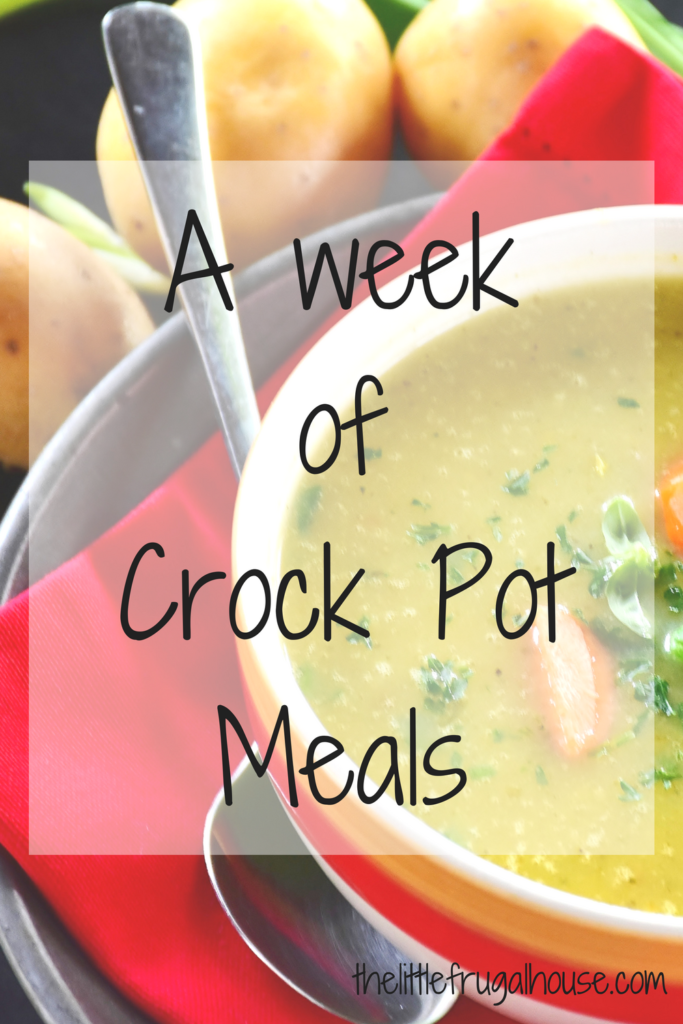 What crock pot meals would you add to your weekly plan?

P.S. Never want to miss a post but don't have time to check the site everyday? Sign up for our weekly newsletter to receive blog posts straight to your inbox, along with the best frugal living tips!