We recently built a farmhouse table for our patio for $65, and it got me thinking of the other frugal ways we have made our patio a fun and relaxing addition to our home.
I have found it difficult to find money in the budget to decorate a whole room or space at once.
To stay in budget and to decorate our home the best we can, we have had to think outside the box and outside the décor stores.
This means DIY projects, yard sales, repurposed items, building our own furniture, and finding the best deals we can.
We weren't able to furnish and decorate our patio all at once, but over time we have slowly created the enjoyable space we love to relax in.
And we really love our space now!! I'm sure we will change things over time, but I love what we have created!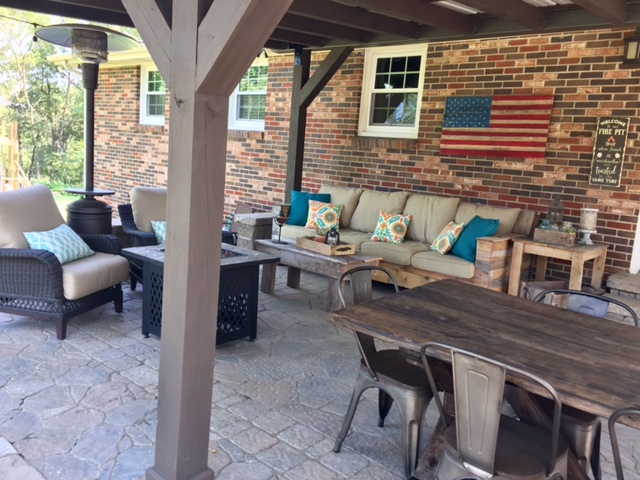 Frugal Patio Furniture and Décor

Pallet Couch
We built a couch out of 4×4 wood and pallets! The cushions came from Lowe's and the pillows are handmade by my mom.
We measured our couch to see what a good size would be, and just made a design. I love the way it turned out!
DIY Bar Station
I found an old door at a yard sale, bought some cheap legs from Lowe's and added a barn wood shelf to create a bar. I love this for parties!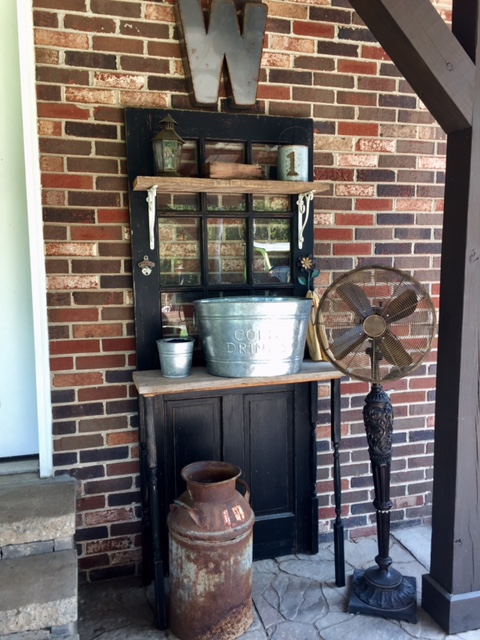 Pallet and Barn Wood Side Table
We needed a table between the steps and our couch, so I just wrote down some measurements and wound up making this cute little, rustic table.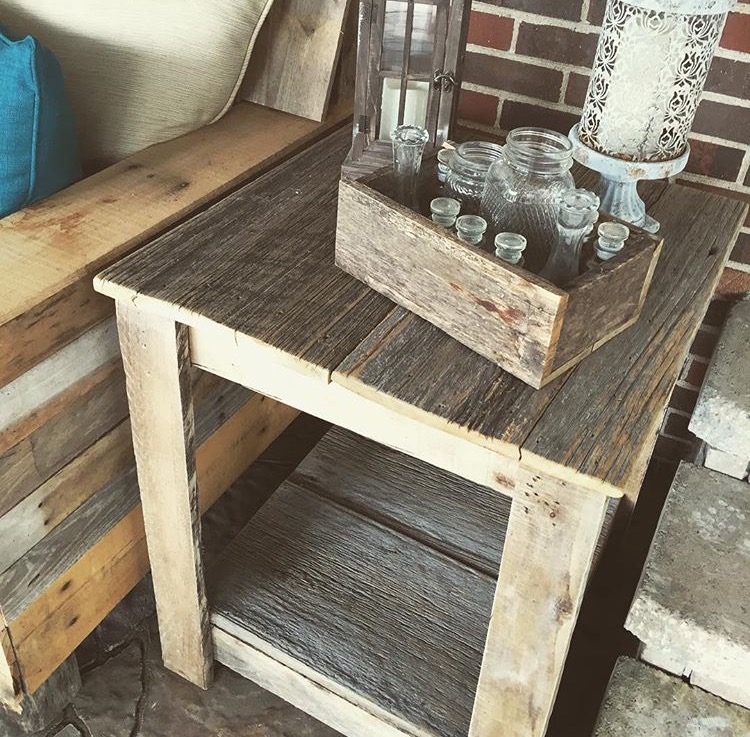 DIY Pallet Wood American Flag
You can find tutorials for these all over Pinterest, but the basic idea is nail/screw pallet wood pieces together in whatever size you prefer.
Then, you will want to use painter's tape and star shape stickers to form the flag pattern. Cover the blue part with newspaper and tape, spray paint the red stripes. Then, cover the red part with newspaper and tape, and spray paint the blue part. Peel off the stickers and tape and you will have a flag! You can use a sander to distress it if you prefer.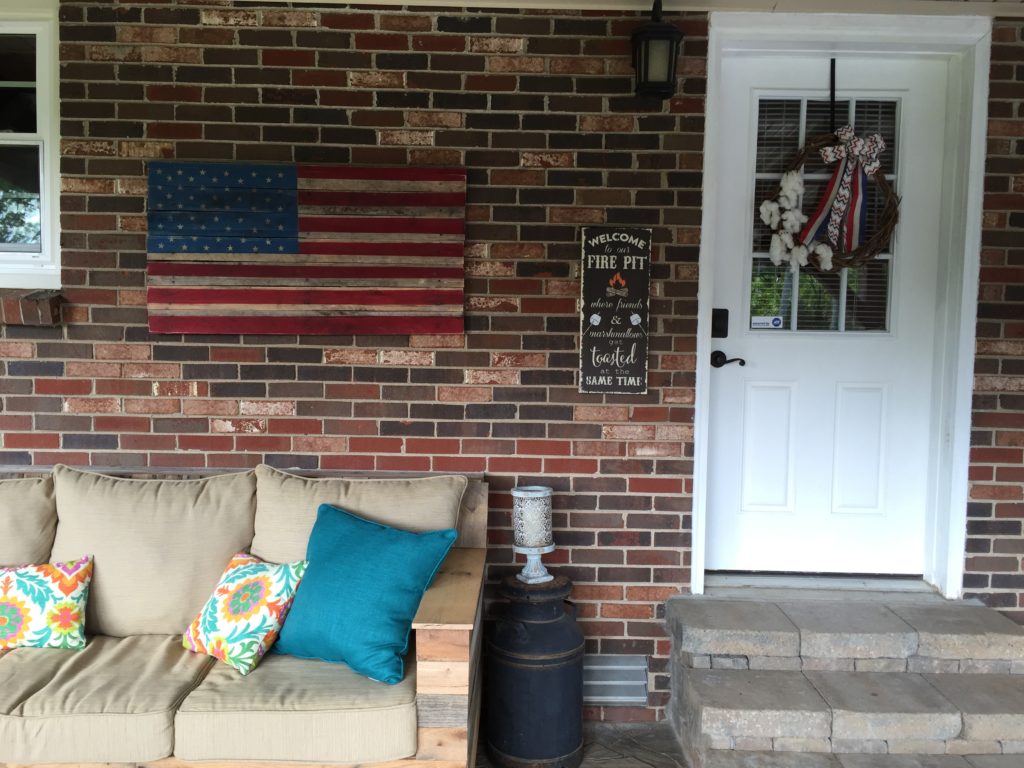 Barn wood and pallet wood coffee table
We made this table to have something to kick our feet up on. This table was made similar to the side table, and we wanted them to look cohesive.
 
We built this table from this Ana White plan and I'm so pleased with how it turned out. For $65, I don't think it can be beat!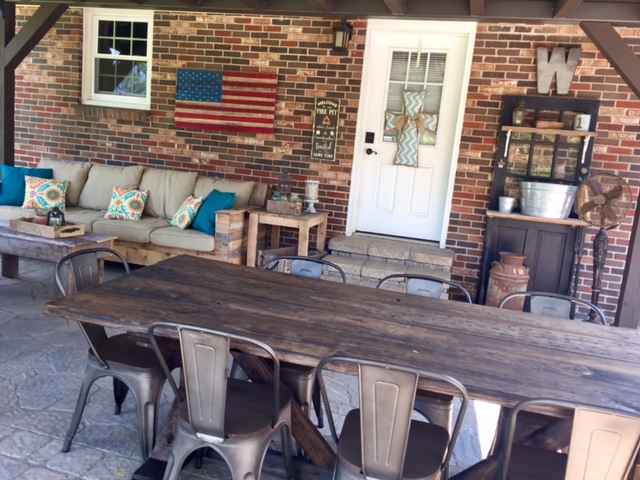 Propane Fire pit
We found a propane fire pit on clearance and we love this thing! No stinky smoke, no firewood needed, and no mess. Just turn it on and enjoy the calming fire or make some s'mores!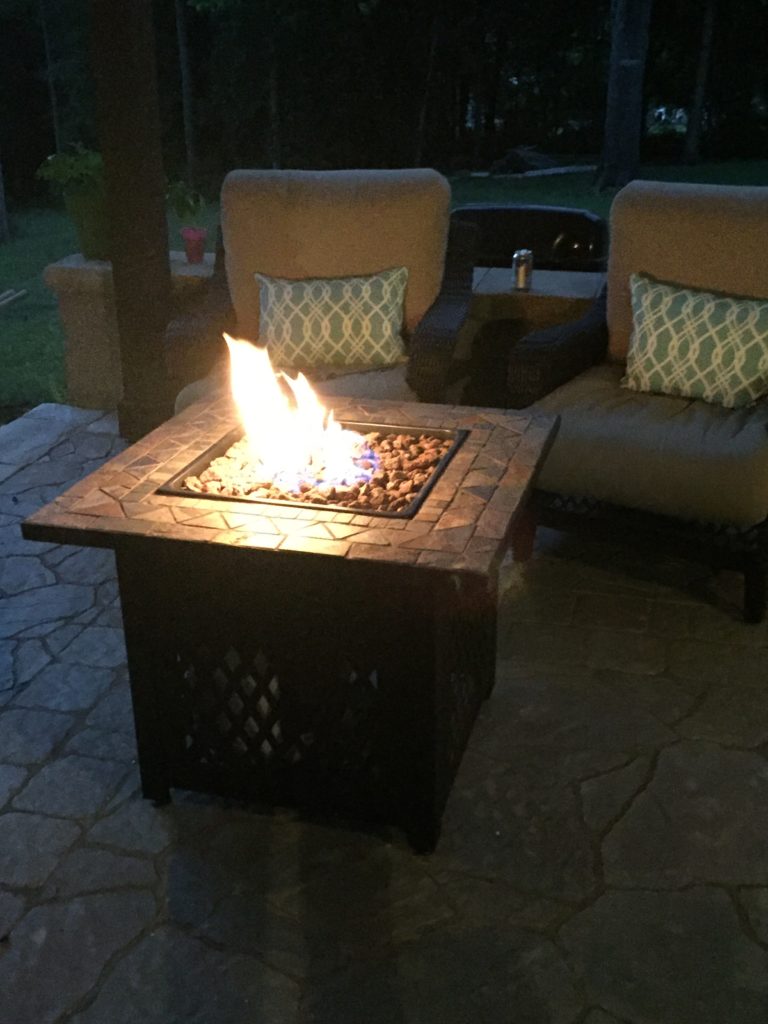 Comfy Chairs
These chairs are SO comfortable! We found these at a local liquidation place and I love them!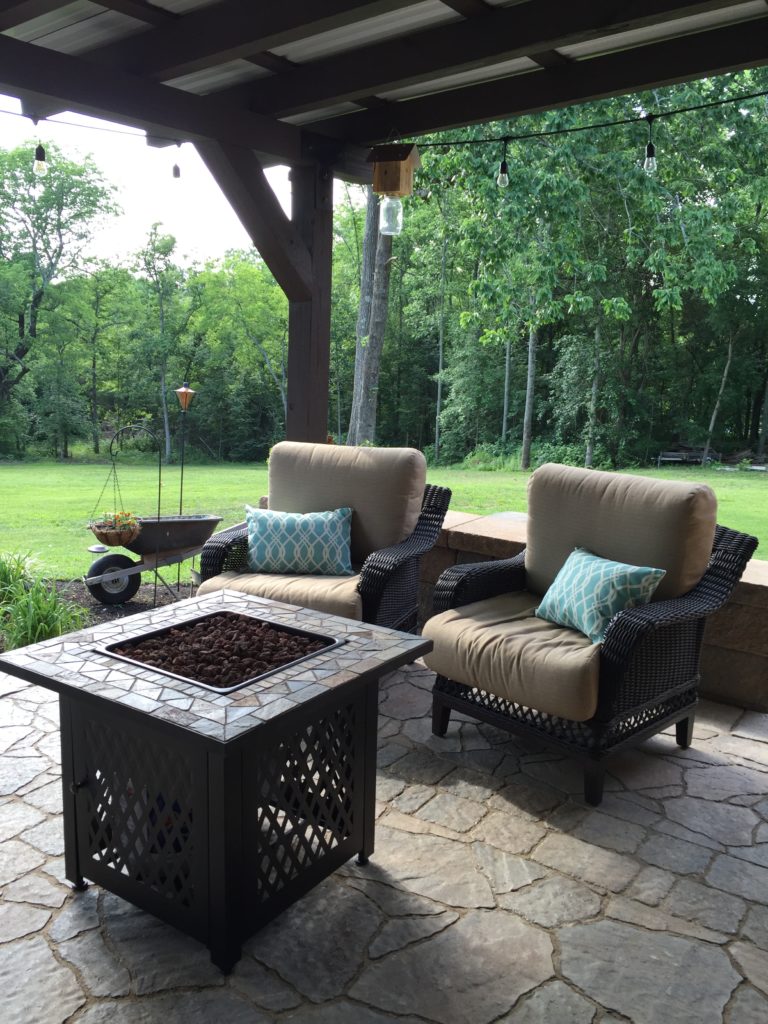 String Lights
String lights are so sweet and fun! I love the way they add light in a subtle way when we have a party! You can find great deals on these at Amazon, Target, or Walmart.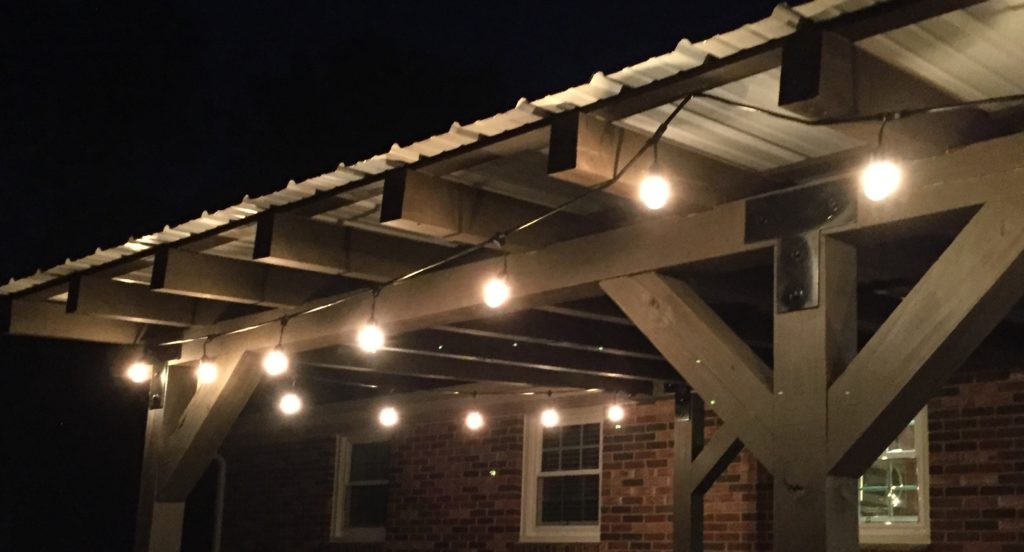 Frugal Décor
All of our décor on our tables are either DIY or yard sale finds.
Here's some things you could make or find for cheap:
Pallet Box – fill with old jars
Lanterns
Pallet wood serving tray
Small shade plants
Coasters
Candles
Mason Jars
Vintage Boxes
Milk Cans
Drink Bucket
DIY Wreaths and Door Hangers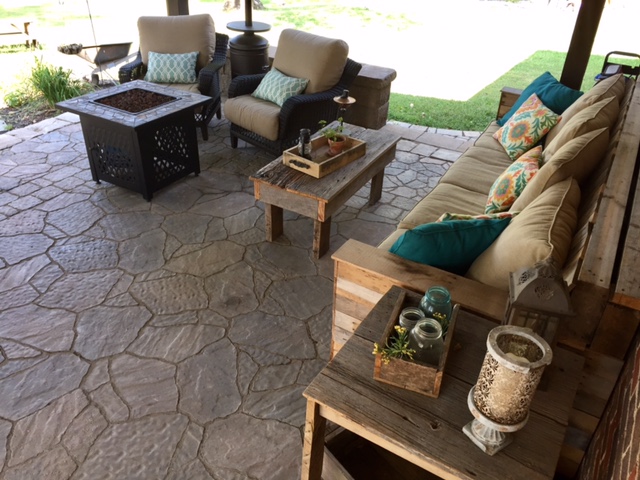 My best tip would be to look around your home first to see what you can repurpose and use, then see if you can make anything from scrap wood or pallet wood, and then check yard sales for items you can clean up, spray paint, or refinish to use.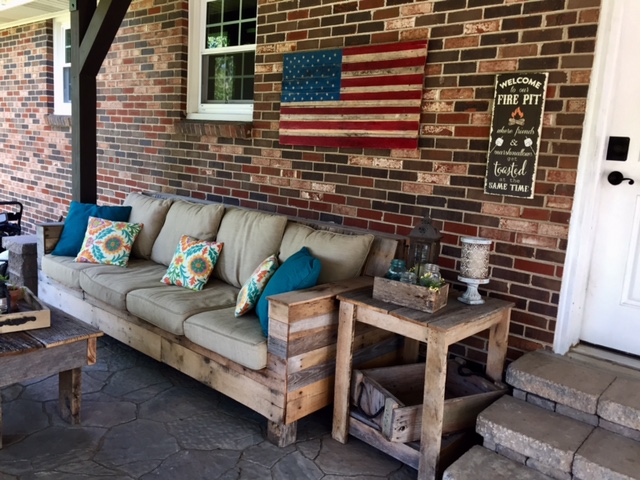 I love using unique pieces and hardly anything we have is brand new, but that's ok! It's mostly one of a kind and makes our house a home!

What frugal finds have you found for your patio?

P.S. Never want to miss a post but don't have time to check the site everyday? Sign up for our weekly newsletter to receive blog posts straight to your inbox, along with the best frugal living tips!