Let me start this post by saying that my husband is a rock star.
He is the greatest handy man I have ever seen. If he doesn't know how to do something, he will research and figure it out. He knows all about construction and hard work, and teaches me lots along the way.
I think we make a great team! He has the knowledge and skills to get the work done. I make decisions and possess much needed hands to pick things up and hand tools.
As I've mentioned before, we bought the ugliest home on our street.  We were driving down a road looking at a house we saw online, didn't like it at all, so we kept driving.
We pass by the ugliest, I mean the UGLIEST, house on the entire road, and he hits the brakes. There is a for sale sign out front.
He pulls in the driveway, eyes all lit up. I'm in the passenger seat and probably said something along the lines of "eww. no thanks."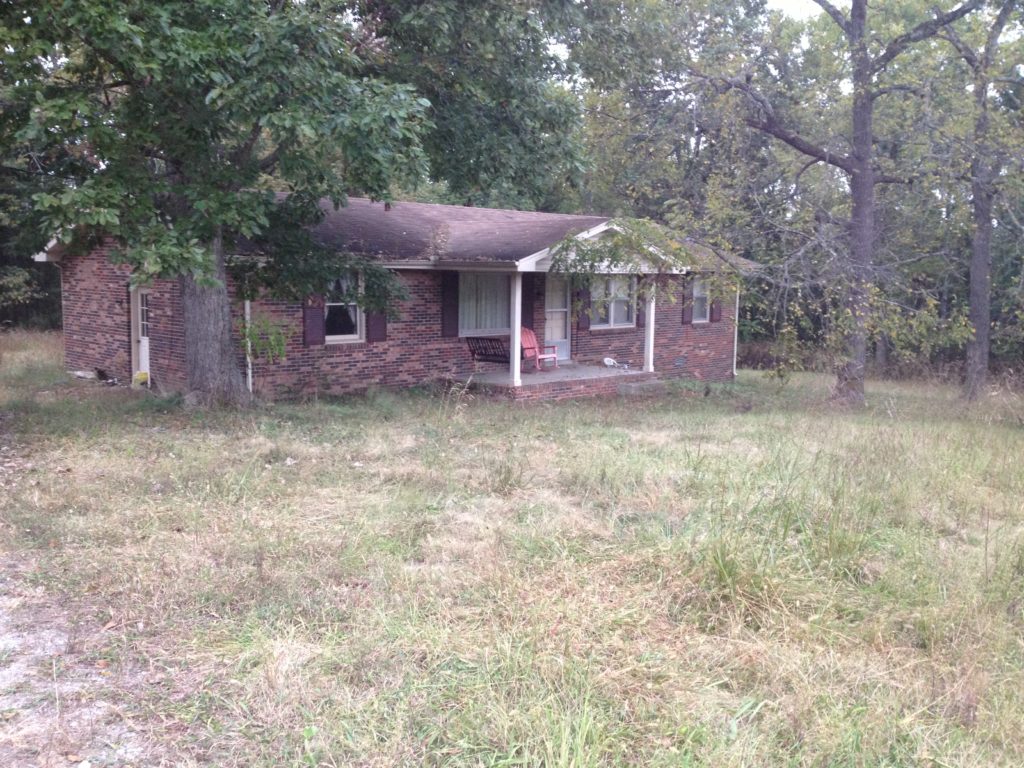 I thank God for my husband and for him seeing potential in this house that eventually became our cozy home sweet home.
The patio build was one of the biggest projects we have tackled. It took us about 5 (mostly cold, winter) months to complete and it turned out amazing!
Quick note: This project would not be possible without Craigslist. My husband found the deal of the century on these paver stones. They would normally cost about 10 times as much as what we paid!!
There was a landscaping company selling these from leftover projects. We did get random pieces and amounts of stone, which forced us to be creative with our design. It was a bit of a challenge, but we saved so much money! And our patio is definitely not cookie cutter.
Here's our DIY Patio Build!
Just to give you an idea what this looked like from the beginning, the grass came all the way up to the house and the back door didn't exist, only a window.
I'll show you the process of our DIY Patio Build (or the parts I understand).
We had to get the dirt all level.
It looks like he's just playing, but serious work here. I stay out of the way and give thumbs up or down signals and wave. I told you we make a good team. 🙂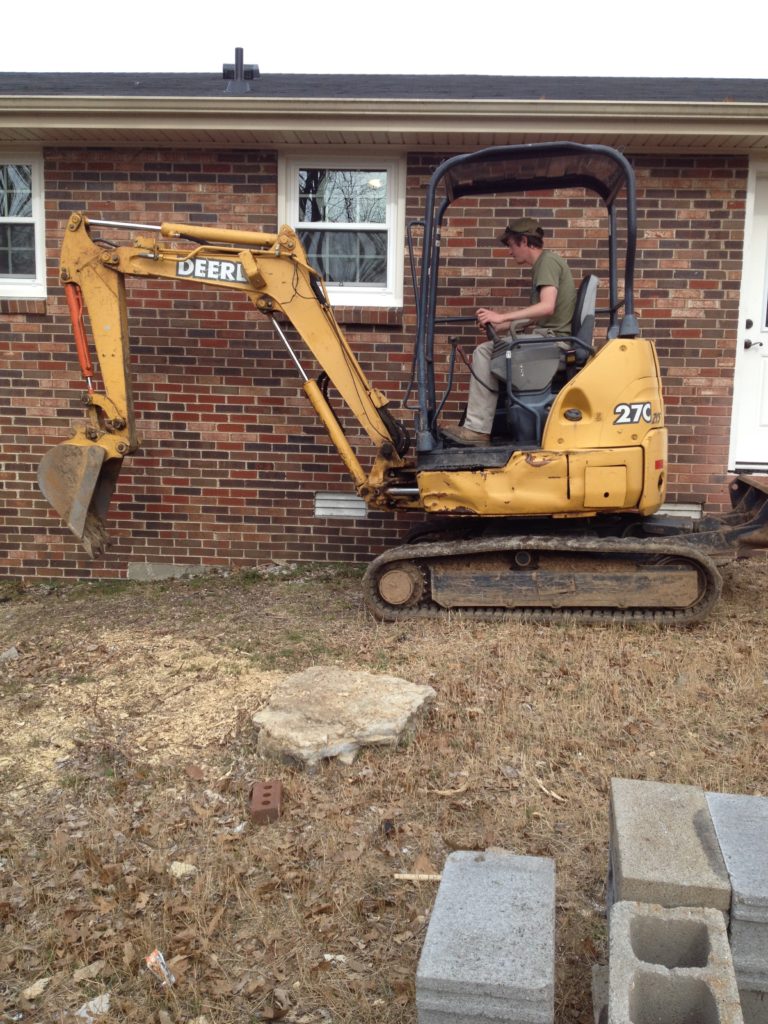 Building a retaining wall.
This serves a couple of purposes. First, it provides seating. Second, it acts as a barrier between the pretty patio and the yard.
We put cinder blocks down first as those will be hidden by our nicer stones.
The cinder blocks are partially buried under the ground for added support and makes for a strong structure. They are also much cheaper than the stones we were using, and we didn't want to bury the nice stones. We then added concrete inside the blocks to make them extra sturdy. And landscaping glue to glue them together.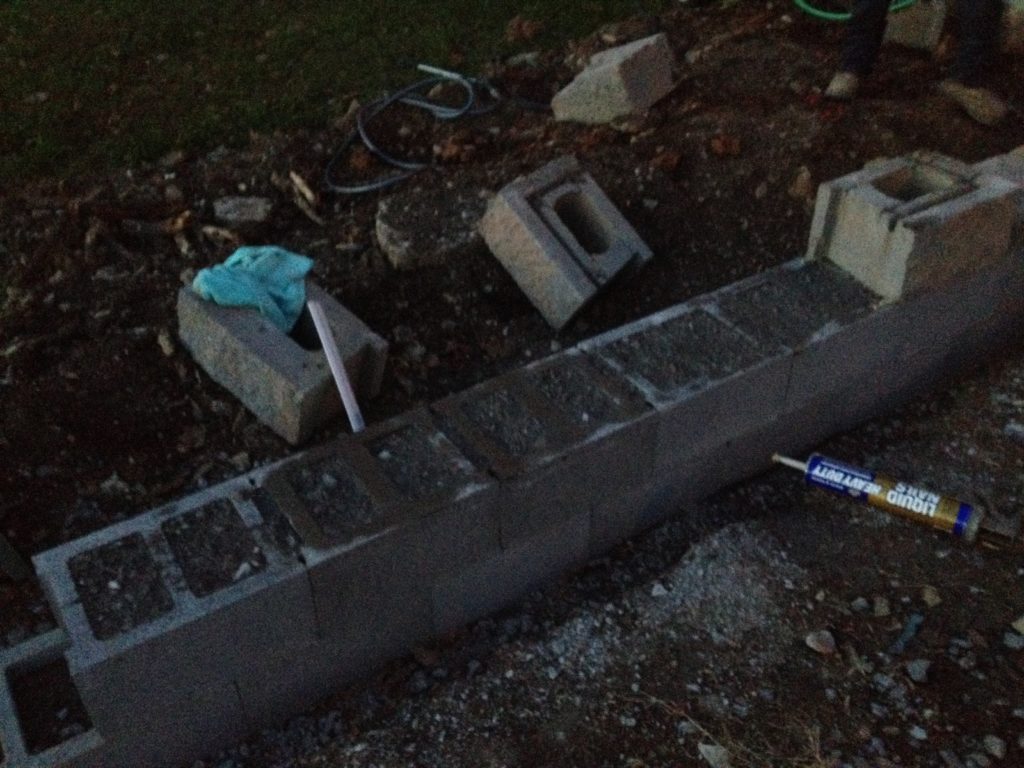 Setting the posts
We also put in our wooden posts before gravel and sand came, this way the gravel and sand could pack together and give the posts extra support.
Posts are fun to put in, because they are tall and heavy and when you hold on to them before they are concreted in, you can easily tip over or knock someone out. Fun stuff. Just make sure you get these level. Scrap wood was used as braces to help keep the posts in place.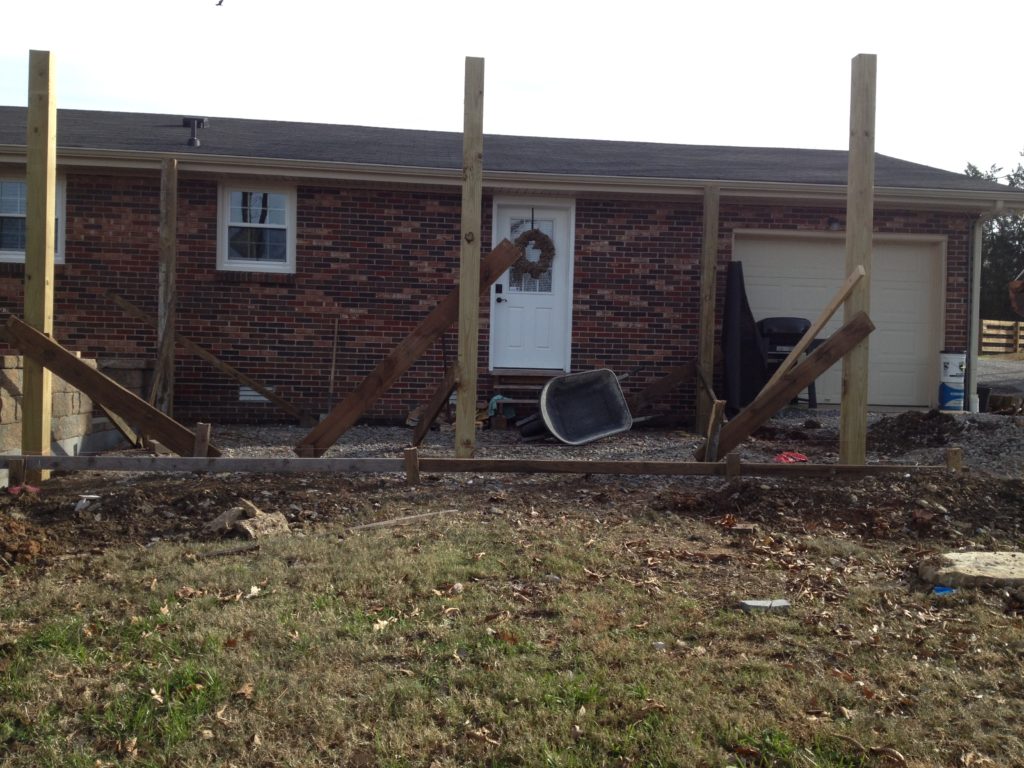 Time for gravel
After the posts were set, we poured a ton (I think it was probably quite literally a ton) of gravel in our blocked off area and smoothed it out to the correct height (as determined by the project manager a.k.a my husband).
You need to know where you want the top of your paver stone to sit at, then figure out how much gravel and sand you need. Gravel goes first and is a few inches deep. Get that real smooth with a rake. And then drink a beer. Because raking = not fun.
You also need to compact this down very tight. You can use a compactor hand tool for this (a big heavy bar with a metal square on the bottom). My husband actually rented a compactor to get these extra packed down. You just don't want anything to settle later on.
Sand comes next. It's a special sand, not just any sand. And we got the wrong sand first. Don't you love that? Ask a professional what type of sand you should use with your stones. This is important because you don't want your stones to sink any after they are set.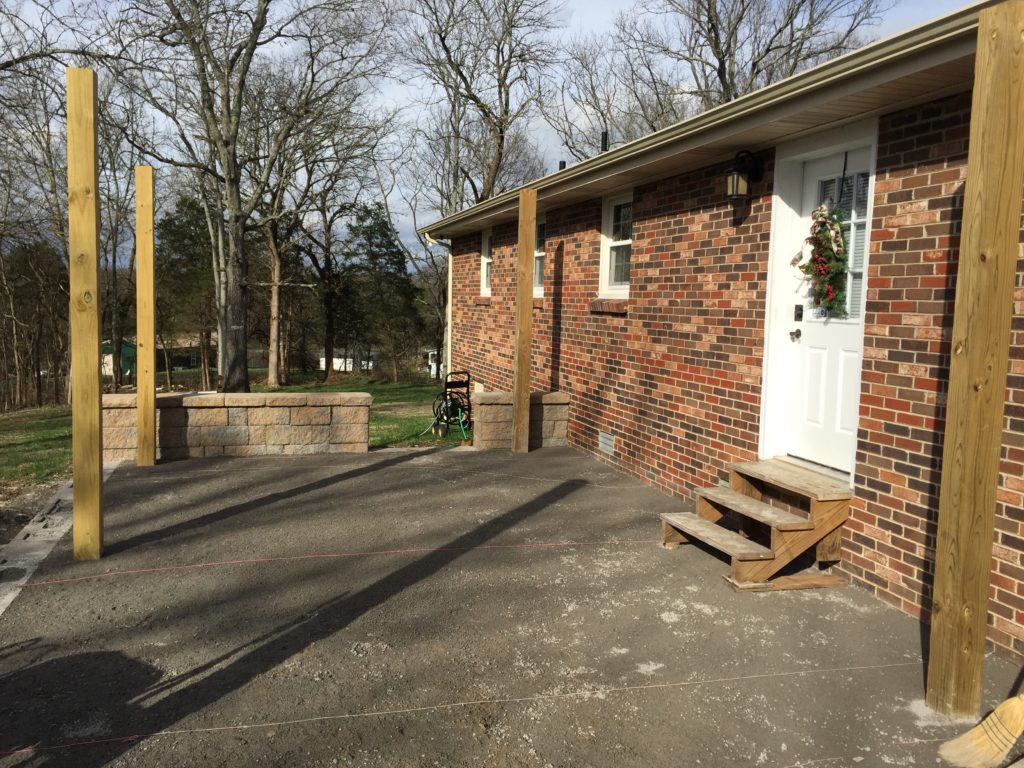 Ready to lay the paver stones
So, I told you that we had random amounts of different stones and we had to create a pattern using what we had.
We decided on using large square and rectangle pieces for an outer border, smaller abstract pieces for the next section around, then square and rectangle brick-like pieces for an inner border and finally larger abstract pieces for the center area. That sounds like jibber jabber when I type it out. I have no idea what they are called.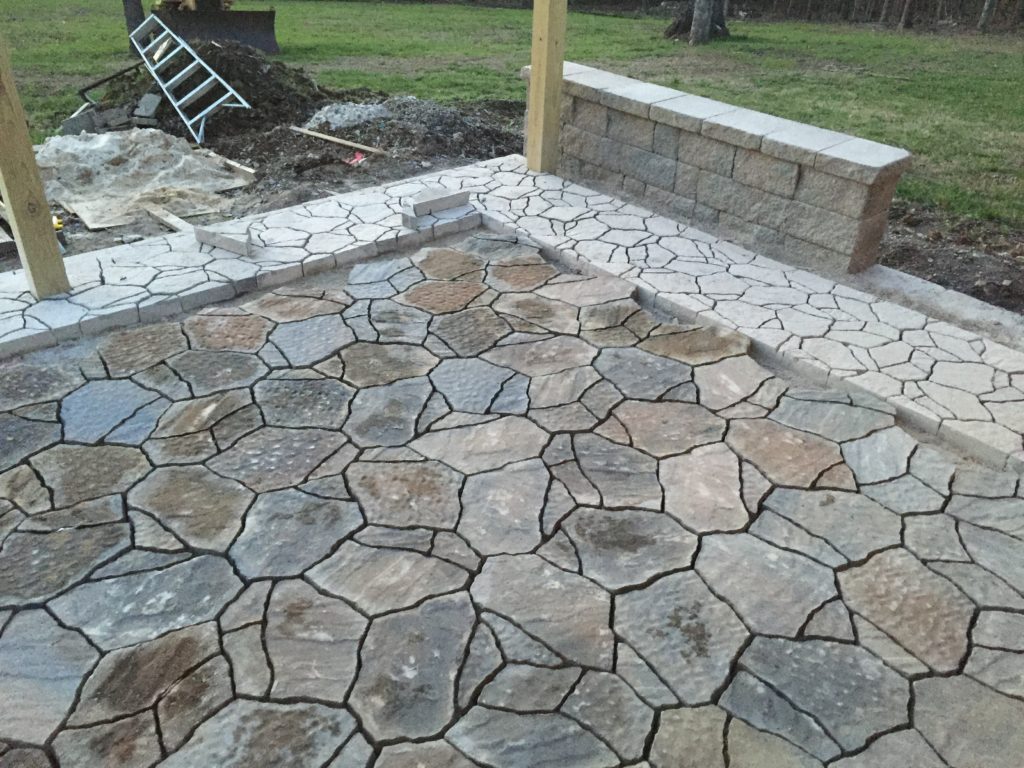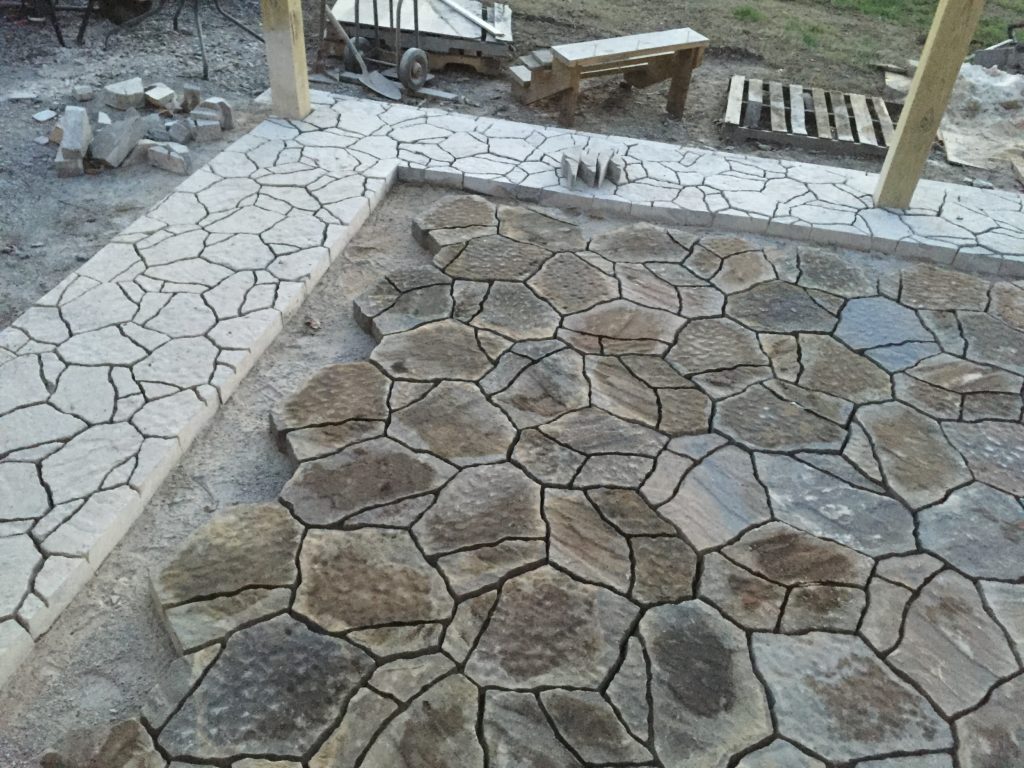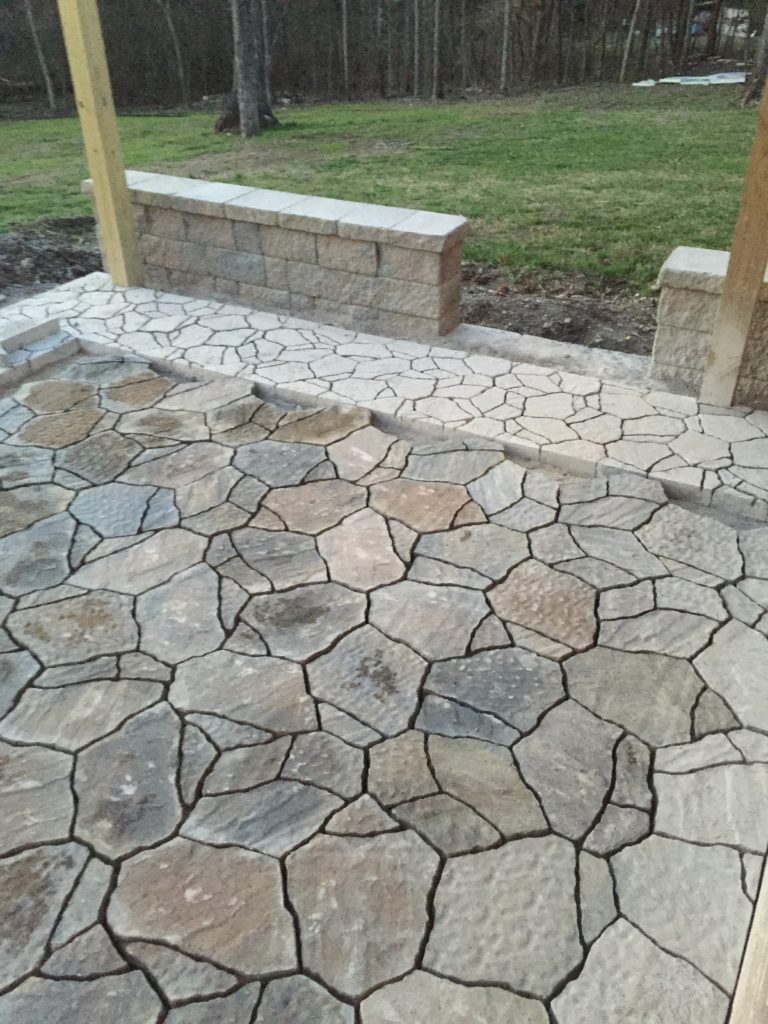 First we laid out the smaller abstract pieces. We measured how much space to leave for the outer border and laid the stones were we could do an even cut and waste as little as possible. Our stones did not have a flat end, so we had to borrow a concrete saw to cut them. Once they were laid out, we used a chalk string to mark where they should be cut. And then my husband cut them and I ran away because there was so much concrete dust in the air. Eww. Wear a mask if you do this, please. And glasses. Safety first.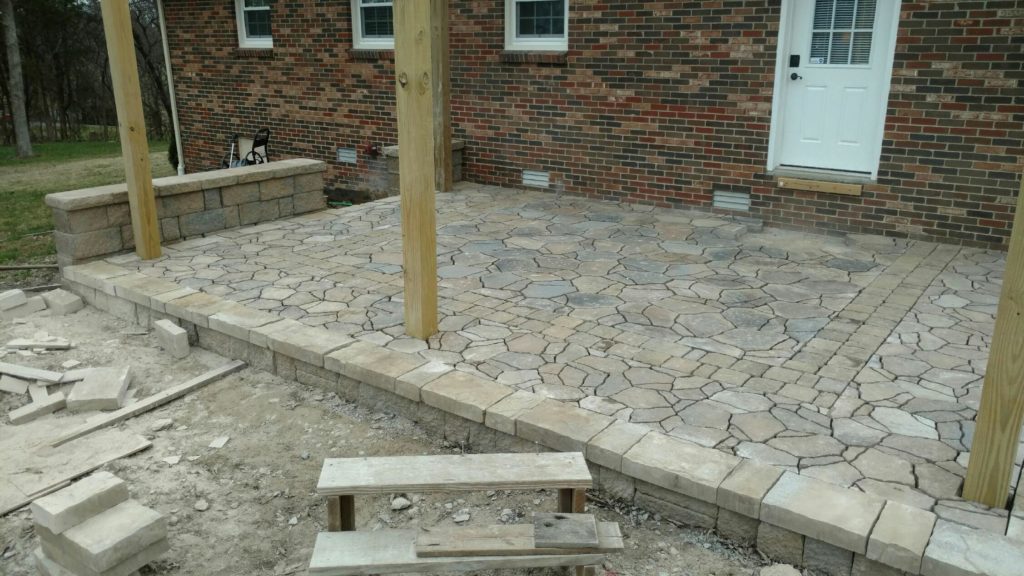 See how the smaller section has straight cuts on both sides? It started out like the bigger pieces and was cut with the concrete saw.
The same thing had to be done with the big pieces, both to fit flush with the house and to have straight lines on the outer side.
We filled the middle of those two sections with brick like pieces.
These suckers weigh about a whopping 50 pounds each, so be prepared to be sore and take lots of breaks. And end the day with a refreshing beverage of your choice. And possibly trade back massages.
After these were all laid out, we then rented the compactor machine once again and ran over the stones. It vibrates the stones a lot and squishes them down so they won't end up sinking on you when it's all said and done. Also, I don't think squish is professional construction verbiage.
Fill with sand
After proper squishing, you then fill in all the gaps and nooks and crannies with sand.
We got this sand in buckets from Home Depot or Lowe's in a tan color. Pour out the sand onto the stones and sweep it around until the sand comes up as high as the pavers do.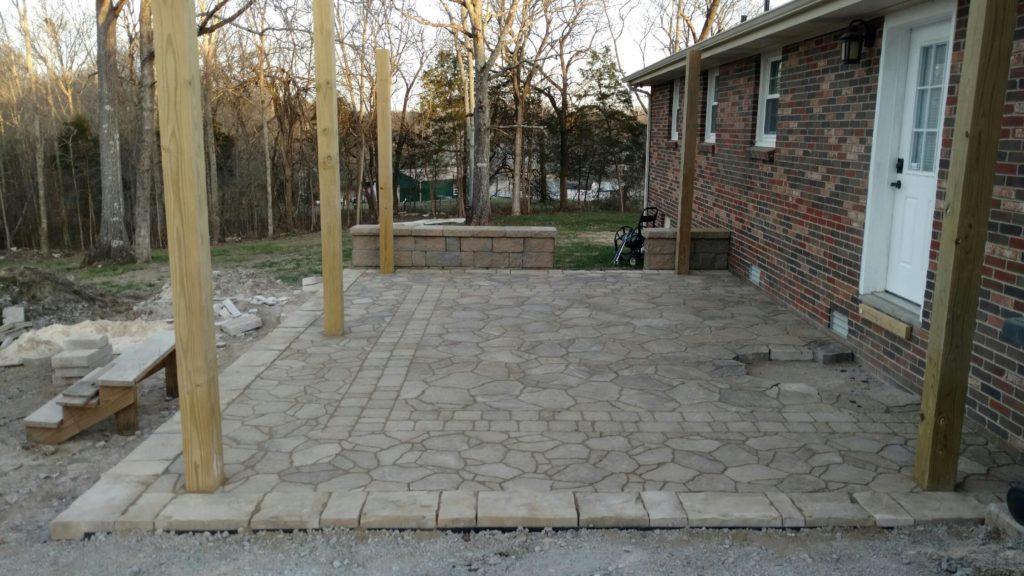 If you rented a compactor, I would run over it again to vibrate that sand down to the bottom. If you do this, you will need to put more sand out and sweep more.
Building the steps
We formed these with cinder blocks and then added stones to match on the top and sides, adding cement and landscape glue to hold everything together. Then, add the sand to fill the cracks.
Sun Patio
This part of the patio an uncovered patio that is a step down from the large part I just showed you. It takes the same process.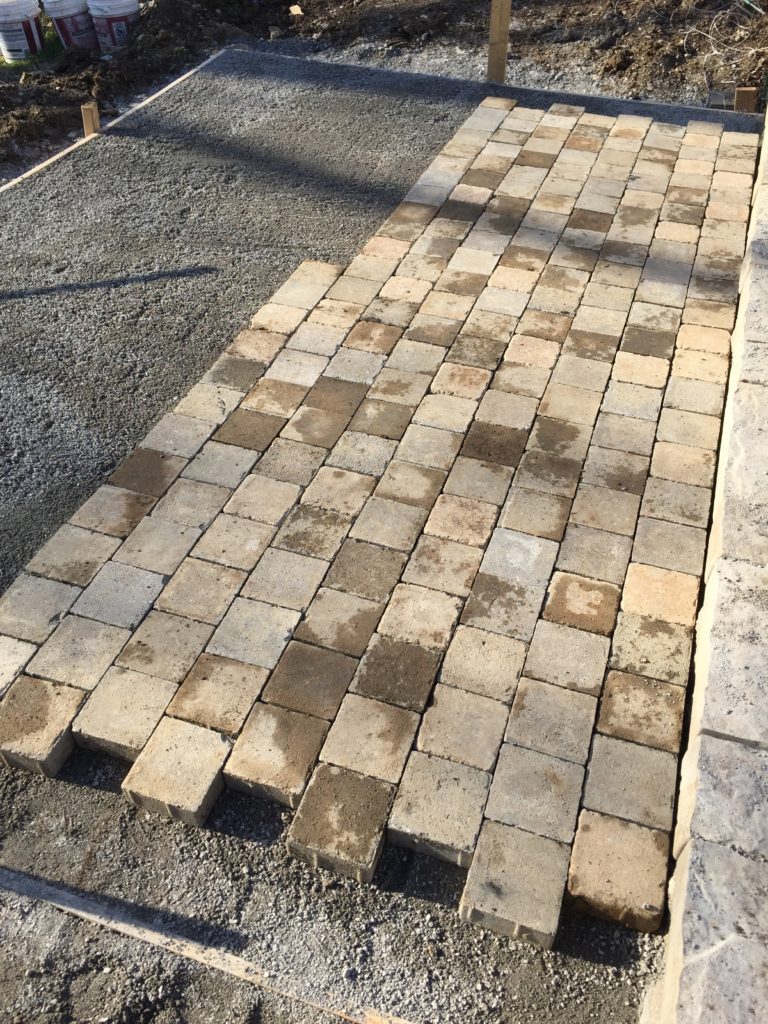 Small Side Patio
I'm not sure what to call this? This area is a few steps down from the large patio and holds our water hose reel and hopefully a grill in the future!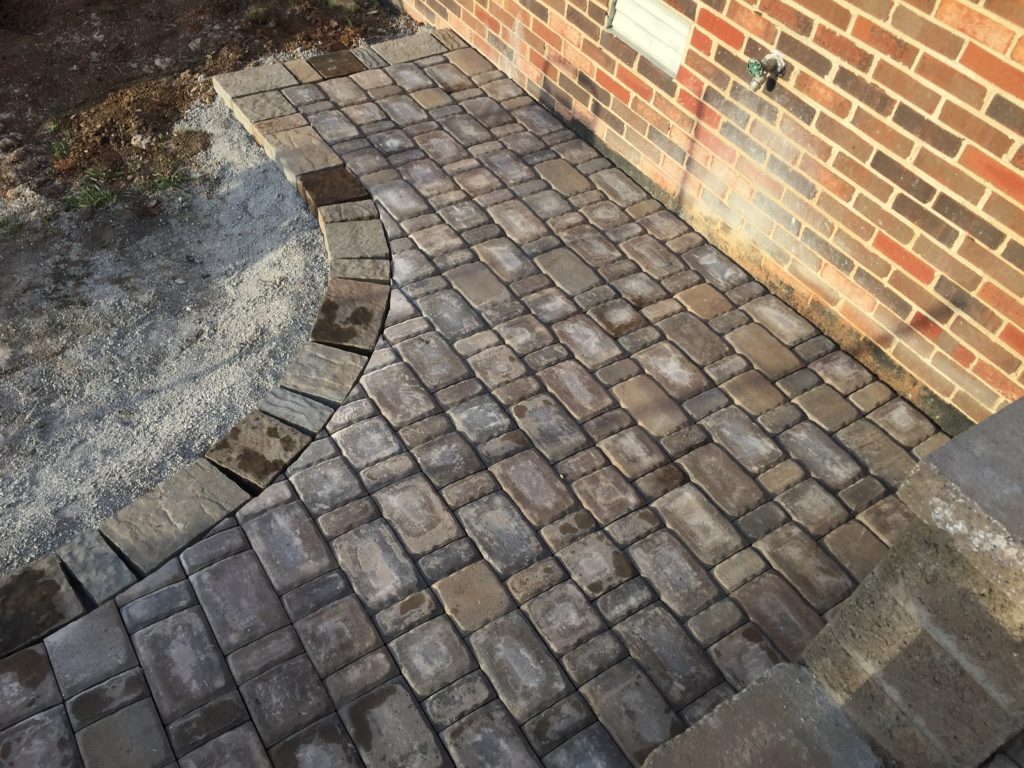 Tin Roof
The tin roof is so relaxing to sit under while it's raining!
We had some leftover stones, so we made a walkway down to the grass where eventually we will have a stone fire pit.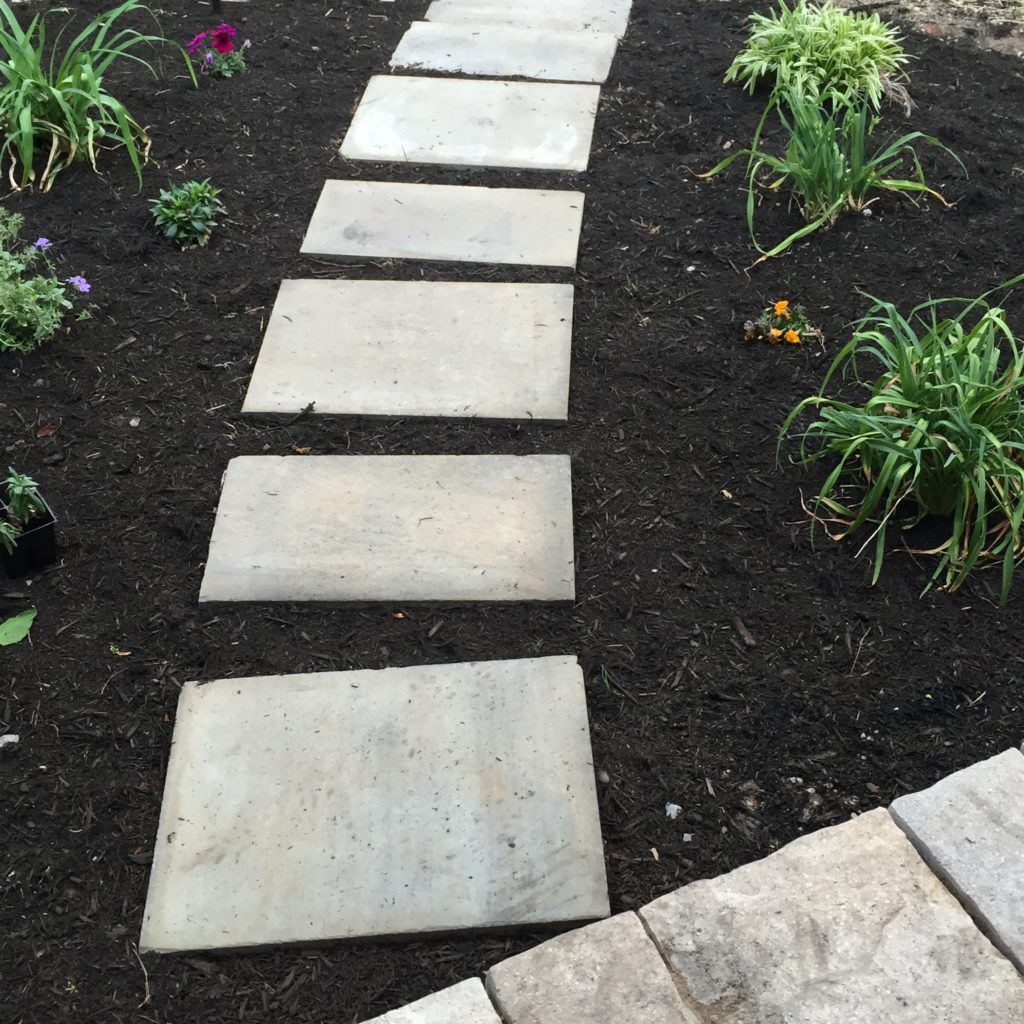 Good luck to anyone that is brave enough to tackle this project themselves.
It really can be a DIY project with some research, good planning, hard work, and the promise of a cold one at the end of the day.
I will share our frugal patio décor soon complete with our DIY Farmhouse Patio Table!
Anyone else crazy enough to attempt a DIY Patio Build?

P.S. Never want to miss a post but don't have time to check the site everyday? Sign up for our weekly newsletter to receive blog posts straight to your inbox, along with the best frugal living tips!