If you're anything like me, you're thinking, "How in the world is it already fall?!" And then something like, "I have to get my home decorated for fall! I'm going to search Pinterest for some great ideas!"
Then, you look at your budget and decide you are really going to have to get creative this year with your fall decorations.
Sigh.
For now, we are on a tight budget. A lot because we have to, and a lot more because we want to so we can afford other things and save for the future.
Whatever your situation is, don't give up on having the cutest fall-decorated home on the street just because the budget isn't showing an extra category for "fall decorations".
I've come up with some cheap ideas to decorate your home for fall so we can decorate and stay in budget!
Frugal Fall Decor – 17 Cheap Ideas to Decorate Your Home for Fall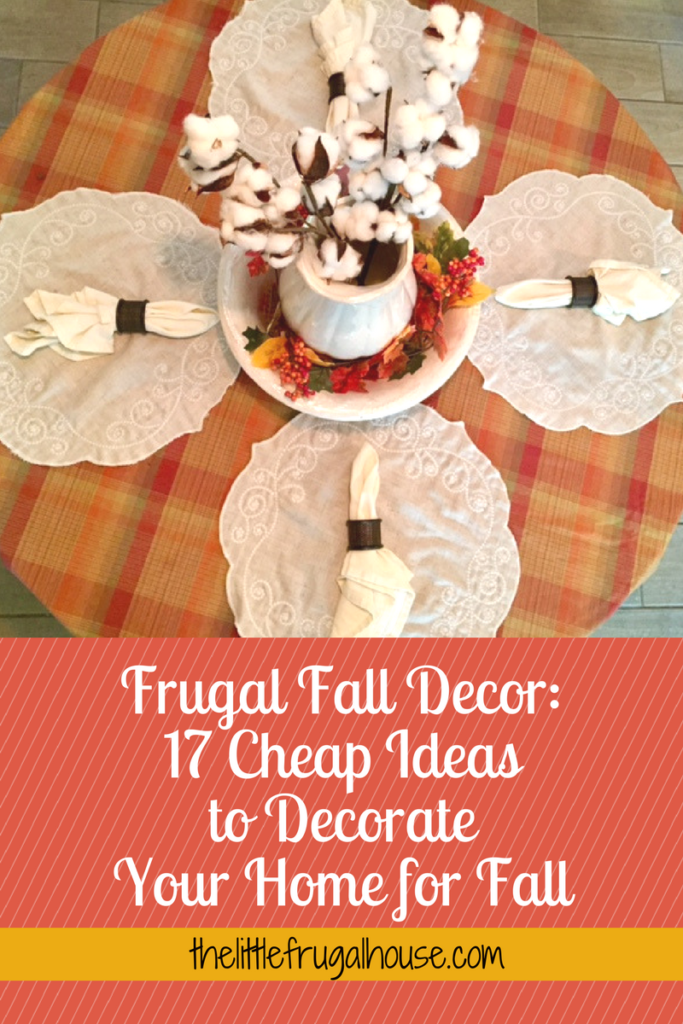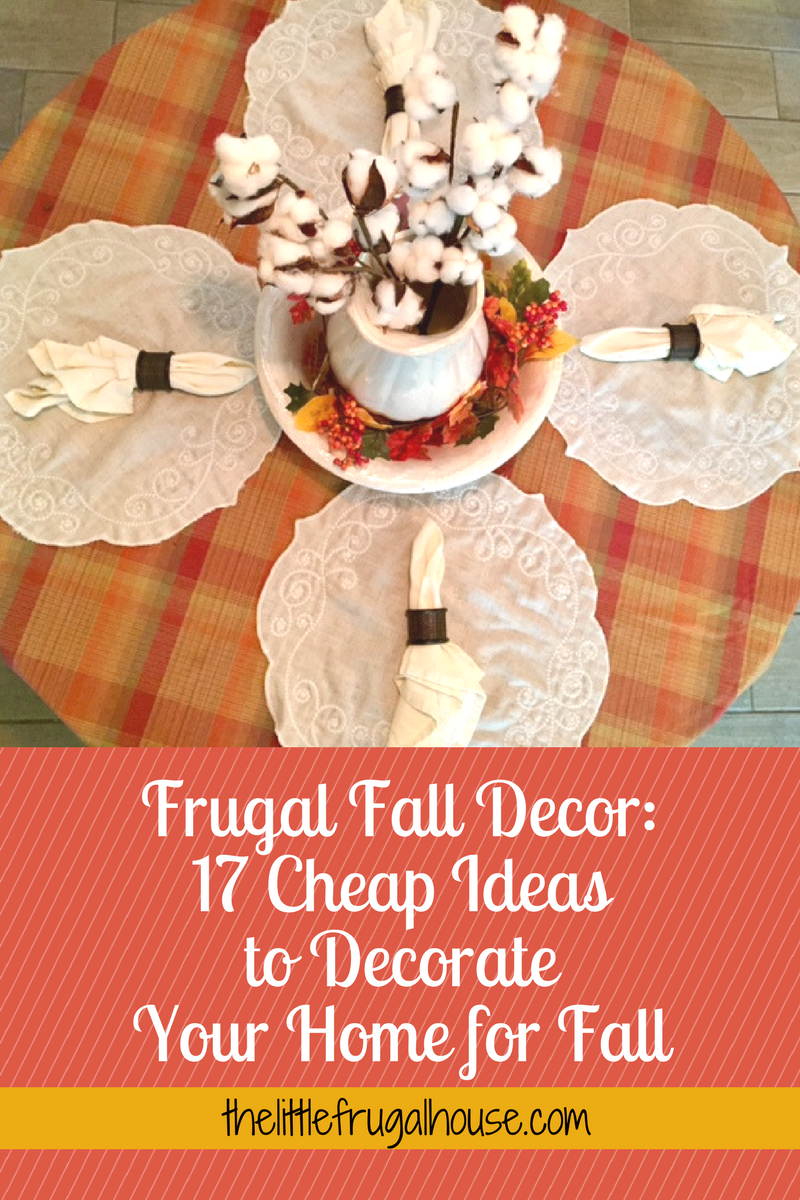 The #1 most frugal thing you can do is to use what you already have. (I know, not super exciting.) Sometimes, I forget what I have stored away for holidays. So, my first step is to get that season's box down from the attic and decorate with what I already have.
You may have forgotten you had something or you may find you already have enough, and really don't need to make that trip to Hobby Lobby or Target after all.
Free Ideas:
Kitchen Table

Like I said, sometimes you forget what you have. I forgot I had this fall, plaid tablecloth. The pitcher and bowl set was a hand me down from my Grandmother and the fake leaves are from last year's Dollar Tree run.

If you saw this post, you know how much I love anything rustic, vintage, and anything with barn wood. So we made this coat rack, and now it is the perfect spot for displaying my antique and vintage items and decorating for each season! I already had the jars, scale, and oil lamp, so I just intertwined some fake leaf garland (from Dollar Tree), added a couple of fake pumpkins, and a fall tea towel. Looks festive and fall to me!

Coffee Table Decorations

I always have the same things on my coffee table, but I love to change things up for holidays and different seasons. I used some fake leaves and flowers from Dollar Tree to add color to a mason jar, hot glued burlap around a candle I already had, and threw a little fake pumpkin on the tray. 

Shelves, Counters, Cabinets…

A DIY craft from last year, Dollar Tree fall leaves, and decorations from last year gave a little fall feeling to an old cabinet in the living room and our kitchen counter. 

Island Centerpiece

I love this little tiered tray that sits on my kitchen island. I use it for everyday purposes like holding napkins, the salt and pepper shaker, mugs, and I rotate seasonal accessories. Some fake leaves from Dollar Tree, a little pumpkin, and a vintage tea towel give a little fall update to the island. 

Vintage Chair on the Patio

This old chair was a yard sale find that got a yellow chalk paint update, and I love using it in different seasonal settings. I had this little wreath from last year, made a DIY barn wood sign, and added some pumpkins we accidentally grew. Fun fact: Did you know if you throw pumpkins in a compost bin, you could grow your very own pumpkins on a vine? I love this bright yellow chair next to our bar station and vintage milk can! Using what I already had got me to this point, which I was very happy with. I honestly could only remember having a couple of wreaths and fake pumpkins. Dragging the box down from the attic and decorating with what I already had definitely saved me a big trip to Target and Hobby Lobby!

Check out Pinterest or use these free fall printables to decorate around the house. Grab a cheap frame from Dollar Tree, spray paint it gold, brown, or orange and frame your free printable! Place these on your mantle, coffee table, on a shelf, or just clip to the fridge! 

Cheap Ideas:

Check out the Dollar Tree seasonal area

I love Dollar Tree for seasonal and holiday items. You can find decent looking fake flowers, fall leaves, burlap ribbon, candles, flags, and many other seasonal items! Check out your local Dollar Tree to see what you can find to decorate with or use for a DIY project! Even though these items are so cheap and could easily be replaced, make sure to store them in your seasonal box when you take them down.

DIY what you can

If you found some craft supplies at Dollar Tree, you may want to get a little crafty to decorate your home!

Here's a few DIY ideas with Dollar Tree supplies:

 Candle Jar, Candle, and Burlap – Wrap jar with burlap for a warmer feel and add a fall scented candle.

Foam Wreath + Burlap + Ribbon + Fall Flowers = Handmade Small Wreath

This just gave my little bar station a little fall feel.

Barn wood/pallet wood + stencil + paint = Rustic Fall Sign

Make a personalized family sign, welcome sign, or anything fall!

Make fall pillows

I cannot sew, so you will not be finding a fall pillow tutorial here. But if you can sew, find some great fabric (on sale or clearance) and make some new fall pillows for your couch or porch swing. My mom is pretty great and made me some new outdoor pillows! 🙂 

Make a fall wreath for your front door

Find a grapevine wreath on sale, and some frugal flowers and ribbon and make a unique handmade wreath. 

Not feeling crafty? Here are some great frugal tips when you don't love hot glue guns as much as me.

Check out yard sales

People that don't follow my first step in the post wind up with way too much holiday and seasonal decor that they don't have room for. So, they have a yard sale and sell that stuff for super cheap. You can get some great holiday and seasonal decor items for so so cheap at yard sales! You may have to buy it way out of season, but if you love it and the price is right, grab it and add to your holiday attic box.

Buy at the end of the season

If you know of something you really want but don't HAVE to have this year, make a list and wait till the end of the season clearance sales. The items you were drooling over when they first came out, they're probably about 80% off at the end of the season. Wait and snatch them up at the end of the season for next year.

Check out local nurseries or Aldi for deals on pumpkins, flowers, and fall decor

I love going to pick out a few pumpkins for the porch each year. Grab a few when you see a good deal!
You don't have to have a huge budget to have the best decorated house on the street.
Use a few of these cheap ideas to decorate your home for fall!
Pull your decorations out of the attic, use what you have first, DIY what you can, shop at Dollar Tree, check out yard sales, and shop end of the season clearance sales.
It may take a little more work, time, and creativity. But that means you home will be that much more personal and home sweet home to you!
I love a Better Homes and Garden magazine cover as much as the next person, but I love a personalized and uniquely decorated home with character and personality even more.
The things you buy in stores aren't what makes your house your home sweet home. Home sweet home comes from the hard work you put into your house and the love that fills it up.
Add your personality, character, and not so perfect DIY projects to your home for the perfect fall decorated home.
What are your favorite frugal fall decor ideas?

P.S. Never want to miss a post but don't have time to check the site everyday? Sign up for our weekly newsletter to receive blog posts straight to your inbox, along with the best frugal living tips!