Let me begin this post by explaining my love of barn wood and especially the barn wood used for this project.
Like me, my dad had a few side jobs too. We always joked about being entrepreneurs and could never say that word right.
He would tear down old barns and sell the wood and logs to home builders, and always saved me some beautiful pieces.
Since he passed, I have been a little particular about how I use the barn wood. I try to use it whenever I can as we redecorate our home.
The barn wood has been used to make a sign for our kitchen that says what I always say when I walk in the door: It's good to be home.
I used some to create this drink station on our patio.
And now, we have a beautiful barn wood coat rack!
I had envisioned a rustic entryway with some of our antique items, and also a practical space to hang jackets, hats, and purses! And I love the way it turned out!
If you have some barn wood you want to use in a special way, or just some old rustic wood waiting to be used, you can make your own DIY barn wood coat rack, too!
DIY Barn Wood Coat Rack

Supplies needed
2 pieces of barn wood cut to same length – Mine is 24″ long
2 brackets
4 hooks
Screws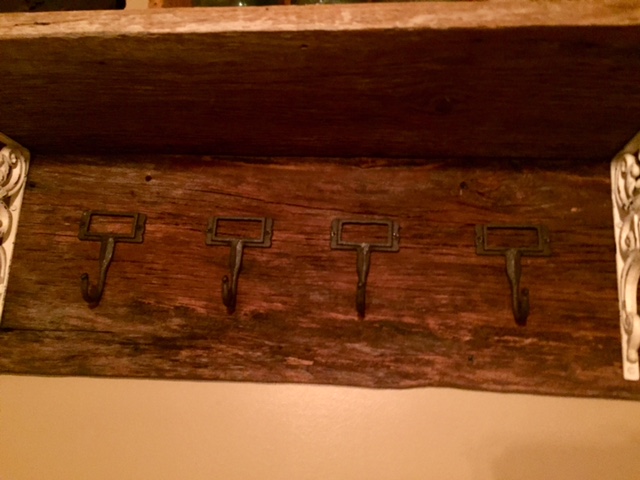 My favorite place to find brackets and hooks
Hobby Lobby has the drawer pulls, brackets, and hooks on sale for 50% off every other week.
I have not found anywhere else that has as great of a selection for that price!
Cost of Project
Since I already had the wood and screws, I only had to buy the brackets and hooks.
The brackets were on sale for $6 each and the hooks $2 a piece.
Grand Total = $20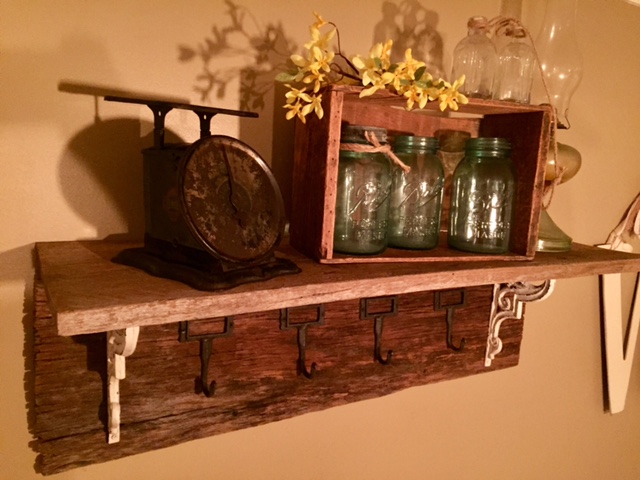 Directions
Cut your barn wood pieces to the same length.
Lay the piece that will go against the wall flat on the ground, and the other piece standing against it.
Pre-drill 4 holes in the shelf piece that is standing up and screw together using 1.5 or 2″ wood screws. Note: The brackets will hold the coat rack together, but this will help enforce it.
Attach your brackets by measuring and marking where you want them to go, pre-drilling the holes, and using 1″ wood screws.
Measure and mark where you want the hooks to go. Pre-drill the holes (if needed), and attach using 1″ wood screws.
Optional: I don't like to see screws, so I always mix a little paint to match the color of the bracket/hook, and paint over the screw heads.
Hang and decorate! Note: You will want to find the studs to hang this piece, and screw through the wood into the wall using 2″ or 2.5″ wood screws. We screwed one side in, put the level on top, then screwed the other side in, and finally added 2 additional screws for added support.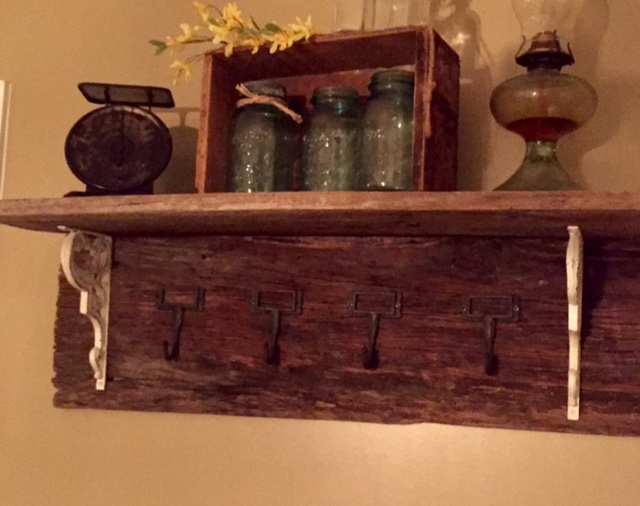 You may need a hand with this project as it can be a little heavy, but it is a great DIY project for barn wood lovers!
How to style your DIY Barn Wood Coat Rack
We had some antique items we wanted to place on the shelf. I love blue Ball mason jars, and this antique scale and oil lamp!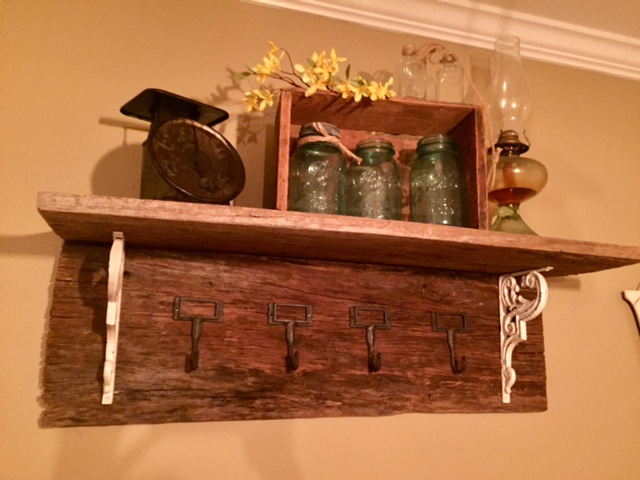 Other Ideas:
Mason Jars with Cotton Sprigs
Cookbooks
Make your own farmhouse box sign
House plants and books
Make a gallery wall above the shelf
Or you can always search Pinterest for ideas and inspiration!
Make your own DIY barn wood coat rack today!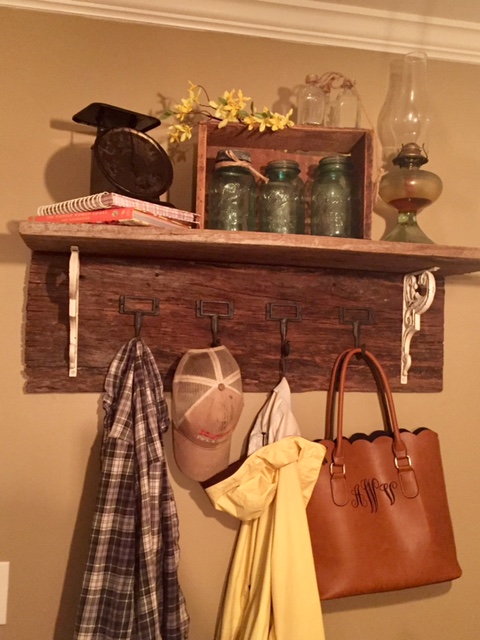 What have you made out of barn wood? Share your pics in the comments!

P.S. Never want to miss a post but don't have time to check the site everyday? Sign up for our weekly newsletter to receive blog posts straight to your inbox, along with the best frugal living tips!