Today marks 4 years since we bought our fixer upper of a home! Since that day, we have fully renovated the entire house, built a patio, added 3 dogs, are currently in the middle of building a garage, and the to do list is still long.
Being a homeowner is one of the most exciting things, and one of the things we are most proud of. We have worked so hard on our house to make it home sweet home for us. And we have worked even harder trying to pay off the mortgage.
If you are ready to buy your first home: first, congratulations!, and second, get ready for a lot of work ahead of you.
Owning a home is so rewarding! But there are a ton of things to consider before you jump in to buying a home.
You might feel nervous about making the wrong decision, overwhelmed with all of the choices, worried you will get in over your head, or just clueless as to where to even begin.
That was us. All of those emotions and feelings were us 4 years ago.
At first, I didn't even know if we could afford to buy a house or what a credit score even meant!
Where do you even start looking? How much can we afford? Is this the right home for us? What would the mortgage be? How would we budget for it?
We have learned so much along the way! I wish we would have known these things from the beginning!
17 First Time Home Buyer Tips: Everything You Need to Know Before You Buy Your First Home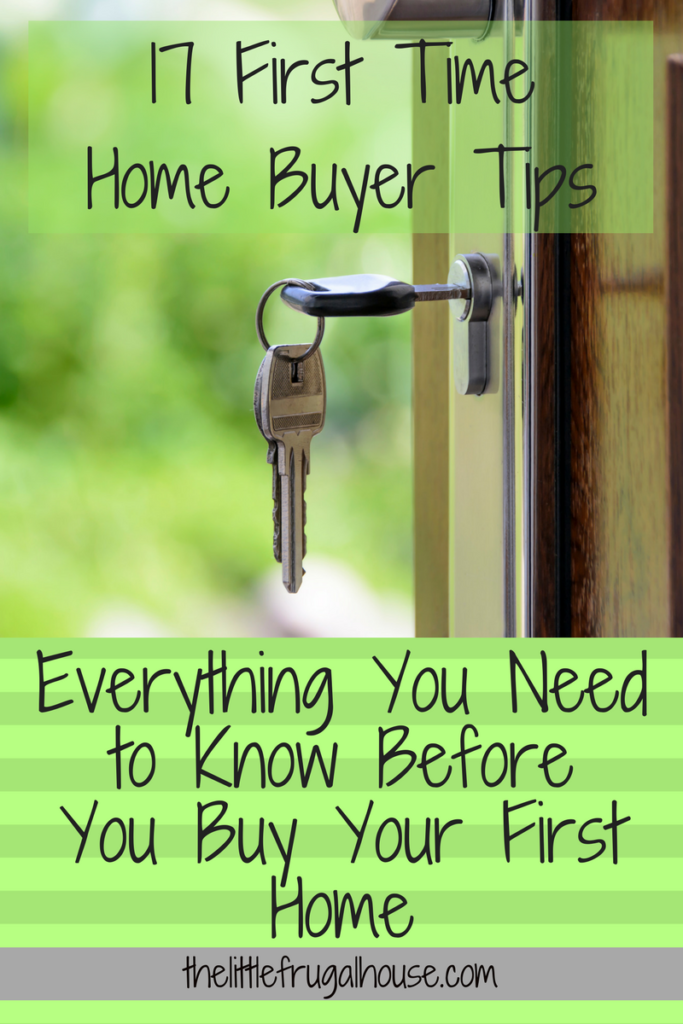 Things to think about before you start looking:
Can you afford to buy right now?

Look at your bank account and your budget. Do you have money for a down payment? How much do you make each month? How much can you budget for a mortgage payment?For most conventional loans, 20% down payment is required. There are other loans that don't require any down payment. Look for first time homebuyer loans or the FHA loan. If you don't have 20% down payment, you may be required to pay a PMI (private mortgage insurance). This is a separate cost included in your mortgage that you might have to pay if you didn't have a down payment of 20%.

Think about the expenses you have already. Do you have a car payment, student loans, or credit card debt? Don't forget about paying those debts off. You don't want to buy too much house, and not be able to afford to pay those debts as well.

Write it all out. Write down your monthly income, write down all your monthly expenses and debt payments, give yourself some money for gas and groceries, and see what you are left with. Is there a way to make a mortgage payment with all of those expenses? If yes, great! Keep your budget and make sure to set aside that money. If not, maybe wait a little while, work on a stricter budget, and save all you can for a down payment. You could always look into getting a roommate to help offset the cost some.

How much home can you afford?

A standard to determine how much of your income should go to a mortgage payment is around 30%. This will look different for everyone, but look at your budget and see what you have to work with. If you are single, it might be less than 30%. If you are married and both working, you might have a larger percentage.

What is your credit score?

You need to know your score and what you are working with before you head to the banks for a loan. Credit scores range from 300 to 850. The higher the number, the better. A credit score of 620 is about the lowest to be considered for a loan, but most banks/credit unions are looking for around 720-740 range. Having a high credit score, about 740, would help you get the best interest rate and the best terms.

What types of loans are there?

There are a few different types of loans, and each bank or credit union will slightly differ from what each one offers. I am not an expert on these, so I would recommend you speak with a representative at your local bank or credit union.

In my experience, and from what I have gathered from talking with people, credit unions usually offer better rates and terms.

I would highly recommend you consider a 15 year loan versus a 30 year. Sure, it will seem like a lot to pay off in 15 years, but you will be very surprised how much less interest you will pay with a shorter term. I would also challenge you to go a step further and see if you can pay just a little more each month, or one extra payment a year. It's crazy how much it will reduce your overall payment to the bank. Why pay more than you have to?

Where should I go to apply for a loan?

I would contact the bank you currently use, another bank, and at least 2 credit unions to see what they all offer. You want to get a few quotes and choose what will be best for you. Keep in mind they will probably run your credit, slightly "dinging" your score, so don't get too crazy and get quotes from too many companies. Choose a few that come highly recommended and pick the best one. Ask your family, friends, or coworkers who they use or would refer.

What is a good interest rate?

These will vary depending on your circumstances (mortgage lender, credit score, down payment, etc.). Obviously, I would choose the very lowest rate you can find because you will end up paying less when it is all said and done. A good rate to look for would be around 3 – 5%.

Now we can get to the more fun parts of home buying:

Make a list of your absolute needs in a house.

This would be how many bedrooms and baths you HAVE to have. If you have kids and they need to be in a specific school district, or if you need to be close to your workplace. Think about lot size, neighborhood amenities, one story vs. two story. Will you live in a neighborhood or in the country? Write down the things you absolutely need to find in a home. This is your make or break a deal list.

Now, make a list of things you want in a house.

An extra bedroom, a basement, a swimming pool, near the water, in a certain neighborhood, walking distance to restaurants, large kitchen, walk in closet, jacuzzi tub, etc. Make a list of the things you really want in a house. Then, list how much extra you would be willing to pay for each item. If you find a home that has something you really want, but the price is more than you would be willing to spend, you can walk away knowing it wasn't worth it.

Ok, I know what I need and want in a house, how much I can spend, and I'm ready to look!

So… where do I start looking?

Check out websites for local listings like Zillow, Realtor.com, Trulia, or homes.com. These are great resources to see what is out there, to get ideas of what you want in a home, and to see what homes are selling for.

Also, I would suggest getting out and driving around the neighborhood you are looking in. Getting out in the community you are looking at, especially at different times of the day, is a great way to get a better sense of the neighborhood. We found our house just by driving around. A lot of homes that are for sale by owner will just put a sign out, and not pay to advertise.

Do your research and lots of it. Look around and compare prices of similar homes in different neighborhoods, see how much an extra bedroom or an extra acre of land will cost. Once you know what you are looking for, it will be easier to spot the home for you.

And now some things you should know while you are looking:

Don't spend all that you are approved for.

You might be surprised how much the bank pre-approves you for. You might think you can buy a bigger house or a nicer house than you first imagined. Look back to your budget. Is the amount you were pre-approved for more than what you found you could spend on a house? Banks are smart and they may approve you for more than you can really comfortably afford.

Look at your budget, give yourself some wiggle room, and spend less than what you are approved for. You want to be able to furnish your home, pay for repairs, keep up with the maintenance, and possibly afford some renovations or projects.

Learn how to negotiate.

If you are working with a real estate agent, this will be easier for you, as they can tell you what is a fair price and help you counter offer. If you are going at it alone, here are a few tips:

Compare similar homes in the neighborhood. If the house down the street is very comparable and sold for less, show that to the seller.
Know what you can afford and do not go above that price. Explain to the seller/agent that this is all you can afford and it is your best offer.
If you have already been pre-approved, shown the seller/agent the paperwork. This shows you are serious and what you are able to offer.
Is there an abundance of homes for sale in the area? If so, you should be able to negotiate a better price. The sellers will be competing with each other to offer the best price.
If the seller is motivated to sell quickly, you might get a better deal. Ask for a lesser price and a quicker closing date.
When you have the home inspection done, if any major problems are found, you may be able to ask for less or ask for the repairs to be done first. Don't count on this though, because the seller may be ready to sell and done putting money into the house.
If you personally meet the seller, they may be interested to find out more about you. If they really want to see a family grow up in the home, they may be more inclined to accept an offer from someone who shows an interest in that. Show them that you plan to maintain or improve the house, stay there for a long time, raise a family there, etc. When we bought our house, this was a major selling point for the sellers to accept our lower offer.
Know when to stop negotiating. Know when a price is a good deal, and be ready to say yes. You don't want to lose the perfect home because you kept going back and forth.

Consider what your mortgage payment will be.

Once you find a home you want to buy, sit down with your budget, and calculate what the monthly mortgage payment will look like. You don't want any surprises after you have closed, so make sure you can afford what you are about to purchase.

A house mortgage is a big commitment and you definitely want to know what you are getting yourself into.

Look over certain aspects of a house.

Yes, look over them. Ignore them. The only things this applies to are: paint, light fixtures, landscaping, flooring, décor, and easy cosmetic upgrades. Don't get hung up on the paint colors, how their décor is so not your style, how outdated the light fixtures are, or how poor the landscaping looks.

Don't say no to a house because of certain things you don't like than can be easily updated.

These are easy projects to fix and can be done DIY style or for a small price tag.

Remember to look at the things that can't be changed as easily: floor plan, number of bedrooms, neighborhood, home structure, etc. While all of these things can be changed, it would just take a lot more time and money to do so.

And a few things to know AFTER you say yes to the perfect-for-you house:

I would definitely recommend budgeting for your mortgage, bills, savings, gas, groceries. I would also advise you to take it one step further and budget for the expenses that will come up later on. Things like property taxes and homeowner's insurance are all a part of owning a home. You won't get a bill for them every month most likely, but you may want to have a separate account or put some money aside for when they do come up. Sometimes these will be included in escrow, or included in your mortgage payments. If you have the money already ready when those come up, it won't feel like such a hit on your bank account.

Along the same lines, I would also suggest…

Create an emergency fund.

Start putting a small amount of each check into a savings account or a separate account that you don't touch unless it is an emergency. Owning a home is great in so many ways, but one small disadvantage is when something breaks, you are responsible for repairing it. Anything can break on you, and it usually happens at the worst time, but being prepared with some extra money for those things will be a life saver. Instead of stressing about how to get the money to repair your heat/air unit, you could already have most or all of the money set aside. Sure it still stinks to let go of all that, but better to have it upfront than to go in debt for something like that.

This also applies for other things outside the home, like car repairs or unexpected medical expenses.

Learn how to do basic home repairs.

When you own a home, there are a lot of little things that come up that need repairs, or replaced. If you know how to do a few things around the house, you could save yourself a bundle of money. Just know how to use basic tools or how to look up You-tube videos to figure it out.

I would definitely recommend doing these things DIY before calling a handyman:

paint
hang curtains
change light fixtures
change door locks
install appliances (some do deliver and install for free)
fix a toilet leak
unclog a drain
install basic flooring
basic plumbing knowledge
install baseboards or wood trim
install new doors
patch drywall
landscape
shampoo carpets

There are tons of videos, tutorials, and Pinterest DIY blog posts that can help you with just about any project. I know not everyone is Chip or Joanna Gains, but you could probably figure out some of these repairs/projects and save a lot of money by doing so.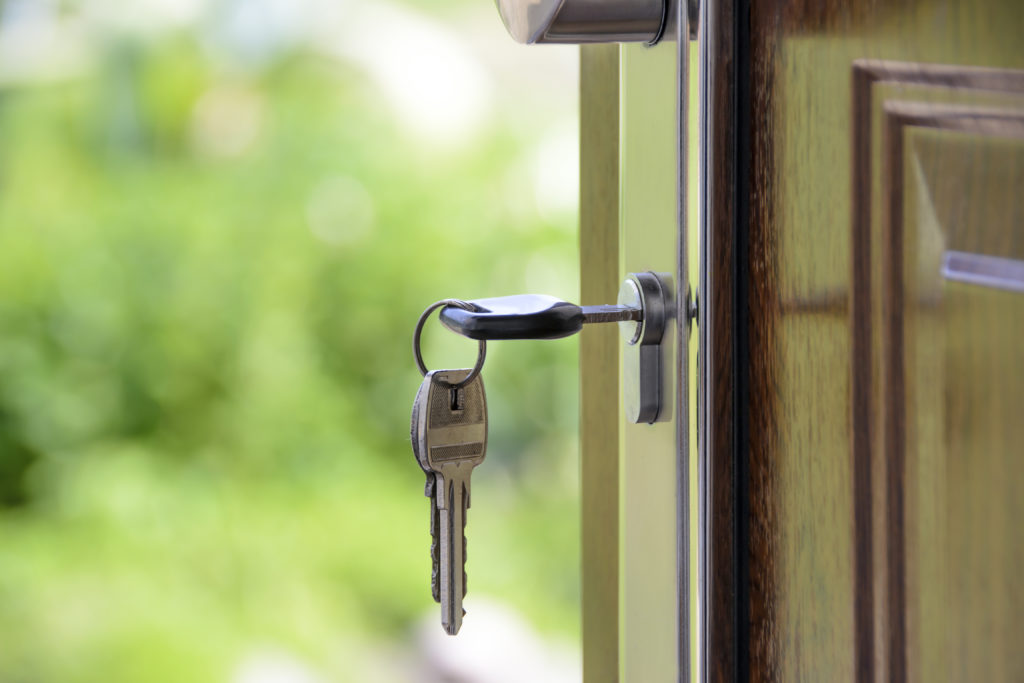 I know it can be scary, and overwhelming, and frustrating, and difficult, but in the end you will be so so so proud of yourself and you will find so much pride in owning your own home.
Just do as much research as possible, gather a lot of information, talk with friends and family, and sit down with a budget and get real with yourself before you say yes to your new home. And just remember, if the home you find is not your style or perfect just yet, just know with a little patience, elbow grease, some DIY, and love your house can turn into a cozy haven that is just perfect for you to call home!
What tips would you add to this list?
P.S. Never want to miss a post but don't have time to check the site everyday? Sign up for our weekly newsletter to receive blog posts straight to your inbox, along with the best frugal living tips!