At our house, we don't decorate for Christmas until after Thanksgiving is over. Well, I didn't wait much longer!
Instead of Black Friday shopping, I was up in the attic pulling out all the Christmas decorations and making a huge mess. I got everything down and made a huge pile in the living room floor. It was honestly a little terrifying to look at the pile and imagine finding a place for each and every decoration, especially in our tiny 900 square foot home.
Several hours later and a few crazy looks from my husband, and we are decorated for Christmas!
I love having our home decorated for Christmas. It looks so homey and cozy! Ahhh.. now I just want to relax and watch movies and look at the Christmas tree all day. 🙂
We would love to (virtually) invite you into our home!
The Little Frugal House Christmas Home Tour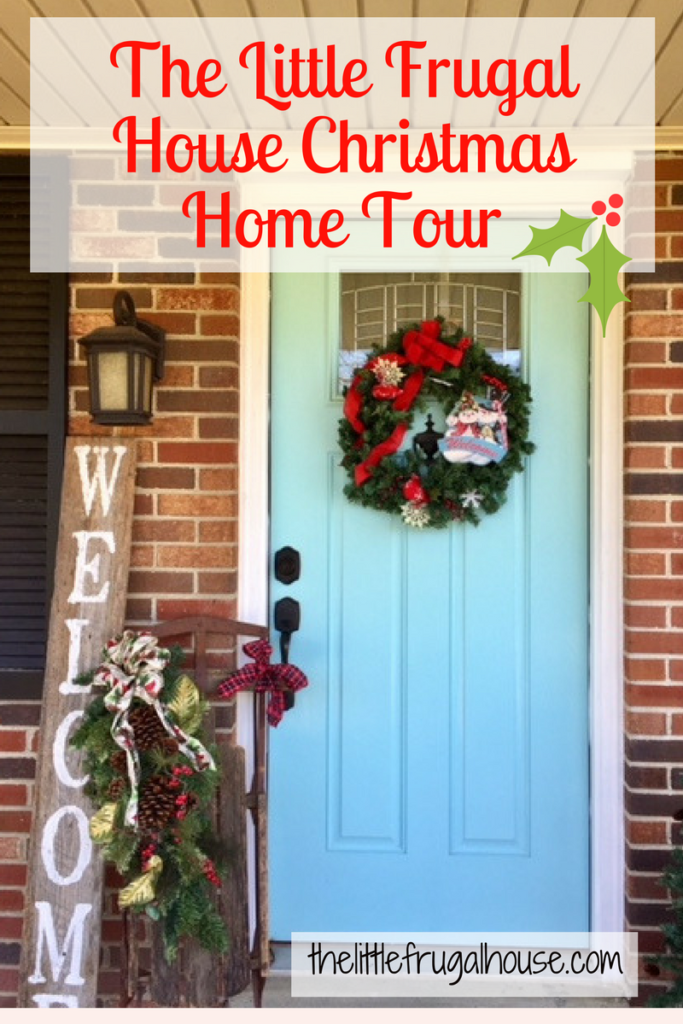 It's beginning to look a lot like Christmas on the front porch!
Red and green cushions and a Cheer pillow update the porch swing.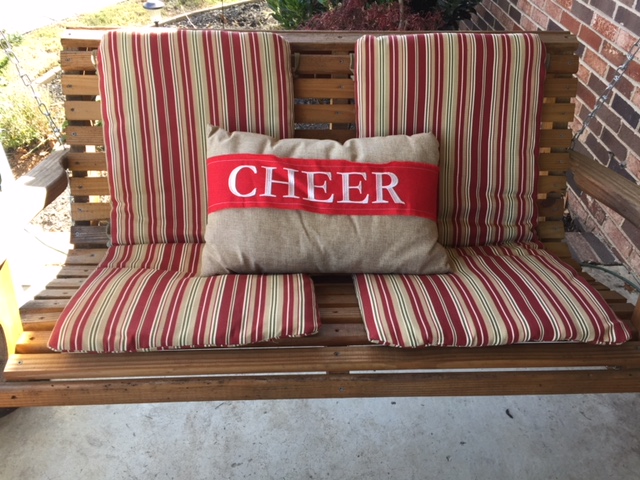 Handmade wreaths from my Mom hang on the front door and the big picture window.
A vintage wooden sled and a DIY Welcome sign welcome guests inside.
I love adding seasonal décor to this old rustic chair I found at a yard sale.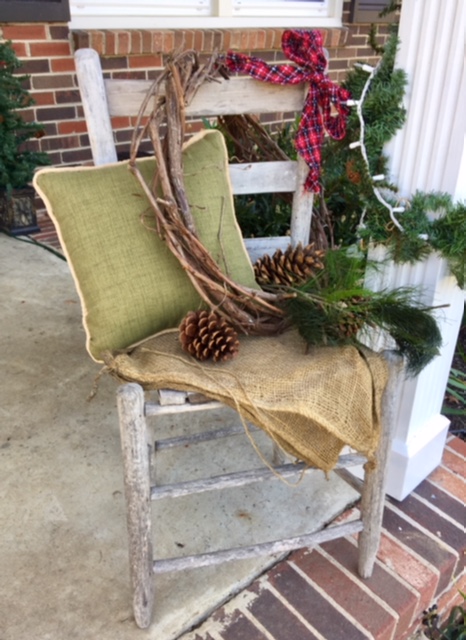 Santa and Frosty are ready to greet you at the sidewalk.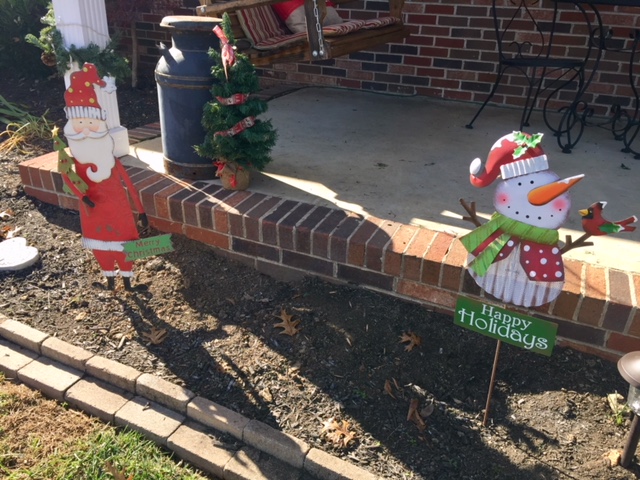 A lantern, some greenery, and pinecones make a festive centerpiece on the bistro table.
 Come inside! There's more!
These stacking snowmen are one of my favorites.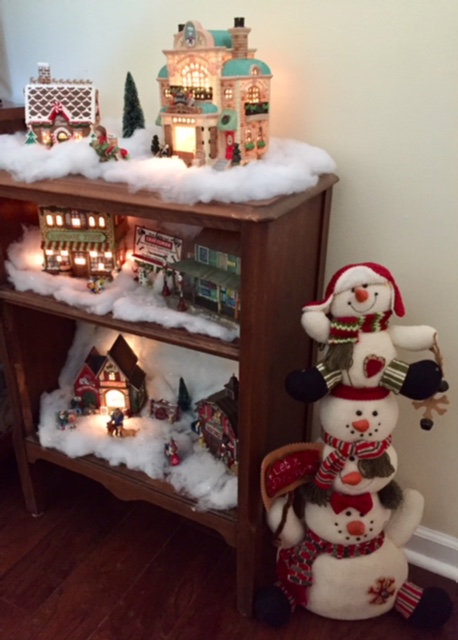 But, I think my all time favorite decoration is my village set. Some of these have been handed down to me and given to me, and I love setting them up in this antique cabinet every year.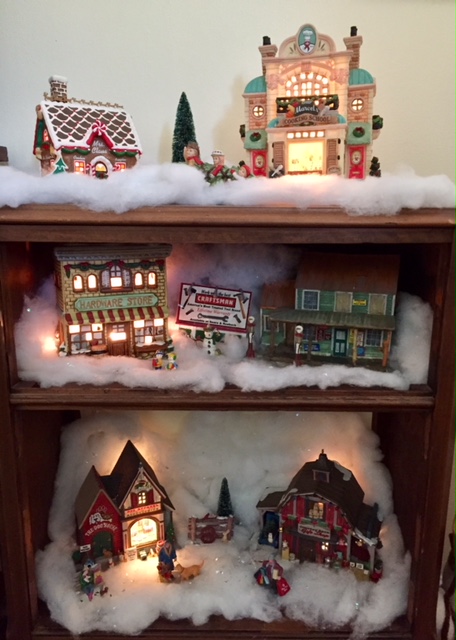 Up top, you'll find the bakery and Mrs. Claus' cookie shop.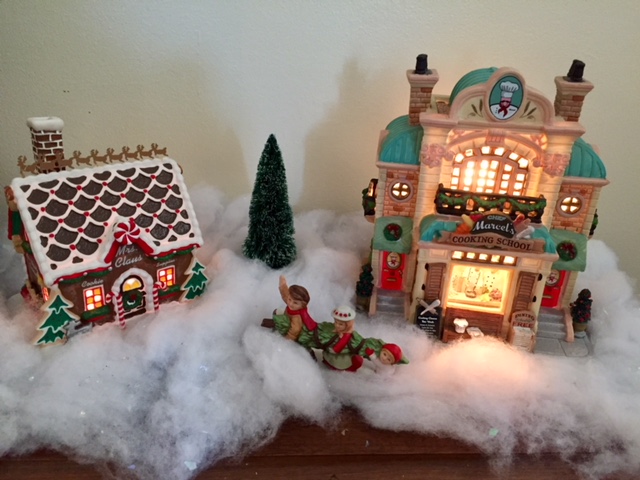 Then, the gas station and the hardware store.
And finally, the dog house and country barn gift shop.
On an end table in the living room, I added some greenery, berries, and pine cones to a lantern and some vintage carolers.
And you have to pull out the festive blankets and pillows! Ahhh, so cozy!!
The coffee table holds another of my favorites, Santas! I love these different Santa Claus decorations. I think almost everyone in our family has at least a few!
And the stockings were hung.. even for the pups! My mom found us these giant stockings, which are sometimes hard to fill, but my husband and I usually only do stockings for each other so they are perfect for us! And the dog stockings are perfect for a Christmas treat!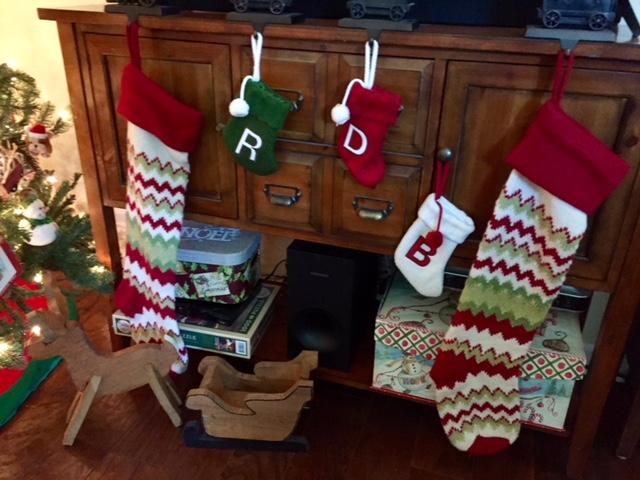 And the most enjoyable decoration of them all.. the Christmas tree! We put the tree up together and each decorated a side. My husband thought his looked so good, he wanted it to be the front!
I love this little Merry Christmas banner we found at a craft show and all of our ornaments are either super old, vintage, given to us as gifts, or hold special meaning. We will never have a perfectly decorated tree, but we will always have a unique tree with lots of personality and stories to tell!
That about does it for the living room!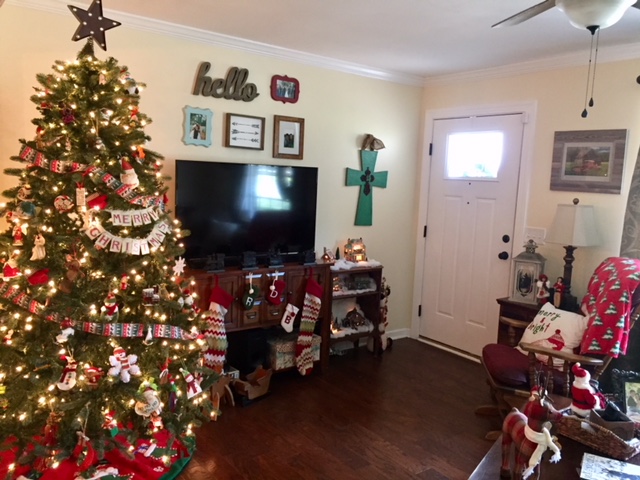 Ready to see the kitchen?
I love this Christmas tablecloth for our kitchen table. The bowl and pitcher set is an antique from my Grandmother. I usually just have the cotton pieces in it, so I just added some greenery, berries, and pinecones for a more seasonal look.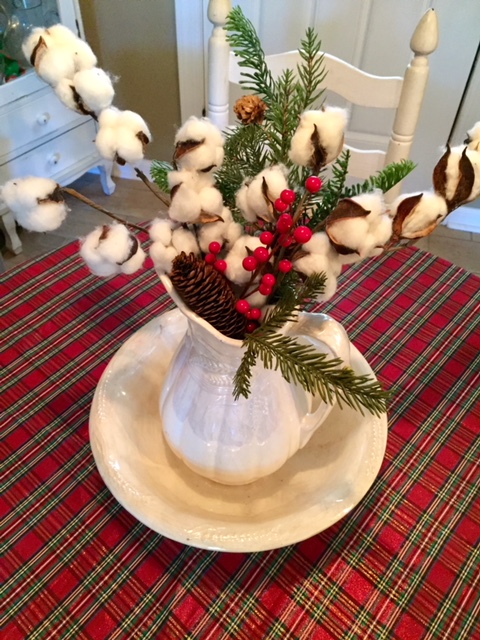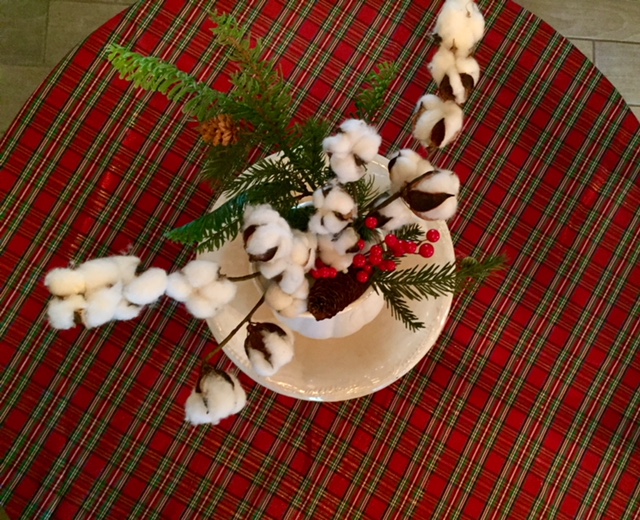 We have this little China cabinet in the corner of the kitchen, and I love to add little festive touches to it.
This barn wood coat rack was a DIY project we made from some old barn wood my Dad had given me. We don't have many shelves or places to decorate in our home, so I always decorate this coat rack. I love keeping the vintage pieces passed down to us from family, and filling it up with seasonal touches.
A window about the sink is the perfect place for another Christmas wreath!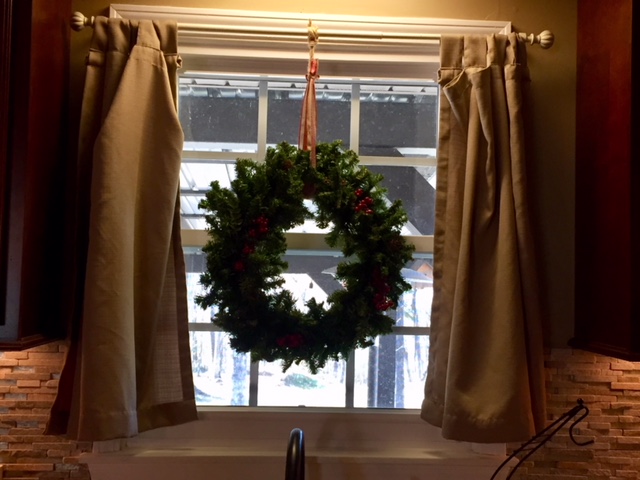 I found more places for Santas on the kitchen counters!
I couldn't find a place for this little cake stand, then I thought it would be cute to hold our hand soap and scrubbie!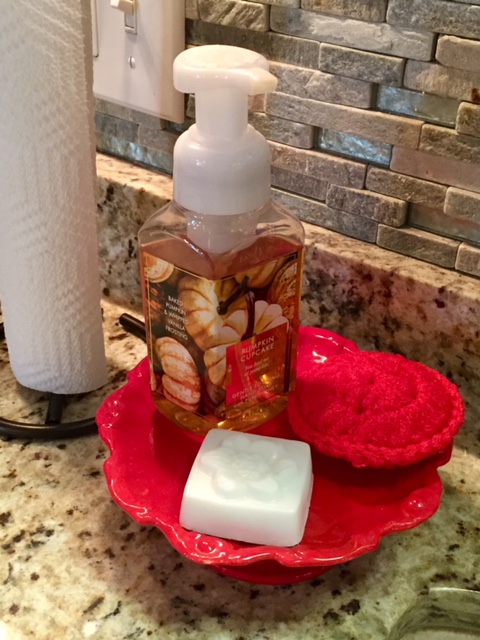 This little tiered basket acts as a centerpiece on our kitchen island. I love storing mugs and tea towels in it!
Our DIY advent calendar is hanging up and ready to dig into each day leading up to Christmas!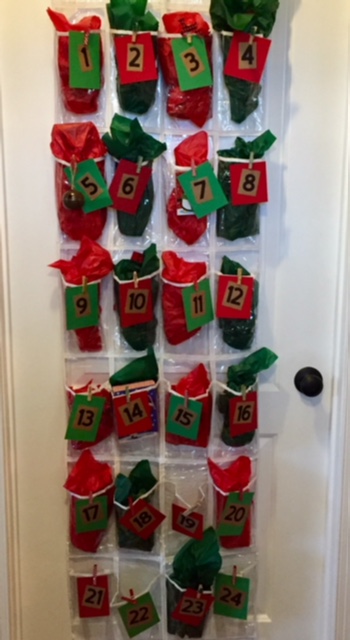 One more place I want to show you!
I love these shelves we built for our bathroom and I love to decorate them. We usually just have a vintage/farmhouse/rustic décor style, so I just added to that.
That's it for The Little Frugal House Christmas Home Tour!
This is how we decorate for Christmas all over our home! I love it! All of these decorations make our home feel so cozy this time of year. I love having pieces that are meaningful and not having a perfect "magazine" look.
Our home is small, but it's packed full of character and personality and that makes it home sweet home to us.
What is your favorite Christmas decoration?

P.S. Never want to miss a post but don't have time to check the site everyday? Sign up for our weekly newsletter to receive blog posts straight to your inbox, along with the best frugal living tips!