This post may contain affiliate links. If you click and make a purchase, I may receive a small commission, at no extra cost to you. I only recommend products and services I use and love. Thanks for supporting The Little Frugal House!
The kitchen is my favorite room in our home. We spend a ton of time in there, making meals, eating, talking around the island, and raiding the fridge for dessert at night.
Not surprisingly, it's also one of the most difficult rooms to keep clean and organized.
So, I went searching for some inspiration and found the best kitchen organization ideas. If you have a hard time organizing your kitchen, make sure to check out these amazing tips from some of the best bloggers out there! You will definitely be inspired!
15 Amazing Kitchen Organization Ideas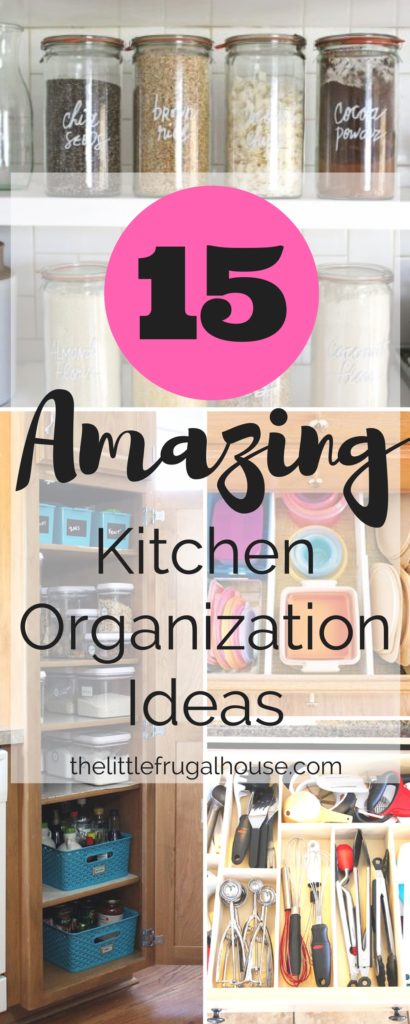 Organize Your Kitchen Cabinets in 5 Simple Steps
Learn the 5 simple steps to organize your kitchen cabinets from The Spruce.
How To Organize Kitchen Cabinets
Better Homes and Gardens shares swoon-worthy pictures and tips to organize kitchen cabinets.
24 Smart Organizing Ideas for Your Kitchen
Real Simple shares super doable tips and ideas for getting your kitchen organized.
DIY Kitchen Utensil Drawer Organizer
If you have a messy drawer full or utensils and gadgets, you need to check out this simple and affordable DIY from kevinandamanda.com
13 Ingenious Kitchen Pantry Organization Projects
This post from DIY Projects shows some simple, but amazing solutions to organize your pantry.
Storage Solutions for a Skinny Pantry
If you have a small pantry and can't figure out how to best organize it, you definitely want to check out this post from The Homes I Have Made.
Install Pre Made Kitchen Slide Out Drawers
If you have been swooning over those slide out drawers you see in fancy kitchens, swoon no more and install your own with this simple tutorial from Design Dazzle.
Amazing Kitchen Cabinet Organization Ideas
Living Locurto takes us on a tour of her modern farmhouse and you will surely be inspired with organization ideas.
Martha Stewart Kitchen Organizing Tips
You know you'll be inspired checking out organizing tips from Martha Stewart.
Clever and Easy Kitchen Organization Ideas
These ideas from MakeSpace will keep your kitchen clutter-free.
Clever Ways to Keep Your Kitchen Organized
The DIY Network shows how to have an uncluttered kitchen with plenty of storage.
Quick and Easy Ideas for Kitchen Organization
Midwest Living has 30 quick and easy ideas to banish clutter and boost storage in your kitchen.
Organization Ideas for a Kitchen Cabinet Overhaul
Kelley Nan shares how she overhauled her kitchen cabinets and it is just beautiful!
Brilliant Kitchen Cabinet Organization Ideas
Glue Sticks & Gumdrops shares these brilliant kitchen cabinet organization ideas to take your kitchen from hot mess to beautifully organized.
10 Steps to Awe-Worthy Kitchen Cabinet Organization
From Elle Decor, these 10 steps will take your kitchen from cringe-worthy to awe-worthy.
And the video that sucked me in and made me want to organize my whole house…
Organized Kitchen Tour from AtHomeWithNikki
Check out the video here and make sure to wipe the drool off your face when you're done. 😉
There you have it, friends! The most amazing kitchen organization ideas from all over the Internet! Are you filled with inspiration and ready to tackle organizing your own kitchen? Or maybe just keep watching organization videos and dreaming? 😉
What's your favorite, most amazing kitchen organization idea I shared? What would you add?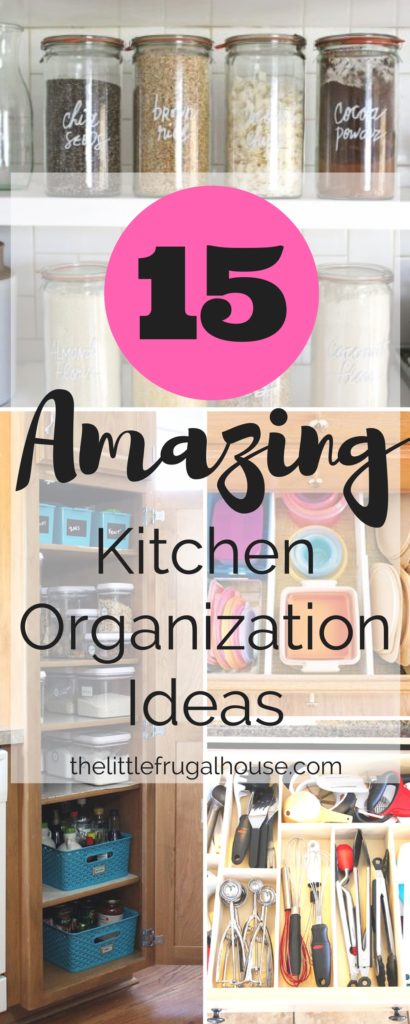 You might also enjoy…