Ever feel like you have too much stuff? And no where to put it?
Do you ever walk into a room in your home, and get annoyed at how disorganized things are?
I have been feeling like this big time lately, especially when I'm cleaning. I clean around things that shouldn't be where they are, things that should be thrown away or sold, and things that just make you a little annoyed to look at.
Anyone else feel like this or am I just crazy?
Sometimes, I have the urge to just take everything out of my house, set it in the yard, deep clean the house like a mad woman, and start putting things back in place. Yeah, that sounds like a crazy person… but I might really do that one day!
For now, I'm going to work room by room and organize and declutter little by little until I can relax and breathe like a normal person again.
Fall organizing and decluttering is about go down in our house!
If anyone else is feeling like this, here is a handy organizing and decluttering checklist and planner to keep us somewhat sane through this process!
FREE Organizing & Decluttering Checklist & Planner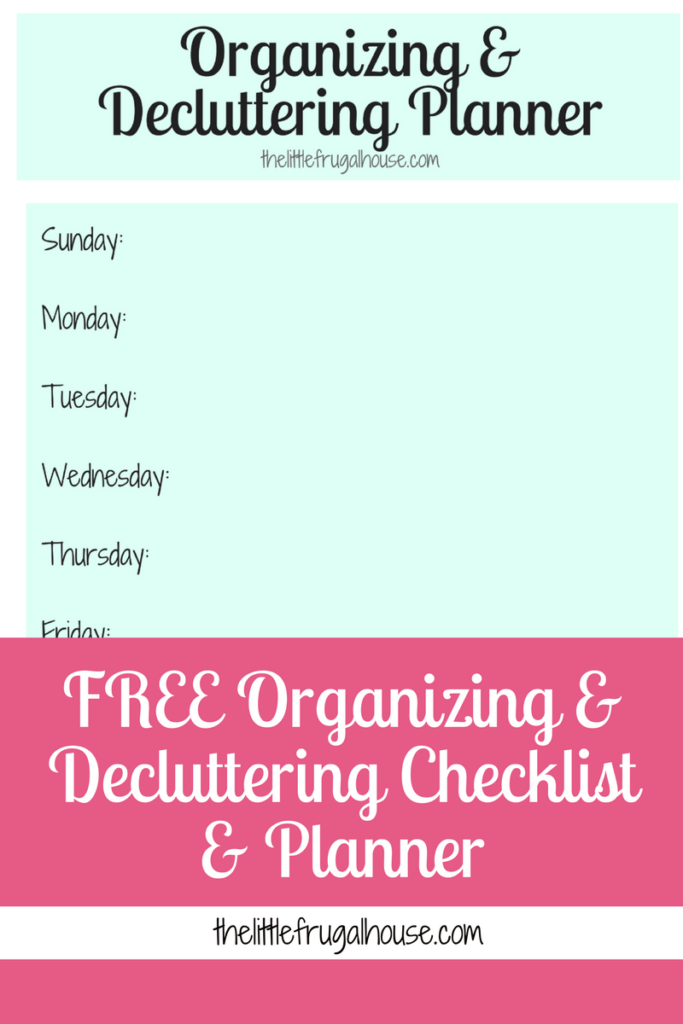 First things first: How do I use this checklist and planner?
Cross off the items that don't apply to you and your home. Don't have a shed? Awesome! One less thing to worry about. Cross it off!
Add items that aren't listed. Have an extra room not listed? Add it to the "other" section to make sure it gets attention, too!
Use the weekly or monthly planner to write in each item that needs to be completed, so you have a plan to follow (and stick to!). Print off multiple copies if needed.
Stick to your plan, make sure everything gets crossed off, and plan something to celebrate after you complete this huge task! (Home décor piece, dinner and movie date, do nothing day, etc.)
And a couple of tips to help you along:
Add 1 item to your planner a day. Don't overwhelm yourself and try to complete everything in a week.
Work on one room a week. Get rid of things one day, organize one day, clean another day, etc.
Clean as you go from room to room. If you have everything pulled out, go ahead and clean those hidden baseboards and vacuum under the bed.
Find new ways to organize that work for you and your family. And that will be easy enough to stick to. You don't want to do all this work, and then everything end right back up the way it was. Check Pinterest for easy organization ideas.
Have a few laundry baskets or boxes with labels: donate, keep, throw away. When you clean one area, put everything into these baskets to know what stays and what goes.
Try to make this as fun as possible (stop laughing!). Get your family involved, play music, make games out of it, have races to see who can finish their area the fastest, who finds the most trash, etc.
Ok, are you ready?
Here is your FREE Organizing & Decluttering Checklist & Planner!
Organizing & Decluttering Checklist & Planner
The PDF Link below includes:
a 5 page checklist to make sure you include any and all areas that need organizing and decluttering 
a weekly planner printable
a monthly planner printable to plan your organizing and decluttering schedule!
Download and print now:
Organizing & Decluttering Checklist & Planner
Use the checklist to make sure you cover all areas of your home, crossing off the items that don't apply. Then, use either the weekly or monthly (or both!) planner to plan when you are going to tackle each area.
Print out the checklist and planners now to get started! Here is the link to the PDF file again:
Organizing & Decluttering Checklist & Planner
Don't have too much fun! 😉
And remember to have a special treat or celebration waiting for when you and your family complete this! Use that as motivation to keep going!
What are your favorite organizing hacks?

P.S. Never want to miss a post but don't have time to check the site everyday? Sign up for our weekly newsletter to receive blog posts straight to your inbox, along with the best frugal living tips!