Holidays can get expensive fast. Especially when you need to decorate your home, prepare or buy food, and get a new outfit!
Halloween is such a fun holiday, but it can definitely be a budget buster if you're not careful.
I've got you covered with a super easy and affordable DIY Halloween tshirt tutorial!
Seriously, it's so easy!
Cricut Craft: Easy DIY Halloween Iron On Shirt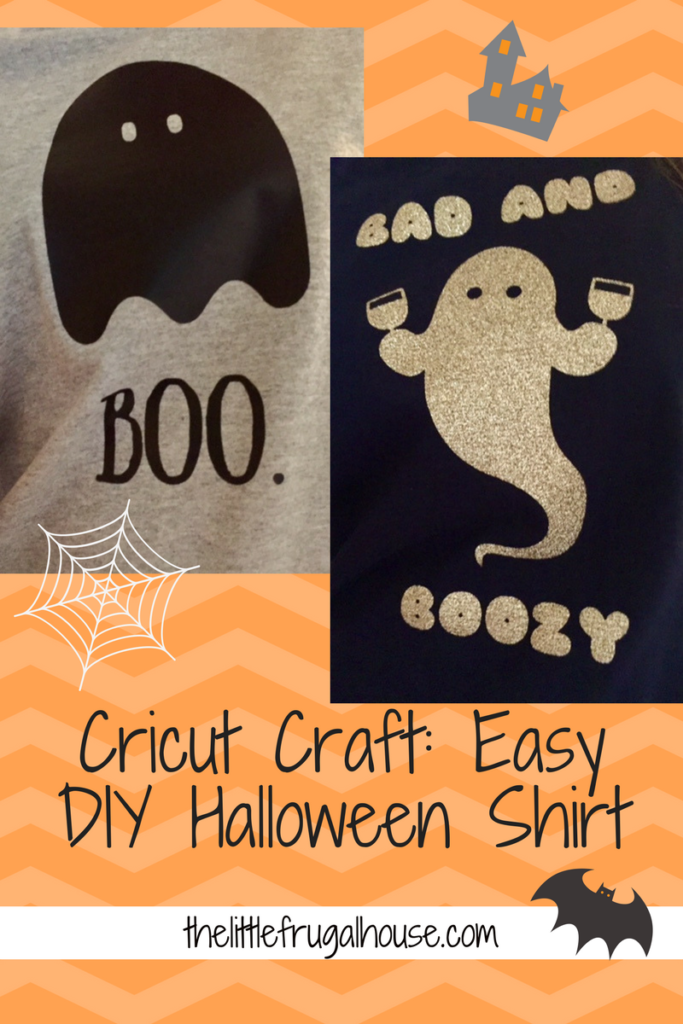 Materials and Tools Needed:
Tshirt
Iron on material
Cricut machine and cutting mat
Ironing Board
Iron
Instructions:
Make your image using Canva (free graphic design site) or use one of these that I made. (Just download, save, and upload to the Cricut Design Space.)

Boo.

Download and save here: Boo.

Bad and Boozy  Download and save here: Bad and Boozy

Upload your image to the Cricut Design Space.

Open Cricut Design Space.
Click Upload Images
Click Browse.
Find your saved image file.
Click Simple Image. Continue.
Select the spaces that need to be removed from your image using your mouse. Preview to make sure it looks correct.
Save as a cut image.
Select your file and click insert image.
Resize your image using the built in rulers.
Click Go. And click Go on the next page as well.

Make sure your Cricut is set to Iron On and the Mirror Setting (it will look backwards).

Place your iron on paper glossy side down on the mat, and press the cut button.

Remove the excess iron on material from your image.

Place your iron on image on your tshirt and iron the image on.

Place a thin piece of fabric between the iron and the transfer paper, heat and press for about 1 minute. Then, flip your tshirt over and iron the image on from the inside of the shirt.

Remove the transfer paper.
Washing:
To wash your new DIY Halloween shirt, wash it on cold, turned inside out, and lay flat to dry.
You can make any image using Canva (free) or use one of the images here for free!
Here are the two images I used to make my DIY Halloween shirts:
Other Image Ideas:
Trick or Treat (make your kids a Trick or Treat bag!)
Skeleton (white iron on, black shirt)
Witch Hat with Monogram Initials
Spider Web with Monogram Initials
It's all just a bunch of Hocus Pocus.
And make sure to take an embarrassing selfie. 😉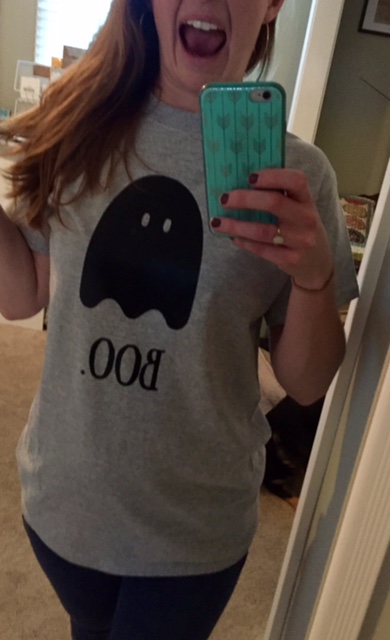 What image would you put on your DIY Halloween shirt?

P.S. Never want to miss a post but don't have time to check the site everyday? Sign up for our weekly newsletter to receive blog posts straight to your inbox, along with the best frugal living tips!