This post may contain affiliate links. If you click and make a purchase, I may receive a small commission, at no extra cost to you. I only recommend products and services I use and love. Thanks for supporting The Little Frugal House!
Spring will be here soon and I cannot wait! As soon as the weather warms up, I'm ready to put out a Spring wreath, new decor, and lots of flowers!
This time of year can get expensive quick with all the flowers, mulch, and new decor you want to get. One of my favorite ways to save on Spring decorating is to paint cheap flower pots.
Painted flower pots are a perfect way to get in a little DIY fun, have unique decor, and include lots of fun in your Spring decor.
These are my favorite painted flower pot ideas from my blogger friends!
20 Best Painted Flower Pot Ideas
To get more info and the full tutorial, just click the title or image to see more!
Love the bright summery colors here!
Related Post: 21 Cheap Summer Activities
A great thrifting project!
Love these for a patriotic party!
Related Post: Patriotic Party Décor On A Budget
Love the colorful flowers on these!
A great fun and frugal project!
This is the perfect fun project for your herbs!
Related Post: DIY Garden Sign – Grow Your Food Feed Your Soul
Love this DIY planter for summer parties!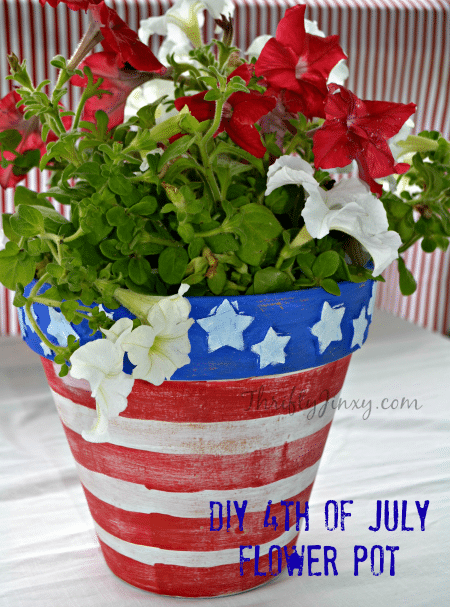 Related Post: 4th of July Patio Decor
These are so cute and fun for summer!
This is a great tutorial to get that perfect aged planter look!
Related Post: DIY Painted Terra Cotta Pots
This is such a cute and unique idea for Easter!
I love this idea of using different stencils to make unique planters on a budget!
Related Post: Front Porch Farmhouse Decor On A Budget
Love these unique ideas to DIY designer looking flower pots!
These are so cute and would be great for updating your porch or patio!
This is a great project if you want to do something different than flowers!
Related Post: Frugal Patio Furniture & Decor Ideas
This is a cute project and a fun one to get the kids to join in on!
Love this unique confetti flower pot tutorial!
This is a great DIY if you love Dollar Tree makeovers!
Related Post: Easy & Frugal Spring & Summer Home Décor Updates
Get a designer look on a budget!
Love this colorful makeover!
There you have it! My 20 favorite painted flower pot ideas!
I love that you can take cheap flower pots and make so many unique and beautiful creations. Check out Dollar Tree or bargain stores for cheap flower pots and see what you can make!
I'm a huge fan of DIY and believe a house is made a home by putting love and work into it. Nothing has to be perfect, professional, or spotless.
Just have fun, get creative, and enjoy filling your home with personality!
You might also enjoy…