Ready for a ridiculously easy and super delicious dessert recipe?
You got it!
I love to bake, but these days I don't have a whole lot of extra time for it. This chocolate chip bundt cake was the first thing I thought of when our work asked us to bring desserts for our annual Thanksgiving lunch.
I knew I would be pressed for time, and didn't want to spend a lot of money. This chocolate chip bundt cake takes about 10 minutes to prepare, 45 minutes to bake, and can cool all day if needed.
Since I was short on time, I prepared the cake first thing in the morning, let it bake while I got ready, and left it covered to cool all day. It was cooled off and ready to slice when I got home from work.(And to sample!) 🙂
Try this super quick, easy, and delicious cake for your next party or event! I think your guests will love it!
Grab the free recipe printable at the bottom of the post!
Quick, Easy & Delicious Dessert: Chocolate Chip Bundt Cake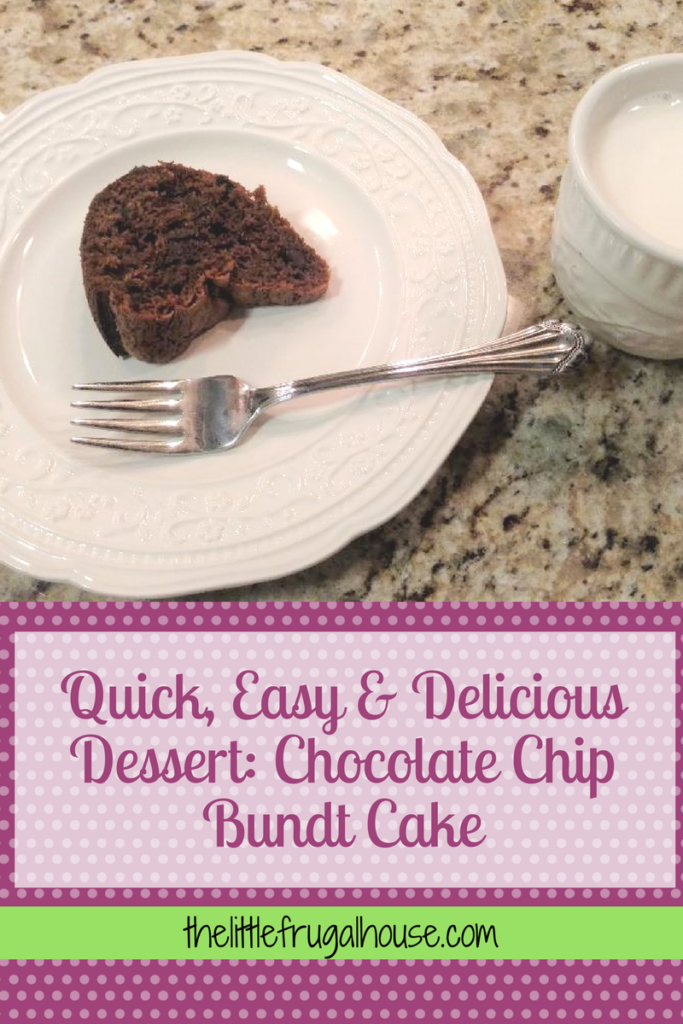 Ingredients:
You don't have to tell anyone it uses a box of cake mix and instant pudding! I won't tell if you don't!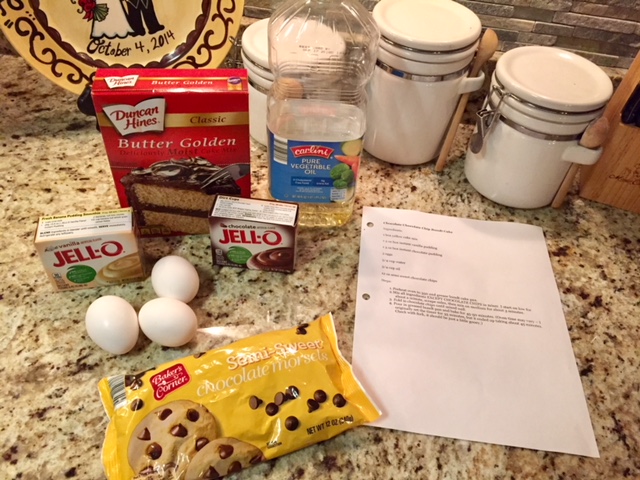 A box of yellow cake mix
1 3 oz box instant vanilla pudding
1 3 oz box instant chocolate pudding
3 eggs
3/4 cup water
3/4 cup oil
12 oz semi sweet chocolate chips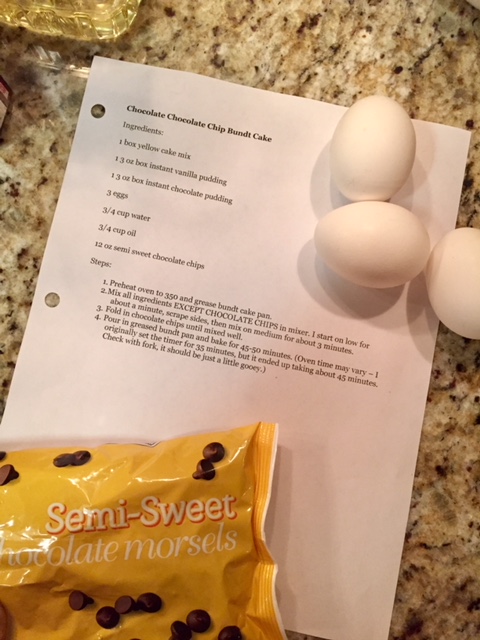 Directions:
Yummy!!
My husband had eaten two pieces before I could get a picture of mine! He loves it! 🙂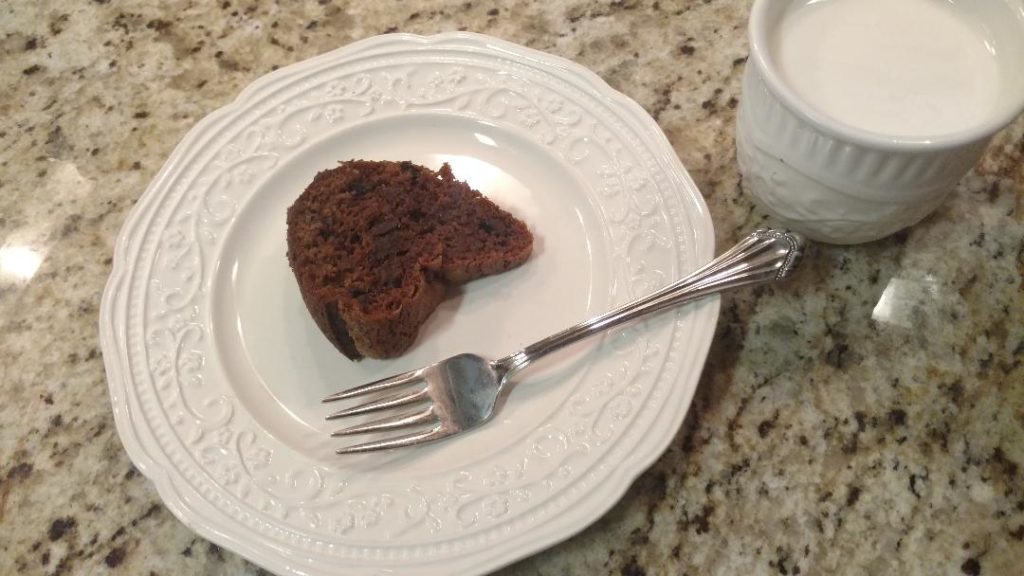 Who will you make this chocolate chip bundt cake for?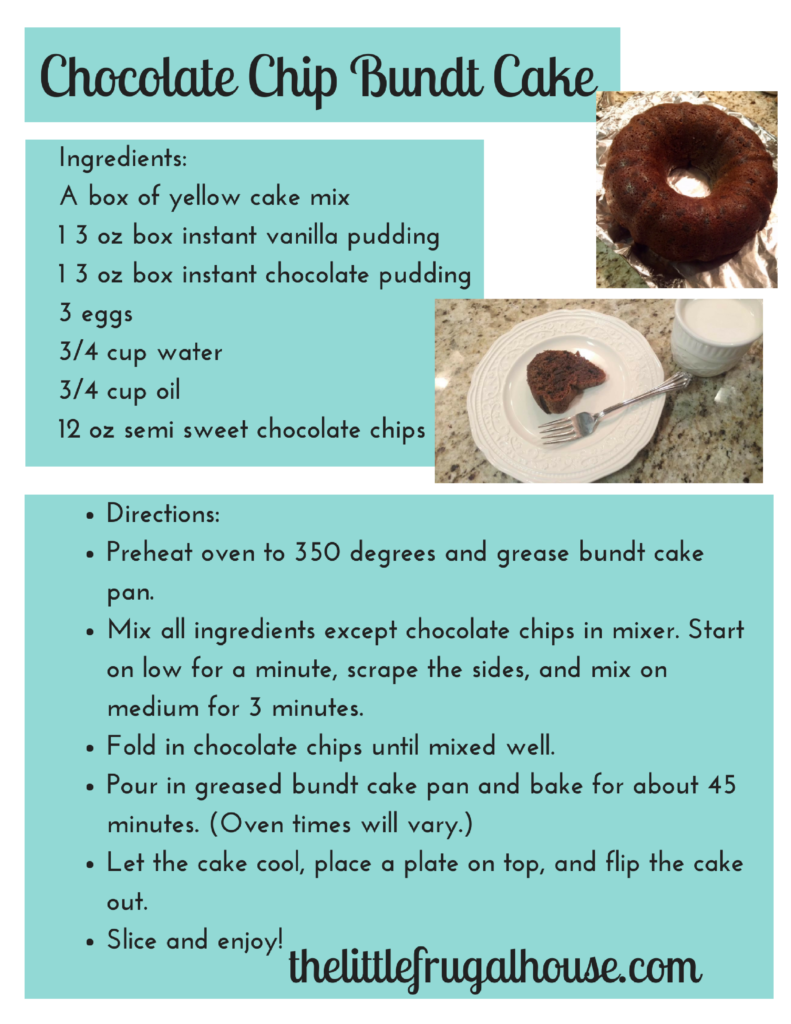 P.S. Never want to miss a post but don't have time to check the site everyday? Sign up for our weekly newsletter to receive blog posts straight to your inbox, along with the best frugal living tips!