I'm a complete sucker for anything ice cream related. And this is just about the best of the best when it comes to ice cream.
I think I was at work dreaming about food when this idea hit me.
Homemade Ice Cream Cookie Sandwiches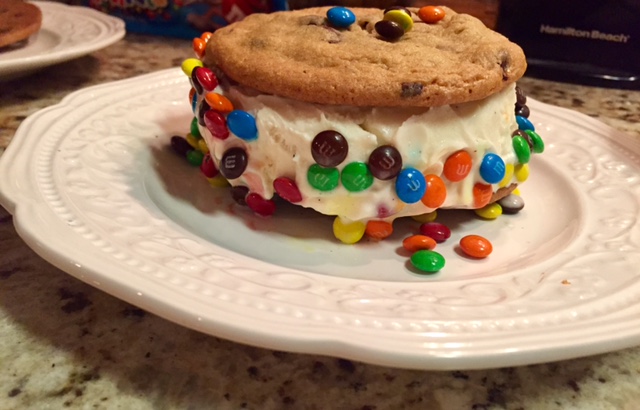 Cookies, ice cream, and M&M's all in one? Yes, give me the most delicious, over the top treat!!
Obviously I would caution to make and eat these sparingly, but for a special treat, they are amazingly delicious!!
Treat yo self!
Easy Homemade Ice Cream Sandwiches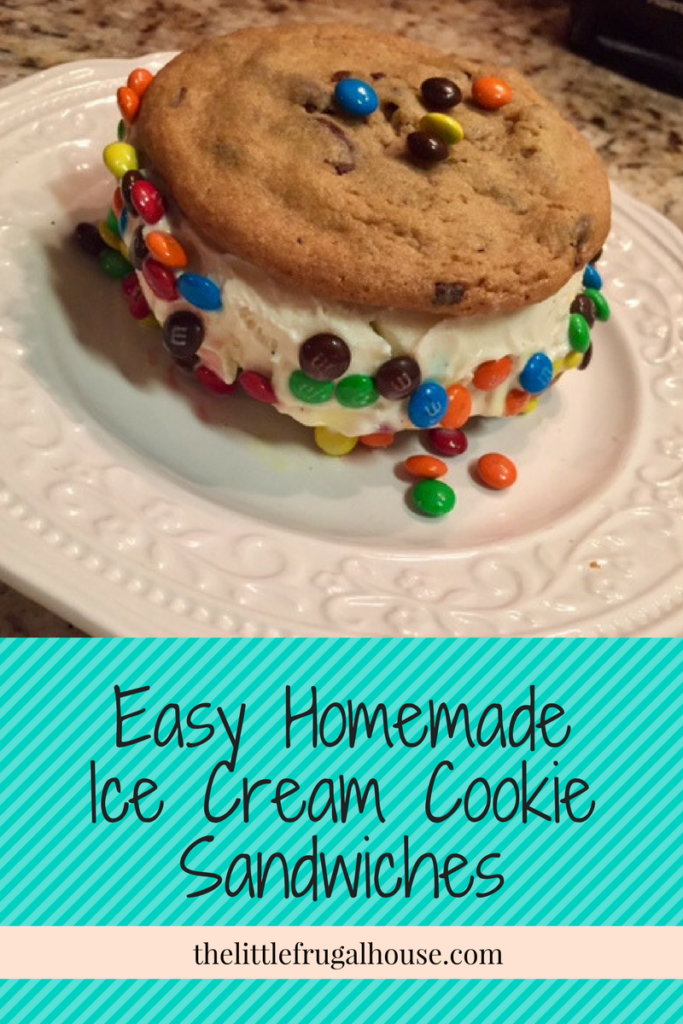 Ingredients: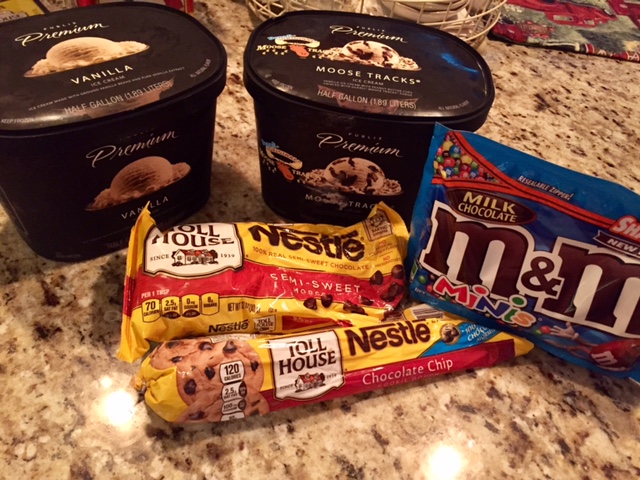 Cookie Dough (or your favorite homemade cookie batter) – We just used Toll House cookie dough.
Ice Cream – We used vanilla
M&M's or other topping of your choice: mini chocolate chips, sprinkles, etc.
Freezer Paper
Freezer bag –  if you plan to save any for later/have the will power to resist eating them all.
Small bowl or dish to use as ice cream mold
Ice cream scoop
Directions:
Place the freezer paper in your ice cream mold dish, scoop the ice cream in the dish, and push down to flatten.
Using the freezer paper, remove the ice cream mold from the dish, and place upside down onto bottom of the cookie. Remove the freezer paper.
Place the other cookie on top and roll in M&M's or other topping. Note: If your ice cream is starting to get too soft, you will want to freeze the cookie sandwiches for a few minutes, before trying to roll in your toppings.
Devour!!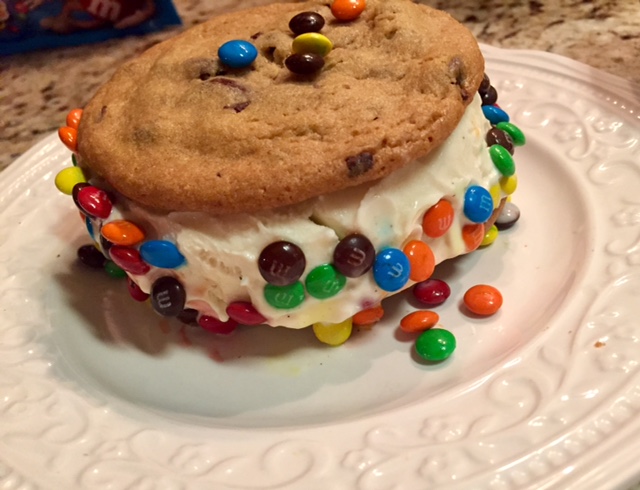 So so so yummy!!!!
We made our cookies a little bigger than we wanted, so we ended up splitting a cookie sandwich and saving one for later. The one we saved in the freezer was actually better! The cookie had softened even more and was easier to eat like a sandwich. So tasty!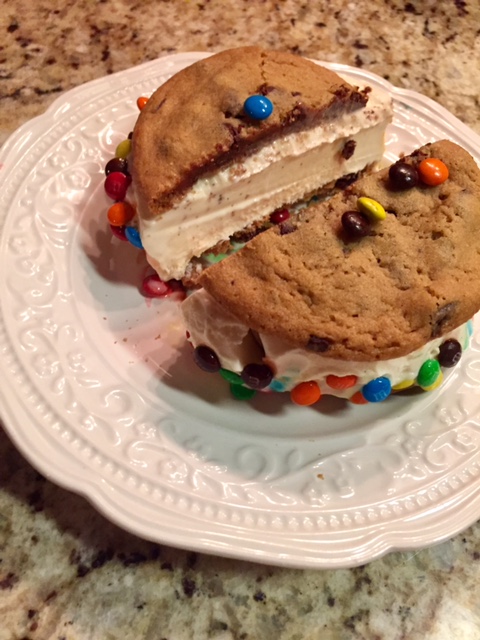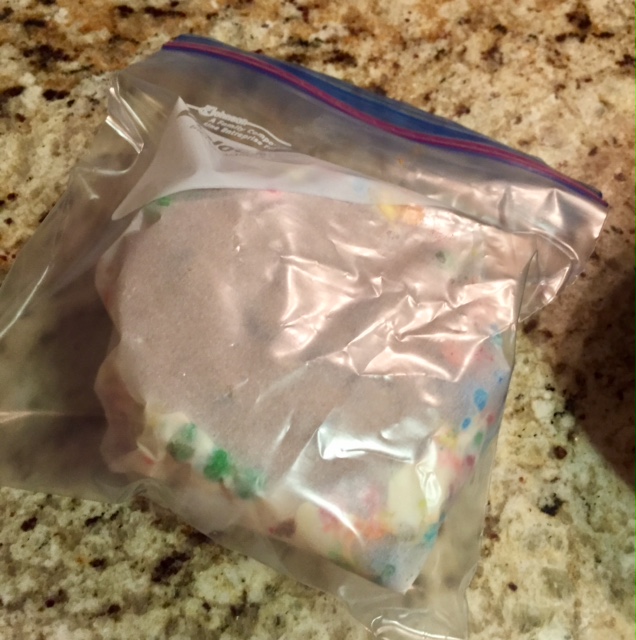 It was exactly what you would imagine a homemade ice cream cookie sandwich to be. Delicious.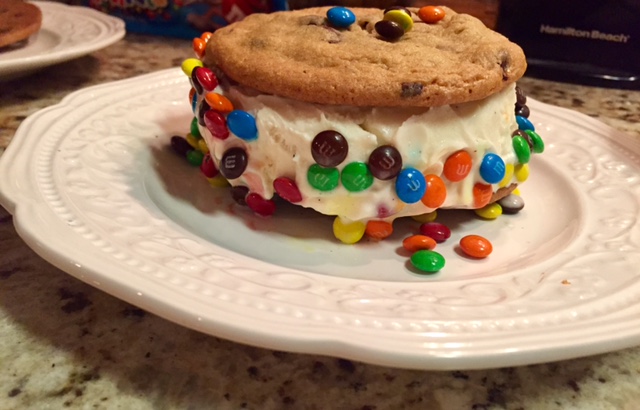 If you have a special occasion coming up or just want to treat your family to an extra special treat, try these easy homemade ice cream cookie sandwiches that are sure to put a smile on anyone's face!
P.S. Never want to miss a post but don't have time to check the site everyday? Sign up for our weekly newsletter to receive blog posts straight to your inbox, along with the best frugal living tips!