I have been slowly updating different areas of our home and adding DIY projects here and there. Our home may never look like Pottery Barn, but it has personality and reflects our life together. And I love that!
Today, I've got a simple DIY craft that makes a super sweet anniversary gift! You may already have some of the supplies needed on hand!
This project took me about 30 minutes, not including the paint drying time. And it only cost me about $6 since I already had most of the materials!
DIY Anniversary Gift – Picture Display Frame
Supplies Needed:
3 pieces of 1″x3″x8′ pine wood (less than $2 each at my Lowe's)
Square piece of wood (I used a 14×14 piece of scrap plywood I had)
Paint and Stain (I used Early American stain and basic white paint)
Cricut machine and vinyl (or you can always use scrapbook stickers or hand paint if you don't have a Cricut machine!)
Scrapbook paper
Photo
Burlap Ribbon
Hot Glue Gun
Nail gun and nails
Instructions:
Cut your wood pieces.

I cut 9 pieces 21″ long and 2 19″ pieces to hold the back together.

Place 2 pieces along the back and nail together.

Sand the wood frame.

Stain the wood.  

Paint your piece of square plywood.

Whatever color you like –  I have grey walls so I thought white would pop!

Make a vinyl decal of your favorite song lyrics, first dance lyrics, a sweet quote, or a bible verse.

We love Tim McGraw's "My Best Friend" , so I used lyrics from that song.

Apply your decal to your wood.

Make sure the wood is dry!

Glue your scrapbook paper and photo onto the wood.

You could also use a clothespin or thumb tacks so you can change the photo out.

Add burlap ribbon with nail gun or hot glue.

I just scrunched the ribbon in the middle and nailed the ribbon down.

Hot glue the painted plywood with photo on top.

Add a picture hanger to the back and hang!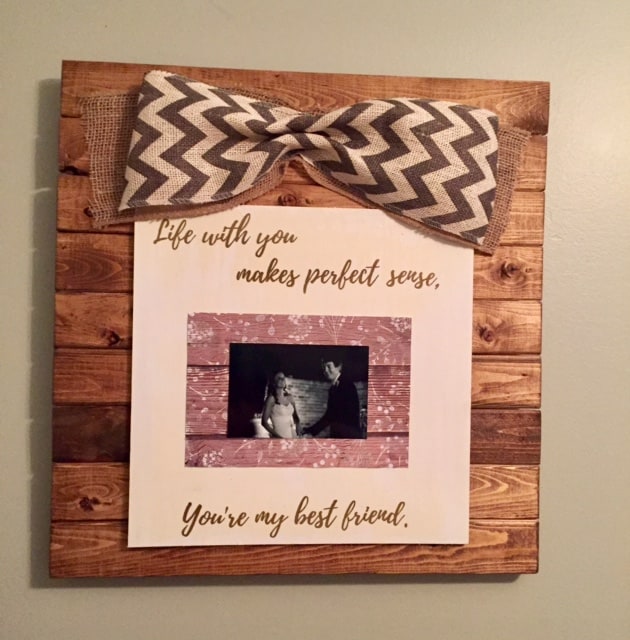 If you need a simple anniversary gift or even a wedding gift, this is a great DIY to try. This DIY anniversary gift can be totally customized to fit your décor and your style.
I love the way this fit with my little gallery wall in our bedroom!
Have fun DIY-ing, friends!
P.S. Never want to miss a post but don't have time to check the site everyday? Sign up for our weekly newsletter to receive blog posts straight to your inbox, along with the best frugal living tips!