As I recently showed you guys, I LOVE refinishing furniture. Especially when I make a good profit from it!
Side tables are one of the easier and cheaper pieces to come by. You can find these at yard sales, consignment stores, or even for free on Craigslist.
I had two side tables that I wanted to refinish with the popular farmhouse look and resell for a profit.
I'll show you how I refinished them and made about $85 profit!
Rustic Farmhouse Style Side Table Makeovers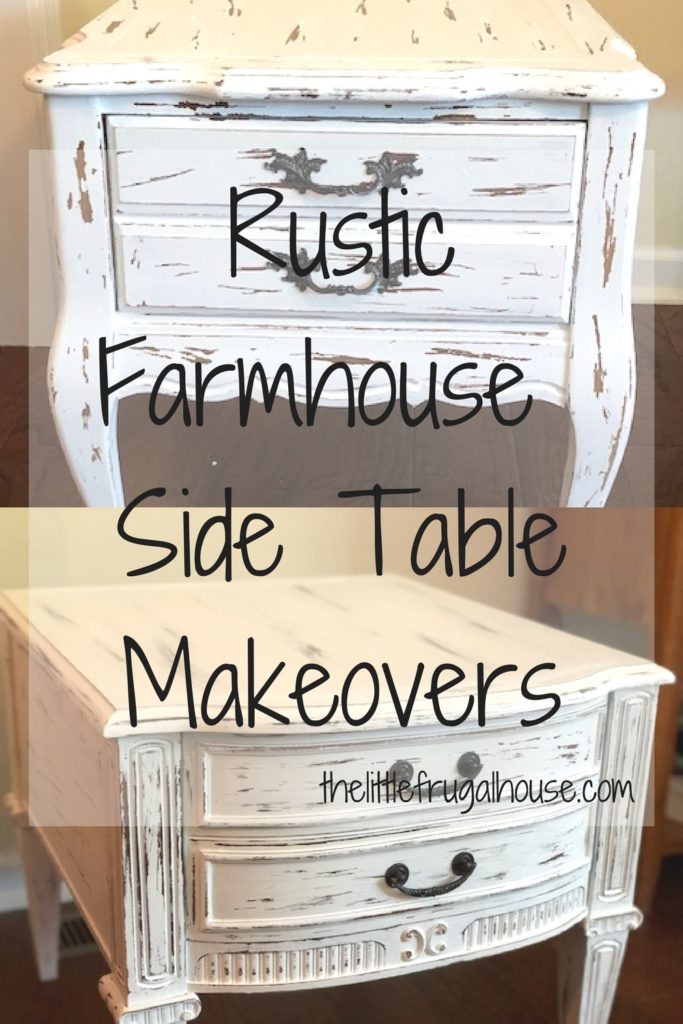 These are the tables before the makeover:
This one we got from a consignment type store for $14. I love the antique look of it, but it could definitely use an update!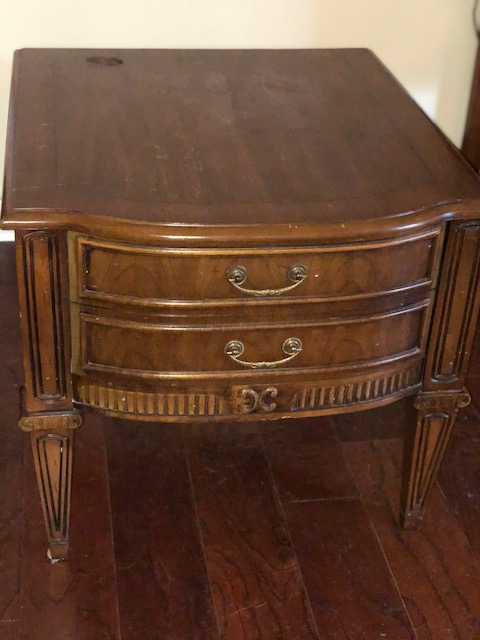 This one came from the same consignment store for $12 . I love the simple, classic design of this one!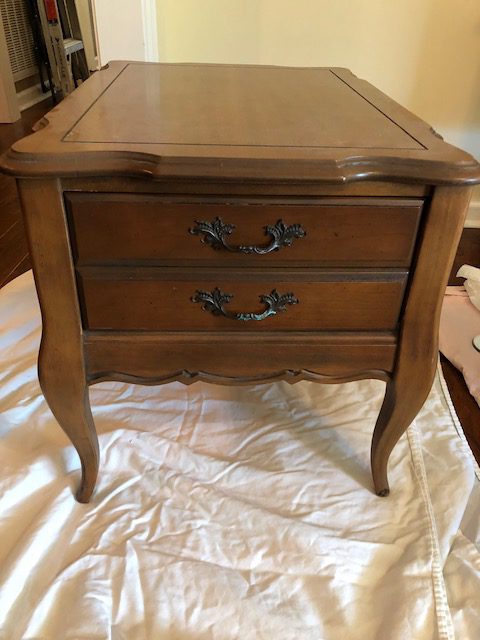 Supplies needed for rustic farmhouse style makeover:
Table
Furniture Paint – I used Valspar Ultra White Furniture Paint from Lowe's $25/quart. You could use cheaper paint but I wanted to try this and was really impressed with it!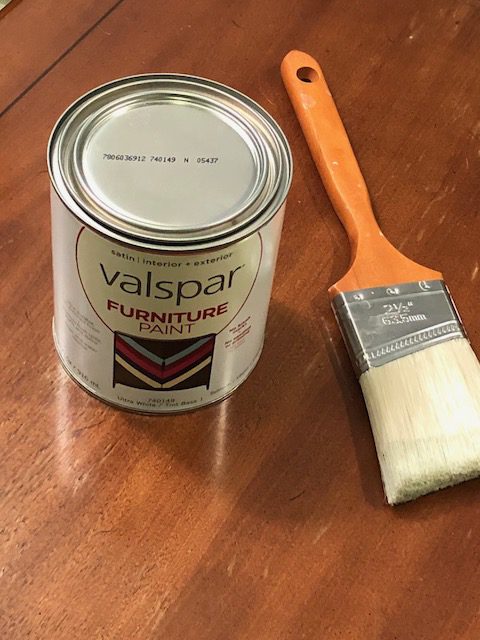 Spray Paint – to repaint drawer pulls – I used Rustoleum Oil Rubbed Bronze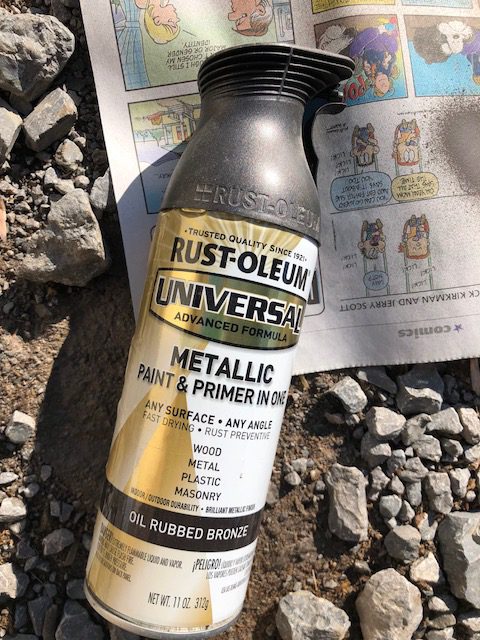 Sandpaper – Depending on how distressed you want to go – 120 or 60 grit. I used both.
Paint brush
Now, for the side table makeovers!
Clean your table.

I dusted my table and used a Lysol wipe to remove any grime. No need to sand the table with this paint, as long as you are going for the rustic look! You want that original darker stain to come through when distressing.

Remove hardware.

Unscrew the handles or pulls. Clean them if needed.

Apply first coat of paint.

Apply your first coat of paint. It's going to look a little rough at first, but just get a good smooth first coat on and let dry for at least an hour.

Apply second coat of paint.

Once your first coat is good and dry, apply a second coat. It should start looking a lot smoother. It doesn't have to be perfect though, remember we are going for a rustic farmhouse look!

Paint hardware.

Spray paint your drawer handles with oil rubbed bronze spray paint (or whatever you like or have on hand). Let dry.

Distress!

My favorite part! Get out the sandpaper and start distressing! In the first picture below, I used 120 grit sandpaper. I would call it a lighter distressing. The second picture, I used 60 grit sandpaper for a more distressed/chipped look. I love them both!

When distressing, hit the edges and any cutout areas. When working on the top of the table and the legs, rub the sandpaper along your paint lines. You can distress as little or as much as you like! I always start out with the idea of distressing a little, then I add more and more. I love the rustic farmhouse look!

Screw drawer pulls back on.
 All finished with these rustic farmhouse style side table makeovers! What do you think?
I love the antique details of this one, and the distressed finish really makes them pop!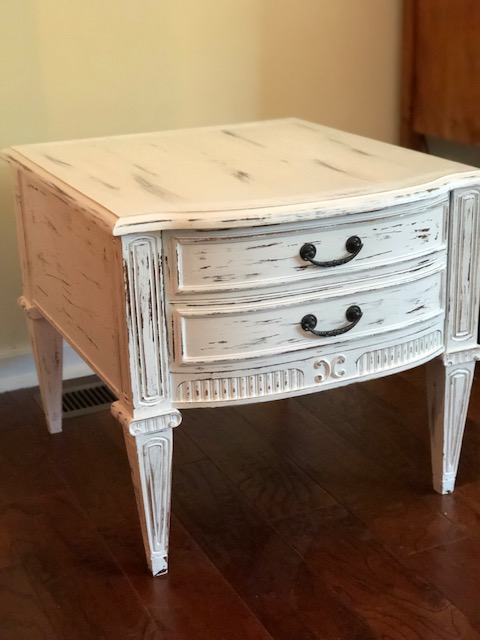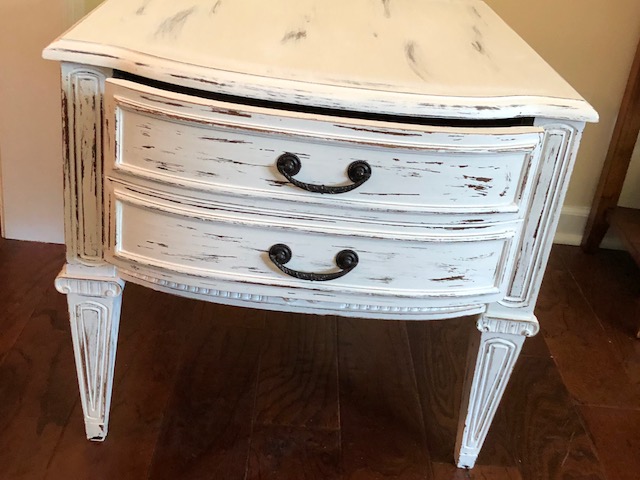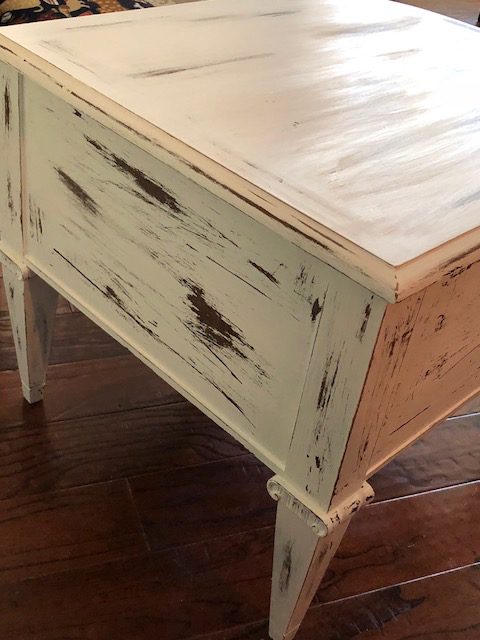 This one I used the 60 grit sandpaper on. I love how it looks like chipped paint. My husband voted this one his favorite, but I can't decide! I love them both!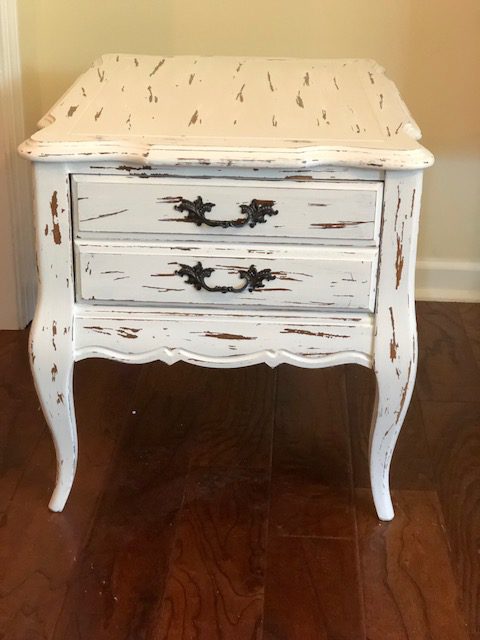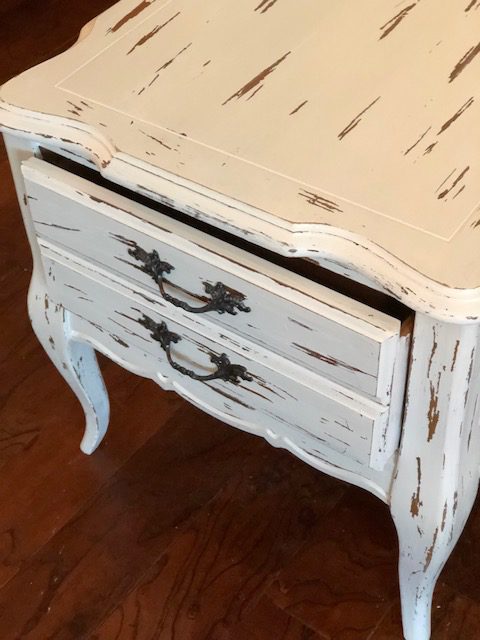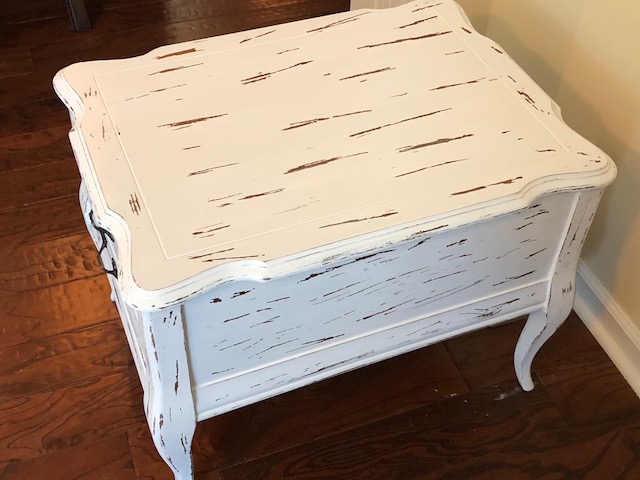 I so wish I had a place in my home for these lovely farmhouse side tables, but sadly 900 square feet does not provide a lot of extra room for decorating. So these were a flip project for a little extra side income.
These tables just sold for $125 total!
I listed these in a Facebook Buy/Sell/Trade group and had a ton of interest and a buyer in just a day! I listed them for $75 each or $125 total. Losing $25 was worth it to just meet one person!
My cost for these side table makeovers was about $40 ($14 for one table, $12 for the other, and I used less than 1/2 of my $25 paint). This brings my profit to $85!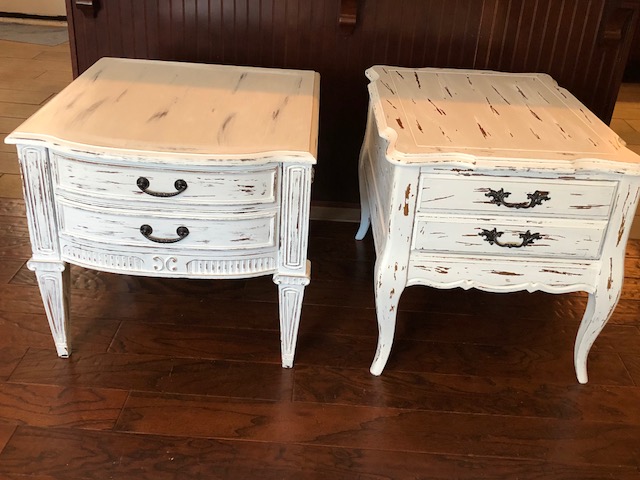 Ready to refinish your own rustic farmhouse side tables?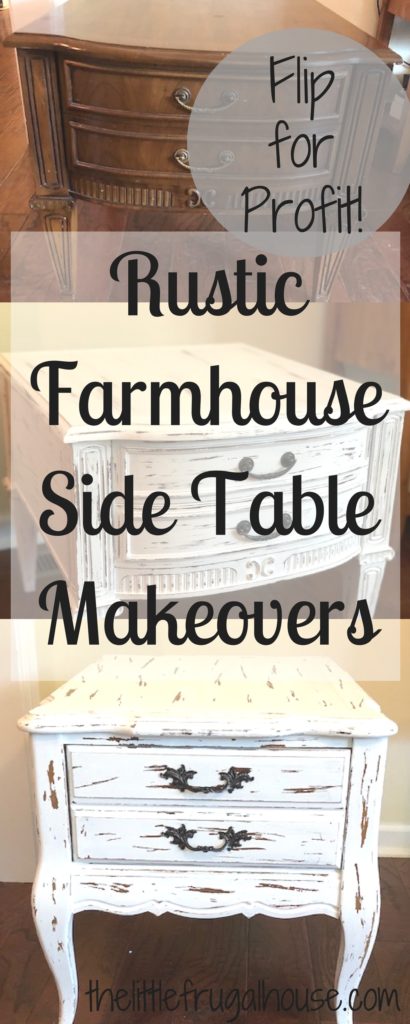 P.S. Never want to miss a post but don't have time to check the site everyday? Sign up for our weekly newsletter to receive blog posts straight to your inbox, along with the best frugal living tips!