Have you ever had your menu planned out for the week, ready to save some money by not eating out, and then forget to thaw your meat or get all of the ingredients for the meal? And then you wind up ordering pizza or going to Chick Fil A instead?
Yeah, me too.
We had good intentions though, right? We made the menu plan, we bought the groceries, but one step didn't happen and it all fell apart.
Causing us to spend money we weren't planning to spend and throwing our menu plan out the window.
I can't do anything to make those nights not happen. We are all human, and we forget things. It happens.
I don't know how many times I have gotten to work and realized I forgot to lay the meat out to thaw. And there's nothing you can do about it then.
Since those forgetful times aren't going anywhere, I decided I will have a back up plan at home. Instead of immediately throwing the menu plan and budget out the window, and instead of heading to get a pizza or Chick Fil A, I can have back up "pantry meals".
Sounds great, but what's a pantry meal??
A pantry meal would be something that you keep the ingredients on hand for all the time. Simple meals with simple ingredients that have a long shelf life.
Meals you don't need to thaw anything for or have a special ingredient. Simple and cheap back up meals to save our budgets.
10 Pantry Meals: When the Menu Plan Doesn't Happen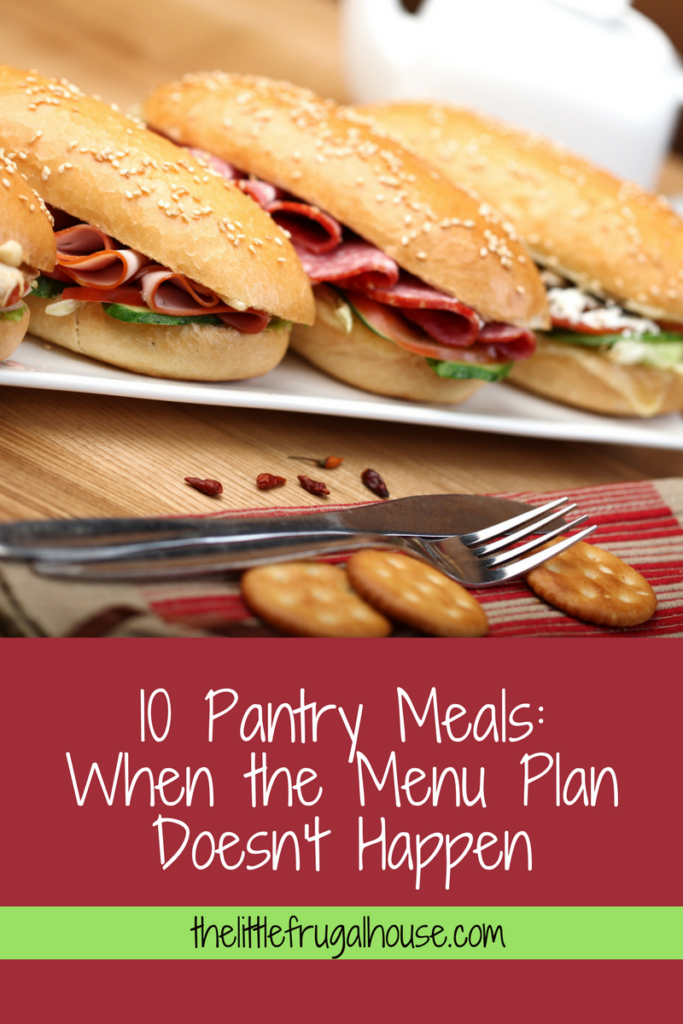 Pasta

Keep your favorite noodles and jar of sauce on hand to throw together in a pinch. It won't be your famous homemade spaghetti sauce, but it'll be great for a back up meal!

Quesadillas

Keep tortillas on hand to make quesadillas when all else fails. I always have some sort of shredded cheese in the fridge, so these are always super easy.

Before you head to the nearest pizza place, head to your pantry and see if you can make your own! Keep flatbread and pizza sauce on hand to make individual pizzas in a pinch. You may not get all of your favorite toppings, but it will force you to be creative!

Macaroni and Cheese

Keep a few boxes of macaroni and cheese stocked for a quick and easy meal. If you can't stand the boxed kind, keep some Velveeta cheese and elbow noodles to make your own.

Chicken or Tuna Salad

Grab the lunch kits and stock up, or the cans to make your own chicken or tuna salad when you didn't get the chicken thawed for the other meal you planned.

Canned Vegetables

It may not make a full meal, but you could easily warm up a few cans of vegetables and have a veggie night!

Canned Soup

Again, not your famous homemade recipe, but perfect for back up meals! If you have bread, make a grilled cheese for a heartier meal.

Sandwiches

Probably not the exciting meal you had planned, but when that doesn't work out, sandwiches can come to the rescue. Make a grilled sandwich or panini so it doesn't taste like your lunch. You could even set up a little make your own sandwich bar, which seems totally thought out and not a backup meal at all. 😉

Nachos

Keep tortilla chips on hand and you make nachos for a fun (and super easy) dinner. Just melt some cheese on top and add whatever toppings you have. If you happen to have some Velveeta and Rotel, you can make a quick queso dip! Perfect for game or movie night!
These meals aren't fancy, super nutritious, or anything award winning. But, when your menu plan doesn't happen as you had planned, these meals can be your saving grace.
When you forgot to thaw the meat or you are missing an ingredient, just whip up one of these easy pantry meals.
Getting a little creative, instead of heading straight to get pizza or Chick Fil A, can save your budget.
Print this list out and tape it inside your pantry when your menu plan fails, and you can't think of anything to make with what you've got on hand. I'm sure you will find something to whip up and save you a trip and the money pizza would cost.
What are your favorite pantry meals to make when your menu plan doesn't happen?

P.S. Never want to miss a post but don't have time to check the site everyday? Sign up for our weekly newsletter to receive blog posts straight to your inbox, along with the best frugal living tips!