*Referral Links included in this post. I will only recommend products and services that I use and love.
Subscription boxes seem to be all the rage lately. Have you ever looked into how many subscription boxes are out there?
It's truly amazing. You can get a subscription box for literally anything and everything.
You can get clothes, underwear, jewelry, dog food, books, food, snacks, toys, kid's activities, gadgets, totally random stuff, wine, etc. The list goes on and on.
I've tried a few different subscription boxes, fell in love with a few, and a few not so much.
I love subscription boxes for a few reasons:
Who doesn't love getting packages?!
Not stepping foot into stores.
Trying new products.
So convenient!!!!
And sometimes even saving money! You know I love that reason!
Here's the subscription boxes I love and use and what I love about them:
You know, in case, you want to try them and fall in love to!
And I'll tell you the ones I didn't like, too!
My Favorite Subscription Boxes & Honest Reviews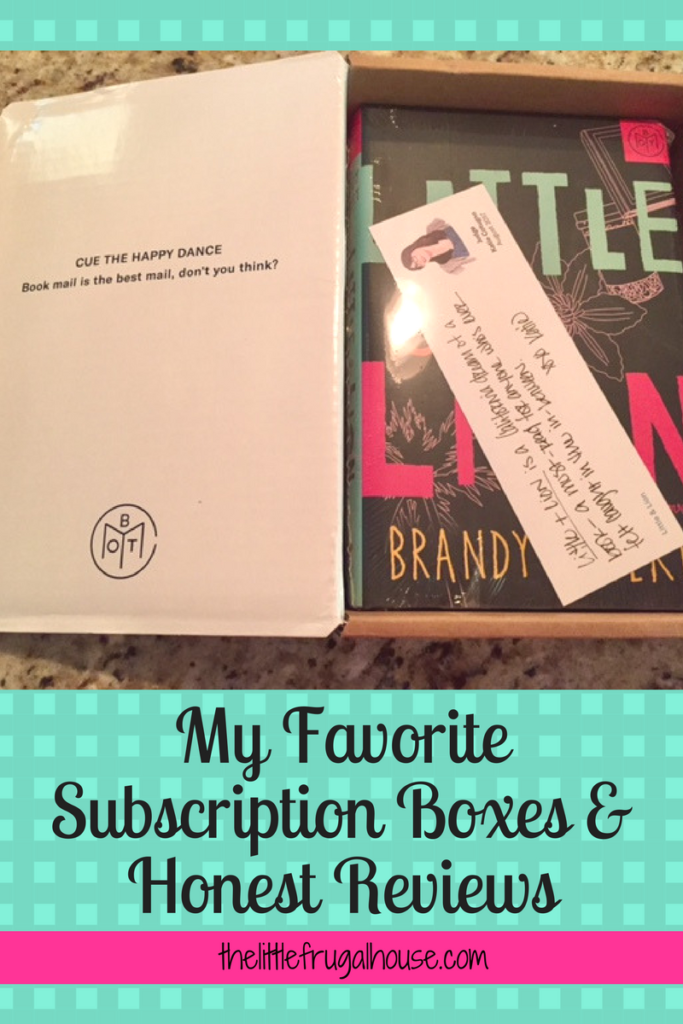 Stitch Fix is a clothing subscription service.
You fill out a style profile, tell your stylist what you like/don't like, how you like things to fit, what you are looking for, etc.
Your stylist then picks out 5 items based on your profile and Pinterest board, boxes them up, and ships them to your front door.
You get to try on everything in the comfort of your own home, keep what you love, and send the rest back.
What I don't love about Stitch Fix:
The prices aren't the cheapest. I do believe the convenience and experience are a great value, and that the clothes are high quality, but I still get a little sticker shock. I have found that the clothes I have kept from my boxes, I have worn over and over. So, if I love a shirt that costs $40 and wear it 20 times a year, it's only $2 per wear. If I find a shirt on sale for $8, but I don't love it and only wear it twice, it's $4 per wear.
Stitch Fix Tips:
Schedule your boxes for a quarterly shipment, so you don't find yourself tempted to buy more than you can afford.
Make it a gift for Christmas, your birthday, etc. (I just ordered one for my birthday!)
Cost:
$20 styling fee to get the box + whatever clothes/accessories you keep ($28-$88 per piece in my experience) X amount of boxes you request
See my full review on Stitch Fix here.
Chewy.com is a pet food and treat autoship company.
Find your dog's favorite food and treats and add them to an autoship.
Set your autoship up with the day to ship, and frequency. (I have ours set to ship and draft from our account on pay day, and we get shipments every 2 weeks.)
Chewy boxes up your food/treats/toys, ships them, and your box is delivered to your front door.
Savings! – You get 5% off each item when you add it to your autoship. If you purchase over $49, you get free 1-2 day shipping.
Convenience! – I don't have to drive to the pet store, pick up a 50 lb bag of dog food, carry it to my car, and then carry it inside my house. It's waiting on me and the pup squad when we get home.
The pups love it so much! Seriously, they know it's their box. They watch me open it, sniff it out, and love seeing what treats they got!
What I don't love about chewy.com:
They don't regularly have coupons for what we buy. They will have deals occasionally on their website, or send flyers. But the autoship 5% discount and free shipping is enough for me to keep subscribing!
If you are a first time shopper with chewy.com, look for a coupon code to save $15 off your first purchase of $49 or more. It was WOOF when we first set up our account if you want to try that.
Read more about chewy.com here.
Zaycon Fresh is a company that sells meat in bulk at really great prices.
Order your meat on their website.
Drive to the specified location on the delivery date, wait in a very short line (if any), let the Zaycon employee put your box in your car, drive away.
Divide and freeze your meat to use for freezer cooking and easy meal planning.
Ease of ordering and picking up. It's so easy to order meat in bulk on their website, and so easy to pick up also!
The savings. Buying meat in bulk at a great price ensures I get a great deal on meat all the time.
Buying in bulk. I love having my freezer packed with meat, so I can freezer cook 80 meals in 2 hours whenever I please.
Farm to consumer products and pricing. No middleman and no extra markups.
The only thing is there is work involved after you pick your case(s) of meat up. It takes me about 45 minutes to an hour to get everything divided, portioned for our family, and put away in the freezer. Even though this does take some time and work, you can always divide your meat into portions to fit your family size, which I love!
Make sure to sign up for their emails so you will notified when there are coupons and extra deals. I only order when I have a coupon.
If you don't need a whole case, ask a friend or family member if they would be interested in splitting one.
Just shop for your basics if you don't have a lot of freezer space. I only get ground beef and chicken breasts.
Read more about Zaycon Fresh here.
Book of the Month is exactly what is sounds like, you get a book every month!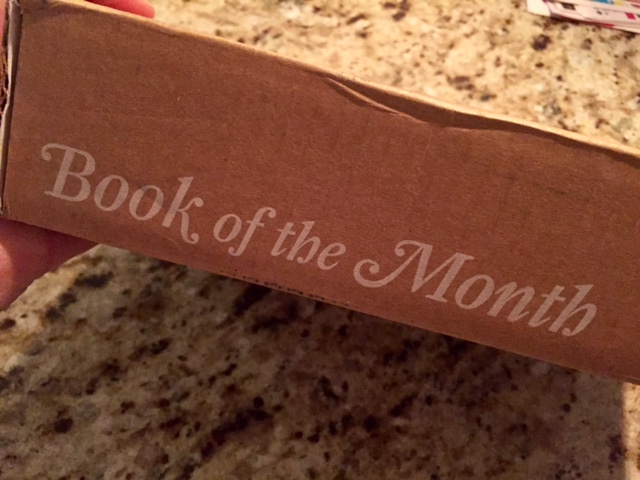 Sign up for an account here.
Each month, choose 1 book from the 5 choices that you would like sent to you.
Receive your book in the mail and enjoy!
I love that you only have 5 choices, and you don't feel overwhelmed by a whole book store.
You get to read a summary of each before choosing your book.
It's fun to get your book in the mail and to relax while reading it.
You can skip a month if you don't find a book you like or aren't ready for a new one, and you aren't charged that month.
I can't think of a thing! 🙂
Cost:
$14.99 each month
Add extra books for $9.99 each
Free Shipping
Skip a month for no charge
Ok, for the boxes I've tried and didn't love…
A weekly meal delivery service. They send you fresh ingredients with just the right amount of each ingredient for the meal, a recipe card, and you make a yummy meal.
Sign up for an account here.
Choose your meals for the week and when you want them delivered.
Have your box sent to you, make the meals, and enjoy.
For the record, I thought this service was really cool and enjoyed the meals, but my husband barely touched any of the food. So, it was a no go for us.
I really like how the meals were packaged together in bags, so you could easily grab one and get cooking.
The meals were fairly easy to make, just a little more adventurous than what we prefer to eat.
There was no waste as far as the ingredients go. They only send you the amount you need for that recipe. But, we did waste food because ya know… picky eater husband and all. 😉
It was a little pricey for us. We usually make things like $2 per person meals. 
If you want to check it out, I don't think it's a bad service at all, just not for us! Check out my full review on Hello Fresh here.
A jewelry subscription service. Wear as long as you want, buy what you love, send the rest back.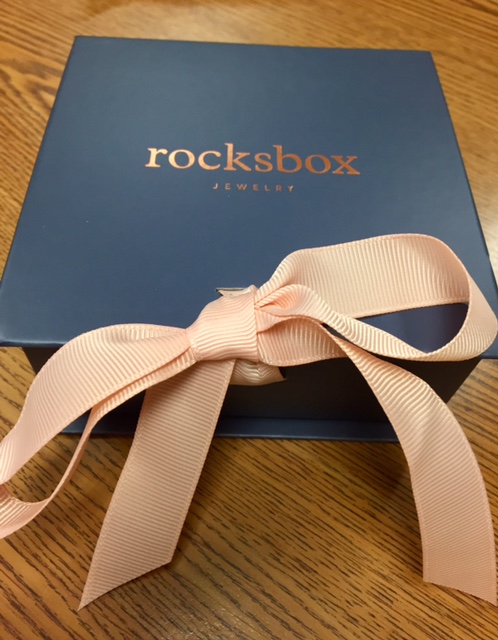 How it works:
Sign up for an account here. Use my code: AMANDAWBFF77 and you should get your first month free (email me at Amanda@thelittlefrugalhouse.com if it doesn't)
Make a wish list of your favorite pieces.
I liked it, but I didn't love it. When it comes to jewelry, I'm not one to wear a lot or buy a lot.
I prefer Stitch Fix to get clothes and jewelry, so I didn't feel like I needed this too.
If you like to change out your jewelry often, you would love this subscription box!
The price is a little steep for me for a "monthly rental fee".
Cost:
$21 a month to get the box, use that as a credit towards any pieces you want to purchase (my box was $40-$58)
Read more about Rocksbox here.
I really do love to try new subscription boxes!
Having new products sent to me, keeping me out of stores and tempting impulse purchases, and the pure convenience of subscription boxes keep me subscribing!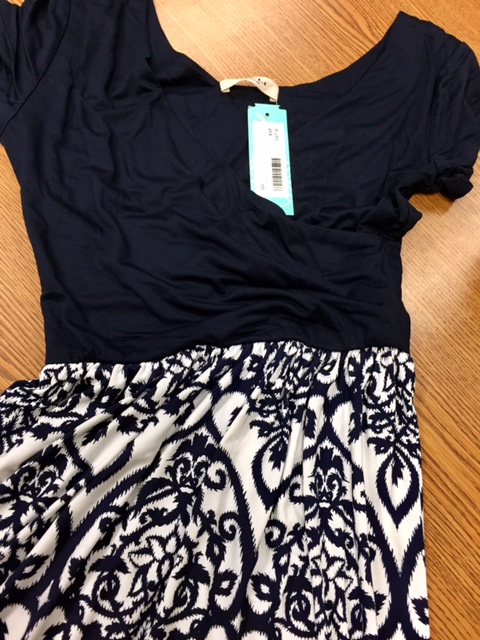 What subscription boxes have you tried? What did you love and keep ordering, and what did you not care for as much?
I love to hear about new subscription boxes!

*Referral Links included in this post. I will only recommend products and services that I use and love.
P.S. Never want to miss a post but don't have time to check the site everyday? Sign up for our weekly newsletter to receive blog posts straight to your inbox, along with the best frugal living tips!