This post may contain affiliate links. If you click and make a purchase, I may receive a small commission, at no extra cost to you. I only recommend products and services I use and love. Thanks for supporting The Little Frugal House!
Are you hoping to get healthier, save money, and eat better in the new year?
My friends at Ultimate Bundles have put together the perfect resource to help us get 2019 started off right.
It's called the Healthy Meal Planning Bundle and it's finally here! 
Healthy Meal Planning for the New Year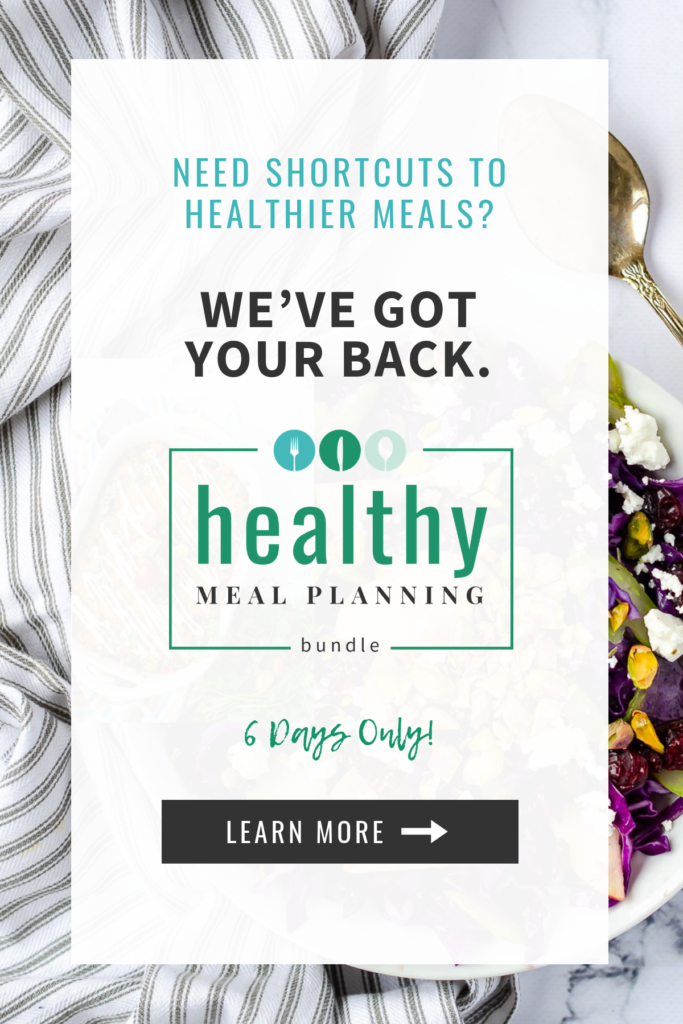 I'm a big fan of meal planning and eating at home, but I'm not the best at making healthy meals. And it seems like I make the same meals week after week.
That's why I was so excited for the announcement of this Healthy Meal Planning Bundle! 
Today, you can get your hands on ready-made meal plans with a focus on quick & simple, but delicious, healthy meals – complete with shopping lists and fresh recipes – for a ridiculously low price.
Here's what it includes:
A library of simple, nutritious, whole food recipes, beautifully formatted in 12 digital cookbooks.
An easy-to-use index for every single recipe, to help you sort by food allergy, eating style, quick meals, cooking method, and more.
30+ unique made-for-you meals plans complete with grocery lists and prep reminders (4-week dinner plans, school & work lunch plans, breakfast rotations, party plans, and more!)
Meal planning printables for those who love paper & pen and creating their own custom plans.
Plus healthy eating resources on clean eating, a flavor crash course, strategies for helping kids with pickiness, allergies, and more!

What's this bundle all about?
When you know what's for dinner every day, you'll be more efficient, less stressed, and you'll have more margin in your life.
The Healthy Meal Planning Bundle 2019 is on sale now and it will help you put healthier meals on your table, in less time, with less stress.
With over 1000 recipes, a clickable index, ready-made meal plans (with grocery lists), nutritional information for every recipe, and more, the Healthy Meal Planning Bundle is designed to save you time, money, and stress.


Early Bird Bonus!
Plus, when you buy your copy by midnight January 3rd, 2019, you'll also get the 30 Meals in 30 Days Challenge (a $21 value) for FREE!
If the hardest part of meal planning is making the habit stick, this is for you!
This challenge comes with
a free Facebook group for accountability and reminders
weekly live trainings
frequent email support to help you use your bundle
support to find time-saving ways to meal plan and cook
and loads of tips to streamline the whole process.

At the end of 30 days, you'll have made 30 meals and kicked off your year with a shiny new habit!

But hurry, this early bird deal expires soon!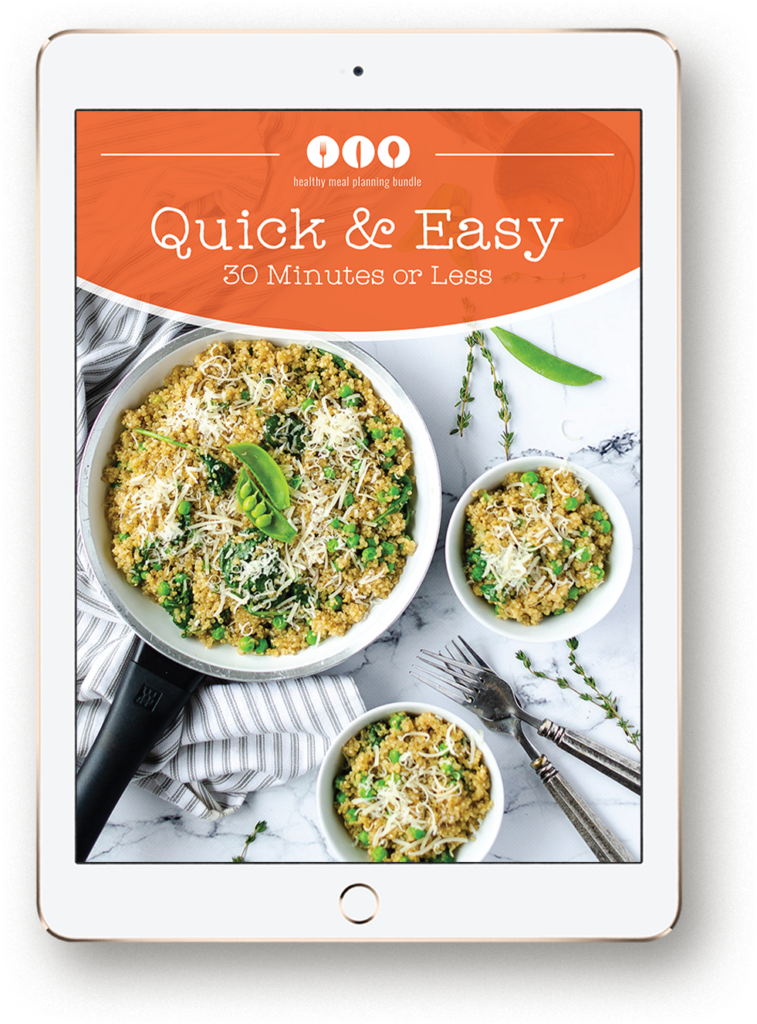 Questions about the Healthy Meal Planning Bundle
Are the recipes any good? Will my kids eat these meals? Are they quick and easy to make?
First off, YES! They're delicious. These recipes have been curated from many of your favorite food bloggers and online chefs.
Many of these recipe creators are also parents and know your kids will eat healthy food if it actually tastes good. Their own families were the original guinea pigs, and many of them have sent their recipes through extensive recipe testing as well, so you can be sure they selected only their best for these eCookbooks!
Plus, they really focused in on meals that were healthy and wholesome, but simple and easy to make.
We're gluten-free (or vegan, or paleo, or keto, etc.) at our house. Will I find recipes that fit our family?
I'm so glad you asked! One of my favorite things about this bundle is that you can search the all-new recipes by category, food allergen, and health goals in one convenient, clickable index.
They've made sure to include plenty for every style of eating and with over 1200 in the collection, there are plenty to suit every dietary need.
What exactly do I get in this bundle?
This bundle is a collection of 12 eCookbooks, 5 eBooks, 5 eCourses and printables.
Inside this bundle, you will find resources with over 1000 recipes, ready-made meal plans, planning tips, and printables – all for $37.

OK, but what if I buy it and don't like it?
Although Ultimate Bundles has an extremely low return rate at less than 1/4 of the industry standard, there are some people who it doesn't work for.
That's why they offer a 100% happiness guarantee refund policy. If you don't love it, just email customerservice@ultimatebundles.com to ask for a full refund within 30 days of purchase.


I hope that fully answers your questions!!
For just $37, you can get 1072 recipes, 40+ meal plans, meal planners and printables, plus eBooks and eCourses on topics like budgeting, flavor and teaching kids to help in the kitchen.
You can learn more and get your bundle here. 
It just might be the thing that helps make your meal planning and healthy eating goals stick this year. But I'll leave that up to you. Just don't wait too long, because the sale is so short!


You might also enjoy…