I am no healthy eating expert, but along with most of America, I'm trying to incorporate more healthy foods into my diet.
If you have ever tried healthy eating and failed, was it maybe because you tried to change too quick and drastic?
To develop a new habit successfully, I find I'm much more successful taking baby steps and gradually making small changes.
Instead of drastically trying to make changes to your eating habits, try this healthier menu plan. We'll substitute a few ingredients here and there, but the meals are simple and comforting, just like you're used to.
Healthier Menu Plan – Baby Steps to Healthy Eating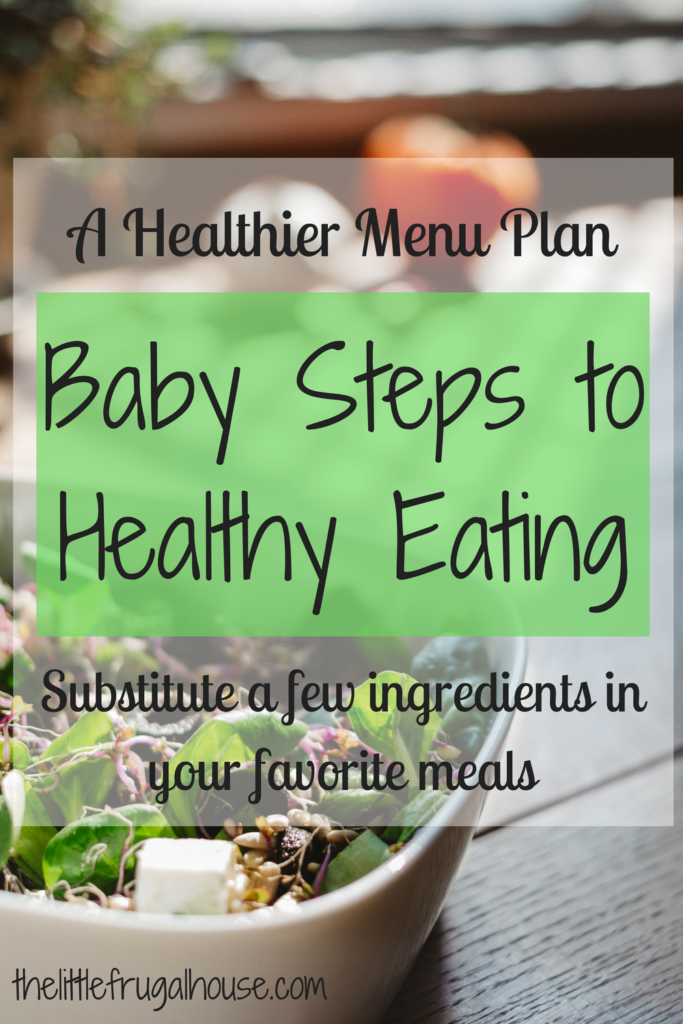 If you've been around the blog before, you know we love to eat simple, comfort foods. Meals like spaghetti, chili, pasta, fried chicken, burgers, and tacos are frequent meals on our menu. These aren't exactly healthy meals… ok, not at all. But, we can substitute a few ingredients or change the sides, and make them healthier meals.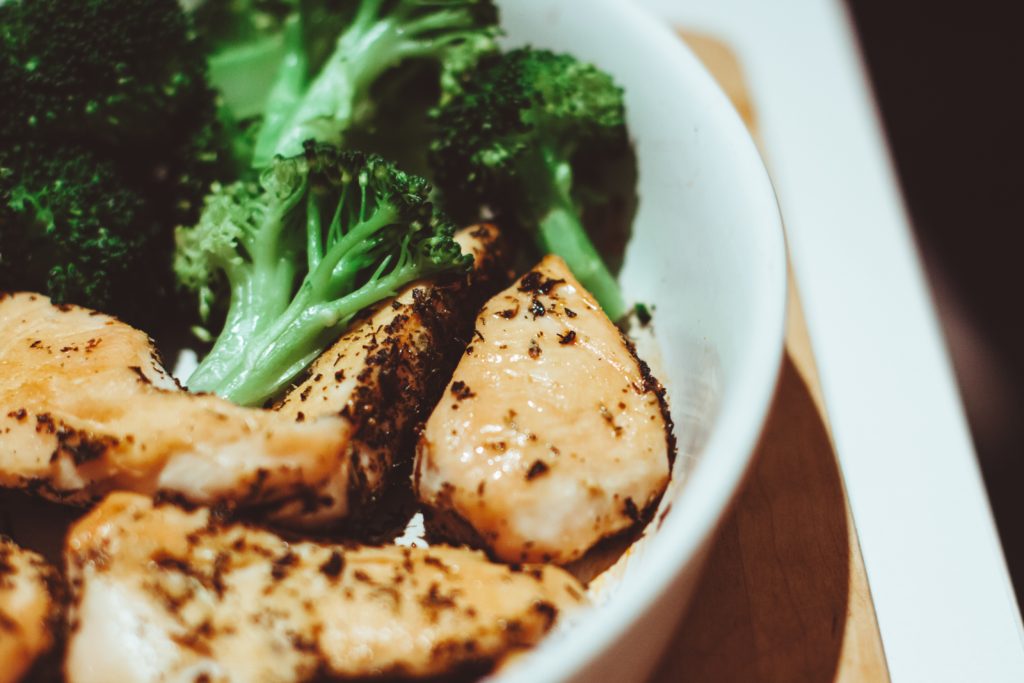 So, just to give you an idea, here's what my menu would normally look like:
Sunday: Fried Chicken, Green Beans, Roll
Monday: Spaghetti with Garlic Bread
Tuesday: Tacos
Wednesday: Grilled Chicken, Roasted Potatoes, Corn
Thursday: Chicken Alfredo Pasta with Garlic Bread
Friday: Burgers and Fries
Saturday: Chili
Not too terrible, but we could definitely be eating more vegetables and a little healthier in general.
Let's add a few substitutions and change out the sides to make this healthier.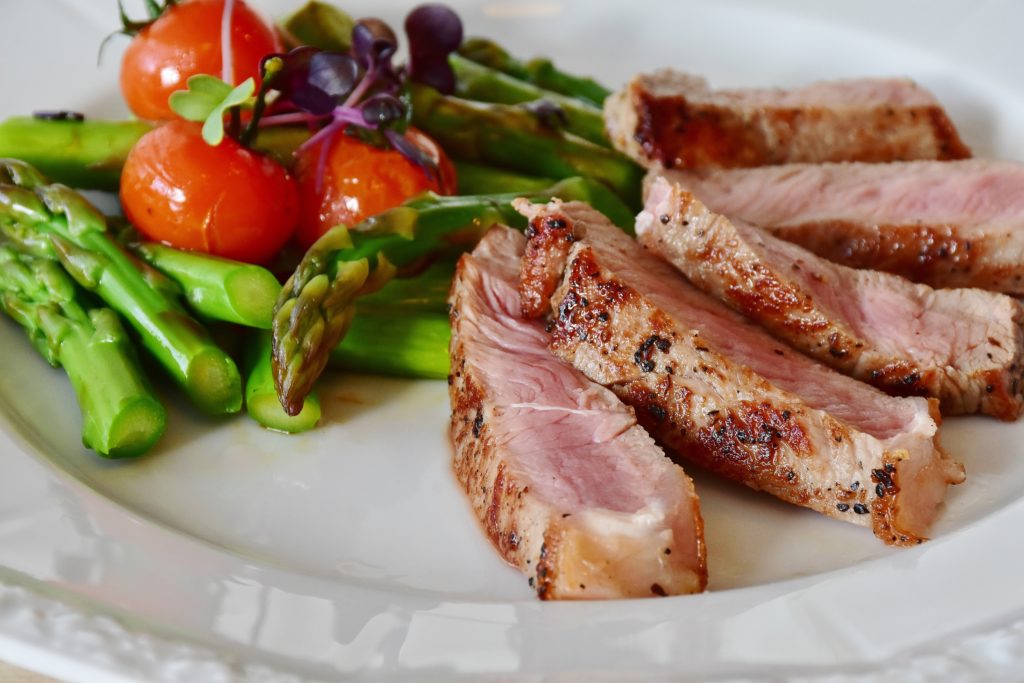 Healthier Menu Plan
Sunday: Grilled Chicken with Fresh Veggies
Monday: Spaghetti with Whole Grain Noodles and a Side Salad
Tuesday: Taco Salad
Wednesday: Roasted Chicken with Fresh Veggies
Thursday: Teriyaki Chicken, Brown Rice, and Broccoli with Low Sodium Soy Sauce
Friday: Burgers (Use lean ground beef or turkey) with Whole Wheat Bun and Green Bean or Zucchini Fries
Saturday: Turkey Chili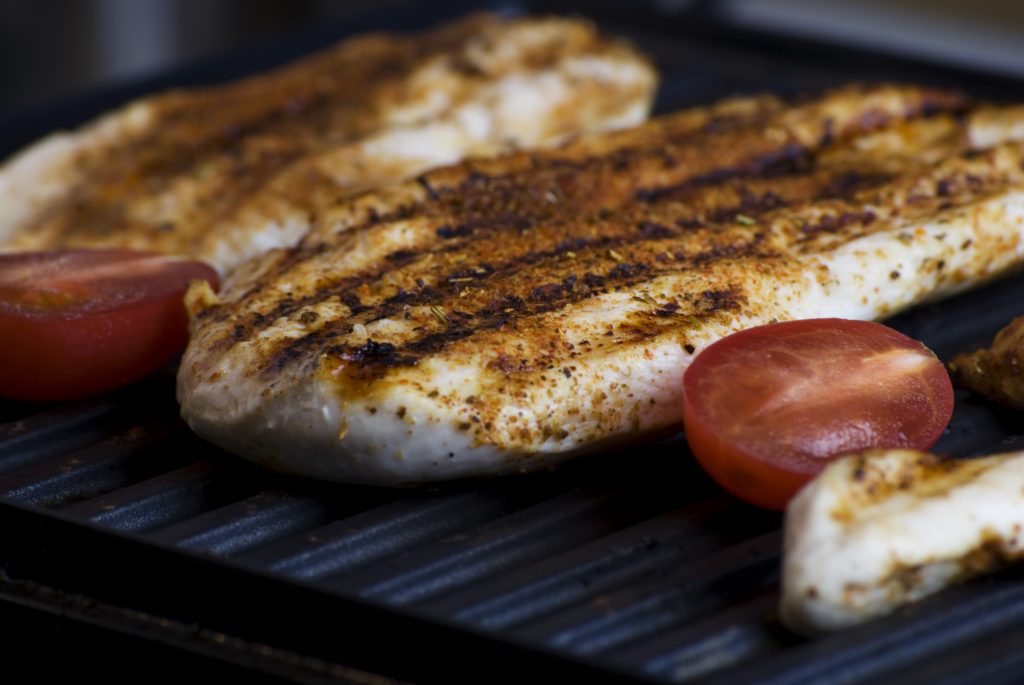 The same meals can still be enjoyed, but a little healthier, with a few ingredient substitutions or by adding healthier sides.
I wouldn't consider this a weight loss or diet plan, but it's a start to healthier eating. Taking these baby steps to eating healthier, instead of making a drastic change, will set you up to make small changes that you'll likely have more success with.
I love searching on Pinterest for new recipes and ideas to eat healthier!
What meals do you regularly eat that you could substitute ingredients and make healthier?

P.S. Never want to miss a post but don't have time to check the site everyday? Sign up for our weekly newsletter to receive blog posts straight to your inbox, along with the best frugal living tips!