*I am not a fitness expert or instructor, this is just what works for me and my schedule.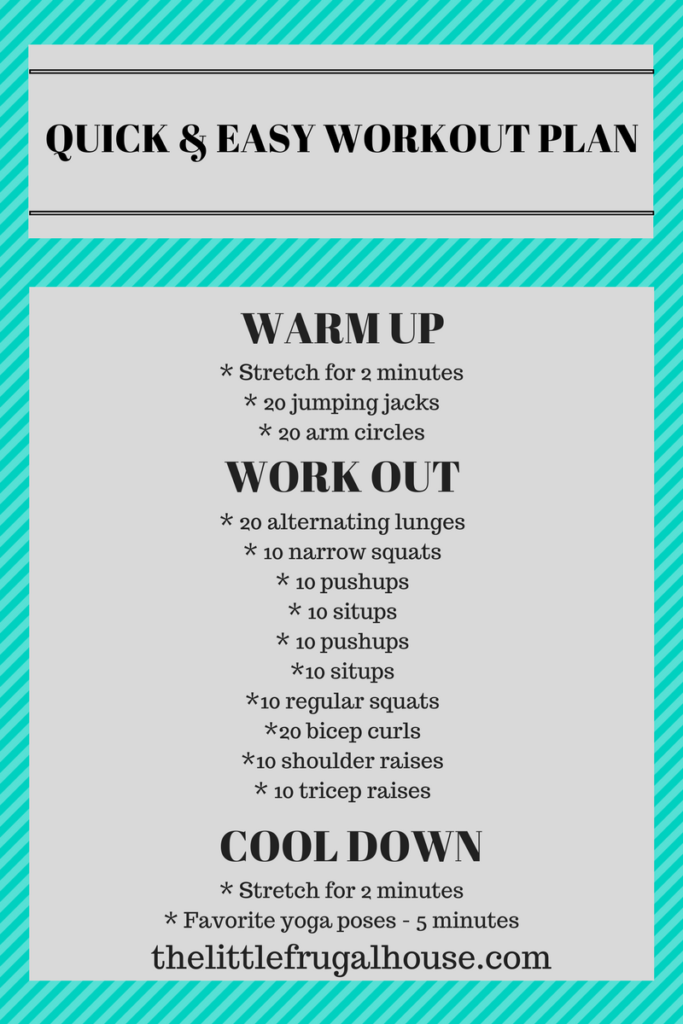 Can't spend an hour at the gym everyday (or even want to do that?) or spend money on fancy home work out equipment? Yeah, me either.
But I do want to get in regular exercise and not leave my house!
I've been doing this quick and easy, total body work out at home 3 nights a week and it's a perfect fit for me right now!
It takes about 20 minutes, I can change it up if I please, and all I use is a yoga mat and set of 5 lb. dumbbells.
Easy enough! And it gets easier the more you do it and make it part of your routine!
Here's the work out plan and be sure to print the FREE printable to keep handy for your work outs!
The first thing I do before I workout is get a fun playlist going! Music can really help you get in the mood to work out and, dare I say it, makes working out fun! I love to listen to hip hop or the Pop Fitness Station on Pandora!
Warm up
Stretch for 2 minutes
20 jumping jacks
20 arm circles
Work out
20 alternating lunges
10 narrow squats
10 pushups
10 sit-ups
10 pushups
10 sit-ups
10 regular squats
20 bicep curls with weights
10 shoulder raises with weights
10 tricep raises with weights
Cool Down
Stretch for 2 minutes
Do your favorite yoga poses for 5 minutes
So, we're probably not going to get buff or lose 100 lbs. with this workout plan, but it's better than nothing right? 😉
I think this is a great plan for quick workouts to tone up and get some strength training in. We'll do cardio another day (far far in the future!!!).
Here is the workout plan printable for you to keep handy for your workouts!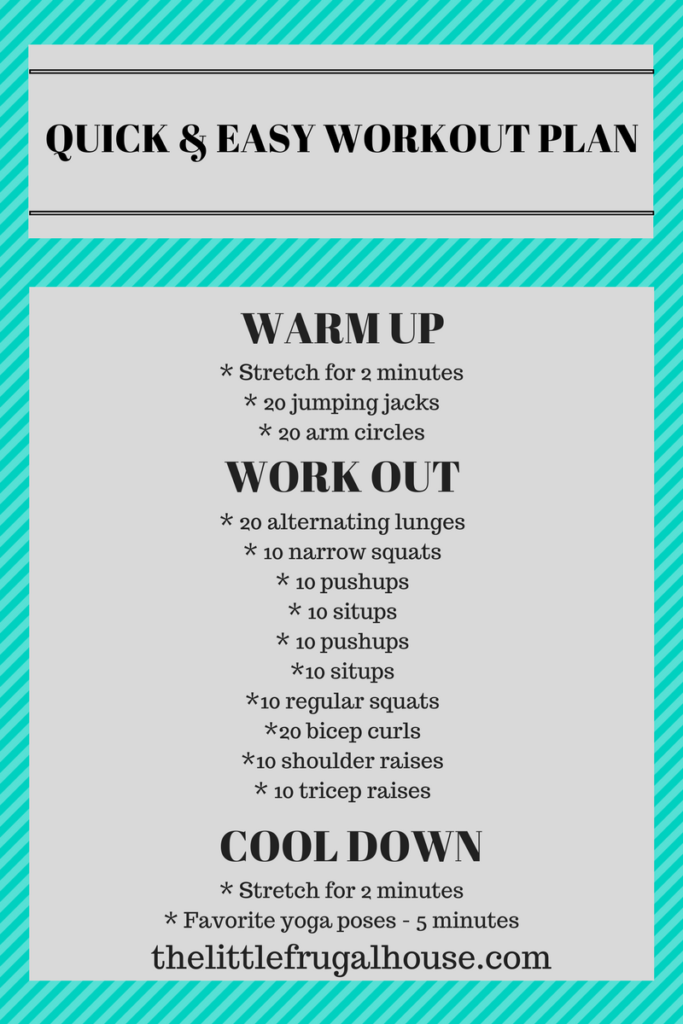 Add this into your workout routine (or start one, that's ok, too!) and add your other favorite moves to it! Don't forget the music!
What are your favorite workout moves?

P.S. Never want to miss a post but don't have time to check the site everyday? Sign up for our weekly newsletter to receive blog posts straight to your inbox, along with the best frugal living tips!