This post may contain affiliate links. If you click and make a purchase, I may receive a small commission, at no extra cost to you. I only recommend products and services I use and love. Thanks for supporting The Little Frugal House!
Are you disorganized when it comes to paying bills? Tired of late fees accruing because you simply forgot to pay a bill?
Bills are, unfortunately, part of life. So, best if we tackle them head on instead of letting them stress us out, right?
FREE Monthly Bill Tracker Printable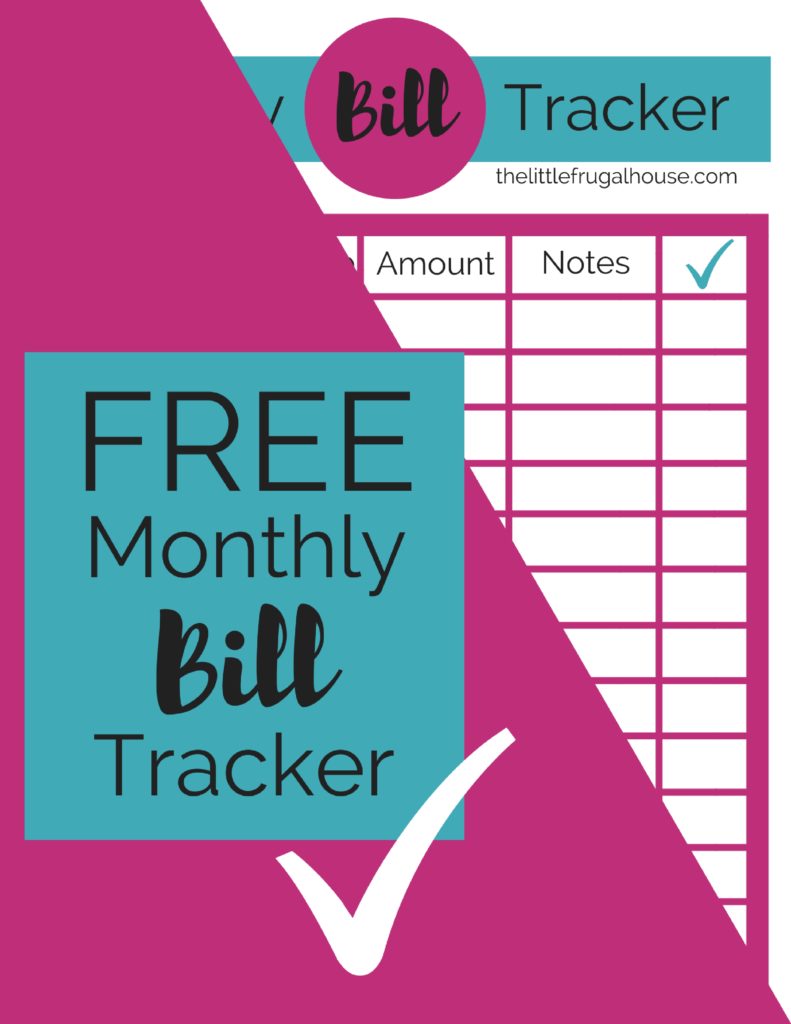 Because spreadsheets are intimidating, and you need a simple system to keep up with your bills, I created this simple monthly bill tracker printable.
It's super easy to use. And will hopefully help you keep up with your bills and never have a late fee again!
How do I use the monthly bill tracker?
Write all of your bills down for the month in the first column.

It may help to look at your bank statement for the last month to make sure you don't miss any. You can write the company name or the type of bill.

Write the bill due date in the second column.

Knowing when your bills are due will help you to plan ahead and make sure you put enough money in your bill pay checking account.

Write the bill amount in the third column.

Seeing all of your bills in one place will also help you realize how much you spend paying bills every month. And it might inspire you to cut a few out…

Write any notes in the fourth column.

This could be noting that the bill is on auto pay, that you paid it online, or sent a check.

Check the last box when you pay the bill.

You could also jot down when you sent the payment in. Now you know what bills have been paid, and what bills are still left to pay.
Make sure to save the PDF to your computer or bookmark this page, so you can print one for every month!
Keeping track of all of your bills can be a headache, but it doesn't have to be with simple printables like this one. If you are ready to go a step further, and take control of your budget, you will definitely want to check out the Budget Binder from Caroline Vencil. This binder is perfect to get organized and get in control of your finances. You'll learn how to make the easiest budget ever! It also includes a printable for everything – debt, saving, income, goals.
Share this free monthly bill tracker to help your friends get organized, too!


You might also enjoy…