Do you have an awkward space in your home that you just don't know what to do with? You know what I'm talking about. That place you just stare at and can't figure out what to do to make it better. It needs to look better, be more functional, and quit being so awkward!
Well, that space for us was this awkward, empty area in our bathroom. We completely renovated our bathroom when we bought our fixer upper of a house, but we weren't sure how to tackle this problem area.
The problem space holds our air return unit, which is a beautiful bulky aluminum piece that I've been staring at for about 3 years now. We wanted something that would cover that unit, and also be super functional in our small home.
We've been stacking our towels on the unit, and placing the vacuum beside it. So, I knew we needed something to put towels in, keep our vacuum out of site, and have more storage room.
We drew up a plan, took a ton of measurements, headed to Lowe's, and worked on this bathroom cabinet for about 2 weeks (nights and weekends). I love the way it turned out! It's even better than what I was picturing in my head!
Bathroom Cabinet Build – An Awkward Space Turned into Spacious Storage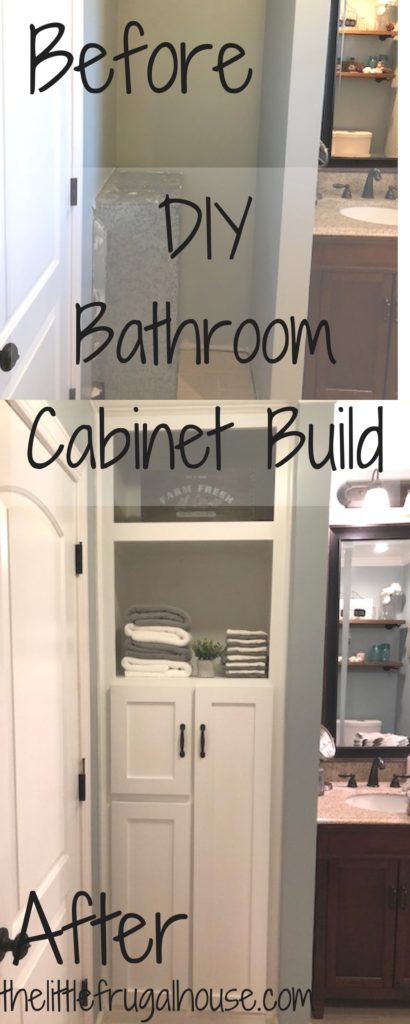 This is the problem area that I stared at for 3 years!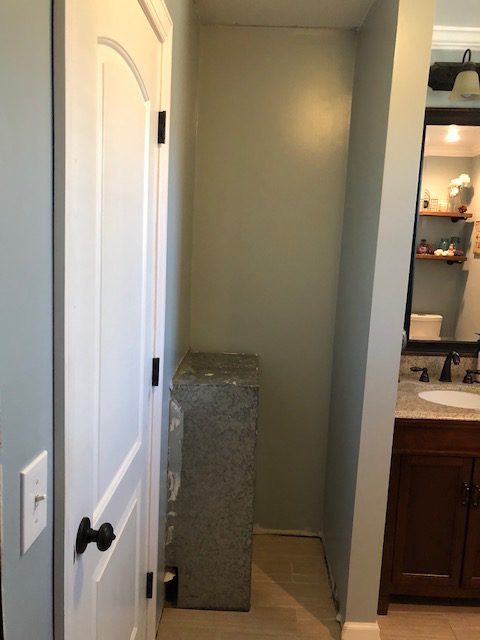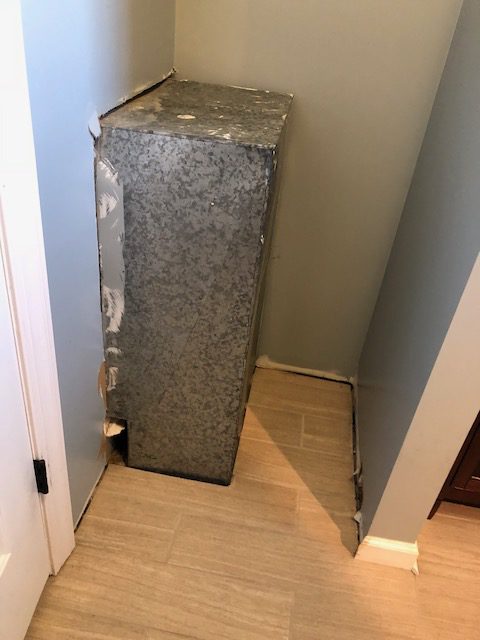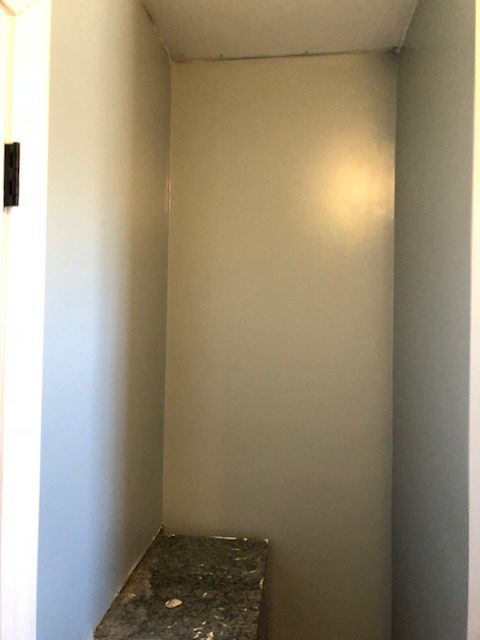 And this is how we stacked our towels and stored our vacuum. Super cute, I know! 😉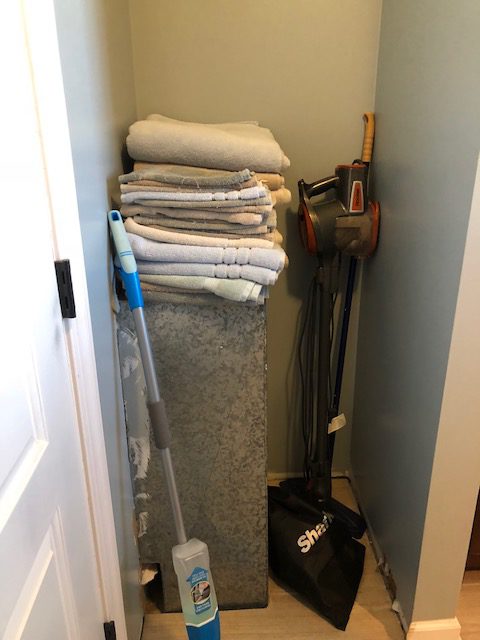 It was about time to get this situation taken care of! Thank goodness for the cold weather making us do indoor projects, because we would have definitely been working outdoors otherwise!
Our first step was to build the cabinet frame.
We used 3/4″ birch plywood and fastened it to the wall on all 3 sides.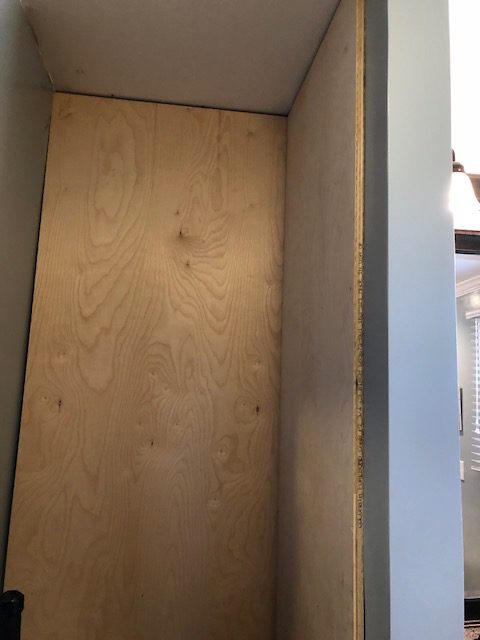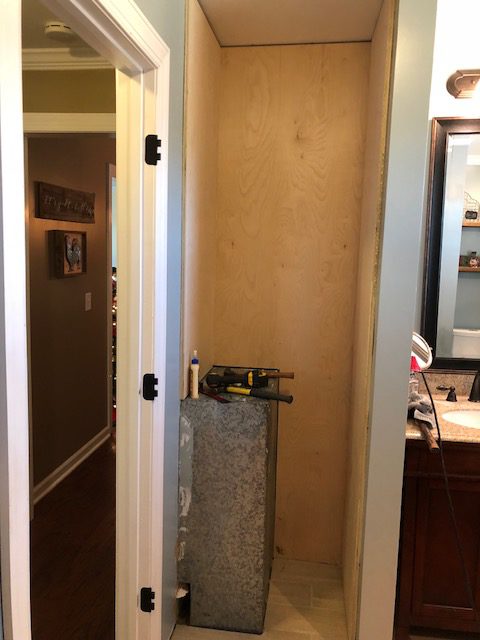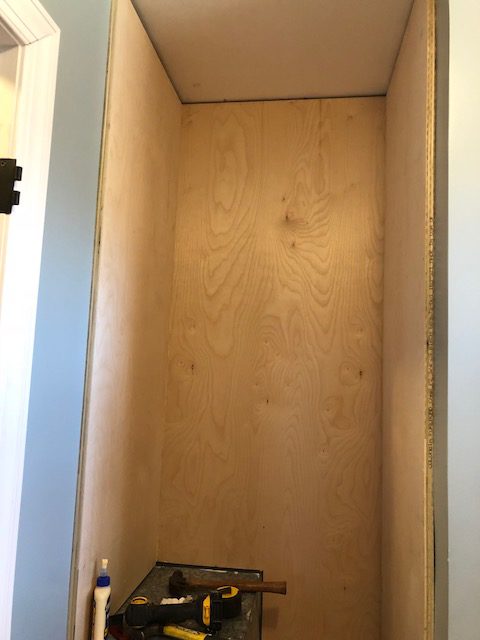 We measured the vacuum and made sure to make a little cabinet that would be the perfect place to store the vacuum cleaner and mop. The bottom right cabinet will hold those tall items!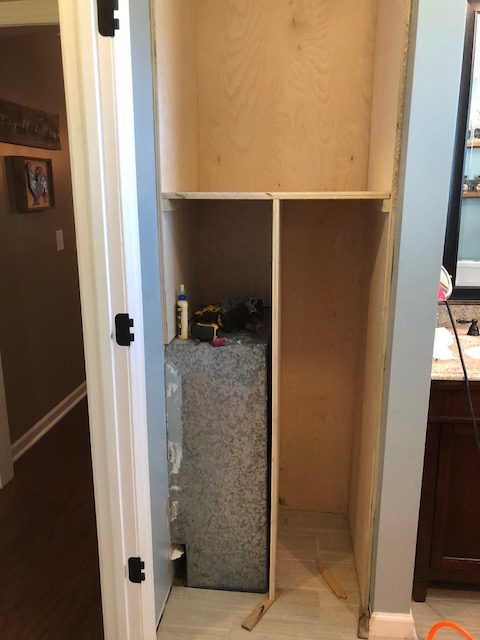 Above the air return was kind of awkward space, so we decided to build a small cabinet to hold cleaning supplies.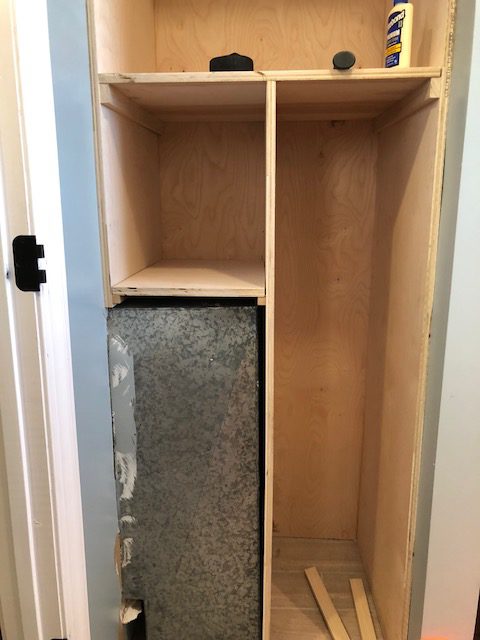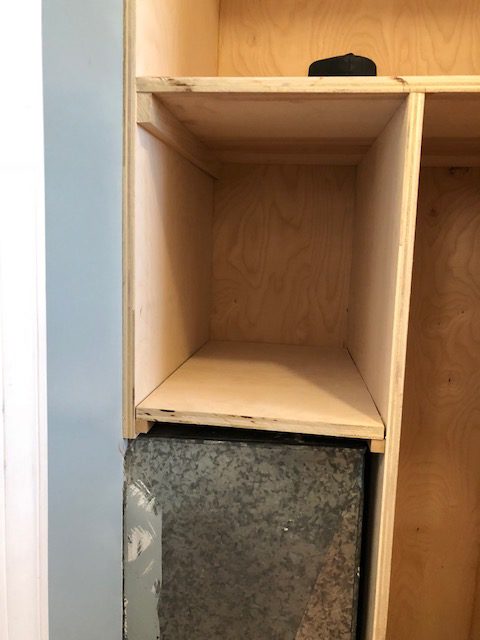 We wanted a shelf above those cabinets to be open to hold towels and washcloths. And the top shelf will be perfect for extra blankets and sheets.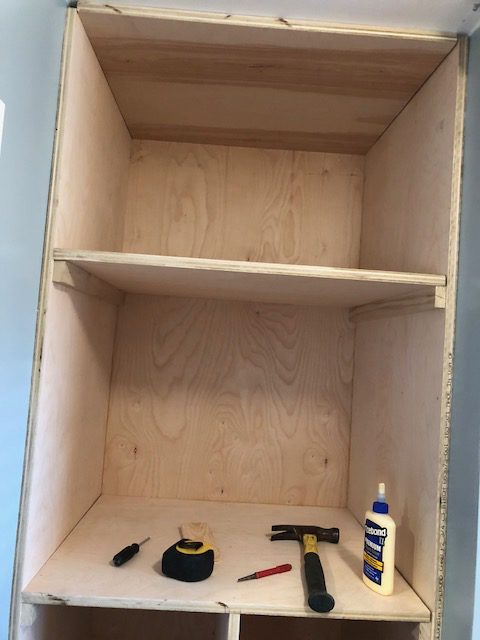 After the frame and shelves were put in, we used poplar boards to make a frame around the front.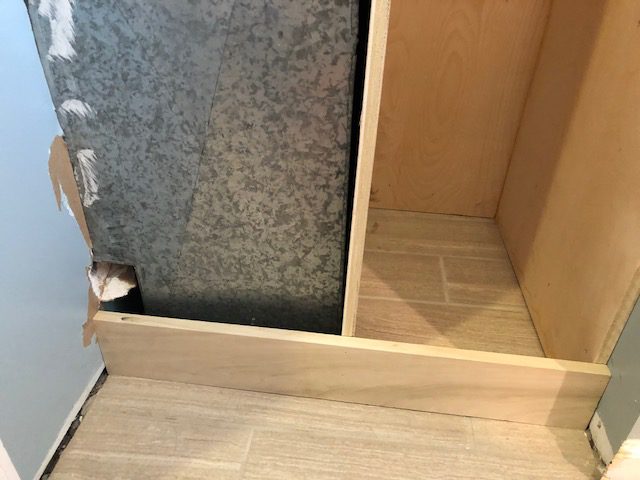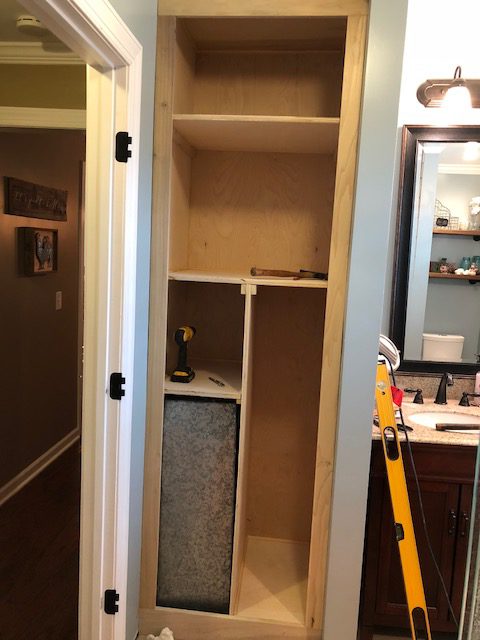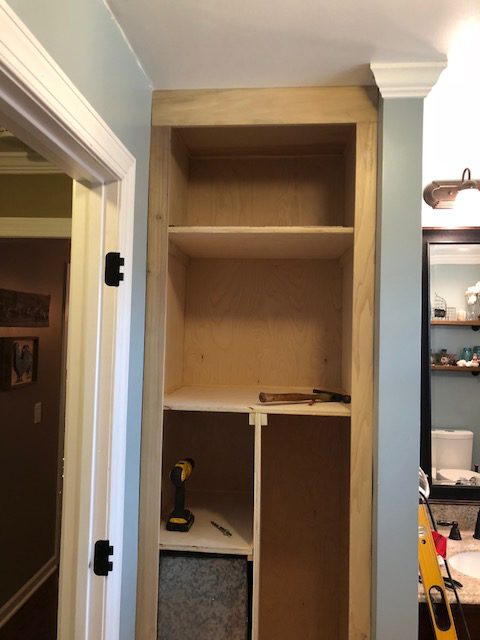 To cover little gaps and to create a cleaner look, we used rounded trim pieces in the corners.
It's starting to look like something now!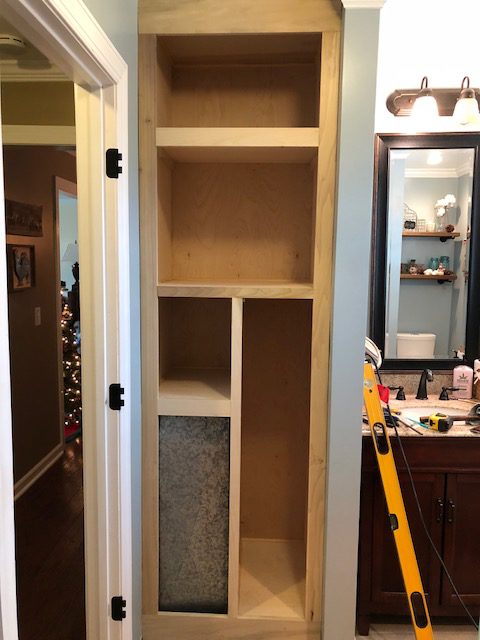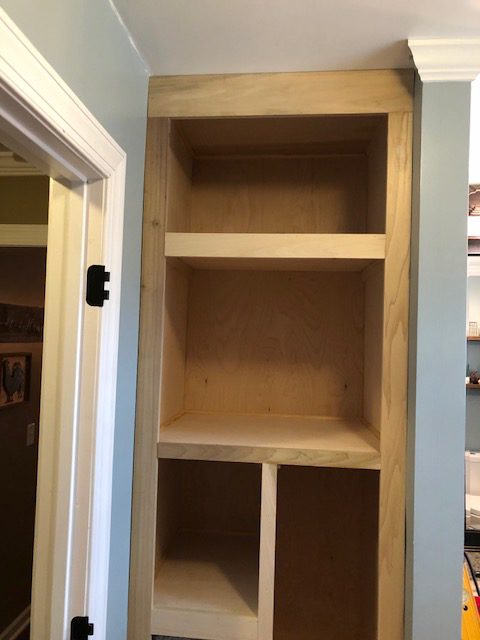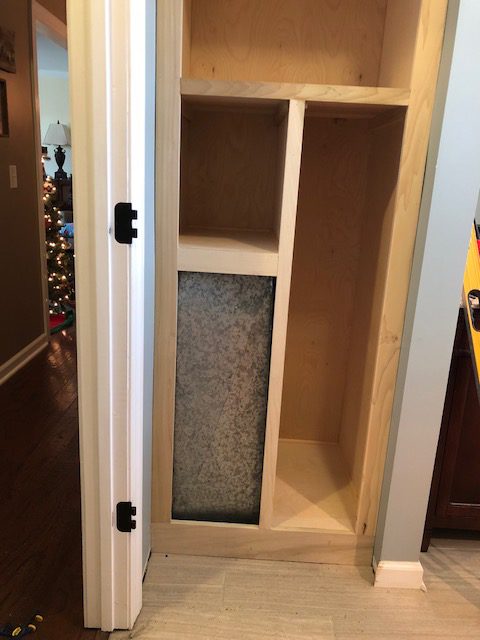 We added the missing pieces of baseboard and crown molding, then everything needed to be sanded, cracks filled with wood filler, and caulked.
Time for paint!
We used Valspar Cabinet Paint from Lowe's in an Ultra White color, a 4″ foam paint roller, and a brand new paint brush. It took about 4 coats to get a nice and even color.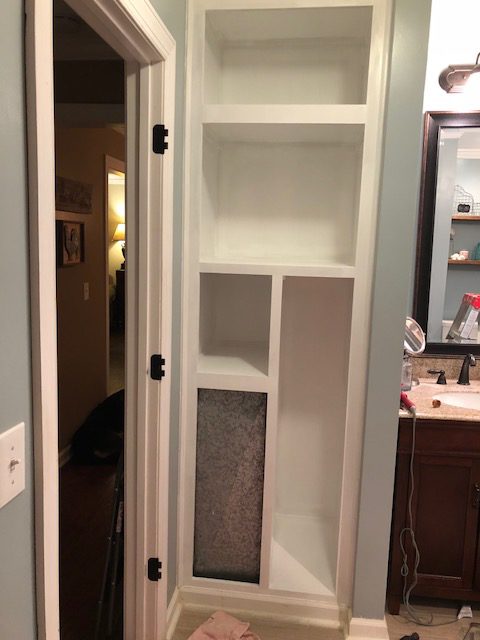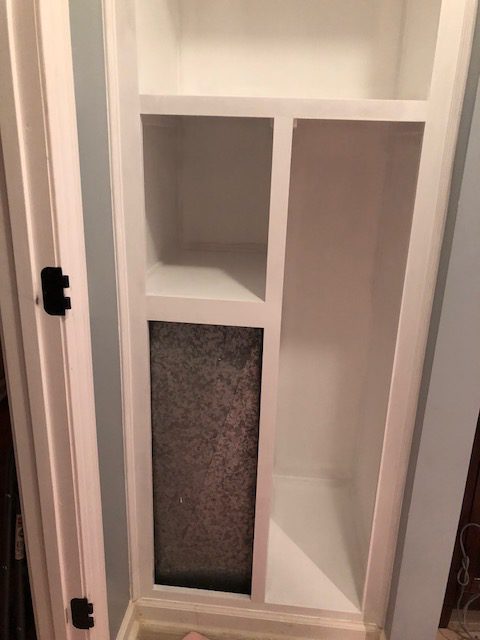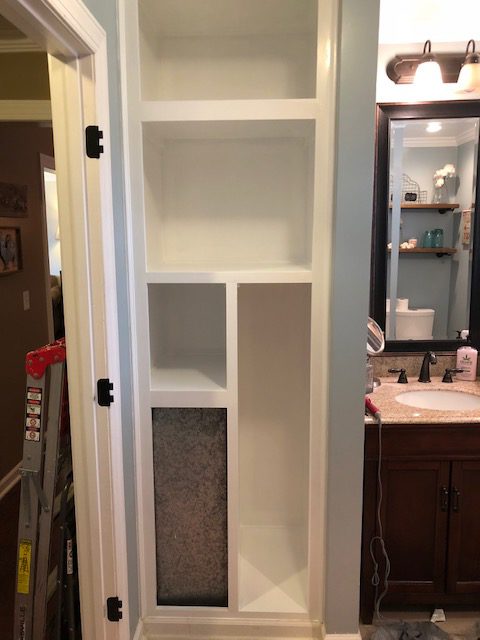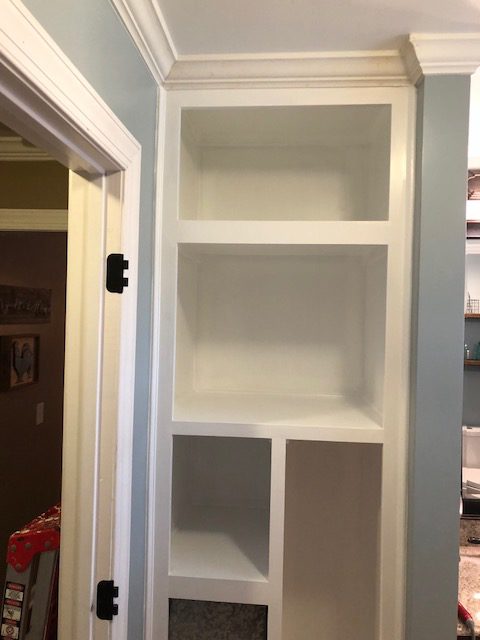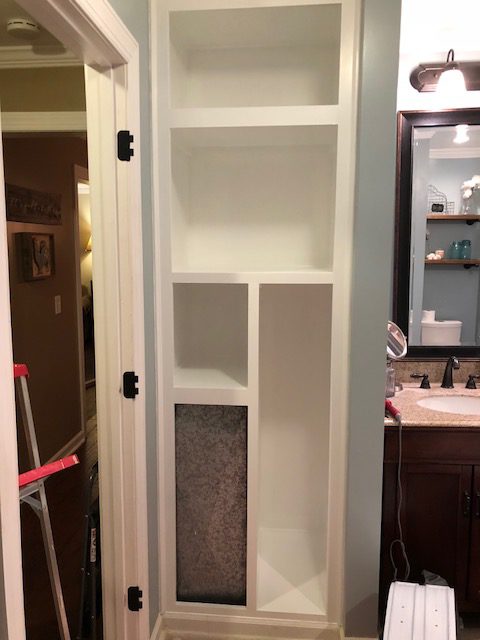 Building Cabinet Doors
I think we would both agree this was the hardest part! We made a plan to build the doors after looking at how our kitchen cabinets were built. To cover the air return unit, we made a fake door. We used 1″x3″ poplar boards, plywood, a kreg jig, a rabbiting router bit, and wood glue.
First, we cut the boards to size. Then, used the kreg jig on the small pieces to attach them together.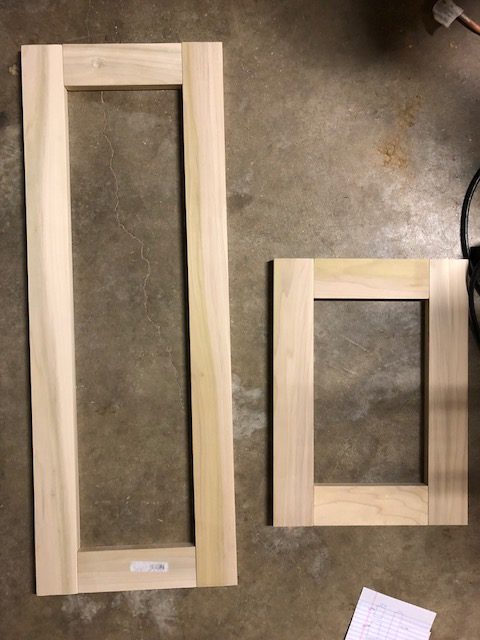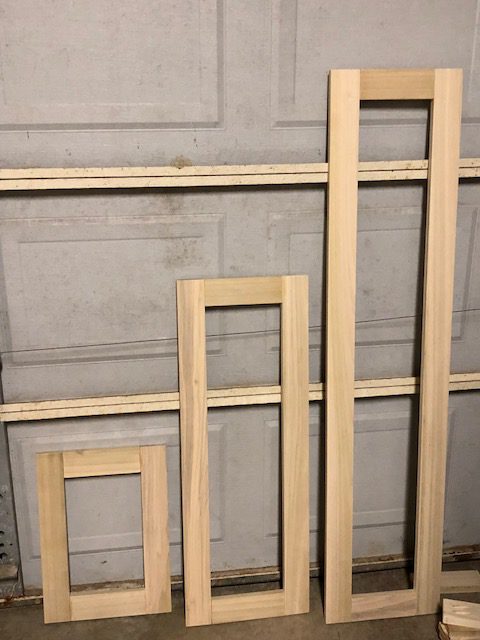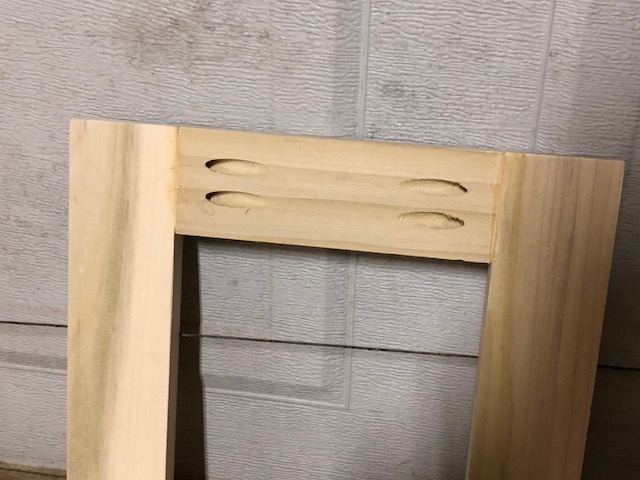 The rabbiting router bit created a place to slide the plywood into.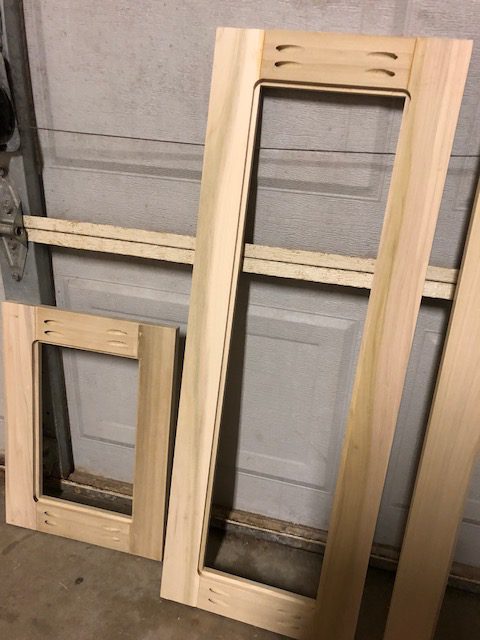 Then, the plywood was cut to size and placed in the frames. We used wood glue and a staple gun to attach the plywood.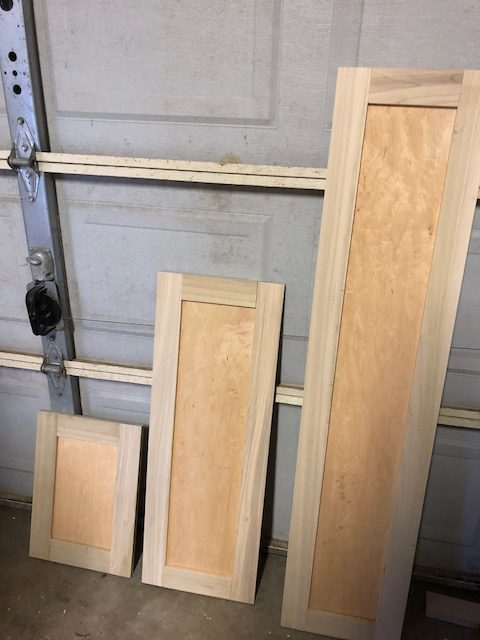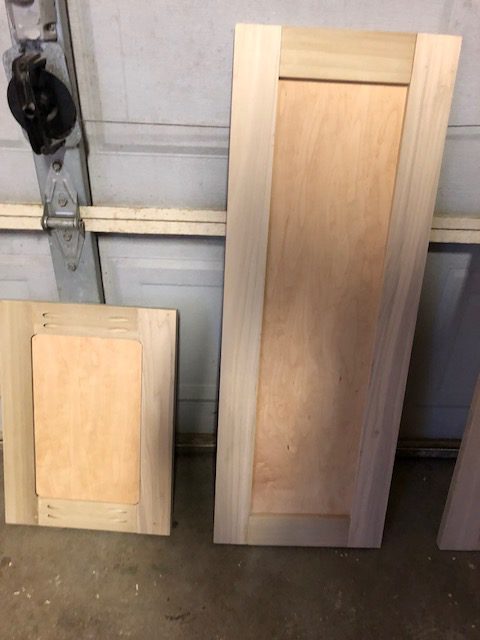 Next, we painted the doors with the same cabinet paint. This took about 3 good coats on each side.
Installing Cabinet Doors
For the fake door that covers the air return, we just nailed it into place.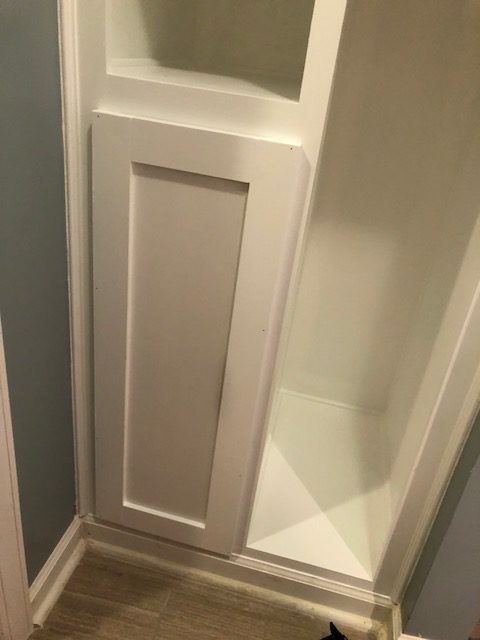 We bought slow close hinges for the cabinet doors and needed a special drill bit to install the hinges.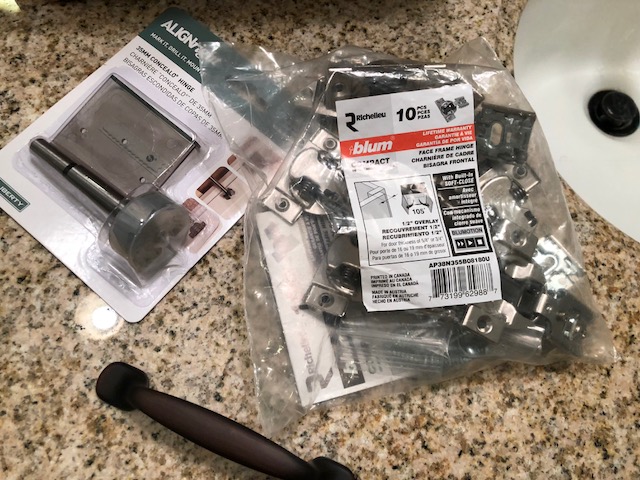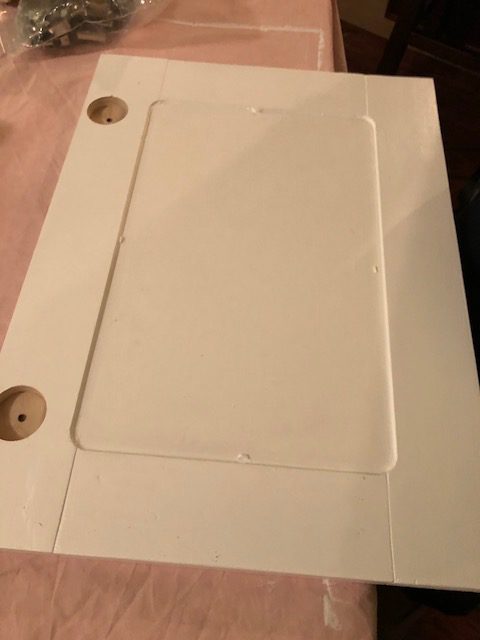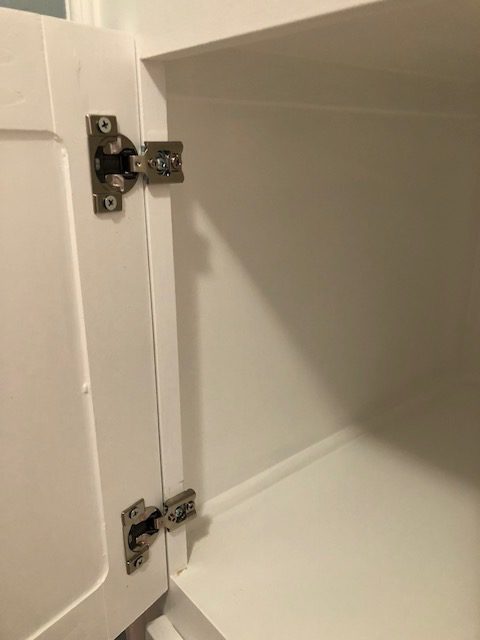 We also added the little bumpers, which I was calling sticky things until we actually found them in the store and realized they are called bumpers. Who knew?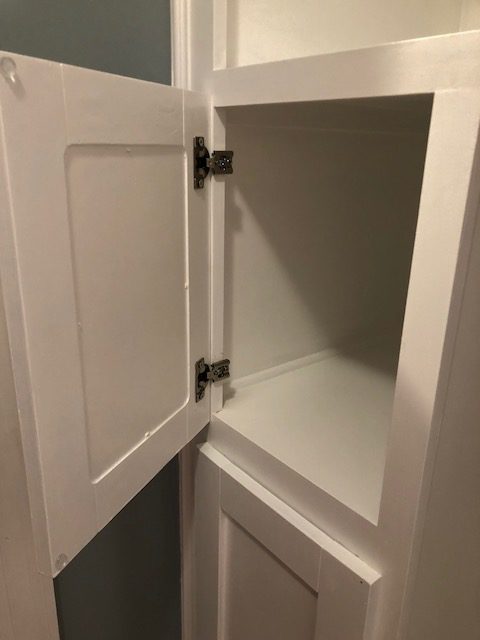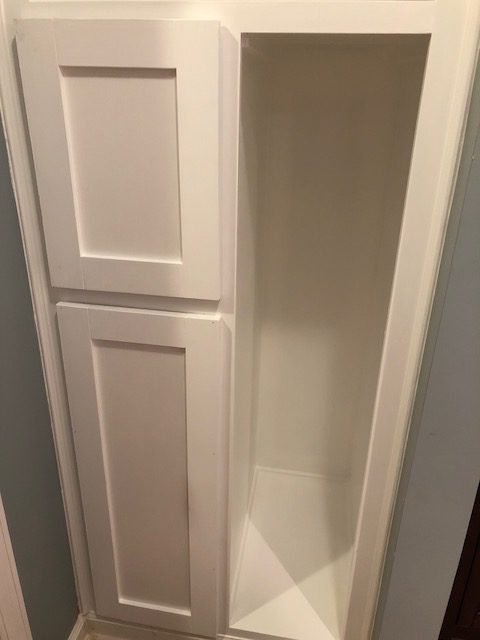 We chose smooth bronze handles and I think they really pop on the white cabinets and match the rest of the hardware in our home.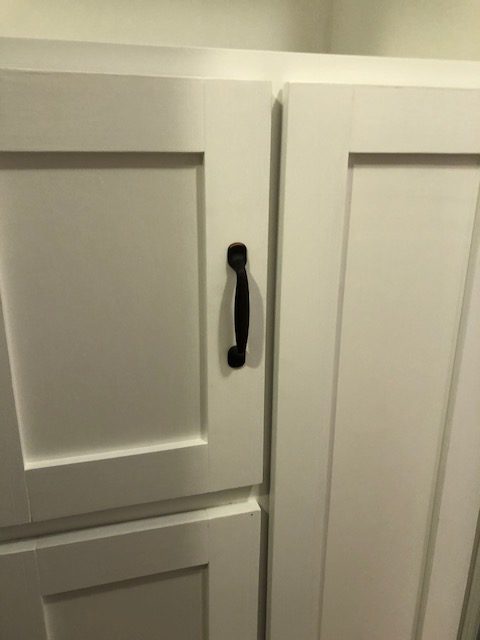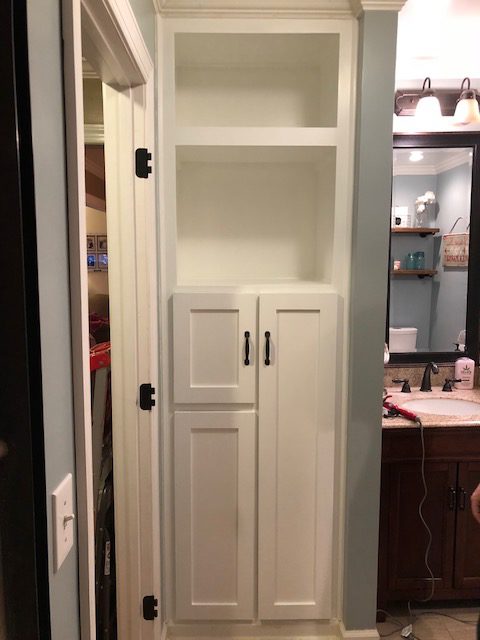 This project prompted me to want to buy new towels because the cabinet looks so good! It's hard to put dingy towels in a space that beautiful! Off to Target to find some new towels!
Time to get organized!
This bathroom cabinet provides the perfect place to store towels, cleaning supplies, my vacuum and mop, and extra sheets!
We added a hook in the tall cabinet to hang the vacuum.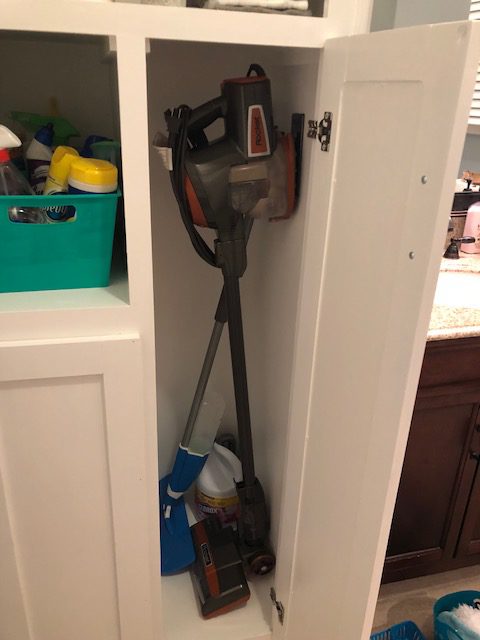 And I found these organization bins at Dollar Tree that are perfect for storing my cleaning supplies in the small cabinet!
The Farm Fresh box came from TJ Maxx for about $14 and Target had the towels 20% off with the cartwheel app!
I'm so happy to finally have this bathrom cabinet build project done and to get my bathroom more organized! This bathroom cabinet build was a little more work than I expected… and a little more money as well. But, we figure we are adding value to our home with a custom built in and more storage space!
What do you guys think?? Do you have an awkward space in your home that needs a custom build? Don't be afraid to tackle a custom bathroom cabinet build or other built in!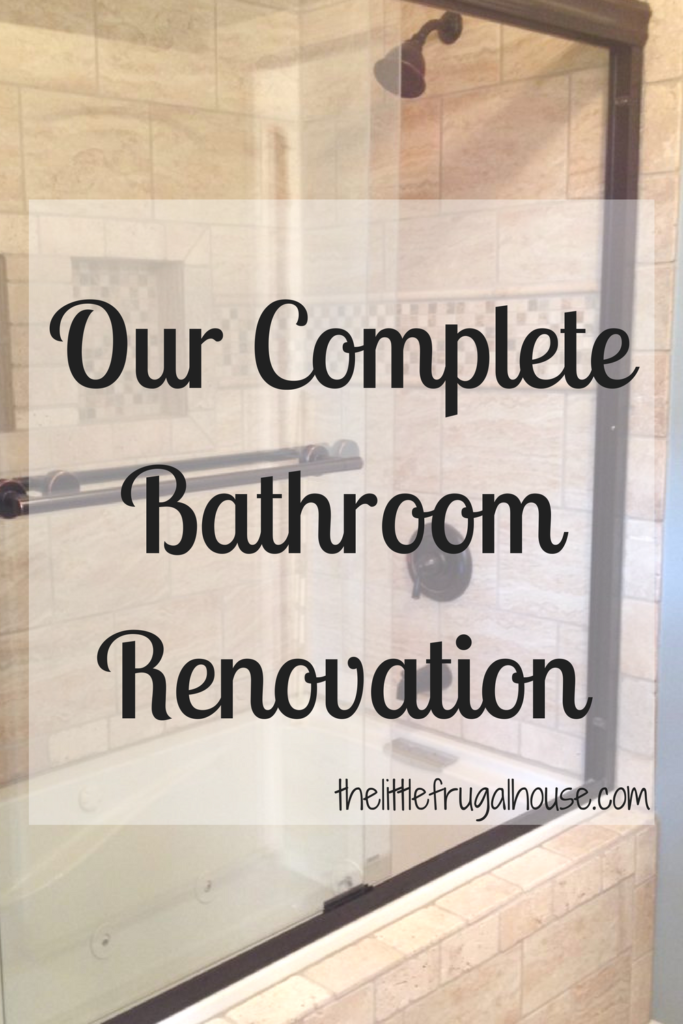 P.S. Never want to miss a post but don't have time to check the site everyday? Sign up for our weekly newsletter to receive blog posts straight to your inbox, along with the best frugal living tips!